Around noon on Sunday, I sat chatting with a friend at a nondescript cafe by the beach.
"Mental acrobatics," she said flatly from across a wrought iron table barely large enough to accommodate my cappuccino, a glass of water, an ashtray, and a turquoise ceramic shot glass.
"What?," I responded.
"Sometimes..." she continued, pausing to take her shot of well rum. "Sometimes talking to you is like mental acrobatics."
My knee-jerk reaction was to suggest that if you're having drinks with me and you don't want to think too hard, you probably should refrain from steering the conversation towards politics or markets, which my friend had done.
But the exchange did remind me that the brain needs a break every once in a while. Looking back at the material I've produced over the past 48 or so hours, it occurs to me that I've put readers (and myself) through a rather arduous process that I think is entirely consistent with the idea of "mental acrobatics."
To be clear, I think it's justified. Parsing tons of research is hard. So is delineating market participants' reaction functions. And so is describing the complex interplay between policy and asset prices.
That said, perhaps we should take one article off when it comes to cataloguing and investigating every possible argument for or against this or that investment thesis. That is, instead of getting bogged down while trying to reconcile competing assumptions, let's try to find a bit of intellectual respite in Occam's razor - the notion that explanatory power is maximized when assumptions are minimized.
On Sunday I outlined why being bullish on equities (NYSEARCA:SPY) means believing in a kind of goldilocks scenario wherein any flight to safety impulse isn't strong enough to drive large outflows and any (upward) repricing of yields isn't sharp enough to deliver a shock sufficiently large to turn equity/bond return correlations positive.
That piece was in many ways a textbook example of "mental acrobatics." Any time you come to the conclusion that something is a Catch-22 (and I've come to that conclusion about markets a lot lately), it's a sign you might be thinking too hard; any time you try to incorporate all of the possible alternatives, you'll likely end up determining that whatever you're trying to explain represents an inescapable paradox.
So let's not go that route this time. Rather, let's look at a few very simple arguments for why stocks could go higher and avoid the temptation to muddy the waters with assumptions about policy.
Barclays has developed a measure of equity demand that should help us along. Demand, the bank says, is simply the sum of flows from:
US equity funds (MFs+ETFs)
US equity futures
S&P 1500 single stock short interest
US equity ETF short interest, and
reinvested dividends
When aggregated, flows data from those sources has tracked pretty well with returns: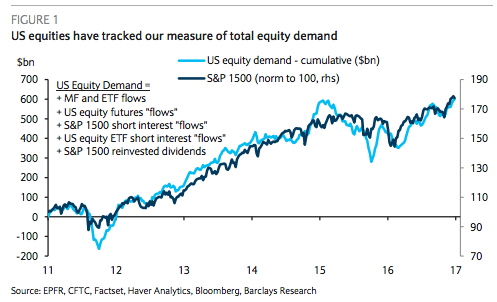 (Chat: Barclays)
The crucial point for Barclays is that so far, we've only seen the "recovery" phase of the move higher, defined in this context as the short covering and futures buying that helped stocks recover from the February 2016 lows.

(Charts: Barclays)
Still ahead, the bank contends, is the "expansion" phase characterized by a "resumption of inflows." Here's the argument (my highlights):
From early 2015 until early 2016, $360 billion was pulled out of US equities. Since February 2016, less than half that has gone back in. Equity inflows of $250-300 billion annualized should be a normal part of savings. Assuming a 5.5% savings rate ($800bn in the US), we see the $250-300 billion annualized pace of equity inflows of 2013-14 as "normal" (i.e. 35% of just US household savings). The $250 billion fund flow rotation out of equities into bonds in 2016 was not normal. With equity allocations now 3pp higher since the election and much closer to 2015 levels, we see flows tilted toward equities.
Or, summed up: "go with the (anticipated) flow."
We're really not making many assumptions there other than to assume a mean reversion in flows. There's no discussion of the Fed or Trump or how the intersection of monetary and fiscal policy will shape market outcomes. All we're looking at above is the flow of money.
In the interest of keeping my promise regarding not complicating things, I'll avoid any attempts to parse that data or otherwise subject it to scrutiny.
Instead, I'll close with two simple, bullet point observations that, if you're inclined to be bullish and you like the argument presented above, should be very agreeable:
if the "great rotation" theory turns out to be true, it should reinforce Barclays' analysis
although it's not mentioned in the bank's note, don't forget to think about the impact of repatriated cash on buybacks
Disclosure: I/we have no positions in any stocks mentioned, and no plans to initiate any positions within the next 72 hours. I wrote this article myself, and it expresses my own opinions. I am not receiving compensation for it (other than from Seeking Alpha). I have no business relationship with any company whose stock is mentioned in this article.