One of my favorite facets of Seeking Alpha is that if you offer a strategy or concept, readers are quick to suggest vehicles that might extend that strategy. In my recent series on "5 Ways to Beat the Market," I covered size and dividend growth as two factor tilts that have delivered long-run outperformance. I followed that article up with the Mid-Cap Dividend Aristocrats, which showed that moving down the size spectrum from large cap to mid-cap further enhanced the market-beating performance of dividend growth strategies.
Readers have recently suggested I cover the ProShares Russell 2000 Dividend Growers ETF (NYSEARCA:SMDV). While the inception date for this exchange-traded fund is only February 2015, I am able to access a much longer data subset on the underlying index that this fund replicates through my Bloomberg terminal. The relative outperformance of this fund versus the Russell 2000 (NYSEARCA:IWM) from which it is derived is striking.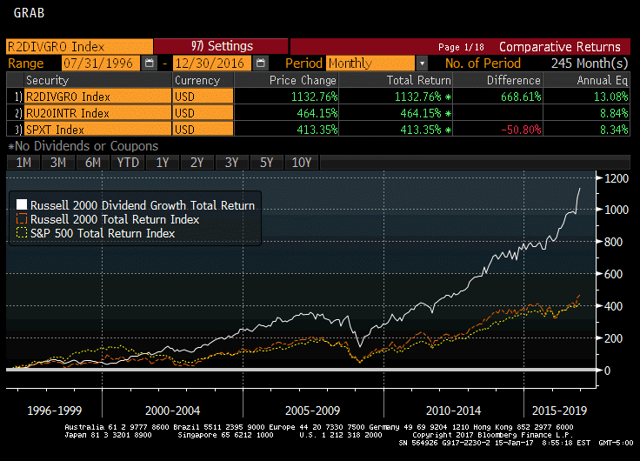 The table below shows the full-year returns for the Russell 2000 Dividend Growers, the Russell 2000 and the S&P 500 over the lifespan of the small-cap dividend growth index.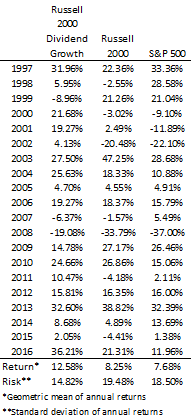 Like the S&P 500 Dividend Aristocrats, the Russell 2000 Dividend Aristocrats underperformed in 1998 and 1999 as tech stocks soared into the bubble. The dividend growth indices also underperformed in 2007 into the height of the last cycle's peak. The lower drawdown in 2008 helped boost through-the-cycle total returns and reduce variability. For the entirety of this twenty-year dataset, the Russell 2000 Dividend Growth has outperformed the S&P 500 by 4.9% per annum with roughly four-fifths of the variability.
The Russell 2000 only produced modestly higher returns than the S&P 500 over this time horizon with higher variability. The Russell 2000 Dividend Growers, which paid increasing dividends for at least the ten preceding years, strongly outperformed. I believe this outperformance is a function of a positive quality bias.
In a past article entitled Small Caps and Low Volatility: A Long-Run Study, I showed the long-run outperformance of high-quality small caps over a dataset stretching more than fifty years. That article drew from a market dataset that subdivided the U.S. equity market into deciles based on size and volatility. The table below shows the annualized returns across these two factors dating back to 1963.

Readers should note that the highest returns are found in the upper left-hand quarter characterized by smaller capitalization stocks and lower volatility. We have seen empirically that these small-cap dividend growers have produced lower volatility than the broader market. The inclusion rules for the Russell 2000 Dividend Growth Index dictate that these companies must be able to pay increasing levels of dividends through a full business cycle.
Some readers may look to eschew the exchange-traded fund that replicates this index and its 40bp expense ratio in favor of building their own portfolio of small-cap dividend growers. The current constituents of the index are detailed below with some summary statistics and classification info.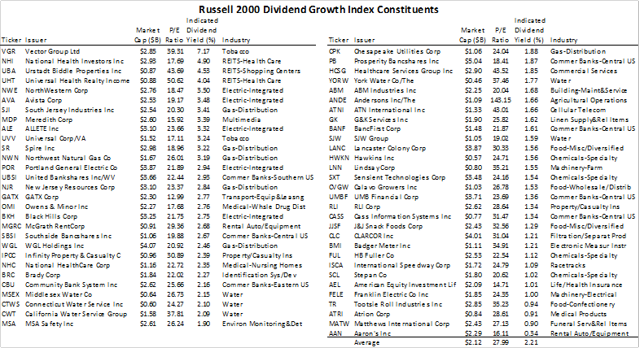 For those choosing to own the index over picking constituents from the list above, you will benefit from the fact that the index constituents are rebalanced to equal-weight each quarter. Equal-weighting was also one of my 5 Ways to Beat the Market, as the periodic rebalancing is a contrarian stance that buys constituents that have underperformed and reduces constituents which have seen larger gains.
This fund has only recently been brought to my attention by readers, and I currently do not have exposure. As you can see in the twenty-year history of annual returns, 2016 was the best year on record. Small caps did particularly well post-election as domestic-focused small capitalization stocks drove higher on a market re-pricing of the prospect of pro-growth domestic policies. I believe that the index construction, which combines size, dividend growth and equal-weighting, will generate market-beating performance over long-time intervals and I will look for a more opportunistic entry point.
Disclaimer:
My articles may contain statements and projections that are forward-looking in nature, and therefore inherently subject to numerous risks, uncertainties and assumptions. While my articles focus on generating long-term risk-adjusted returns, investment decisions necessarily involve the risk of loss of principal. Individual investor circumstances vary significantly, and information gleaned from my articles should be applied to your own unique investment situation, objectives, risk tolerance and investment horizon.
Disclosure: I/we have no positions in any stocks mentioned, and no plans to initiate any positions within the next 72 hours.
I wrote this article myself, and it expresses my own opinions. I am not receiving compensation for it (other than from Seeking Alpha). I have no business relationship with any company whose stock is mentioned in this article.