By Parke Shall
Banks have had a "tremendous" run since the election and, more specifically, since mid 2016. While we considered financials the only industry to invest heavily in just months ago, we now think it is time to take some profits and perhaps let a bit of "house money" ride.
It was about 8 months ago that we came right out and said that financials would be the only sector that we would be invested in. We recognized that the market was due for a correction, we predicted a slight rise in interest rates, and we made our case as to why financials would be the one sector that we would put some money into at the time. The article, which you can read here, looked like this,

Days later, we wrote a follow up, reiterating that, "the financial sector and specifically the big banks remain one of the few areas we'll continue to allocate capital going forward".
As soon as Bernie Sanders was out of the race, we were convinced it would be "business as usual" at the big banks, no matter who won the election from that point forward,
...the one presidential candidate that could have disrupted the banking system is out of the race. Let's be honest here, Bernie Sanders was the only candidate running with a fair chance that actually had the constitution and willingness to get serious about breaking up the big banks. With Sanders out of the race and endorsing a candidate that has very close ties to Wall Street banks, who is running against a GOP candidate with strong ties to Wall Street, we feel as though the structure of the banks will be safe and will make it through the presidential cycle without issue. We now feel like we have two presidential candidates that will be good for banks, and volatility from the election is a worry that will be soon quickly approaching.
With Trump coming on board as President Elect and expectationsfor deregulation coming right around the same time that interest rates have started to move up, banks seem to have been the most sought after sector over the last two months.
The sector has performed splendidly since Donald Trump was elected President and, since then, Trump has surrounded himself with advisers and appointees that are allies to the big banks. With that said, we believe that banks have come a little too far too fast. If you take a look at some of the major banks and their historical price to book ratios over time, we can see that many of these banks are trading at or above five year highs.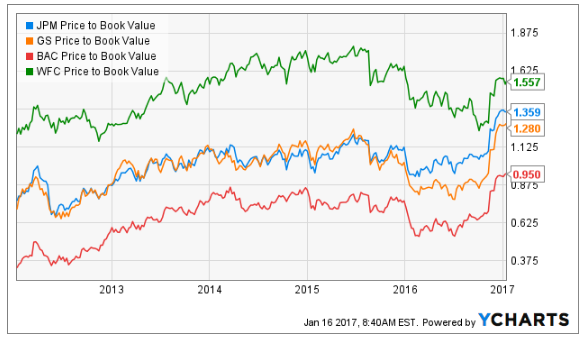 On the heels of this huge run up, we think it is time to take some profit off the table for a couple of reasons.
The first reason is that the banks are pricing in three more interest rate hikes in the coming year and we are just not so sure that is going to happen. Banks are now trading under the impression that the Federal Reserve is going to be somewhat clinical in the way that they raise rates over the coming year. With our current view on the overall economy, which is notably bearish, we can't help but think that one or all of these coming rate hikes may actually be in jeopardy.
Let us also not forget that while rate hikes generally mean the banks make more money off of interest spreads, rising rates will also cause delinquencies and defaults to rise, which we have already seen and pointed out in a recent article. If the economy starts to slow down, which we predict it will, banks will start to pull back just as a matter of caution. Most investors aren't going to jump in and do the work to distinguish which banks are at risk and which ones are not. In the case of an economic downturn, which we believe we are on the precipice of, banks traditionally all move lower in unison. Investors will look at a chart like this...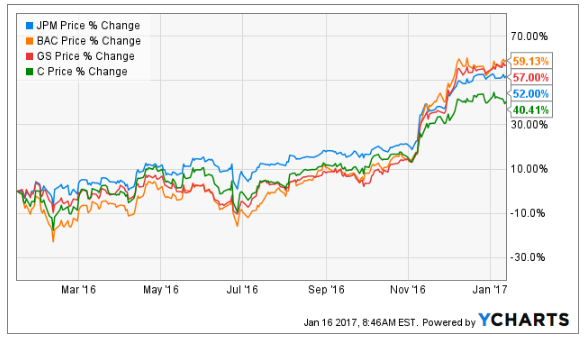 ...and will take profits in whatever banks they are holding without asking questions.
We happen to believe that the extraordinary amount of credit that was extended to consumers between 2008 and now is going to turn on us and that we'll start to see our economy slow down heading into the next few quarters. We expect that consumer prices will continue to rise at the same time that consumer spending will start to slow as a result of debts costing more for the average American to service. From there, it simply becomes a chain reaction.
Banks don't have a history of making huge moves over short periods of time. Again, the reason they have made this move over the last two months is because people expect a wave of banking deregulation with a President Trump in office. Much like the way the overall market is pricing in corporate tax cuts, if the plan doesn't come to fruition exactly the way that the market has planned and priced in already, that in and of itself would be a good reason for us to retrace 50% of the gains that we have posted over the last two months. This applies not just to the banking sector, but also to the overall market.
We were on point when we said the banking sector would be the only sector we would have been invested in heading into the second half of 2016. Now, just months later, we are making the suggestion that those who invested in financials over the last few years consider taking some profit as we look to move into the reality of the beginning of Donald Trump's official time in office.
Disclosure: I/we have no positions in any stocks mentioned, and no plans to initiate any positions within the next 72 hours.
I wrote this article myself, and it expresses my own opinions. I am not receiving compensation for it (other than from Seeking Alpha). I have no business relationship with any company whose stock is mentioned in this article.