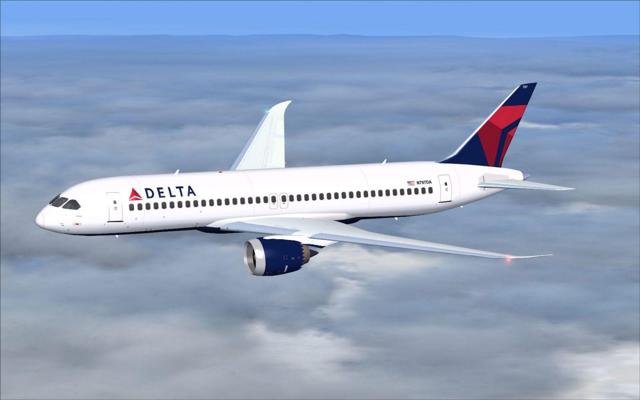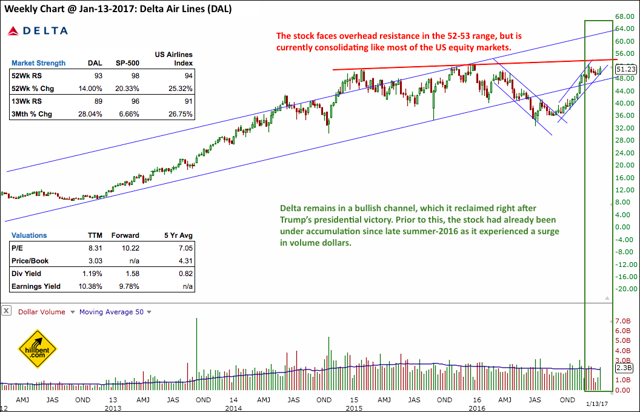 On Thursday, January 12, 2017, Delta Air Lines (NYSE:DAL) reported Q4 2016 earnings results in line with guidance and expectations, i.e. $0.82 per share, while revenues were $60m better than expected.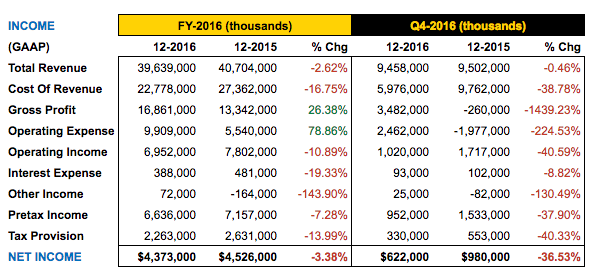 (Data sourced from Zacks Research)
Despite some pockets of turbulence, it was a year with some notable accomplishments. Below are some highlights worthy of mention:
Profitability: $6.1bn of adjusted pretax profits on 16.5% operating margins and a 26% pretax return on invested capital. DAL was the only major airline to expand its operating margins in 2016.
Cash flow: Generated $7bn in operating cash flow and almost $4bn of pretax flow.
Corporate credit: Reduced net debt to $6.1bn and upgraded to investment grade rating.
Operational efficiency: Stood head and shoulders above industry peers in 2016 with no mainline cancellations in 241 days or system cancellations in 81 days, while keeping on-time arrivals @ 87% and boosting bag scores by 13%.
Employee rewards: Team performance impacted the company's bottom line and DAL recognized this by rewarding its 80,000 employees with over a $1bn in profit sharing for a 3rd consecutive year.
Shareholder rewards: Common stockholders also benefited as it returned $3.1bn to them via dividends and share repurchases.
Overall, the company is flying on all engines and management's focus, in addition to the economic environment, should enable it to maintain sufficient altitude in terms of execution and performance. Nevertheless, investment vehicles do encounter headwinds as well as tailwinds.
Below are 3 key insights gleaned from DAL's earnings call transcript that may help investors better navigate the journey if they are riding this stock. (Note this post is not intended to be a comprehensive summary, but instead present some essential color within the context of macroeconomics and fundamentals of the capital markets. For complete coverage, please refer to Delta's Q4 2017 earnings call transcript at Seeking Alpha.)
Earnings Call Insights
1. Sentiment of optimism prevails on existing and future economic environment.
Fundamentally, the existing macroeconomic situation is a tailwind for Delta and the airline industry overall. Historically, low unemployment is boosting consumer confidence and supporting demand for travel. Meanwhile, a recent business survey quantified corporate customers maintaining or increasing their travel spend in Q1 2017 @ 85% vs. @ 76% for Q4-2016, thus reflecting the best they have seen over the last two years.
Psychologically, the Trump Bump cannot be underestimated either as it marked a pivot in industry trends, which carried over into December and marked the first month in over two years where yields improved on a year-over-year basis. Management's comments imply a positive correlation between the November 2016 presidential election results and the surge in business demand and firming of business yields. A more pro-business administration, benign tax environment and infrastructure improvements, which include airports, would accelerate momentum even more for DAL and other carriers.
2. Challenges and issues, which negatively or positively impact margins, continually exist.
Energy prices: Fuel has represented @ 35% of Delta's revenue over the last 7-8 years. In 2014, energy prices peaked and began to plummet. Q4 saw fuel costs decline $240m or 15% in lieu of higher prices. Narrower crack spreads, which suppress jet fuel prices, and hedging both helped to mitigate the risk of volatile energy prices.
For the first half of 2017, management expects fuel costs to be more weighted and ranging from $1.68 to $1.73 per gallon, or 30% higher year over year, then moderating further into the year to stabilize margins.
However, OPEC and other non-members' decision to reduce output until a more sustainable supply-demand equilibrium has been obtained could present a challenge. Offsetting this risk would be deregulated energy policies and the intermittent or prolonged production increases from North American shale players.
Non-fuel costs: Operating expenses increased $573m during the quarter and $475m of this can be attributed to the new pilot contract, whereby $380m of this comprised retroactive pay dating back to the start of January 2016. Of the 10.6% increase in non-fuel CASM, this pilot agreement makes up 80%. Non-fuel CASM is expected to rise another 3-5% in Q1 2017 and 2-3% for the year. Much of this will be related to maintenance, depreciation expenses, reduced asset utilization and other investments in human resources.
Having booked the entire incremental pilot expenses in Q4, it anticipates being able to normalize for this flow and attain margin expansion in the second half of this year. Keeping these unit seat mile operating costs contained is critical while management contends with boosting RASM.
Currency appreciation: Fortunately, much of the company's path to positive RASM is dependent upon its domestic business, where unit revenues are improving, especially as it begins to reap returns from investments in the JFK, Los Angeles and Seattle markets. However, it is estimated that 27% of its total revenues are generated from international markets, so unanticipated interest rate hikes by the Federal Reserve or signs of global economic deterioration due to pre-existing conditions or initiatives of trade protectionism could strengthen the dollar and be most undesirable.
Stronger US Dollar appreciation has created notable headwinds in Europe, where revenues declined 6% during the quarter. To counter this, DAL is proactively managing its capacity by deemphasizing some EU markets while continuing to build a presence in strategic hubs such as London, Paris and Amsterdam.
Geographical diversification in its portfolio should counter some of the above problems across the Atlantic. At the moment, Latin America, and especially Brazil, which has been initiating a reversal, is a strong area of revenue growth, which is up 5% year over year in Q4 2016 and posting positive RASM year over year for the first time since Q3 2011. In Asia, China's Shanghai and Beijing and Korea's Seoul are projected to add significant capacity growth. Of course, none of these areas are immune, but dependent upon economic growth as well.
3. Sustaining and reclaiming margins is the primary objective for DAL.
Offsetting rising fuel and labor costs: The wage increase for pilots and OPEC production cuts to stimulate higher energy prices directly impact operating margins as labor and fuel are the two biggest operating expenses for any airline. Both represent increasing risks to margins, particularly during the late stages of an economic business cycle. Unit revenue growth becomes imperative and management has clearly acknowledged this.
Managing capacity: Unit revenues (RASM) are expected to turn positive in Q1 2017. However, management is playing conservatively by limiting capacity over the medium to long term until operating margins return to 17%-19% levels. Due to the labor cost reset from the pilots' agreement, it expects margins to contract another 100-200 basis points year over year in 2017. Margin pressures could peak in March, which sets it up for expansion under improving RASM. Keeping capacity at lower levels while fares in the business segment price near troughs leaves room for upside, given that the economy is not contracting and business is showing no inclination to decreasing travel.
Product segmentation: Most impressive is management's willingness to be flexible in an industry that is prone to commoditization. Using product segmentation to meet demands which ebb and flow with various stages of the economic cycle enables it to provide customers what they are willing to pay for when they are willing to pay for it, e.g. food, other added perks or luxuries, without painting the company into a permanent corner. In the event fare prices become more of a priority for customers, then DAL is willing to shift and respond accordingly in order to protect and grow margins.
Summary
Both quarterly and annual results reflect an effective and disciplined management not only committed to growing margins, but also one fully aware of opportunities that may be leveraged to achieve its objective, as well as the potential challenges to which it must proactively respond or mitigate along the way. 2016's headwinds of rising labor costs and the reversal of lower trending fuel prices made it difficult to land anywhere near the financial performance of 2015, but under the skillful navigation of management, this is exactly what the company accomplished. It's safe to unbuckle your seat belts on this one.
Disclosure: I/we have no positions in any stocks mentioned, and no plans to initiate any positions within the next 72 hours.
I wrote this article myself, and it expresses my own opinions. I am not receiving compensation for it (other than from Seeking Alpha). I have no business relationship with any company whose stock is mentioned in this article.