By Parke Shall
We don't think brick-and-mortar retail will die off completely. We think there's going to eventually be a "sweet spot" recipe between occupying strategic physical space and doing business online. In line with this expectation, we think some retailers (those that generate cash, have a proactive plan for the future, and aren't drowning in debt) priced for severe distress, like GameStop (NYSE:GME), may represent good opportunities on large pullbacks.
Taking a bet on a company like GameStop here is likely going to be based on how you view the future of in-store brick-and-mortar retail from an industry-wide standpoint. We can't imagine there are too many people out there who believe that all retail brick-and-mortar operations will eventually go under that want to subsequently invest in a company like GameStop. It has an enormous retail presence which is where it conducts most of its sales, and it has been showing secular declines in almost every metric across the board for the last couple of years. But are things as bad as the market is pricing in? Over the last five years, revenue is only lower by about 4.85%, and cash from operations is only lower by about 6.47%.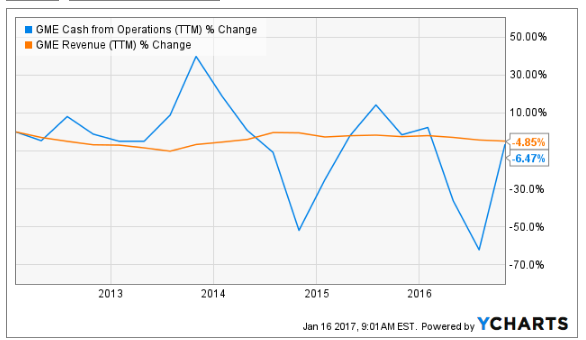 Concerning figures, yes. But definitely not the end of the world for the company, especially one that is now priced at less than 6x forward earnings and less than 5x its FCF figure from the trailing 12-month period.
Despite its difficulties, the company continues to generate a relatively significant amount of cash, it pays a respectable dividend and doesn't appear to be in any type of balance sheet crunch that would be of concern to us over the course of the long haul. As we have stated in many articles about retail names that we have invested in recently, we believe there is going to be a balance that will eventually be struck between in-store operations and online sales. We don't think that all retail shopping in person is going to end as we know it. We think it will downsize, and we think it will move into the future with a different type of operational efficiency. We just don't see all malls and all retail stores closing.
The problem isn't necessarily online shopping, it is providing an experience in-store that people can't get online. For instance, companies like TJ Maxx (NYSE:TJX) right now are not having any problem getting customers into their stores. In fact, these locations are flourishing. They are doing well because they are offering people a dynamic ever-changing supply of inventory that can't be found online. Also, clothing is one of several products that consumers are simply less likely to buy online.
So we believe there is a small niche for retail. It is just going to be about executing properly. The nice thing about GME is that the stores are a little bit more than just a shopping experience. They have a little bit of a social aspect in them, as well. Every once in a while we drop into a GameStop location somewhere in the five boroughs and there is more than just shopping going on. Occasionally, there are gaming tournaments or even manufacturers demonstrating and displaying new products. The feel in the stores is a little bit more than just your standard buyer and seller set-up. We often find staff passionately engaged with customers and customers engaged with one another. Not to say that this does not happen elsewhere in retail, but the gaming community is a small tightly-knit community, and we think that will work to GME's advantage as it look to reinvent itself and its retail experience over the course of the longer term.
The stock was down last week because the company once again missed its numbers. This time it reported that it had a disappointing holiday season. Seeking Alpha reported:
GameStop reports global sales for the holiday period fell 16.4% to $2.50B.
Comparable store sales decreased 18.7% for the two-month period, consisting of a 26.6% decline in November and 13.0% fall in December.
"During the holiday period, sales in the video game segment were impacted by industry weakness, promotional pricing pressure and lower in-store traffic, amidst a difficult holiday season for many retailers," notes CEO Paul Raines.
New hardware sales were down 30.3% as a large decline in PlayStation 4 and Xbox One hardware sales factored in.
Sales of new video game software decreased 22.8% due to difficult comparisons to titles launched a year ago, lower average selling prices and decreased store traffic.
Despite these numbers not being anywhere near where the company would like them or were analysts had estimated, the subsequent 8% drop in the company stock is a bit overdone, given the fact that GME was cheap prior to heading into this holiday season. We also think that given the fact that hardware saturation is hitting highs (no major console was released this year) and that there was a notable lack of big name games released around the holiday, and we can start to piece together a bit of a reasonable explanation for these lower numbers.
Trevor Day made this point clear in his recent GME article:
The Microsoft (NASDAQ:MSFT) Xbox One and Sony (NYSE:SNE) PlayStation 4 (PS4) were both released in 2013. Since then, there have been no major console releases. 2017 is set to be a year of major releases, with the Nintendo (OTCPK:NTDOY) Switch coming in the spring and then the Xbox Two presumed to be released for the holiday season of 2017. The Sony PlayStation 5 (PS5) is presumed to be released in 2018 or 2019.
We think a lot of the blame of poor sales was on the developers and the industry, not the retail stores that simply sell these products. In the meanwhile, GME continues to buy back stock, which it will be able to do more of as the price drops. You can see below that the outstanding share count has decreased meaningfully: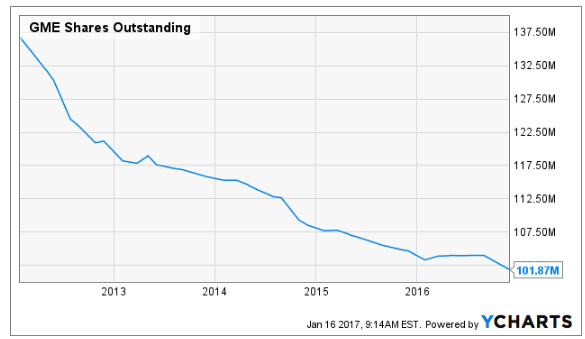 At $22, which is about 5.8X earnings, we believe that GameStop represents an opportunity worth buying. We bought on the drop last week, and we will look to hold for at least 6 to 12 months.
Like many other retail stores, we believe there is going to be a common sense solution for GME. It will likely involve closing more stores and it could also potentially involve the company changing the way it does its business and what it uses some of its real estate for. Perhaps the company will look to host more social events at its store locations instead of simply doing traditional retail sales. One thing is for sure and that is that the "scary" era of downloading games through the major consoles like Xbox has not yet caught on.
And while you can download some games in their entirety, most games you still have to go to the store for to purchase the DVD ROM which will install a portion of the software while your console downloads the rest. GameStop is pretty much priced for severe financial distress at this point. Despite this, it only has about $300 million of net debt and it generates about $600 million a year in cash from operations.
At this point, GME is almost trading at its book value of about $20.35. Most other retailers across several industries trade at multiples of their book value.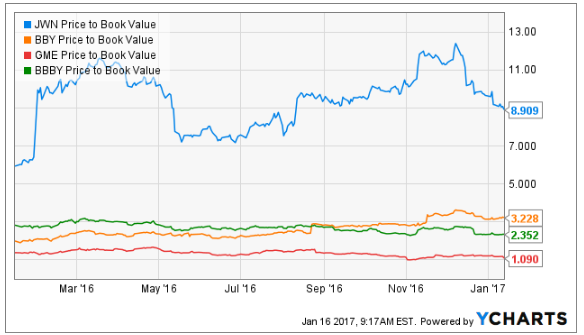 The market has been throwing in the towel on a lot of retailers of late, and GME's comparisons to Blockbuster simply won't stop. For many, it is a reason to definitely avoid an investment in the name. For us, we see it as creation of a longer-term chance to generate some alpha with a buyback and dividend kicker to back it up.
Disclosure: I am/we are long GME.
I wrote this article myself, and it expresses my own opinions. I am not receiving compensation for it (other than from Seeking Alpha). I have no business relationship with any company whose stock is mentioned in this article.