By Kenny Fisher
The Canadian dollar has posted slight gains in the Monday session. Currently, USD/CAD is trading at 1.3140. On the release front, US markets are closed for Martin Luther King Day. There are no US or Canadian releases on the schedule, so traders can expect limited movement from USD/CAD during the North American session.
The US consumer remains optimistic as we enter 2017. The UoM Consumer Sentiment in January was solid, but the markets had expected a stronger performance from the UoM Consumer Sentiment for January. The indicator was almost unchanged at 98.1, shy of the forecast of 98.6. Despite the optimism, US retail sales were a mix during the December holiday season. Retail Sales improved to 0.6%, edging above the estimate of 0.5%. However, much of the increase in spending was attributable to automobile sales, at the expense of other sectors of the economy. This was reflected in Core Retail Sales (which excludes car sales), which remained stuck at 0.2%, compared to a forecast of 0.5%. Still, analysts are confident that a bullish consumer will translate into strong spending numbers in the next few months. There was good news on the inflation front, as wholesale prices (measured by PPI) rose 0.3%, beating the forecast of 0.1%. This marked the third rise in four months, as inflation is pointing upwards due to higher oil prices. If inflation continues to climb towards the Federal Reserve target of 2.0%, we could see the Fed step in and raise interest rates. On Thursday, FOMC member Patrick Harker took note of the strong US economy and projected three "modest" rates from the Fed in 2017. We'll get another look at key inflation numbers on Wednesday, with the release of CPI and Core CPI.
As a commodity-sensitive currency, the Canadian dollar is sensitive to fluctuations in oil prices. With crude prices above the $50 level, the Canadian dollar has followed suit and moved higher as well. The currency is up 2.2 percent in January, and on Thursday, USD/CAD dipped to 1.3042, its lowest level since October 19. If the rally continues, we could see the pair drop below the symbolic 1.30 this week. The markets are keeping an eye on the Bank of Canada, which will set the benchmark interest rate on Wednesday. The rate has been pegged at 0.50% since July 2015, and with plenty of slack in the Canadian economy, no change is expected in the upcoming rate announcement.

USD/CAD Fundamentals
Monday (January 16)
There are no US or Canadian schedules on Monday
USD/CAD for Monday, January 16, 2017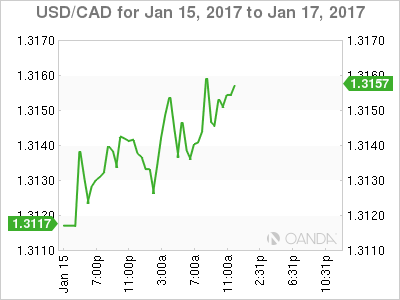 USD/CAD January 16 at 8:10 EST
Open: 1.3127 High: 1.3155 Low: 1.3122 Close: 1.3141
USD/CAD Technical
| | | | | | |
| --- | --- | --- | --- | --- | --- |
| S1 | S2 | S1 | R1 | R2 | R3 |
| 1.2922 | 1.3003 | 1.3120 | 1.3253 | 1.3371 | 1.3457 |
USD/CAD posted slight gains in the Asian session and is flat in the European session
1.3120 is providing weak support
1.3253 is the next resistance line
Further levels in both directions:
Below: 1.3120, 1.3003, 1.2922 and 1.2815
Above: 1.3253, 1.3371 and 1.3457
Current range: 1.3120 to 1.3253
OANDA's Open Positions Ratio
USD/CAD ratio is unchanged in the Monday session. Currently, long positions have a majority (61%), indicative of trader bias towards USD/CAD continuing to move higher.