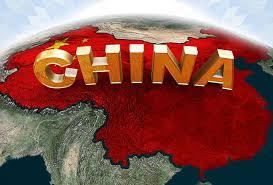 Trade War Would Hit AMD Share Price Hard
If a semiconductor trade war develops between the U.S. and China, the revenue, profitability and hence the share price of Advanced Micro Devices, Inc. (NASDAQ:AMD) will be hit hard. A semiconductor trade war will consequently present the opportunity for a medium-term short of AMD stock. The prospect and negative implications of such a trade conflict are not currently priced into AMD.
While I believe AMD's share price will in the long term continue its upward trend (See Seeking Alpha "AMD: How Ryzen May Impact The Processor Market And Boost Long Term Share Price"), very great concerns must presently attach to the burgeoning U.S. - China trade issue, which has the capacity to bring about a substantial medium-term retracement in AMD's share price.
To consider the magnitude of the matter, the World Semiconductor Trade Statistics Group shows the Asia Pacific region, with sales at $206.025 billion, as accounting for close to double the combined semiconductor demand of the rest of the world in 2016. Future demand growth in that region is projected at approximately 2.8% a year to the end of 2018, as part of an overall worldwide market for semiconductors, expected to be worth $350 billion in 2017.
Asia Pacific Market Access At Risk
Access for U.S. semiconductor companies to a large part of that Asia Pacific market is potentially at risk as a result of the China semiconductor trade policy being advocated by the incoming Trump administration. The entire Asia Pacific region is within China's sphere of influence and China itself represented 29% of world semiconductor demand in 2015.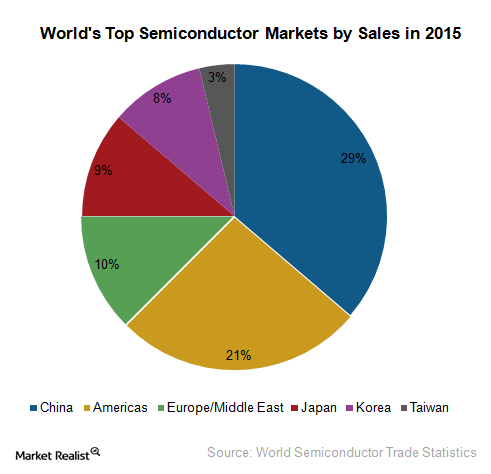 China is seeking to become independent of the United States in semiconductor production. It is both entering into joint ventures and acquiring semiconductor companies, with a view to obtaining the requisite intellectual property to manufacture domestically to meet all of the country's semiconductor needs. As a consequence, companies like Intel Corp. (NASDAQ:INTC) have been required to manufacture in China as the price of being allowed to participate in that country's marketplace.
To pursue the goal of semiconductor independence, the Chinese government is financing the expansion of their domestic semiconductor capability by designating $160 billion for the purpose. Amid concerns of state funding and possible world oversupply which will ensue, and with a subtext of security issues, Donald Trump's trade advisers are taking the position of significantly limiting Chinese investment in U.S. semiconductor companies.
Chinese Investment In U.S. Already Nixed
The U.S. government, through the secretive Committee on Foreign Investment in the United States, has already nixed Chinese investment in some U.S. semiconductor companies under the Foreign Investment and National Security Act of 2007. Examples are Western Digital Corp. (NYSE:WDC) and Micron Technology, Inc. (NASDAQ:MU).
As specifically with regard to the position of Advanced Micro Devices in this brewing conflict, the company has entered into two joint ventures with Chinese companies. The agreement with Tianjin Haiguang Advanced Technology Investment Co. uses AMD's technology to develop server chips for marketing only in China. AMD also has an agreement with Nantong Fujitsu Microelectronics Co. Ltd. worth $436 million, whereby AMD contributed assembly and test management facilities.
It is believed that these two agreements have already provided in excess of $500 million to AMD's revenue. If the agreements are negated by the Committee on Foreign Investment in the United States as a result of a hardened trade approach to China by the Trump administration, then AMD will suffer severe financial disadvantage.
AMD More At Risk Than Main Competitors
Such a development, where political considerations offset growing semiconductor demand, would cause the company to show sizable net losses and share price would fall markedly. In the event of a trade war, AMD's access to the China market also will likely be seriously impaired. Trade embargoes would strike at the heart of the company's profitability.
SEC filings show that AMD derived approximately 42% of its revenue from China in 2014 and approximately 28% in 2015. This is a greater proportion than that of Intel at 20% in 2014 and 21% in 2015, or Nvidia at 19% in 2014 and 16% in 2015, statistics which render AMD more vulnerable to the adverse consequences of a China trade war than either of its main competitors. The inevitable outcome for AMD would be a marked loss of market share, with concomitant deleterious effect on share price.
Possible responses from China to a hardening of U.S. regulation of semiconductor trade may include the refusal to allow U.S. companies to invest in China and closing its economy to U.S. imports. No doubt China is currently making an inventory of its intellectual property assets as they bear on the country's self-sufficiency in order to plan strategic responses to the U.S. in the event such responses are required.
Intel and Nvidia May Gain Tax Advantage Over AMD
The Obama administration has said that the U.S. must strengthen protection of American semiconductor companies as "a national security priority against a Chinese plan to dominate the sector through stronger export controls and more stringent and wide-ranging scrutiny of business deals in the sector." Moves may already be afoot to institute further export controls and limit joint ventures with Chinese enterprises.
Adding to AMD's possible problems, its largest competitors in the graphics and processor markets, Nvidia Corp. (NASDAQ:NVDA) and Intel respectively, may be strengthened by Donald Trump's proposed cut in corporate repatriation tax, from the world's highest rate at 35% to just 10%. (Trump is proposing to reduce the standard corporate tax rate to 15%).
Both Intel and Nvidia are believed to have much more cash overseas than AMD. For example, Intel in 2014 was estimated by JPMorgan Chase & Co. (NYSE:JPM) to be holding $9.7 billion in overseas cash, thought now to be over $25 billion by some estimates, while in 2015 AMD had total cash, including that in the U.S., of just $785 million. Hence benefit from a reduced repatriation tax would accrue to Nvidia and Intel disproportionately to AMD's competitive disadvantage.
Despicable, Parasitic, Crass And Callous
As to the likelihood of a semiconductor trade war developing with China, two factors potentially further exacerbate the prospect. Firstly, Trump's selection of Peter Navarro, a University of California, Irvine, business professor, to head his national trade council brings a radical and inflammatory view to the U.S. side.
Raping our country . . is an apt description of the damage and carnage that China's trade policies have wrought on the American economic heartland.

- Peter Navarro
Navarro has described the Chinese government as a despicable, parasitic, brutal, brass-knuckled, crass, callous, amoral, ruthless and totally totalitarian [sic] imperialist power that reigns over the world's leading cancer factory, its most prolific propaganda mill and the biggest police state and prison on the face of the earth.
Navarro's 2006 book "The Coming China Wars" describes China as a dystopian country where "the raw stench of a gut-wrenching, sweat-stained fear" prevails under the rule of short-sighted, immoral and inefficient Communist party apparatchiks.
Bellicose Bombast Of Political Campaigns
The following graphic is a still lifted from Navarro's 2012 documentary "Death By China" illustrating his polarized view of that country.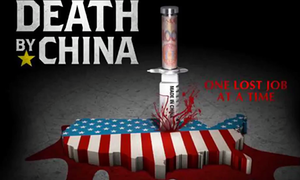 (Source: Netflix)
And then there are the statements of Rex Tillerson, former Exxon Mobil Corp. (NYSE:XOM) chairman and chief executive officer, and Trump's nominee for the position of secretary of state, in declaring that China's access to the defenses and artificial islands it has built in the South China Sea "is not going to be allowed." This confrontational position prompted a stark response from the Chinese government.
The US risks a "large-scale war" with China if it attempts to blockade islands in the South China Sea, Chinese state media has said, adding that if recent statements become policy when Donald Trump takes over as president "the two sides had better prepare for a military clash."

- The Guardian
Either of the above situations of which Navarro and Tillerson are emblematic, if allowed to escalate, may substantially increase the likelihood of a semiconductor trade war with China. For AMD, if the bellicose bombast of political campaigns and confirmation hearings does not fade, and the inertia of bureaucratic reality does not produce a more constructive, consensual semiconductor trade policy, rough times lay ahead.
Conclusion
After a dramatic climb in price from $1.61 in July 2015 to a recent high of $12.42, AMD shares may be set in coming months for a substantial medium-term fall, presenting the opportunity for a short, if the semiconductor trade conflict with China continues to escalate. The company, because of the proportion of its revenue derived from China, will suffer more than its main competitors.
With the current price near its 12-month high, the share price implications for AMD of a China trade war are not yet priced in.
Follow this author and receive immediate alerts upon publication of future articles by this author, please click on the "Follow" button at the top of this page next to the author's name and icon, and then select "Real Time Alerts."
Disclosure: I/we have no positions in any stocks mentioned, and no plans to initiate any positions within the next 72 hours.
I wrote this article myself, and it expresses my own opinions. I am not receiving compensation for it (other than from Seeking Alpha). I have no business relationship with any company whose stock is mentioned in this article.