Everybody loves to talk about cloud technology, and how (insert specific cloud technology here) is going to drive amazing growth at (insert specific cloud technology company here) for years to come.
Some analysts have been too quick, in my opinion, to assume that Oracle's (NYSE:ORCL) success as an on-premise software vendor will translate into long-term success as a cloud-based software vendor. In particular, a recent analysis that I read suggested that Oracle's Infrastructure-as-a-Service ("IaaS") business is going to drive strong growth and revenue at the company. My evaluation of Oracle's cloud and on-premise software revenues suggests that caution is in order, and Oracle's foray into the cloud will not be a "lay-up."
Oracle's Overall And Cloud Business Structure
To examine Oracle's performance, it's instructive to first understand how the company measures its business. Oracle divides its business into three segments:
Software and Cloud
Hardware
Services
The Software and Cloud business is further divided into three sub-segments:
Cloud (SaaS + PaaS) + On-Premise Software
IaaS
Maintenance and support
where SaaS = Software as a Service, PaaS = Platform as a Service, and IaaS = Infrastructure as a Service.
Note: This article assumes the reader understands the differences between the three major cloud business categories above (SaaS, PaaS, and IaaS).
Strong SaaS plus PaaS Growth, But IaaS Is a Different Story
After publicly attacking the idea of cloud computing for some time, Larry Ellison and Oracle launched the Oracle Public Cloud service in late 2011, and since that time, the company has touted double-digit growth year over year for its cloud-based business. In the company's recent Q2 FY 2017 press release, Chief Executive Officer Safra Catz notes:
"(For) four consecutive quarters, our Cloud SaaS and PaaS revenue growth rate has increased. As we get bigger in the cloud, we grow faster in the cloud."
Another quote from Founder and Chief Technology Officer Larry Ellison in the same releases states:
"We expect our...IaaS business will grow even faster than our skyrocketing SaaS business."
I thought it would be interesting to look at the specific software and cloud numbers to put these statements into context. I actually went a bit further and analyzed the numbers over the past 14 quarters, which are broken into four tables by fiscal year (all data in millions, and sourced from quarterly press releases starting Q1 FY 2014 through Q2 FY 2017):




As Safra Catz correctly points out, quarter-over-quarter growth has increased over the last four quarters for the SaaS and PaaS business. However, the trend from Q1 FY 2015 through Q2 FY 2017 is punctuated by periods of decline: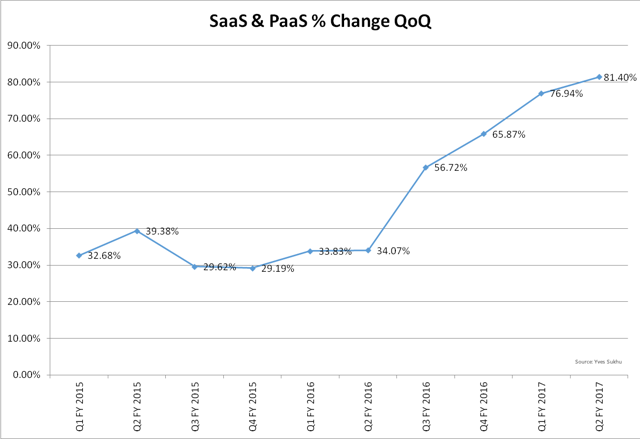 Clearly, SaaS and PaaS growth jumped in Q3 FY 2016 as compared to previous quarters. What drove this growth? The reasons are not completely clear, although Oracle seems to argue that its SaaS and PaaS cloud business is experiencing a snowball-going-downhill-on-a-snow-covered-mountain effect (i.e. momentum is making it bigger, and that momentum creates a cyclical growth effect). If that's true, what's going on with Oracle's IaaS business? Here's a plot of that data over the same periods: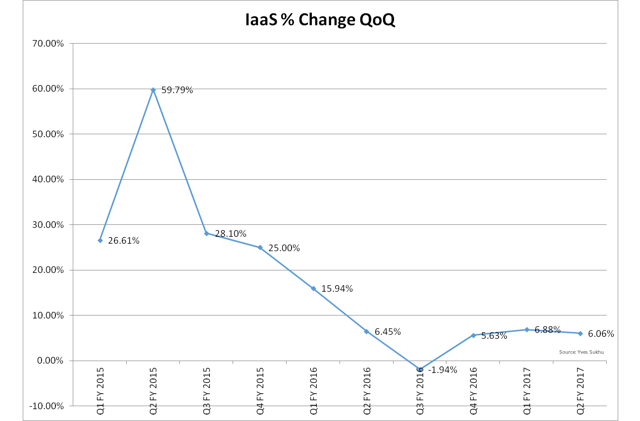 Obviously, the IaaS growth trend has been a bit different. Not only does this business show long periods of declining growth, Oracle's IaaS numbers ($175 MM in Q2 FY 2017) are MUCH smaller relative to its combined SaaS and PaaS business ($878 MM in Q2 FY 2017). So, as a direct challenge to analyses suggesting that Oracle's IaaS business is going to be a significant driver of revenue growth, where's the evidence?
Where's The Respect?
In some cases, Oracle is not even being mentioned as a significant IaaS player. Consider the following graphic from Structure Research, April 2016 depicting the IaaS market share by vendor (numbers in millions):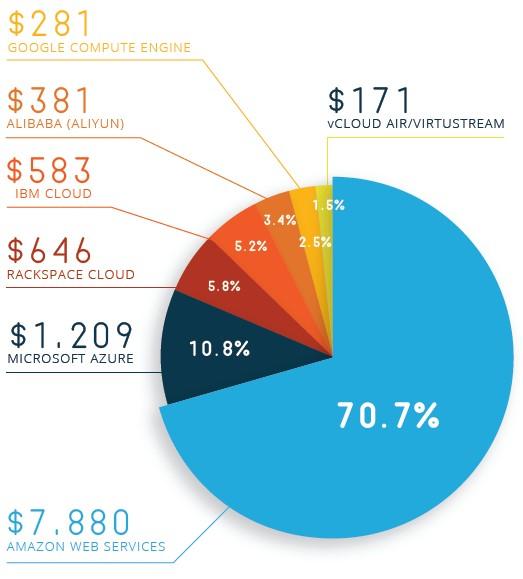 Notice someone missing? More importantly, Amazon Web Services (NASDAQ:AMZN) and Microsoft Azure (NASDAQ:MSFT) account for over 80% of the IaaS market. Even as Gartner estimates the IaaS market growing by 29% CAGR through 2019, there is reason to be skeptical that Oracle will be able to capture enough of the IaaS market for that particular business to contribute significantly to its top and bottom lines.
Even The SaaS and PaaS Business May Not Be Enough
With demonstrated weakness in its IaaS business, Oracle correctly emphasizes performance in its SaaS and PaaS business. But, even here, there are reasons to be cautious. Oracle's bread-and-butter on-premise software business is declining at an increasing rate. From FY 2014 to FY 2015, the company's on-premise software business declined by 0.9%, and from FY 2015 to FY 2016, the business declined by 4.6%.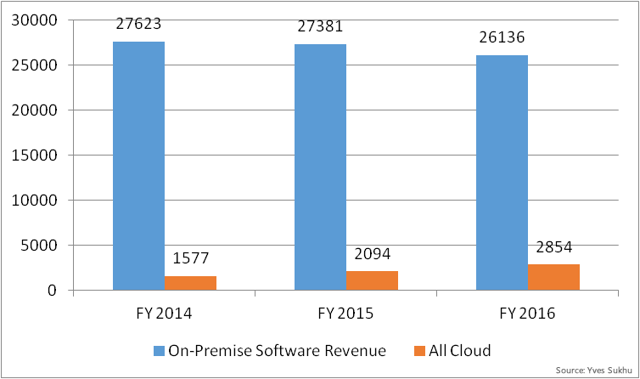 From FY 2014 to FY 2015, the total dollar loss of on-premise revenue of ($242 MM) was offset by a $517 MM gain in total cloud revenue (SaaS + PaaS + IaaS). That's good. However, from FY 2015 to FY 2016, the total dollar loss of on-premise revenue was ($1,245 MM) versus a gain of only $760 MM in total cloud revenue. Obviously, if on-premise revenue losses continue to accelerate, and cloud growth is not sufficient to compensate, then "Houston, we have a problem."
Oracle Will Have To Sell A "Ton Of Cloud"
Remember: the reason that so many companies are moving their computing workloads into the cloud is so they can reduce their information technology costs. IT is becoming a utility, with some analysts describing the cloud as a "race to zero." Therefore, Oracle will be challenged to replace a loss of $1 of on-premise revenue with a gain of $1 of cloud revenue. Oracle will have to sell far more cloud-based deals to make up for its losses of on-premise software revenue. Its need to dramatically increase cloud deal volumes only becomes more urgent when the bar is raised from compensating for on-premise software losses to making a significant dent against its major competitors like Amazon Web Services and Microsoft Azure.
Conclusion
Oracle is certainly not going to disappear. Its technologies are entrenched at hundreds of thousands of customers. At the same time, the IT industry is undergoing a seismic shift whereby traditional software/hardware business models are being up-ended by cloud computing models. Oracle was late to the game in cloud. That doesn't mean it can't compete, but it does mean it has an uphill battle and the data suggests that. Furthermore, businesses such as Amazon Web Services and Salesforce.com (NYSE:CRM) were built from the ground up on a cloud-computing model. Oracle was not, and the company may face significant structural, organizational and cost-related challenges if it is to truly become a cloud "heavyweight." Be cautious of analysts who proclaim that Oracle is going to be big in the cloud simply because it is in the cloud. Larry Ellison famously said "being first is more important than money." Cloud is arguably the most important example in Oracle's storied history where the company forgot this very important business approach that made it a powerhouse for so long.
I think there's a good chance that Oracle's performance will be uneven moving forward. It may make sense as a good stock to trade, but long investors should be cautious.
Supporting Documents
Disclosure: I/we have no positions in any stocks mentioned, and no plans to initiate any positions within the next 72 hours.
I wrote this article myself, and it expresses my own opinions. I am not receiving compensation for it (other than from Seeking Alpha). I have no business relationship with any company whose stock is mentioned in this article.