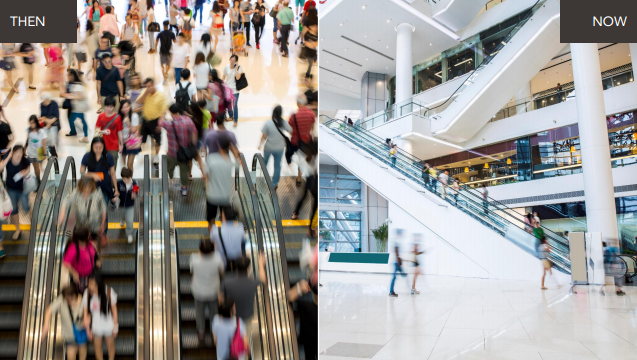 Brick-and-mortar retailers are increasingly losing foot traffic and sales to online retailers as consumers increasingly shift to online shopping, either by desktop or mobile device. Two weeks ago, I argued that traditional retailers need to evolve their stores into one-of-a-kind "destination venues" to create a unique experience for the customer, one that they can't get from an online retailer. Amazon (NASDAQ:AMZN), eBay (NASDAQ:EBAY), Wayfair (NYSE:W), Overstock (NASDAQ:OSTK), just to name a few, are attracting more customers from the Macy's (NYSE:M) of the world.
In-store innovation is crucial, but brick and mortars also need to invest in new technologies to keep up with the new digital age. Macy's, among others, is now re-evaluating their operating models and taking steps to make e-commerce and m-commerce a larger share of their business. Starbucks (NASDAQ:NASDAQ:SBUX) has done a great job integrating the mobile experience to enhance customer service and convenience. Mobile order and pay has contributed roughly 25% of the company's U.S. transactions. Retailers can learn a thing or two from the coffee-maker about seamlessly blending the in-store and online shopping experience.
The Amazon Effect
Sears (NASDAQ:SHLD), Macy's, Kohl's (NYSE:KSS), and J.C. Penney (NYSE:JCP) have lost billions of dollars in market value over the past 10 years, mainly because they failed to adapt to a fast-changing retail environment where consumers can easily compare prices and buy things online (see Figure 1).
Retailers like Macy's and Sears stuck with dated and uninspiring store concepts carrying the same merchandise and brands. Less foot traffic and heavy discounting caused sales and profits to plummet. And as a consequence of constant discount-sales events, they lost their pricing power.
Big box retailers forgot about the importance of in-store customer experiences in an omni-channel world. In other words, brick and mortars got too comfortable with what they already had and it bit them. Over the same 10-year period, Amazon's market value has grown by 1,934%.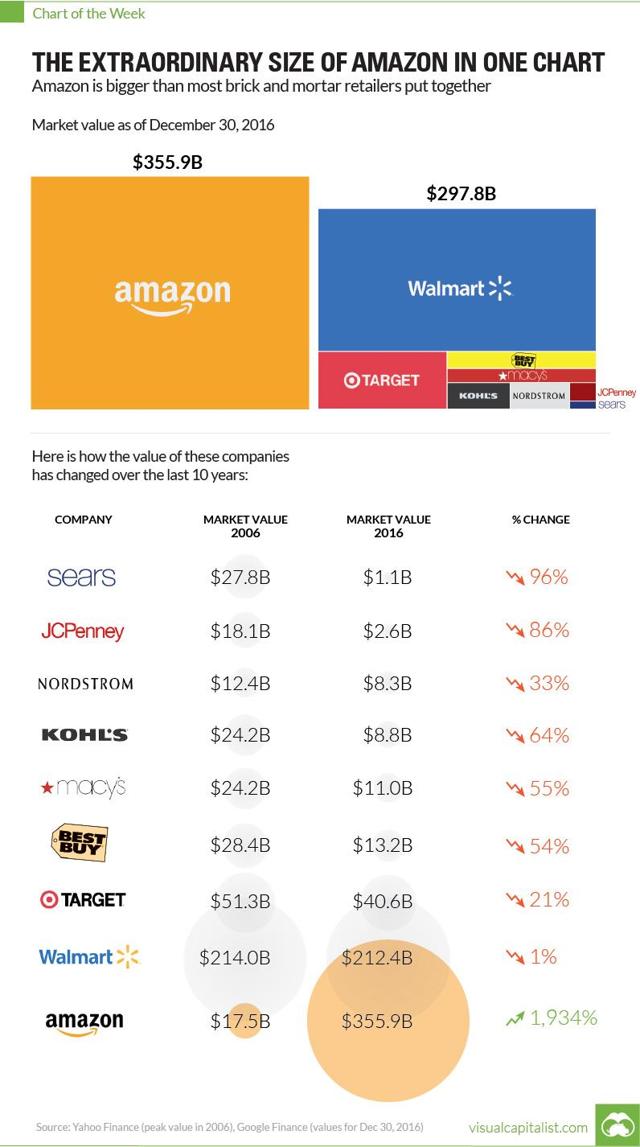 (Source: Visual Capitalist)
The so-called "Amazon effect" is driving the way retailers think about their customers, physical stores, and supply chains. Retailers are now rushing to refine their store concepts and online sales strategies to stay relevant and competitive. Macy's, for example, is streamlining its store portfolio by closing 68 of the planned 100 stores in 2017 and using the cost savings of $250 million to invest in its digital business and other store-related growth strategies.
Macy's is taking the right steps to focus on high-growth potential stores and mobile-enabled shopping. But is it too little too late? Not at all if retailers like Macy's make the right investments and adjustments. Big box and department store sales have decreased at a 4.7% compounded annual rate, from 2006 to 2015, according to data from Mazzone & Associates (see Figure 2). I expect the Amazon effect will result in more closures and consolidation in 2017 and 2018 in the broader retail industry.
For instance, Sears is closing 108 Kmart stores and 42 namesake stores in early 2017.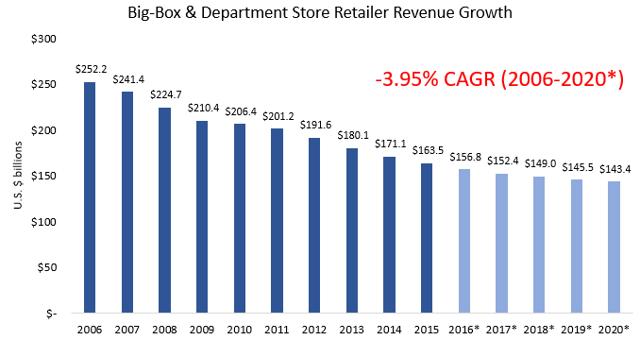 (Figure 2: Retail sales are in a downward spiral. Source: Mazzone & Associates)
Rough Holiday Sales
Brick-and-mortar stores had a rough holiday season. Last week, Macy's and Kohl's both reported a 2.1% drop in November and December comparable store sales and cut their earnings outlook. Weak holiday department store sales reflect the challenges of low retail traffic, off-price retailers, and online shopping. Mall traffic declined 12.3% in November and December, while mall sales declined 9.9%, according to in-store analytics firm RetailNext.
By comparison, Adobe Digital Insights estimates online holiday sales increased 11% to $91.7 billion from a year ago. Of that, Amazon captured nearly 40% of holiday sales in 2016, according to research from Slice Intelligence (see Figure 3). Macy's only claimed 2.4% of all online sales. Overall, the biggest gainer was Apple (NASDAQ:AAPL) collecting 2.4% of sales, up from 1.7% in 2015.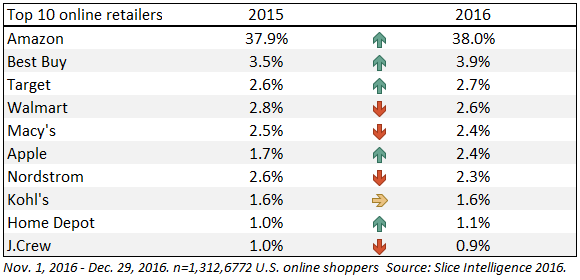 Department store retailers will need to combine the in-store experience and the personalization and convenience of online shopping. Quick service restaurants such as Starbucks have turned to mobile ordering and payment to drive incremental sales, but also to better service customers by learning about their buying habits. And it's working.
Integrating Mobile Tech
Mobile payments currently account for more than 25% of transactions at Starbucks U.S. operated stores. Starbucks Mobile Order & Pay makes up more than 7% of total U.S. transactions (see Figure 4). Mobile Order & Pay allows customers to customize and place their orders in advance. Pick-up is at a nearby Starbucks store without having to wait in line. It's quick, easy, and convenient.

(Figure 4: U.S. Starbucks customer breakdown. Starbucks customers are increasingly using Mobile Order & Pay. Source: Starbucks)
As a Starbucks Rewards member, you earn loyalty points or "Stars" with every purchase. You can choose to redeem your Star Reward to get free drinks and food. This reward-based program has encouraged customers to spend more, thus increasing the average transaction and ticket size. Starbucks plans to roll out two new features for the mobile app in 2017 to make food and drink ordering a more personalized service for the customer.
Creative Innovation
Starbucks is introducing a conversational ordering system called "My Starbucks Barista" which is a digital assistant influenced by Apple's Siri. It will allow customers to place orders via voice command or messaging. The second feature focuses on real-time personalization and product suggestions. Starbucks will track your buying habits and use that information to recommend your favorite food and drinks. This service is specifically tailored to your tastes and preferences (see Figure 5).

(Figure 5: Real-time personalization inside the Starbucks mobile app and revenue growth expectations. Source: Starbucks)
In fiscal 2017, Starbucks expects revenue growth to be driven by mid-single digit comparable sales and the opening of about 2,100 net new stores globally. Last month, Starbucks outlined its five-year plan for global growth. In it, the coffee-maker expects to generate over $35 billion in total revenue and double operating income by fiscal 2021.
Starbucks Mobile Order & Pay will play an important role in achieving these ambitious financial goals. Starbucks expects incremental sales from the digital platform will more than double over the next five years. Starbucks is making the right investments in digital and mobile. These innovative ideas will not only increase sales, but most importantly, increase customer loyalty and experience.
Takeaway
There's a lot that the retail industry can learn from Starbucks' loyalty program and mobile strategy. As mentioned above, the most successful retailers will seamlessly blend their in-store and mobile platforms together to create a unique customer experience. The new digital age is reshaping how people buy things. Retailers who don't take advantage of these growing technology trends will either continue to see their sales and profits decline, or worse, disappear.