Not long ago, America seemed to be facing a crisis of part-time work. CNN Money wrote of a "huge part-time work problem" and a "new normal - a permanently high number of part-timers." Others pointed the finger at Obamacare, which they saw as encouraging employers to cut hours in order to avoid providing healthcare coverage. Fortunately, recent data show that the "crisis" has receded as the economy has recovered. What remains is a more modest picture of structural change that does point to a gradual, long-term shift toward more part-time employment.
The Bureau of Labor Statistics counts everyone who works one to 34 hours per week as a part-time worker. Within that group, it distinguishes between those who are working part time "for economic" and "non-economic" reasons. The "economic" category, often called "involuntary" part-time workers, are those who work short hours for a reason such as unfavorable business conditions, inability to find full-time work, or seasonal declines in demand. "Non-economic" or "voluntary" part-timers are those who work short hours for reasons such as childcare problems, family or personal obligations, school or training, retirement, or Social Security limits on earnings. (Note that the BLS data refer to part-time workers, not part-time jobs. The agency counts a person with two part-time jobs that total 35 hours a week or more as a full-time worker.)
Involuntary part-time work has a strong cyclical component. 10 years ago, before the start of the Great Recession, just 5.3 percent of all employed workers fell into the involuntary part-time category. Their numbers grew rapidly as the economy turned down, peaking at 12.6 percent in March 2010. Since then, the share of involuntary part-timers has steadily declined, although it is still a bit higher than it was 10 years ago. Because the downward trend of involuntary part-time work has not yet bottomed out, we cannot be sure whether or not the increase over the last 10 years represents a structural change in the labor market.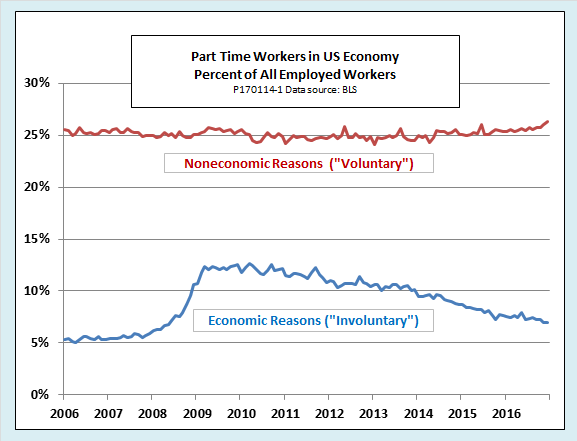 Meanwhile, as the chart shows, by far, the largest number of part-time workers choose short hours voluntarily. Voluntary part-time workers are now at a 10-year high, and outnumber their involuntary counterparts by almost four to one. Interestingly, there is almost no cyclical component in the share of employees working part-time for non-economic reasons.
Why do so many people want to work short hours? Explanations vary. Looking on the bright side, some people prefer the freedom and flexibility of work in the "gig economy." Others, including some highly qualified professionals, have struck short-week bargains with their employers to obtain better work-life balance. Also, as older citizens enjoy increasingly better health, more of them want to keep up with their professions, even if not full time.
However, not all of those whom the BLS places in the "non-economic reasons" category are working part time on an entirely voluntary basis. Taken literally, the term "non-economic reasons" does not really apply to people who can't work full time because they can't afford after-school care for their children or because they have lost one good full-time job and feel they must return to school or training if they are ever going to find another one.
There are places where changes in public policy could help. For example, the incoming administration's proposals on childcare and parental leave, if properly implemented, could make parents' choices more of a truly voluntary decision on work-life balance rather than one driven by the high price of daycare. Also, even though research shows that the ACA has had a smaller effect on part-time work than some had feared, things would be even better if a new healthcare law were tailored in a way that was truly neutral toward full- vs. part-time work. Ideally, that would mean a system that completely severed access to healthcare from employment.
Meanwhile, even though the crisis levels of involuntary part-time work that we saw at the depth of the Great Recession have passed, part-time work will remain a major feature of the US labor market for a long time to come. Even as cyclical indicators like the short-term unemployment rate, quits, and layoffs have returned to their pre-recession levels, fully a third of US workers are on the job 34 hours a week or less. That is up more than 2 percentage points from the level 10 of 10 years ago.
Gradual structural change will very likely continue to push the numbers higher still. However, there is still much to be done before we can be sure that any such future increases in part-time work will be truly voluntary.
Disclosure: I/we have no positions in any stocks mentioned, and no plans to initiate any positions within the next 72 hours.
I wrote this article myself, and it expresses my own opinions. I am not receiving compensation for it (other than from Seeking Alpha). I have no business relationship with any company whose stock is mentioned in this article.