The markets have been really optimistic about the OPEC-non OPEC deal for quite a while now, so any development related to the deal creates a big impact on oil prices. Last week, there was a report which stated that OPEC will not be able to stick to its promise of reducing its output by around 1.2 million barrels a day from January 2017. "Compliance won't be 100 percent, it never is. An overall rate of 50 to 60 percent would be good enough, based on past compliance levels," said OPEC sources. Oil prices came under pressure because of this development with the WTI and Brent trading at $52.37 and $55.45, respectively, at the time of writing this article. In my earlier article, I had stated that oil (NYSEARCA:USO) will remain volatile in the near future. On Sunday, January 15, the executive director of the International Energy Agency - Fatih Birol said, "I would expect that we will see a rebalancing of the markets within the first half of this year. But what I want to say is that we are entering a period of much more volatility in the market... the name of the game is volatility."
Markets will keep getting mixed results from the OPEC
OPEC members Saudi Arabia, Kuwait and Algeria are already sticking to their commitment of reducing their oil production. In fact, these three countries are reducing more than what they had agreed. Saudi Arabia is already producing less than 10 million barrels per day, while Algeria has announced that it will reduce its January output by 60,000 barrels a day (as compared to its earlier commitment of 50,000 barrels a day). However, OPEC members Iraq, Iran and Venezuela may deviate from their respective commitments on oil cuts (their combined target for the production cuts were somewhere around 400,000 barrels per day of crude oil). This means that markets will keep getting mixed results from OPEC (and non OPEC members like Russia and Kazakhstan) in the next 3-4 months.
U.S. oil production will put pressure on oil prices
In my previous article, I had stated that oil prices will remain under pressure from the supply side in the near future. I also said that oil prices can only increase in a sustained manner once crude oil inventories are reduced in a substantial way. As per EIA's latest oil data, the U.S. crude oil inventories increased by 4.1 million barrels per day for the week ending January 6. This increase was almost three times higher when compared to market's expectation. The EIA weekly oil data even showed an increase in production by around 176,000 barrels per day during last week. This shows that the U.S. oil production is increasing and this will be bearish for oil prices in the near future.
China's oil imports will affect oil prices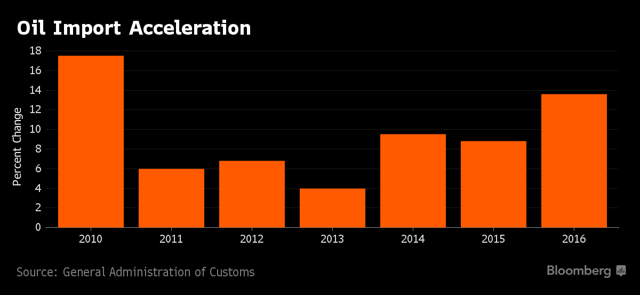 According to a report published in Bloomberg, China's oil import demand surged by almost 14% in 2016 and some of that demand was diverted into its strategic petroleum reserves. In my opinion, China's oil import demand will support oil prices in 2017. Because, China's crude oil stocks have been overestimated by market experts and the country is already constructing new facilities which can store more than 21 million tons of oil by the end of 2017.
Takeaway for investors
Investors must note that OPEC may not stick to its commitment of reducing its oil production to around 32.5 million barrels per day. And then, there is U.S. oil production which seems to be increasing at a consistent pace. Also, there is China and India whose future oil demand outlook looks strong. Looking at all these factors, I am convinced that oil will remain volatile in 2017.
Disclosure: I/we have no positions in any stocks mentioned, and no plans to initiate any positions within the next 72 hours.
I wrote this article myself, and it expresses my own opinions. I am not receiving compensation for it (other than from Seeking Alpha). I have no business relationship with any company whose stock is mentioned in this article.