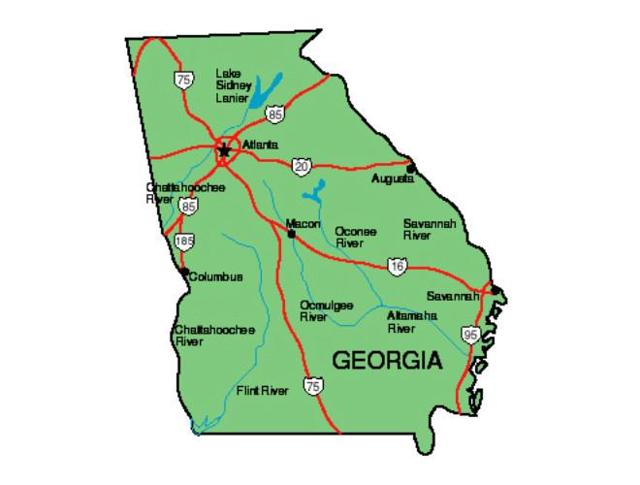 This article is intended for investors who are residents of the state of Georgia. I'll be looking at all available muni bond funds available to Georgians and find the best choice for the individual investor.
The two basic scenarios for investing in a muni bond are either making regular contributions to compound for the long term or a lump sump purchase which would also be compounded for a longer time period. It should be noted that muni bonds and the funds that hold them are NOT exempt from capital gains taxes. So because of this, the focus will be on compounding the tax-free income with the intention of never selling for capital gains. I want to quickly mention that even though muni bonds and muni bond funds are mainly marketed to wealthier individuals, there is no reason why a younger person can't start building wealth with these type of funds. It probably shouldn't be the core of one's portfolio, but it can be a bucket that you can add to whenever other accounts such as a Roth IRA are maxed out.
The Muni Bond Market
2016 provided an example of the risk that can come from trying to time the price of muni bonds. With the majority of the market expecting Hilary to become president and raise taxes, the muni bond market was bid up and then came down drastically after Trump was elected. Below is a one-year chart of the largest muni bond ETF, MUB.
This market is slowly recovering from the post-election bottom, and a subsequent rate hike along with more expected hikes this year have caused yields to begin to move up. This doesn't mean we should expect a return to the Volker era of high interest rates, but it's safe to say that yields won't be going lower for a while.
Of course, for the investor who has a muni bond fund in their portfolio for the purpose of long-term compounding, this decline was a temporary gift. The interest used to reinvest goes further whenever the share price of the fund is depressed, so while a sell-off occurred and many muni bond investors panicked, simply waiting and letting reinvestment work would have resulted in more shares than if no sell-off happened.
Now let's take a look at all available options for Georgia muni bond funds.
| | | | | | | | |
| --- | --- | --- | --- | --- | --- | --- | --- |
| Fund | Total Assets | Load | Expense Ratio | SEC Yield | Beta-1,3,5 and 10 years | Minimum Investment | Commission-Free Trading |
| | | 4.25 | 0.67% | 1.45% | .75, .87, 1.07, 1.08 | $1,000 | Yes/Interactive Brokers |
| | | none | 0.54% | 2.20% | 1.00, 1.00, 1.07, 1.07 | $2,500 | Yes/T. Rowe Price |
| | | none | 0.62% | 2.06% | .92, .93, 1.00, 1.10 | $100,000 | No |
| | | 1.00 | 1.61% | 1.05% | .92, .93, 1.00, 1.10 | $3,000 | No |
| | | 4.20 | 0.82% | 1.78% | .90, .92, .99, 1.10 | $3,000 | No |
| | | 4.25 | 0.95% | 1.37% | .85, .92, 1.07, .98 | $1,000 | No |
| | | 4.75 | 0.70% | 1.82% | .94, .92, 1.13, 1.39 | $1,00 | Yes/Interactive Brokers |
| | | 5.00 | 1.46% | 1,17% | .96, .93, 1.14, 1.40 | $1,000 | No |
| | | 4.00 | 1.70% | 0.68% | .83, .90, 1.06, .98 | $1,000 | No |
The majority of my articles here on SA have been on ETFs, but my standards haven't changed when it comes to choosing mutual funds. I always start by looking at the expenses first and then follow with everything else. So so since low expenses are a priority, loads are another expense that need to be taken into careful consideration.
My view is simply that investors should only go with no-load funds. This is a very high standard to have considering that tons of mutual funds have load commissions as well as high expenses. The industry as a whole is still riddled with load fees and expenses, so one must be very picky about which mutual fund to go with. Going with this standard, right away only two funds are left standing, FGARX and GTBFX, so let's look take a closer look at these two.
GTFBX has 173 bond holdings and below is the credit quality, sectors, maturities, and top ten holdings taken from morningstar.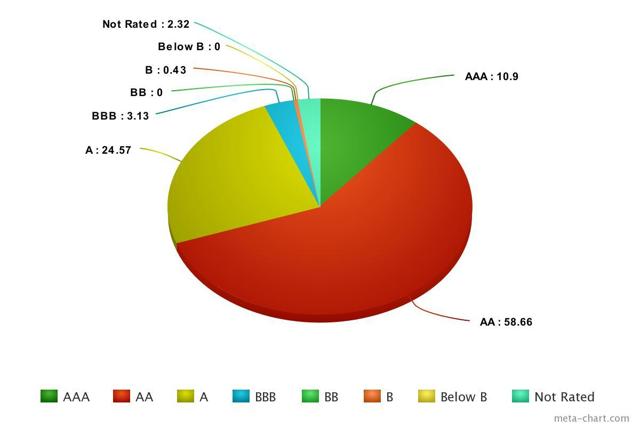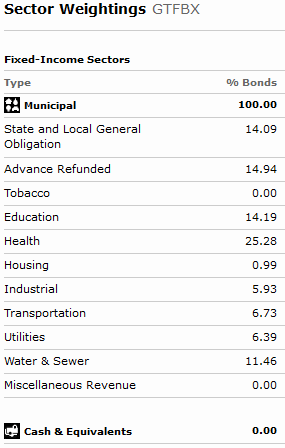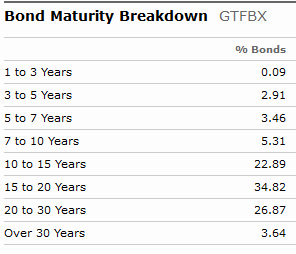 Top Ten Holdings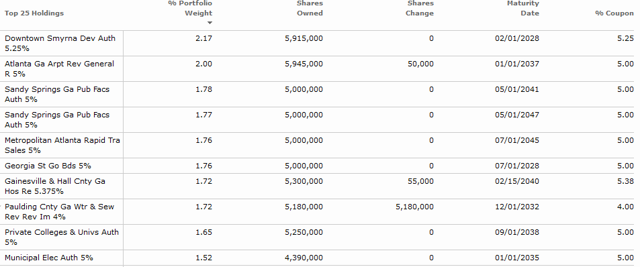 FGARX has 107 bonds in its portfolio, and the credit quality, sectors, maturities, and top holdings are shown below, taken from morningstar.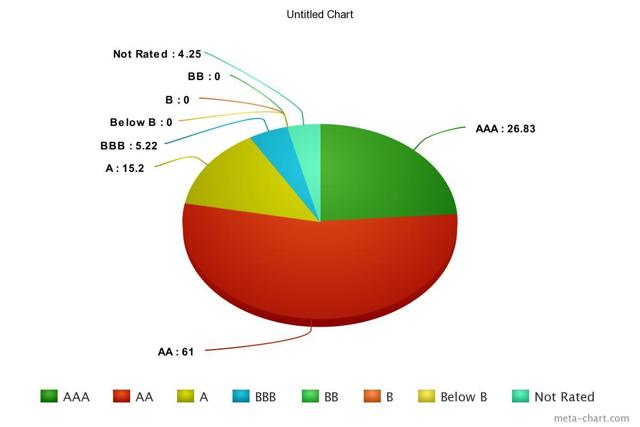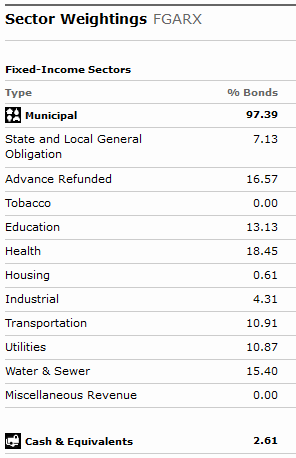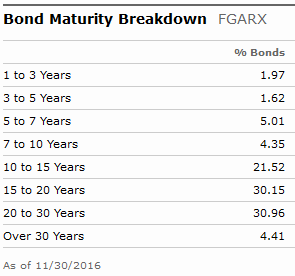 Top Ten Holdings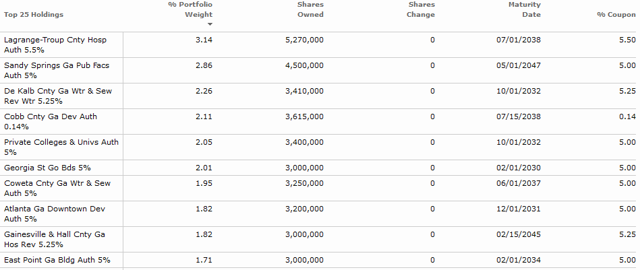 Even though both are diversified, there is only so much diversification that can take place when looking within a single state. This isn't an issue when comparing the funds, but the expenses and fees are though. GTFBX had the advantage of a lower expense ratio and commission-free trading through a T. Rowe Price brokerage account. Granted, 8 basis points is not a drastic difference between the expense ratios, but there is no reason to pay more when the yield is still approximately the same. Since the difference in expenses is not a huge gap, the ability to buy GTFBX commission-free does make quite a difference in the long run assuming the investor is making regular purchases. On top of that is the $100,000 minimum requirement for FGARX, which makes it less accessible for the investors with a lower net worth.
It should be noted that neither fund is AMT-free. FGARX lists an official amount of subject to the AMT, which is 1.02%. GTFBX on the other hand makes no mention of AMT, which means the tax may apply to certain individuals. Both funds, like all muni bond funds, are also not exempt from capital gains tax. Because of the capital gains tax, muni bond funds inherently require a long-term, buy and hold strategy. Of course there are plenty of bond traders out there, but this article is not for traders, it is for the investor simply looking to create a bucket of tax-free income for their portfolio.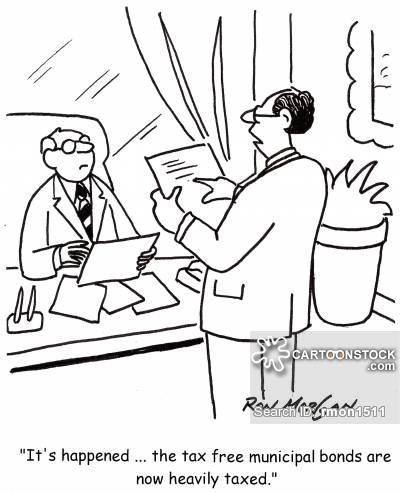 Conclusion
The clear winner here is GTFBX when compared to all other options. I still feel the expenses are high in general, but this is simply the best choice you have when looking within the realm of Georgia muni bond funds. The average expense ratio for muni bond funds is .96, which is almost double that of GTFBX.
One thing to keep in mind in that there are still seven states that don't levy an income tax, which opens up your options in picking muni bond funds. A Georgia resident could experience this by relocating to nearby Florida, but there is obviously more to such a big decision than preferential tax treatment. Still, a younger person should seriously consider living in a state with no income tax if they aren't too tied down. Having less taken out of each paycheck plus the ability to compound your wealth tax-free can make a difference in the long run and this is something that should be kept in mind for those serious about building the biggest and best nest egg possible.
Disclosure: I/we have no positions in any stocks mentioned, and no plans to initiate any positions within the next 72 hours.
I wrote this article myself, and it expresses my own opinions. I am not receiving compensation for it (other than from Seeking Alpha). I have no business relationship with any company whose stock is mentioned in this article.