Grab Your Parachutes, We're Going Down!
GameStop Corp. (NYSE:GME) reported somewhat disappointing holiday sales results on Friday, showing that holiday sales during 2016 were down a bit over 16% compared to the 2015 holiday sales. That's quite the drop, and the market responded by brutally cutting GME's share price by over 8%. Maybe they shouldn't have released this news on Friday the 13th? Superstitions notwithstanding, I initiated a position in this company paying a 6.5% dividend. Although the retail market is being dominated by electronic sales (mostly Amazon (NASDAQ:AMZN)), I'm not convinced that retailers like GME are out of luck. GME was already on my watch list, with my target at prices below $24.67 which would have given it a 6% dividend yield. Now that it's well within my price target, I'm only too glad to buy.
Where GME Has Been
Because Mr. Market has somewhat of a distaste for physical retailers, GME's dividend yield is quite high, while its trailing price/earnings is quite low as well.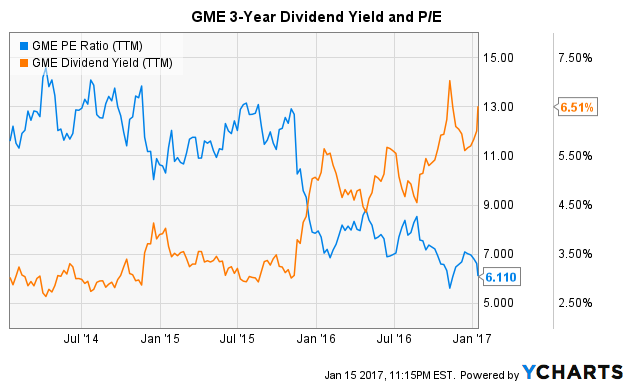 Although retail hasn't been a fantastic sector over the past few years with the growth of AMZN and other e-retail competitors, GME's revenues haven't suffered as much as might be expected from the market's adverse reaction. Through 2015, revenues have fluctuated a bit, but there hasn't been a major decline. More on 2016 estimates later, but earnings have been growing during the same period, excluding the period during 2012 where GME had a significant write-down.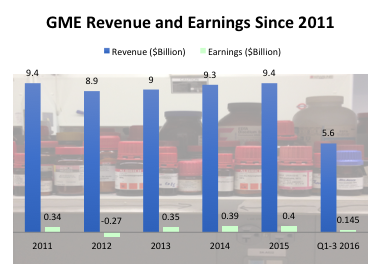 Source: GME, Chart by Author
During the same period, GME's earnings have mostly covered the company's dividend burden, again generously excluding the challenges of the 2012 period. In fact, GME's payout ratio has been under 40% for most of the above twelve-month periods.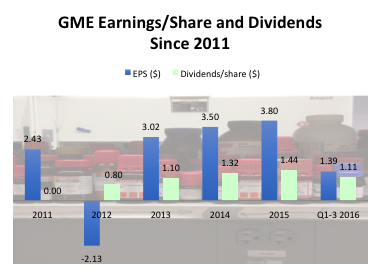 Source: GME, Chart by Author
Because the company has plenty of leeway with its payout ratio, GME has been able to devote funds toward buying back shares. Over the past six years, GME has been able to bring the share count from 140 million down to 104 million as of the last reported quarter. And GME doesn't plan on stopping the repurchases anytime soon, with over 750,000 shares repurchased over the holiday period and $192 million left in repurchase authorization.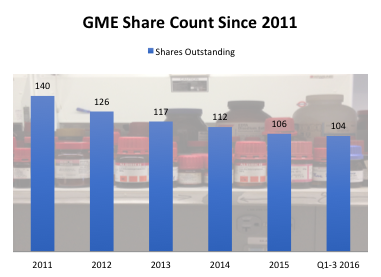 Source: GME, Chart by Author
The company has been taking on some debt however. Long-term debt totaled $814 million as of last quarter, which was up significantly from the $345 million during the year ago period. However in spite of its debt growth, the upcoming maturities are fairly far off and not astronomical.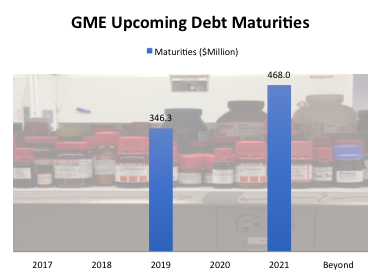 Source: GME, Chart by Author
The upcoming maturities from the company's 2019 senior notes of $346 million are just covered by GME's last reported cash and equivalents of $356 million. The debt level should be watched moving forward, but doesn't seem oppressive. Because of GME's ample earnings, generous dividends and aggressive buyback policy, I'm buying shares as able.
But the Holiday Slump?
So GME didn't look horrible until releasing its scary results Friday, but now the rubber has really hit the road. Using some of their reported data, some rough estimates can be produced. As mentioned above, GME had $2.5 billion in holiday sales, which was down 16.4% from the same 2015 period. The company had sales declines across several of its sectors, particularly decreases in console sales. These declines for consoles like the Xbox One and PlayStation 4 were not offset by sales of recently released consoles, like Nintendo's (OTCPK:NTDOY) NES Classic.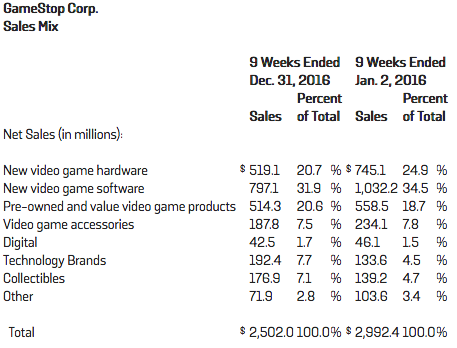 Source: GME
Although most segment sales decreased from the year-ago period, Technology Brands and Collectibles grew year over year from store growth and sales of Pokémon products, respectively. In spite of some overall declines in sales, GME still maintains its range of estimates for Q4 and full-year sales. The estimate for Q4 is expected to fall between $2.23-2.38/share, while the full-year sales may fall between $3.65-3.80/share. Were full year sales to hit the low end of $3.65, the annualized dividend of $1.48 would be at a payout ratio of 40%, roughly on par with previous years. GME's dividend looks secure moving forward, with room to grow if the company desires. However with a yield of 6.5%, I'm not demanding any dividend growth.
Final Thoughts
GME is a company that recently reported some significant holiday sale declines, which has had quite an impact on its stock price. However because of its relatively strong balance sheet, low dividend payout ratio (coupled with a high 6.5% dividend), and low price/earnings ratio, I like the company at this price and below.
Because earnings are expected to continue growing into the future, it appears that the dividend at current levels (and even at higher levels) will continue to be sustainable. If the price continues to decline, the high dividend combined with the secure coverage will have me coming back for more shares.
Author's Note:
I am on the lookout for high yet sustainable dividends or value opportunities with a significant margin of safety. If you're looking for the same, please hit the "Follow" button by my name at the top of the article, and hopefully you'll get some good ideas for value and income stocks.
Disclosure: I am/we are long GME.
I wrote this article myself, and it expresses my own opinions. I am not receiving compensation for it (other than from Seeking Alpha). I have no business relationship with any company whose stock is mentioned in this article.
Additional disclosure: I am neither a certified investment advisor nor a certified tax professional, and do not claim to be either. The data presented here is for informational purposes only and is not meant to serve as a buy or sell recommendation. Investors and potential investors should do their own research and make their own decisions. In the event that an investor or potential investor does not feel qualified to make such a buy or sell decision on their own, they should consult a certified advisor that they trust or feel comfortable with. Investing may involve losses, including potential loss of principal. The author relies on external links for some information that may have appeared on this perspective. These external links, although believed to be accurate, have not been verified independently. Therefore the author is unable to guarantee their accuracy.