Figure 1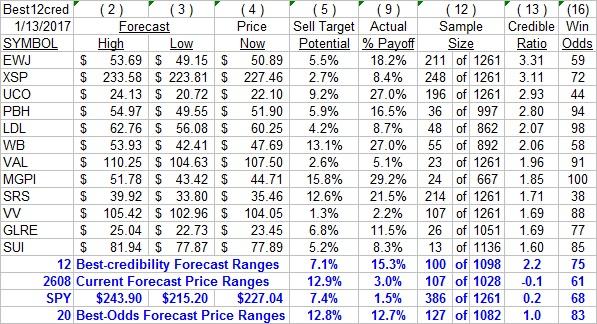 source: blockdesk.com
Over 2400 stocks and ETFs were screened to rank the best 12 of those with at least two years (252 market days) of forecasts and samples of at least 10 of those with upside to downside balances like what is seen today. The best quality sample here is SPDR S&P 500 (NYSEARCA:SPY), with many prior forecasts of similar up-to-down balance, across the span of 5 years.
Column (13) above calculates the ratio of column (5) to column (9) to drive the ranking. In turn, (5) measures the percent Forecast (2) is above the Price Now (4). These are expectations.
Column (9) looks at the relevant samples in history following prior similar forecasts, to average the price gain experiences among each of them during the periods they were held (of no more than 3 months). Column (16) tells what proportion of the sample experiences were closed out at a profit. These are actuals.
The reward prospects achieved by the ranked forecasts are some five times those of the large population of such forecasts, and about ten times the market index ETF, SPY.
At the same time, the ranked group's average present forecast price gain prospects are only one half of the forecast population's and about the same as the market Index ETF's experiences. These selected issues have done the opposite of the overall population.
The forecast population at large consistently overestimates its gain prospects, but often underperforms those expectations. What is the chance that these ranked issues will disappoint?
To appraise that possibility we look at how many of the current forecast level's prior sample experiences resulted in a profit when subjected to our standard portfolio management discipline. Figure 1 column (16) shows those results as a percentage of the sample.
In Figure 2 below these are expressed as Win Odds, with coordinates plotted on the horizontal scale. Odds below 8 out of every 10, or 80%, may be off to the left, out of the green area.
The size of the actual percentage gains experienced are on the vertical scale, which has its best results at the bottom and least gains at the top. So reliable big winners are down and to the right on this map. In that respect the favored locations are similar to our map of Rewards and Risks tradeoffs.
Figure 2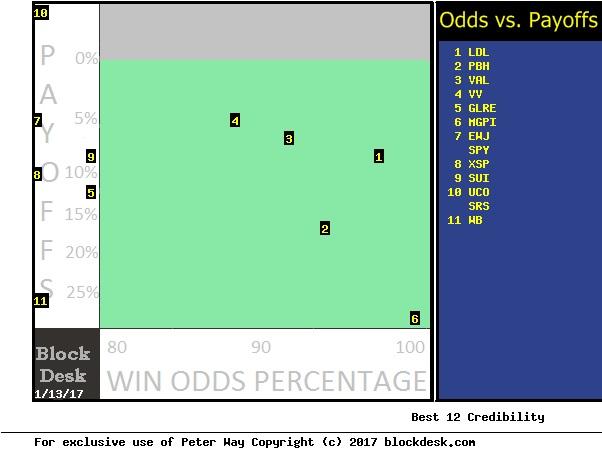 (used with permission)
In this map, good is down and to the right. The ranking selection creates the extremely diverse array of positions pictured. MGPI [6] has a very appealing performance history of consistently high payoffs with no loss experiences among its sample of 24 prior similar forecasts. At the opposite extreme UCO and SRS have less than half of their samples ending at a profit at [10]. Others in the green area have favorable combinations of win odds and past payoffs.
All this information is presented to provide individual investors with additional price perspectives in the course of their own due diligence. That exploration should include examination of the ideas of other Seeking Alpha contributors. For example, MGPI has a current SA contributor warning of several potential problems which could cause changes from the present perceptions of the stock's near-term price outlook presented in this analysis.
We have learned to be cautious with any location up against an exterior boundary. They may be the product of a weak or flawed sample, or a possible data error. The rational actions of many investors continually considering alternative investment choices tends to make extreme opportunities rare. But this map is scaled to highlight the outstanding odds performers, so for the odds dimension those outside the green area are simply an alert, not a fatality.
Risk and reward, while of prime concern, are not the only considerations driving capital investment commitments. The extent and frequency of loss, as well as recovery from interim adversity, will be the subject of other articles in this series.
Additional disclosure: Peter Way and generations of the Way Family are long-term providers of perspective information, earlier helping professional investors and now individual investors, discriminate between wealth-building opportunities in individual stocks and ETFs. We do not manage money for others outside of the family but do provide pro bono consulting for a limited number of not-for-profit organizations.
We firmly believe investors need to maintain skin in their game by actively initiating commitment choices of capital and time investments in their personal portfolios. So our information presents for D-I-Y investor guidance what the arguably best-informed professional investors are thinking. Their insights, revealed through their own self-protective hedging actions, tell what they believe is most likely to happen to the prices of specific issues in coming weeks and months. Evidences of how such prior forecasts have worked out are routinely provided. Our website, blockdesk.com has further information.
Disclosure: I/we have no positions in any stocks mentioned, and no plans to initiate any positions within the next 72 hours.
I wrote this article myself, and it expresses my own opinions. I am not receiving compensation for it (other than from Seeking Alpha). I have no business relationship with any company whose stock is mentioned in this article.