In a conversation about high yielding dividend stocks, AT&T (NYSE:T) and Verizon (NYSE:VZ) are two likely topics of discussion. Both companies are widely held, widely perceived as safe and widely perceived as a source of continued dividend growth. But if you had to pick one, which stock should you select?
I was surprised to see that while T outperformed VZ by a little more than 2% over the last twelve months, over the past five years, the two increased by virtually the same amount. Interestingly, VZ had the early "lead," while T "caught up" in Q4 2015 as the value of the DirecTV acquisition became apparent.

Source: Yahoo Finance
Dividend
I usually end with the dividend, but for many investors, the dividend is the prime reason for ownership. T traditionally sports a higher dividend. T's forward dividend yield is 4.8% compared to VZ's 4.4%. Both are in the top tier of dividend payers, but T obviously holds an advantage. VZ grew its dividend a bit faster, increasing its dividend payment by $0.05/year, "beating" T's $0.04/year by a penny.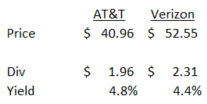 Source: Yahoo Finance
P/E Ratio
VZ is "cheaper" from a P/E perspective, sporting a 13.1x forward (2017) P/E compared to T's 13.8x forward P/E. T's EPS is expected to a grow, to $2.97/share, 4.6% in 2017 compared to VZ's 2.8% (to $4.00/share).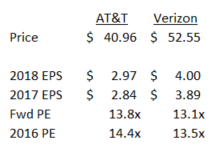 Source: Yahoo Finance
PEG
I put great stocks in future growth when evaluating P/E ratios. T is expected to grow by 8.3%/year over the next five years compared to VZ's 1.7% growth rate.
The difference in growth rate is not related to the core business of either company. Growth driven by T's DirecTV acquisition (including the new DirecTV Now product) appears to be the driver of future growth. VZ's acquisition of Yahoo (YHOO) will likely occur, but is not expected to generate material future profits.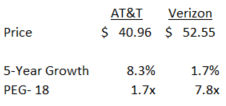 Source: Yahoo Finance
Core Business
T and VZ hold a quasi-duopoly in the US wireless arena. Compared to five years ago, VZ has gained almost a point of market share and T about 4/10 of a point. Remarkably stable considering the "new" focus on data, the elimination of contracts and a resurgent T-Mobile (NASDAQ:TMUS) (which gained most of its market share from Sprint (NYSE:S)).
Over the last twelve months, VZ has gained market share (almost 2 market share points), while T has lost over 1.5 market share points. As T and TMUS are both GSM carriers, a more competitive TMUS is "bad news" for T. Similarly, a more competitive S would be more impactful on VZ.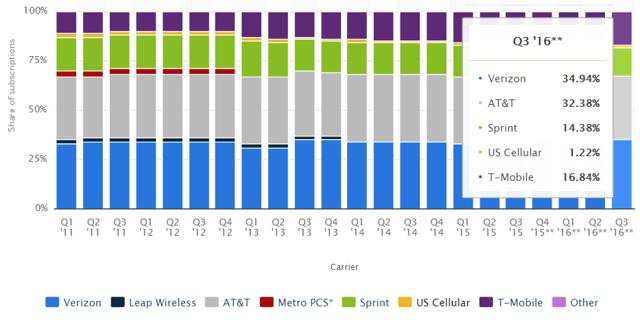 Source: Statista
Bond Yields and Other Interesting Stats
One of my favorite metrics is bond yields. It provides a shorthand check as to whether there is material perceived franchise risk. As both T and VZ are primarily held for their dividends, any perceived risk would be of great concern. Therefore, it is comforting that both T and VZ carry low (and virtually identical) medium-term debt yields. T's 2023 bond, yielding 3.4%, is a smidge cheaper than VZ's 2023 bond, which yields 3.3%.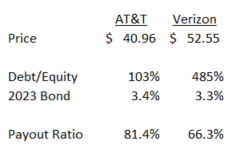 Source: Yahoo Finance, FINRA via Morningstar and T and VZ 10Q filings
I was a bit surprised that the yields were so similar as VZ's debt-to-equity ratio is high (and materially higher than T's).
VZ's payout ratio is materially lower than T's, which is likely part of the reason VZ was able to increase the dividend by $0.05/share compared to T's $0.04/share. More importantly for dividend-focused investors, VZ has a theoretical ability to continue increasing its dividend at a faster rate going forward. However, my caveat is network expansion, 5G deployment, spending on acquisitions (potentially Time Warner (NYSE:TWX) for T and Yahoo for VZ), etc. will all weigh heavily on future dividend increase decisions.
Conclusion
I prefer T over VZ. The reason is not the higher yield or lower debt-to-equity ratio. My preference is based on the potential for T to build a compelling ecosystem using DirecTV as a point of real differentiation. Whether or not T acquires TMX, I think the combination of content and wireless communication creates real value. To me, this differentiation not only provides the opportunity for EPS growth, but makes T safer over the long term.
My Investment Position?
In previous articles, readers have asked why I do not have a position in T. My simple answer is, I think the stock (and the market) is due for a correction. I am looking forward to being an owner during 2017.
Follow Me
To get my articles (which tend to be more qualitative and cover a range of stocks) please consider "following me". My articles are often a by-product of personal investing research and analysis. I do not sell subscriptions, but rather get material value in my investment journey from exchanges with readers.
Disclosure: I/we have no positions in any stocks mentioned, and no plans to initiate any positions within the next 72 hours.
I wrote this article myself, and it expresses my own opinions. I am not receiving compensation for it (other than from Seeking Alpha). I have no business relationship with any company whose stock is mentioned in this article.