By virtue of being a precious metals streaming company, Silver Wheaton (SLW) looks set for a strong performance going forward. This is because a streaming company does not own any mining assets, but rather gets its production in the form of streams from the miners of other base metals. This allows Silver Wheaton to save on operating and maintenance costs related to mines, which is why it has a superior margin profile as compared to other major gold or silver miners.
This is evident from the chart below: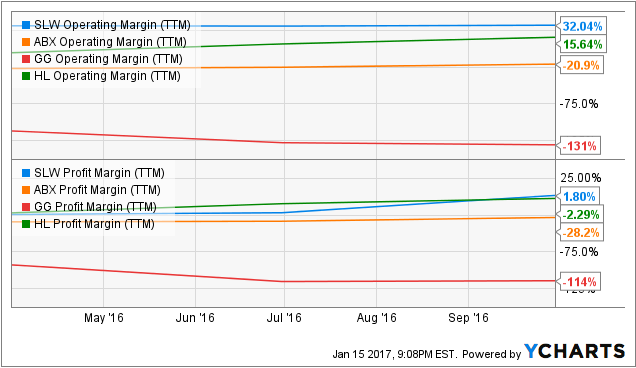 As seen in the chart above, Silver Wheaton's operating margins are way superior as compared to its peers in the industry. In fact, its operating margin of 32% is more than double of Barrick Gold's (NYSE:ABX) operating margin. Additionally, Silver Wheaton's rivals have negative profit margins. This is one of the key reasons why I believe that Silver Wheaton will be able to deliver robust net income growth in the long run, which will eventually translate into stock price growth.
Now, looking ahead, there will be two factors that will drive the growth in the Silver Wheaton's earnings - an improvement in precious metal pricing and a consistent cost base. In this article, we will take a closer look at the potential pricing of gold and silver going forward, and the impact it will have on Silver Wheaton's financials.
A closer look at potential gold and silver prices
Silver Wheaton's revenue is almost evenly split between gold and silver. As a result, the pricing of both precious metals plays a really important role in driving the company's financial performance and earnings power. In fact, a rise of 30% in silver prices and 18% in gold prices during the last reported quarter had powered Silver Wheaton's revenue higher by 52% and adjusted net earnings had increased 67%.
The following chart shows how lower gold and silver prices have a negative impact on Silver Wheaton's revenue and net income, while higher precious metal pricing leads to gains: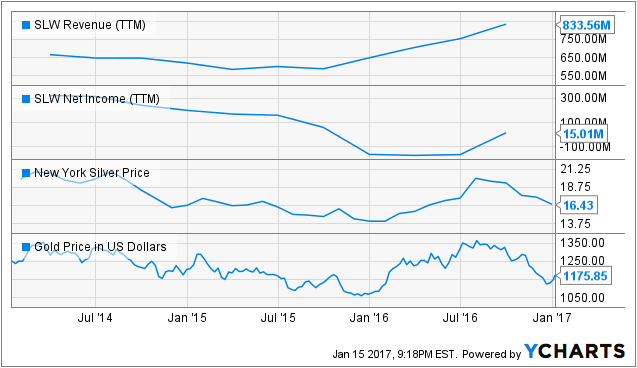 Therefore, in order for Silver Wheaton to sustain its revenue and income momentum, it is important for the company to witness strong gold and silver prices. However, as evident from the chart above, there has been a slight weakness in both gold and silver prices of late. However, this weakness in precious metal pricing should not last for long as gold is expected to do well under a Donald Trump presidency.
For instance, after his first press conference as the president-Elect, gold prices shot up to seven-week highs as there was not much clarity regarding the economic plans under the new government. The uncertainty involved with infrastructure development and economic growth under Donald Trump's presidency is expected to weaken the dollar, which moves in the opposite direction as gold.
More importantly, Donald Trump's protectionism stance against foreign nations such as Japan and China will also prove to be a tailwind for gold pricing. The president-elect has taken note of the fact that the U.S. has lost around 4 million to 7 million jobs as a result of China. In fact, due to the weak currencies of both China and Japan, their products have become cheaper as the dollar has strengthened.
In fact, the Chinese currency has an advantage of 20% in terms of purchasing power parity as compared to the U.S. dollar. As a result, it is anticipated that Trump might pursue quantitative easing going forward in order to increase the money supply, which will lead to a weaker dollar based on demand-supply dynamics. A weaker dollar will make American products cheaper abroad, which will lead to an increase in demand for the same and help the president-elect pursue his policy of bringing more jobs to the U.S.
Now, the U.S. dollar and gold prices are inversely related. In fact, around half of the movement in gold prices is driven by the U.S. dollar, with a change of 1% in the value of the U.S. dollar leading to a change of over 1% in the price of gold. So, a weaker U.S. dollar will lead to higher gold prices. In fact, under a Trump presidency, ABN Amro forecasts that gold prices could rise to $1,450 per ounce by the end of the year, with the long-term forecast pegged at $1,850 per ounce.
Given that the historical gold to silver price ratio is 47:1, a gold price of $1,850 an ounce indicates that the price of silver will rise to $39 per ounce in the long run. This means that the prices of both the metals will rise substantially from current levels in the long run, which will prove to be a tailwind for Silver Wheaton.
Silver Wheaton's costs are well-defined
Now that we have arrived at the potential gold and silver pricing for the long run, we will take a look at the potential cost base of Silver Wheaton. The good thing is that Silver Wheaton has a well-defined cost profile going into 2020.
More specifically, until 2020, Silver Wheaton's gold cash costs will be $403 per ounce, while cash costs of silver are expected at $4.52 per ounce. Along with the rise in gold and silver prices, a relatively low cost base will have a positive impact on Silver Wheaton's profit profile. This is evident from the table below:
| | | | | |
| --- | --- | --- | --- | --- |
| | Silver Wheaton in 2020 as compared to 2015 | | | |
| | | | 2015 (A) | 2020 (E) |
| A | Realized price of gold per ounce | | $1,152 | $1,850 |
| B | Cash cost of gold per ounce | | $393 | $403 |
| C | Average depletion per gold ounce | | $534 | $494 |
| D | Gross margin per ounce of gold | (A-B-C) | $225 | $953 |
| | | | | |
| E | Realized price of silver per ounce | | $15.64 | $39 |
| F | Cash cost of silver per ounce | | $4.17 | $4.52 |
| G | Average depletion per silver ounce | | $3.41 | $5.34 |
| H | Gross margin per ounce of silver | (E-F-G) | $8.06 | $29.14 |
Source: Author's calculations based on forecasts arrived in the article. Cash costs provided by Silver Wheaton. Depletion is based on the nine-month 2016 average and could change as SLW enters into more streaming agreements.
Therefore, due to a rise in both gold and silver pricing, Silver Wheaton will witness robust growth in its margin profile in the long run, which is great news for investors.
Conclusion
Silver Wheaton looks poised to deliver more gains on the market in the long run as its margins will get better on the back of higher pricing. So, it will be a good idea for investors to continue holding the stock of Silver Wheaton going forward.
Disclosure: I/we have no positions in any stocks mentioned, and no plans to initiate any positions within the next 72 hours.
I wrote this article myself, and it expresses my own opinions. I am not receiving compensation for it (other than from Seeking Alpha). I have no business relationship with any company whose stock is mentioned in this article.