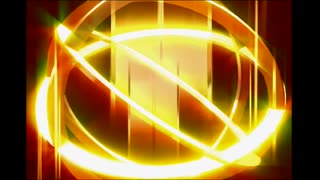 The GAMCO Global Gold, Natural Resources & Income Trust (NYSEMKT:GGN) (11.13% yield, -6.59% discount, -1.40 z-score, 10.50% leverage, 1.29% expense ratio) appears to be one of the more divisive closed-end funds (CEFs) out there. Some investors are attracted by GGN's tremendous yield, currently in excess of 11.13%, that is paid into their accounts monthly. Others are concerned about GGN's high, and possibly destructive, return-of-capital distributions (ROC) that has led to a dwindling of its share price over time. Both viewpoints were on display in my recent article "CEFL/YYY Investors Face Imminent 12% Distribution Cut." For example, reader jvtrow said that "as long as they keeping paying the dividend I am staying long GGN" (2 likes), while the real bob stated that "GGN's dividend comes from destructive return of capital, not income. Most of GGN's stocks don't pay much in dividends themselves" (4 likes). Investors seem to either love GGN or hate it, and with 9,475 followers on Seeking Alpha, it is even more popular than the PIMCO High Income Fund (NYSE:PHK) (8,253 followers), another CEF that has also attracted its share of contention and controversy.
In my own investment philosophy, I try to avoid emotion wherever possible. Therefore, I endeavored myself to examine the pertinent facts surrounding this fund, and by sharing my findings and analysis, hope to aid investors to make more informed decisions regarding GGN.
1. Looking at ROC in isolation for option-income funds is inappropriate, and may even be misleading...
GGN is an option-income fund. This means that it sells options to boost its portfolio income. Interestingly, while most option income funds sell call options only, GGN writes a small amount of put options in addition to its covered calls.
Unfortunately, the fund only provides data on the nominal portfolio weighting of its call (5.5% in the last quarterly report) and put (0.1%) options, and does not give information as to what percent of the stock portfolio is covered. We can estimate call option coverage by looking at specific holdings in the quarterly report. For instance, GGN holds 2.7M shares of Alamas Gold (NYSE:AGI), and has written 27k call options on the stock, indicating that it has about 100% call option coverage on AGI (since 1 contract = 100 shares). GGN has 450k shares as well as 4k call options of Exxon Mobil (NYSE:XOM), again indicating very high (89%) coverage. It also has 800k shares of Tahoe Resources (NYSE:TAHO) and 10k call options, which means that it is actually "naked" on a portion (2k, or 20%) of its TAHO calls.
Many experienced investors, perhaps having been burned with CEFs during the financial crisis, place an overriding importance on ROC (return of capital). However, the very high option coverage of GGN means that using ROC in isolation can be inappropriate, or even misleading.
In an article "Equity CEFs: Demystifying Return Of Capital Distributions By Eaton Vance", CEF expert Douglas Albo writes:
Because the fact of the matter is if investors truly understood the risks and benefits of Return of Capital, they would be treating ROC with a lot more respect instead of disdain and they would be utilizing this neglected financial tool in their tax-planning instead of avoiding it.
Doug's article links to an Eaton Vance white paper (also linked here) as well as his own previous articles, which explains the matter in more detail. One important point that Doug raises is that even if a fund is earning enough income from dividends and options to cover the fund's distribution, the fund manager could still designate part of it as return of capital by realizing losses in the fund's stock portfolio in order to improve the tax treatment of said distribution.
2. ...but GGN's ROC has been of the destructive variety.
Having established that ROC, for option-income funds at least, is not the devil's instrument of destruction, the next question becomes: has GGN's ROC been of the "good" (constructive) or "bad" (destructive) variety? Eaton Vance's white paper provides this helpful rubric:
Look at the change in a fund's NAV per share (net of distributions) over the course of a year: if NAV has increased, the fund earned more than it distributed. If NAV has gone down, the fund distributed more than it earned. Said differently, if a fund's total return based on NAV has exceeded its distribution rate for the year, it earned its distribution. If not, the opposite. Pretty straightforward, right?
Applying this to GGN shows that, alas, the distributions have not been supported by the fund's total return. Since inception at $20.00 in March 2005, GGN's share price has dwindled to $5.39, nearly 75% less.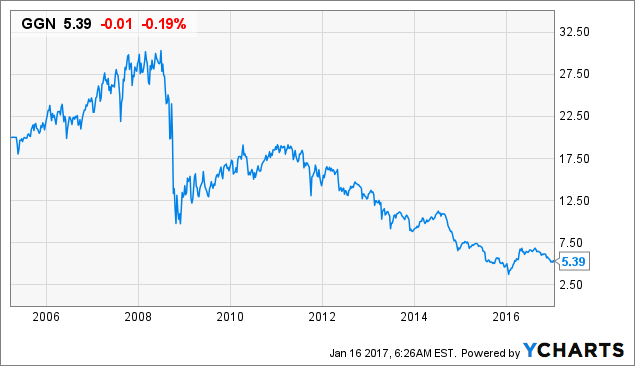 It would appear therefore that paying out consistent 10%-plus yields has really eaten into the fund's principal. This calls into question as to why the fund managers have insisted on paying out such a distribution yield to its unitholders when it was clearly not sustainable.
3. At its current yield, GGN should not be considered as an income vehicle
Sadly, this lesson has been learned the hard way by many investors, including, unfortunately, those who have retired and depend on their stocks for income. No thanks to GAMCO for putting the term "income" into the name of this CEF.
In fact, GGN's distribution has been cut four times in the last five years alone (not counting the drop in 2014 after the distribution was inexplicably doubled for three months), and its current monthly payout of $0.05 is nearly two-thirds lower than what it was ($0.14) in 2011. The most recent cut took the distribution down from $0.07 in December of last year to $0.05 this month, a nearly 30% cut.
What makes GGN different from other option-income CEFs such as the Eaton Vance Tax-Managed Buy-Write Income Fund (NYSE:ETB), which has not had a single distribution cut over the past five years? Clearly, the roaring U.S. markets since the financial crisis have provided a tremendous tailwind for all domestic equity funds, option-income or not, and ETB has been an obvious beneficiary. Yet, I note that ETB is paying out a significantly lower yield on its NAV (8.24%) than GGN (10.40%), and that is even after GGN's most recent distribution cut (before that, GGN was paying out a monstrous 14.56% yield on its NAV).
With a focus on the volatile gold and natural resources sectors, one questions whether an option income strategy is even the right one with GGN. Sure, the call writing is more lucrative, but you also forfeit nearly all of the upside should the underlying stocks explode higher, while at the same time, retaining most of the downside as well. Moreover, being forced to consistently pay out such a high distribution can have a very damaging effect on the principal of the fund particularly if stocks have to be sold at market lows. With gold and energy sectors being stuck in the doldrums over the past two years, such an event would have occurred more frequently than not. To GGN's credit, it has maintained quite a large position (averaging 15%) in U.S. treasury bills (effectively cash) over the years, which might have helped it limit the amount of stocks it would have had to sell at firesale prices.
Regardless, my opinion is that GGN should further reduce its distribution yield, to perhaps 5% of NAV, to prevent the NAV from deteriorating further. By doing so, it could even have to chance to regain some of its lost NAV, and perhaps even pave the way for distribution growth going forward.
Perhaps paradoxically, then, I would consider GGN to be more suitable as an income instrument if it were to lower its yield. At least, there would be more certainty regarding payouts going forward, and less chance of further NAV erosion.
4. Yet GGN is behaving exactly as one would expect
Over the past five years, GGN has exhibited a total return of -33.5%. Terrible numbers to be sure, but yet not wholly unexpected. In its quarterly and annual reports, GGN classes its equities holdings into two main sectors: "Energy and Energy services" ("energy") and "Metals and Mining" ("metals"). As of its most recent quarterly report, GGN had 32.3% in energy and 42.3% in metals and another 19.2 in T-bills.
As these proportions vary, I looked over the quarterly reports of GGN over the past five years and noted down the allocation of the fund in the various sectors. The weighting of those sectors over the past 20 quarters are shown in the chart below: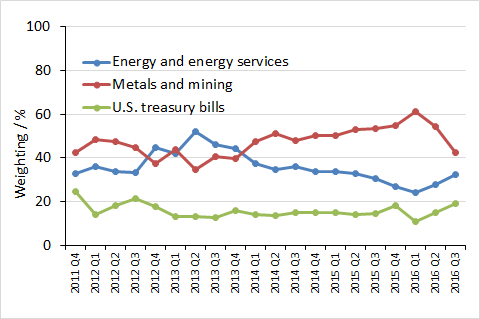 (Source: Stanford Chemist using data from GAMCO)
Over the past five years, GGN's average allocation to energy was 35.82% while for metals, it was 47.27%, with the remaining 15.88% in T-bills. To evaluate the performance of GGN, I elected to use the Energy Select Sector SPDR ETF (NYSEARCA:XLE) as a benchmark for the energy sector, and the VanEck Vectors Gold Miners ETF (NYSEARCA:GDX) as a benchmark for the metals sector as the majority of stocks in GGN belonging to this sector are gold miners.
XLE has had an annualized five-year return of +3.39%, while for GDX it has been a dismal -15.36%. A blended 36:47:16 (XLE:GDX:cash) composite benchmark would have returned -6.05% annualized over this time span, which is only about 50 bps better than the actual NAV return of GGN. This difference could be fully (and more) accounted for by GGN's expense ratio (1.29%) and its leverage (10.50%). In other words, GGN has performed exactly as one would have expected.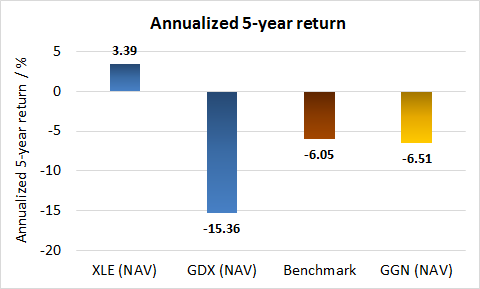 (Source: Stanford Chemist using data from Morningstar)
The five-year price total return chart for the three funds shows that the return of GGN is nestled comfortably between the return lines of the better performing XLE and the struggling GDX.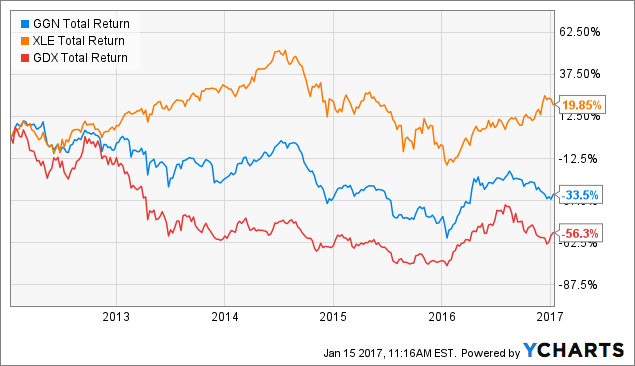 Summary
Is GGN an angelic stream of everlasting dividends or is it a diabolical destroyer of capital? My analysis suggests that is probably neither. GGN's managers are not bungling incompetents incapable of distinguishing between winners and losers of the energy and metals sectors, but nor are they wholly guiltless for maintaining, still today, an unsustainably high distribution policy that will doubtless see GGN suffer further cuts and NAV erosion ahead. Regardless, despite having the word "income" in its name, GGN should not be considered to be a reliable income source at least until the distribution policy is changed. Investors would be well-served by remembering the proverb: "All that glitters is not gold."
Love GGN, or hate it? Share in the comments section below!
If you have enjoyed my article, please consider clicking the "Follow" button next to my name to be alerted to new content! Subscribers to the Cambridge Income Laboratory (#2 on Marketplace for both ETF and CEF categories) are alerted of my best trade ideas in advance, can view my personal ETF/CEF income portfolio and have early access to my monthly CEF and ETN reports. For more details on what subscribers receive visit here. Sign up for a free trial by the end of January to beat the 2017 50% price increase!
Disclosure: I/we have no positions in any stocks mentioned, and no plans to initiate any positions within the next 72 hours.
I wrote this article myself, and it expresses my own opinions. I am not receiving compensation for it (other than from Seeking Alpha). I have no business relationship with any company whose stock is mentioned in this article.