When you think of the typical "Trump Stock", you probably would start naming off American banks, defense contractors, and industrial firms. Trump's economic plans give investors obvious reasons to be bullish on anything tied to US infrastructure. There is speculation that a strengthening US economy could spill over into the world economy giving global growth a shot in the arm. Investors focused solely on US companies risk missing excellent opportunities for growth from international firms. This is especially true when some of the effects of Trump's proposed policies such as a stronger US dollar and trade disputes with China may actually stymie US growth.
One such company poised to benefit would be Bombardier Inc (OTCQX:BDRBF) / (OTCQX:BDRAF), the Canadian aerospace and transportation manufacturer headquartered in Montreal, Quebec. The company is a leading manufacturer of both plains and trains. If Trump can get an infrastructure bill approved anywhere near the $1 trillion he has floated, investors can expect a significant ramp in spending in Bombardier's end markets. To be sure, the company is not held hostage by whether or not a potential bill passes, it would simply be gravy on top.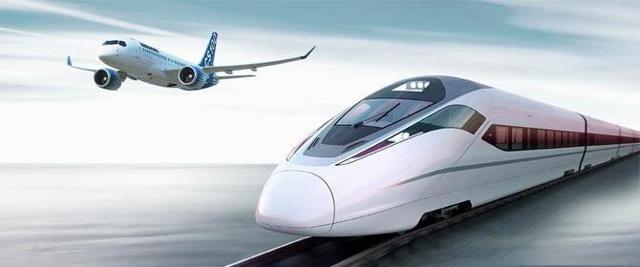 Source: Bombardier.com
Trump's Twitter feed is littered with negative comments towards Mexico but he has been silent on Canada. The country's higher wages are less competition for American workers. Bombardier does have a significant presence in Mexico but that is dwarfed by the manufacturing footprint in the US and Canada. Bombardier has 7,000 US employees across 17 states. The company has 4 US manufacturing plants including the Learjet plant in Wichita, KS.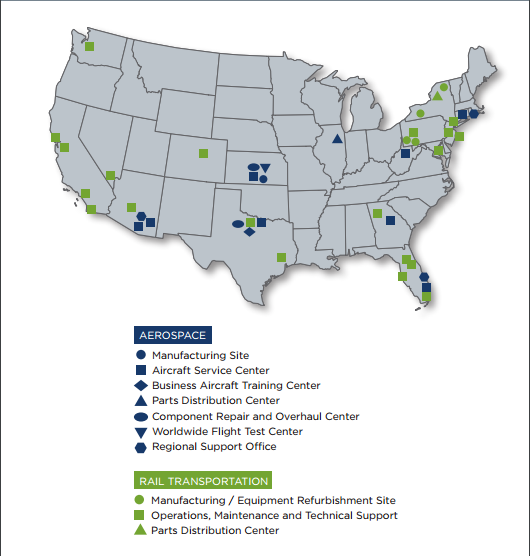 Source: Bombardier.com
Bombardier has multiple tailwinds that will give it an opportunity to outperform its competitors in the coming years. To be clear, Bombardier is not for the faint of heart. This stock is fraught with risk on multiple fronts, both financial and in regards to execution. If management can deliver on its plan and the stars of the world economy align, I believe Bombardier can end up being a true turnaround story.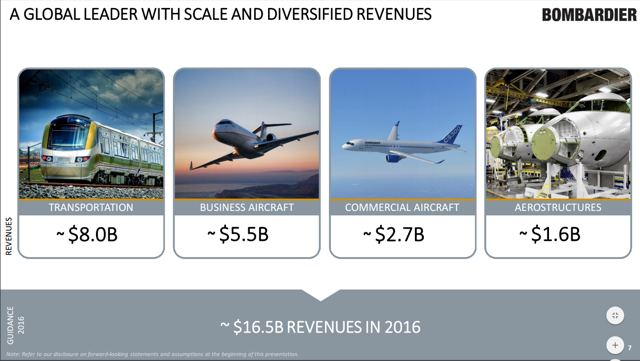 Source: Bombardier 2016 Investor Day presentation
The C Series: A Big Gamble (Finally?) Starts to Pay Off
Bombardier has pinned much of its future growth prospects to the fate of the C Series, a pair of narrow bodied commercial jets that have shown promise. The CS100 seats 108-133 passengers while the larger CS300 seats 130-160. The C Series development has been a saga plagued by years of delays and gone grossly over budget.
The provincial government of Quebec invested $1 billion into the C Series program to ease concerns over Bombardier's liquidity. In exchange the government of Quebec received warrants for 100 million shares of Bombardier which would be a little more than 4% of the company's stock. While dilutive to shareholders, the cash infusion and government support is a worthwhile trade-off in my opinion. It gives management some breathing room to make the investments necessary to grow the C Series order book. Quebec's government has a lot at stake and doesn't want to see the failure of a large employer of its citizens. There is speculation that the Canadian government will inject additional liquidity to Bombardier in the future but it's unclear if this will be in the form of an equity stake or a repayable loan. What's clear is that both national and provincial governments are dedicated to seeing the country's largest native manufacturer succeed.
Now that Bombardier is finally delivering both models to the airlines, the company's future is less blurry (although far from certain). The plane is an absolute beauty and has gotten strong reviews from industry experts and the airlines themselves. BusinessInsider was recently given a tour of a plane and the pictures are gourgeous. I would also suggest checking out this Youtube video that shows a pilot giving a walk-through of some of the high tech cockpit features and explaining some of the benefits.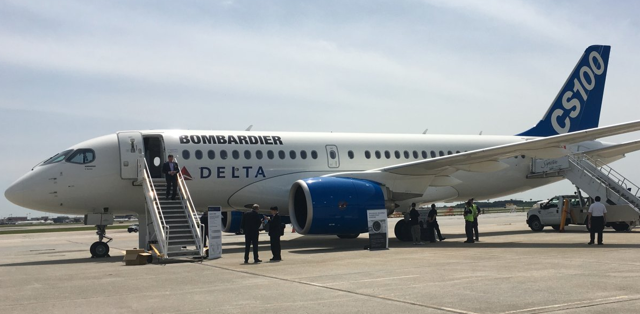 Source: Business Insider
It's not just the plane's good looks that are garnering the purchase orders from the airlines. The C Series boasts some impressive operational stats. The aircraft is made of a light-weight aluminum that leads to increased fuel efficiency and up to an 18% lower cost per passenger to operate. That savings goes right to the bottom line of the airlines.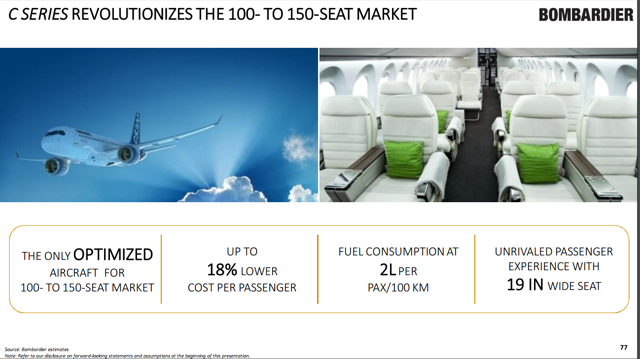 Source: Bombardier 2016 Investor Day presentation
The engines, designed by United Technologies' (NYSE:UTX) Pratt & Whitney division, help make the plane the quietest on the market. Commerical air traffic is a major source of greenhouse gases and as consumers become more environmentally conscious, airlines are demanding more eco-friendly planes. The C Series steps up to the plate delivering 20% less carbon dioxide emissions. This engineering marvel offers a trifecta of lower operating costs, less emissions, and less noise pollution.
Less emissions and less noise pollution are also increasingly important in an era where some emerging market countries such as China are making a push to be green. China, India, and the rest of the developing world is not known for air quality but citizen protests are forcing governments to take environmental concerns seriously. A plane that helps alleviate some of these concerns AND helps the bottom line of the airlines will be very appealing to emerging market operators.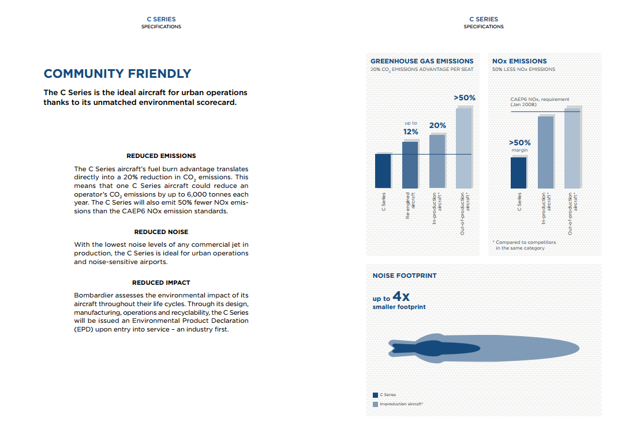 Source: Bombardier C Series brochure
The Market Demand for Narrow Body Aircraft
Part of the reason the C Series has investors so excited is that as a smaller aircraft, is in the sweet spot for global aircraft demand. Demand for the large wide body airliners has recently softened but grown for the narrow body segment. Bombardier's competitor Boeing has reported abysmal demand for the wide body 777 while also booking record orders for the smaller 737 MAX.
On the surface, weak demand for big planes but strong demand for small planes may seem odd. The situation becomes more clear when global demographic trends are considered. Emerging market economies such as China and India have rapidly expanding middle classes. This has led to an explosion in regional air traffic between the different cities within these markets. Air travel is a luxury that is becoming affordable to more and more people across the developing world, not just international travelers from wealthier nations.
China and India are going to be major transportation growth markets for the foreseeable future. There are calls in India for the country to spend $1.5 trillion on infrastructure projects in the next 10 years. That could be a major boon for not just Bombardier's aerospace division, but also the train/rail divisions. India is projected to have 100 million domestic airline passengers in 2017. The graph below shows the impressive growth. This emerging market growth is not lost on Bombardier's management. The company recently made a marketing push in China by presenting the C Series at a large airshow in Zhuhai.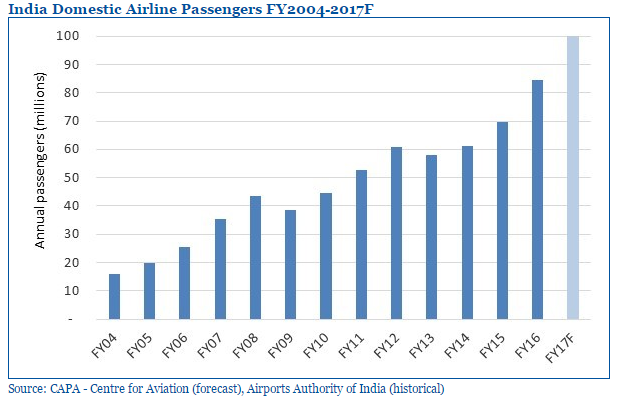 Source: Centre for Aviation (CAPA) website
Bombardier Today. Bombardier Tomorrow.
The C Series is off to a solid start. Bombardier has an order backlog of 350+ C Series aircraft. To really start making progress in turning the company around, management needs to have two goals: 1. Meet production targets and time lines for the current backlog 2. Grow the order book and expand to new carriers. Execution in both of these areas is essential. If they can't deliver the product on time and on budget, it doesn't matter how good the product is, they will not grow their orders.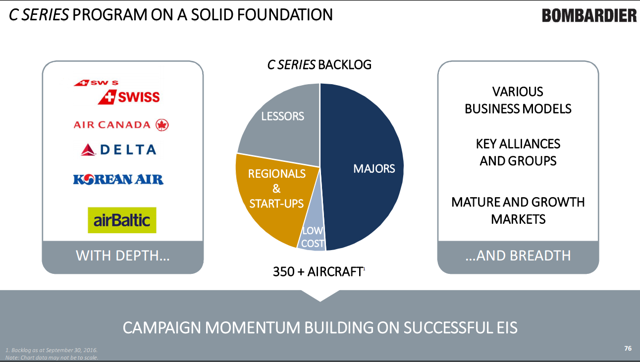 Source: Bombardier 2016 Investor Day presentation
The company completed a coup when they sealed the deal with Delta Airlines (NYSE:DAL) for 75 C Series planes for $5.6 billion and there is an option of an additional 50 plan order. That is an incredibly important order not only because of the size, but because it gains a foothold in the US market. Spirit Airlines (NASDAQ:SAVE) is known to be looking into placing an order. If Bombardier can land a deal with Spirit, that would be a major catalyst in moving the stock higher.
As more and more orders flow in, the company can boost its asking price. Early adopters are getting the C Series at bargain prices which puts significant pressure on margins in the short to medium term. CEO Alain Bellemare has already acknowledged that Bombardier has priced the plane aggressively. They likely see this as a necessary investment in order to achieve the volume and scale to maximize profits in the long term. This is not going to happen overnight. The graphic below shows management expects the C Series to be a positive contributor to the bottom line by 2020. There is a positive snowball effect once the company achieves the proper scale in its production.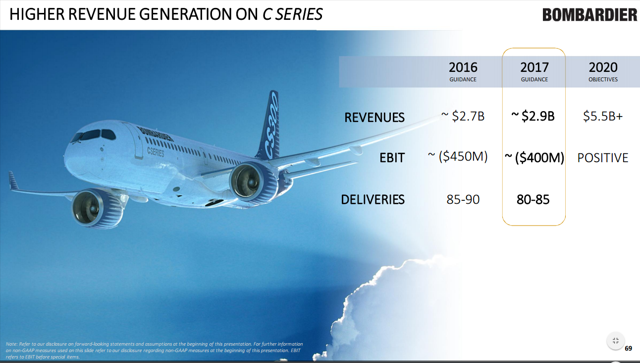 Source: Bombardier 2016 Investor Day presentation
Investment Opportunity, Valuation, and Conclusion
Bombardier has two classes of shares, A and B. The A shares carry voting rights but as relatively small investor, I would rather put my money into the slightly cheaper B shares to maximize the number of shares owned. Neither class is any less risky, but I have been building a position in BDRBF.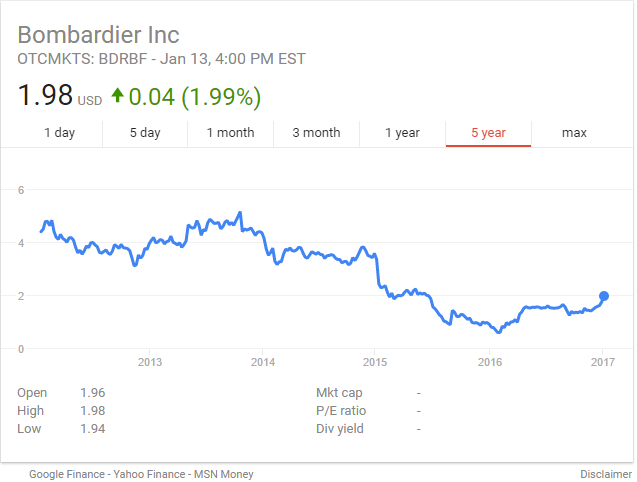 Source: Google
In my opinion, the large decline in share price in recent years has created an opportunity to the point where the upside potential is quite appetizing in a world economy with the potential for accelerating growth. As with so many things in life, context is crucial to this story. Yes, the stock has had an amazing run since the lows of February 2016 but let's take the context of Bombardier's own development and the world economy's health into account before making any snap judgments. In February 2016, markets were crumbling across the globe. The US appeared headed into recession. China's growth was slowing. That is not the ideal operating environment for a maker of planes and trains to succeed. A lot has changed between February 2016 and present day. Bombardier has since secured its largest C Series order to date from Delta which was announced in late April 2016. The company has received the cash injection from the government of Quebec to help alleviate some liquidity concerns. Finally and perhaps most importantly, the end markets served by Bombardier appear to be returning to growth rather than recession.
This is not going to be an overnight success story but if management can deliver on expectations, real growth is possible. 2017 is a stepping stone on the path back to growth which is why I believe investors need to take a long term view on Bombardier. There is a much greater sense of optimism for the global economy now than in 2013. The company is receiving large orders for its most important product, the C Series. The Canadian dollar has weakened significantly since 2013 which will help all Canadian exporters and BDRBF is no different. The currency depreciation makes Bombardier products like the C Series even more appetizing to airlines versus US based competitor Boeing. After taking all this into account, I feel the shares should be trading at a premium to 2013, not a discount.
On the flip side, the company has a staggering debt load that is definitely concerning. The debt poses a real risk to the company's future. Management's projection that the C Series will be a positive contributor to the bottom line by 2020 is important. Profits from C Series production will be key in wrangling in this mountain of debt.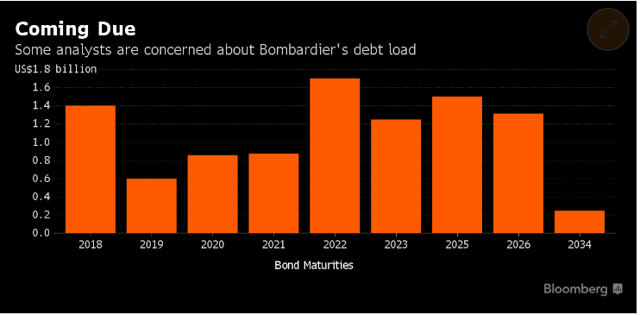 Source: Bloomberg
I doubt that Canadian Prime Minister Justin Trudeau is one my Seeking Alpha followers, but if he is:
Mr. Trudeau (Can I call you Justin?),

Now is the time. Make the call to Donald, hop aboard a beautiful Bombardier aircraft, and bring Mr. Alain Bellemare with you on a trip to New York City. Let all the TV cameras see you two walking through those gold revolving doors and into Trump Tower. Start the next 4 years off on a positive note. Stress the importance of maintaining a good relationship with Canada's most important trading partner. Mr. Bellemare can talk of Bombardier's commitment to American manufacturing (maybe add some jobs at the Learjet facility). Set a positive tone and maybe that can help close the deal with Spirit Airlines. Maybe all it does is give Bombardier's stock a boost but a small victory would still be great when one of your nation's largest manufacturers is teetering on the brink. I don't see how it could hurt.

Sincerely,

Your friends at Orange Wisdom Research
Bombardier is a classic high risk high reward stock. Investors need to give the story time to play out. I would expect the share price to be incredibly volatile with major swings off news headlines (good or bad). All that being said, I believe BDRBF is ready for take-off with sunny skies ahead. I plan on building my position in the coming years as long as the news flow stays positive.
If you liked this article, please follow me on Seeking Alpha. I may have written on other companies you may find intriguing.
Disclosure: I am/we are long BDRBF.
I wrote this article myself, and it expresses my own opinions. I am not receiving compensation for it (other than from Seeking Alpha). I have no business relationship with any company whose stock is mentioned in this article.
Editor's Note: This article discusses one or more securities that do not trade on a major U.S. exchange. Please be aware of the risks associated with these stocks.