An industry I want to have a stake in is the defense industry. As I mentioned in a previous article about the defense contractor Raytheon (NYSE:RTN), the aerospace and defense industry has handily outperformed the S&P 500 index for the last 10 years. This article will focus on the merits of General Dynamics (NYSE:GD). It will provide an overview of its business operations, look at future revenue sources, review recent metrics, and outline some possible risks the company may face in the future.
General Dynamics is one of the leading defense contractors in the United States. According to the General Dynamics website, the company operates in four business groups: Aerospace; Combat Systems; Information Systems and Technology (IS&T); and Marine Systems. The Aerospace group comprises Gulfstream business jets and Jet Aviation, which is a business aviation services company that operates globally. The Combat Systems group builds Abrams tanks for the U.S. Army and the U.S. Marine Corps; different types of armored vehicles; rockets, guns, and other types of weapons systems for the U.S. military and our allies. The IS&T group sells its information service systems to the federal, state, and local governments. This group also provides Command and Control systems and intelligence, surveillance, and reconnaissance systems and platforms to the Department of Defense. Lastly, the Marine Systems group builds U.S. Navy destroyers, nuclear submarines, and other support ships. Additionally, it sells ships to commercial customers.
In summary, General Dynamics sells one-of-a-kind weapons systems and technology to all four of the military branches, plus other components of the Defense Department. These sales are not the typical sale of a product. When General Dynamics sells a tank, ship, command and control system, etc., there is also a support contract associated with the sale. This covers technical support, upgrades, modifications, and the like. This keeps a constant stream of revenues for the company over many years. General Dynamics also has a large share of the business jet market with its Gulfstream business unit.
Future business looks robust for General Dynamics. According to the FY 2105 annual report, the company has over $66 billion in backlog business. This represents a 58% increase over the backlog it had in FY 2014. That is quite a jump. Additionally, General Dynamics looks to benefit from Donald Trump's plan to rebuild the U.S. Navy. Currently, the U.S. Navy has 272 ships, and Trump's plan is to increase the ship count to 350 ships, according to this article in the Navy Times. This buildup is something that will take perhaps several decades to complete.
In FY 2015, General Dynamics had revenues of $31.4 billion, operating margin of 13.3%, and return on invested capital of 17.4%. Its dividend per share increased, and the number of shares outstanding was reduced to 326.7 million. Each one of those metrics was an improvement over the previous year. Additionally, its free cash flow was over $1.9 billion.
From a stewardship standpoint, General Dynamics excels. It has raised its dividend every year for the past 19 years. It is considered an excellent allocator of capital, and Morningstar gives the company an exemplary rating for stewardship.
Currently, General Dynamics is selling for $177.89 (see Chart 1) and has risen over 20 points since Donald Trump won the election. It currently has a P/E ratio of just over 19 with its trailing-twelve month earnings per share of $9.34. The P/E ratio is at the high end of its range over the past 10 years, according to Morningstar. Its five-year average P/E ratio is 14.8.
Chart 1 - General Dynamics Weekly Chart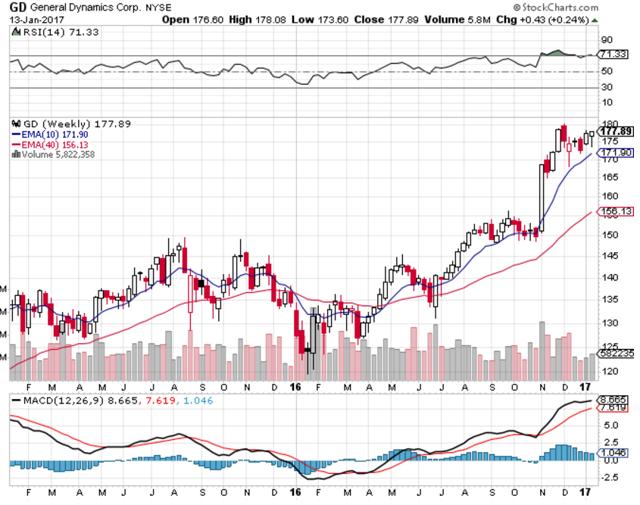 Unfortunately, General Dynamics seems overvalued at $177 per share. I am more comfortable buying shares closer to its five-year average P/E ratio of 14-15. Even the forward P/E ratio of 16.7 is above my comfort zone.
The company will report fourth-quarter and FY 2016 earnings on Friday, 27 January. In addition to revenues, earnings, and share buybacks, I will also be paying attention to the backlog number. Another strong backlog number could propel the stock even higher. However, maybe the market has already priced in such a number.
While the future looks bright for General Dynamics, there are things that can impede its business future. Factors that could cause the stock price and overall business to suffer include decreases in defense spending, regulations pertaining to international sales of military equipment, cyber-attacks on the corporate systems, and pricing pressure due to Donald Trump's tweets, among other unforeseen issues.
In summary, General Dynamics is a leading U.S. defense contractor with a robust business in commercial business jets to boot. With its Bath Iron Works and Electric Boat business units, the company is perhaps poised to receive more contracts to build ships for the U.S. Navy in order to increase its fleet. From an operational standpoint, General Dynamics is a well-run company that has rewarded shareholders consistently. While being an investor in GD does have its risks, the future overall looks bright. Now I will wait for a lower-valuation entry point. In the meantime, I will monitor the stock and look forward to its next quarterly earnings report.
Disclosure: I/we have no positions in any stocks mentioned, and no plans to initiate any positions within the next 72 hours.
I wrote this article myself, and it expresses my own opinions. I am not receiving compensation for it (other than from Seeking Alpha). I have no business relationship with any company whose stock is mentioned in this article.