First Republic Bank (NYSE:FRC) certainly isn't cheap when we consider its all-important P/E ratio: we are talking about 17x 2018 EPS, and you can buy regional banks at around 13x and the likes of JPMorgan (NYSE:JPM) and Bank of America (NYSE:BAC) at 10-11x 2018.
But FRC has a differentiated strategy focused on wealthy urban households in coastal regions. And the rapid growth of its business is an important reference point in banking, given all the discussion around "fintech". FRC provides high-quality, bespoke services, and in this way, builds durable relationships. Much as I like lower P/E regionals like SunTrust (NYSE:STI) and Keycorp (NYSE:KEY), I have much time for FRC as well.
Do you buy it here? The first question to ask is whether you are long term. It's ok if you aren't, but if the answer is no, then I can't help you. You have to compare the more expensive shares of a high-quality, fast-growth model like FRC to those of solid names like Fifth Third (NASDAQ:FITB), which are around 28% cheaper on 2016 P/E, but whose EPS growth is more dependent on buybacks and are controlling risk in more diverse businesses, often with larger balance sheets than FRC. It is not quite apples and oranges (perhaps it's just different varieties of apple!), but you could happily own both for their own reasons. If you are long term in the way you invest, then I would consider how you think FRC will look on various growth projections beyond a typical forecast horizon of two years out.
In comparison to FITB, for instance, should FRC prove able to continue its present 20% EPS growth rate in comparison to the 12% I anticipate for FITB, it will become cheaper on P/E by around 1% in 2022. Were that 20% to drop to 12% in 2021, then you would need to wait until 2023, assuming FITB's growth rate also slowed down. The greatest risk to this kind of sensitivity model is that FRC could slow down more sharply than FITB. Competition in its core markets might contribute to this. As might a cessation of the growth of wealth dispersion in the US, perhaps driven by a socialist administration. This is not where we are now.
Of course, you can paint almost any scenario on each bank. However, I would contend that in the near term, FRC is nicely attuned to a Trump agenda of tax cuts for affluent households and in terms of the political economy around Trump's promises. Tax cuts are probably one of the easier policies for the Republican establishment to agree to. What's more, the bank is pushing its offering into lower affluence bands, which may turn into an additional source of growth. My own bottom line in the thought process is that FRC will not cede value to the sector comp while it maintains its current growth rate. And you can monitor that with the plentiful presentations and results material on the company's website.
4Q'16 Results
Fourth-quarter results were pleasing across the board. Here are the customer volumes from the balance sheet: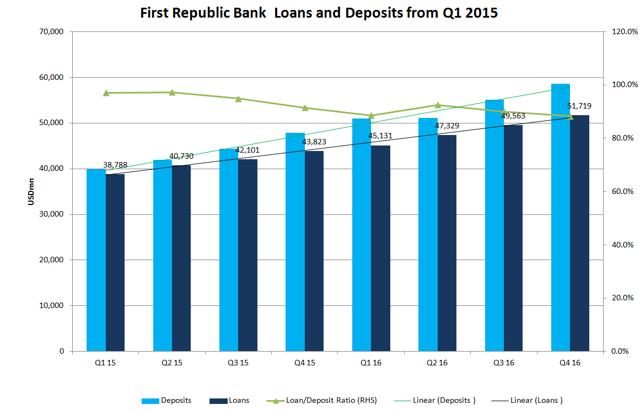 The slight reduction in the Loan/Deposit ratio reflects deposit growth and might take a couple of bps off net interest margin through Q1'17, but will lead to a positive offset later as the deposits are deployed.
Income growth maintained the pace of the last two years' quarter-to-quarter clip, and the mix of interest and non-interest revenue remains steady.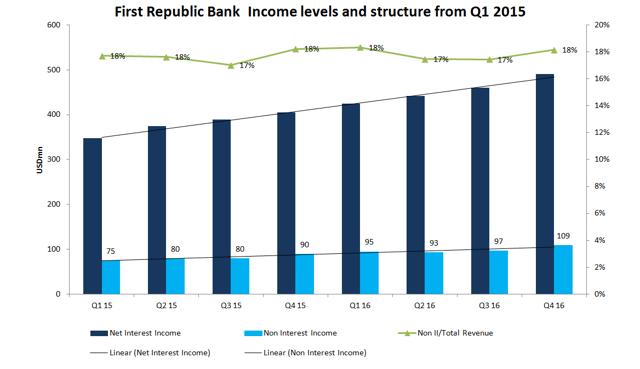 NIM and RANIM were stable. FRC's strong asset quality allows it to be aggressive in loan growth as long as the quality is there in the demand pool.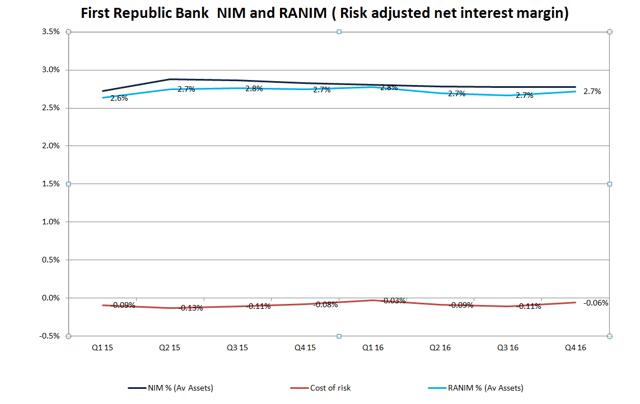 What it does not have is improving operating leverage as seen in more mature banks in the US. The efficiency ratio, which is depicted by the green line in the chart below, has been rock steady around 60% over the last two years, meaning costs are growing with income. This is another point of difference with much of FRC's peer group, and reinforces the view that you should invest in a business like this for different reasons than you would in a bank that is working to squeeze value out of more diverse, older and larger franchises (BAC is the leader there, in my view).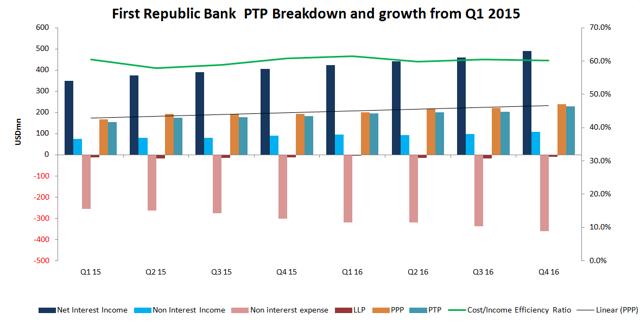 Conclusion
No buybacks, no gains in operating leverage, just ongoing 20% growth through 2018 based on the current product offering, with a little Trump thrown in. I would at least put FRC on your radar for dips, but I would not expect there to be any absent bad macro news.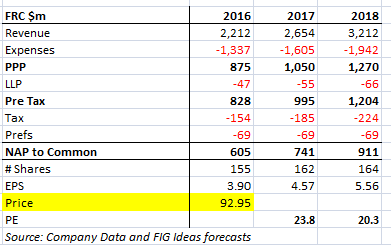 Disclosure: I/we have no positions in any stocks mentioned, and no plans to initiate any positions within the next 72 hours.
I wrote this article myself, and it expresses my own opinions. I am not receiving compensation for it (other than from Seeking Alpha). I have no business relationship with any company whose stock is mentioned in this article.