Thesis
I believe D.R. Horton (NYSE:DHI) is cheap while modeling fairly conservative projections. A rising rate environment will negatively impact homebuilders but I believe structural issues throughout the global economy will keep rates lower than the Federal Reserve anticipates throughout the 2017-19 period. Moreover, more accommodative underwriting standards for first-time home buyers could befit one of Horton's competitive strengths. I am long DHI but remaining patient (and not putting a lot of capital into it), as catalysts are relatively light and the mood on the sector is relatively compressed.
Overview
D.R. Horton is the largest homebuilder in the US, focusing on the construction and sale of single-family homes, with a reach spanning 78 markets in 26 different states. Given how important scale is in the homebuilding industry, and the benefit of its geographic diversity to mitigate risk, Horton is always one of the prime candidates to consider when expecting bullish movement in the homebuilder sector, when thinking from a "top-down" perspective.
Recently, the company has been making headway on its plans of buying less land and leasing more of it out. This makes sense in the context of a counter-cyclical approach to doing business, by monitoring where it is in the housing cycle to avoid sitting on excess land supply should the market enter a down-cycle. Instead of land development, of which homebuilders largely have little direct control over, Horton is focusing more heavily on manufacturing inputs, including cost efficiencies and its rate of inventory turnover.
Horton's top company-specific risk remains its degree of speculative home construction. If a down-cycle were to occur in the market, sitting on a portfolio of unsold housing supply would be highly damaging to its share prices and could impose impairment charges.
The company has also been using a greater portion of its cash flow to repay debt rather than engage in shareholder initiatives. The dividend yield sits at just 1.4% and the number of shares outstanding has risen from 348 million as of the end of the FY2013 to 378 million of the end of its FY2016 on September 30, 2016.
Valuation
Housing is a highly cyclical and seasonal industry. Horton tends to make 20% of its revenue in Q1 (effectively Q4 in terms of the calendar year), 20%-25% in Q2, 25%-30% in Q3, and ~30% in Q4, which coincides with summer building and sales being highest revenue month and the fall/early winter months coinciding with the lowest activity. Tentatively I have Horton collecting about $5.7 billion in revenue through 1H2017 (October 1, 2016 through March 31, 2017), which puts it on pace for about $13.3-$13.6 billion for its FY2017 assuming 42%-43% of revenues is concentrated in Q1 and Q2.
The company has sound working capital management with current assets of $9.7 billion versus $1.4 in current liabilities as the end of Q4 2016 (September 30, 2016). This goes along with a $1.3 billion cash balance and $975 million credit revolver, which has no balance against it.
Just as a standard conservative approach, I always assume no growth in working capital when valuing a company unless it's directly part of the thesis. With Horton's current cost structure, it should be able to achieve around 9.7% in terms of EBIT margins. Going with a 34% effective tax rate, this would generate around $850 million in net operating profit after-tax (NOPAT). If we assume capex is equal to depreciation expense in equilibrium (along with no growth in working capital), then NOPAT is equal to our unlevered free cash flow.
If it's assumed that margins are kept stable, revenue is assumed to grow at a rate of 2% year-over-year over the 10-year projection period, right about in line with the greater economy. The company has a 4.5% cost of debt (based on comparably rated debt) and I use a cost of equity of 10%. The economy is subject to a long-run growth rate of about 1.8%. Putting all this together, this provides a median share price of about $32, about 11%-12% above where shares are currently trading.
If a valuation range is created by sensitizing the output based on a shift of +/- 100 basis points in the cost of capital and a +/- 30-bp shift in the long-run growth rate of the economy, this would produce a valuation range of $26-$40 per share.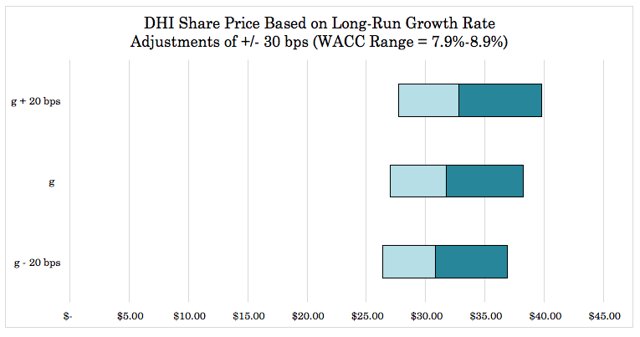 (Source: author)
If we want to run the valuation off forward returns expectations, we obtain the following values, running it off a cost of equity range spanning from 7%-12%.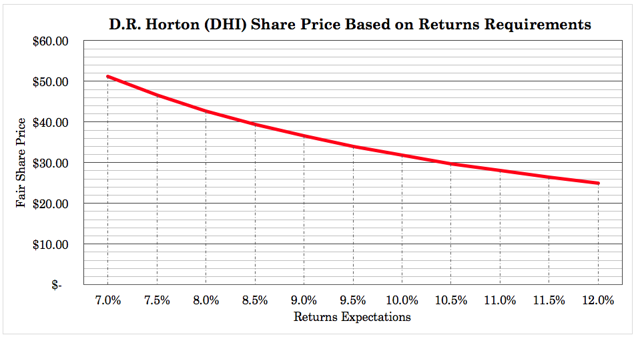 (Source: author)
This would suggest that the company is currently trading at forward returns expectations of 10.5%-11.0%. In a market full of expensive companies, these types of returns expectations are rare, and many homebuilders remain cheap as a relatively out of favor industry.
Even if we kill the revenue growth down to 0% - i.e., its revenue stays at $13.3 billion annually for the next ten years - it still trades at 9.5% forward returns.
In terms of forward looking EBITDA multiple, Horton trades at just 8.0x.
Capital Structure
Horton is made up of about 23% debt and 73% equity using market values. This places its debt/EBITDA at 2.3x, which is very good for an industry with this degree of leverage. Its coverage ratio, however, is a bit less favorable given its debt maturities extend only through 2023.
Taking into account after-tax interest payments and principal, under the assumption that its payments are evenly disbursed over the next seven years, its EBIT coverage ratio stands at just 2.3x. This would typically place it between a BB and BBB on the Fitch/S&P rating scale based on this metric alone, or teetering the line between speculative- and investment-grade. (AAA graded corporates are generally covered at 8.5x or greater with recurring revenue and high level of cash flow stability.) So while the company may be lightly levered as a whole, buying back near-term maturities with newly issued debt would work toward improving its near-term credit profile by spreading out the year-to-year payment requirements.
Yet purely on a cash flow basis, the company looks to be set up very well on this front with a debt/unlevered FCF ratio of 3.8x and NOPAT interest coverage ratio of 5.8x.
With Horton's strong level of recurring cash flows, I have the company's optimal leverage point at approximately 65% of total capital, based on the point on the debt-to-capital spectrum where the weighted-average cost of capital ("WACC") is minimized. To keep on the safe side, I like to reduce this by about a third from what the model stipulates, especially in the case of cyclical companies.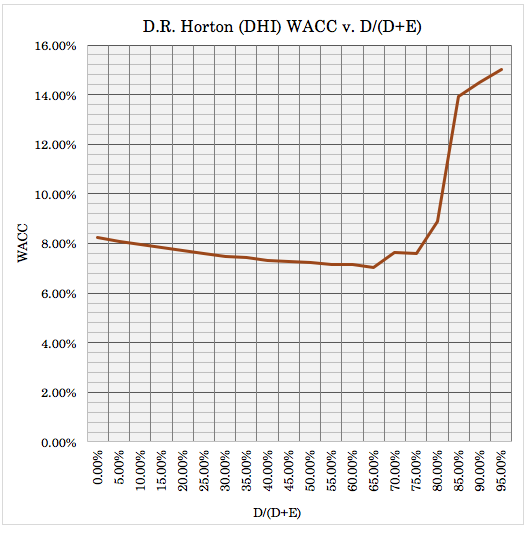 (Source: author)
In terms of stock price: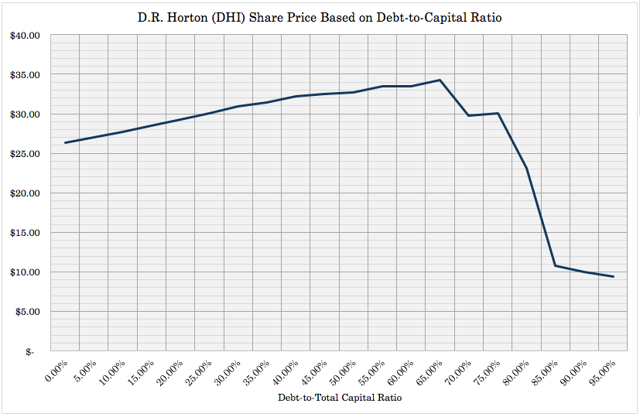 (Source: author)
While balancing the capital structure more toward a higher debt-to-capital ratio would be positive for shareholders, this is unlikely to happen. Horton has one of the lightest debt loads, in terms of overall capital, among homebuilders and has been recently committed to paying down debt while issuing shares to lighten leverage ratios further.
Conclusion
Horton is attractive with its relatively moderate leverage, consistent operating performance and cash-flow generation capabilities, geographic diversity, and share in key markets to go along with a focus on cost efficiency.
I am currently long D.R. Horton and the second-largest American homebuilder Lennar (NYSE:LEN)(NYSE:LEN.B). These both aren't high-conviction ideas as they're relatively light on catalysts. Naturally the homebuilding sector is out of favor as a consequence of the market anticipating that a higher rate environment ahead is bad for the industry given it reduces demand for mortgages and slows homebuilding order flows.
However, in terms of the actual housing cycle, I believe we're closer to mid-cycle than any type of downturn. Housing cycles tend to last 15-20 years and the current move into the cycle started back in 2012. And given that there don't appear to be any substantial debt-related issues within the US real estate sector itself (unlike the previous recession), a dip in housing isn't likely to hit homebuilders too significantly.
Moreover, I believe there are still material structural headwinds in the world economy as a whole that could undermine the Fed's plans to hike three times in 2017 and three more times each in 2018 and 2019. This could provide a boost to homebuilders as interest rates continue to follow the "lower for longer" path and probably won't be hiked above the 3%-4% range before the next downturn.
One area where Horton could shine is in the niche of catering to first-time buyers. The mortgage market is more favorable to those applying for loans for the first time than it was even two years ago based on the somewhat more accommodative underwriting standards of federal housing agencies, and I believe Horton has a competitive advantage in this respect over its peers.
But overall, this is more of a longer-term idea. I do expect these stocks to remain relatively dead for now, as I don't expect market views and conditions to change to boost shares by a material amount. Combined, both companies represent about only 1% of my overall portfolio. I believe the market is very fully valued at its current prices, and if markets dip, companies that are intrinsically tied to the overall macroeconomic picture will remain stagnant if economic conditions remain similar and decline if there is some impetus in the economy that causes a deterioration in investor sentiment.
Basically, I like the valuations of both D.R. Horton and Lennar and am willing to be patient.
Disclosure: I am/we are long DHI, LEN.B.
I wrote this article myself, and it expresses my own opinions. I am not receiving compensation for it (other than from Seeking Alpha). I have no business relationship with any company whose stock is mentioned in this article.