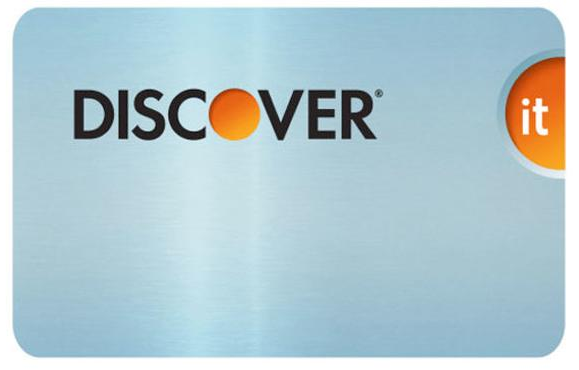 I have pounded the table on the long case for Discover (NYSE:DFS) for a long time now, and finally, that patience has paid off. The stock is flying and is hitting all-time highs ahead of the Q4 earnings report, which is due out in a couple of weeks. I've been attracted to DFS's high rate of profitable growth and that has certainly continued to be the case, but has the rally run its course? At 11.7 times 2017 earnings, it certainly looks like there is some more upside ahead as it continues to trade at a sizable discount to its large bank peers. So heading into the Q4 report, DFS is still a buy.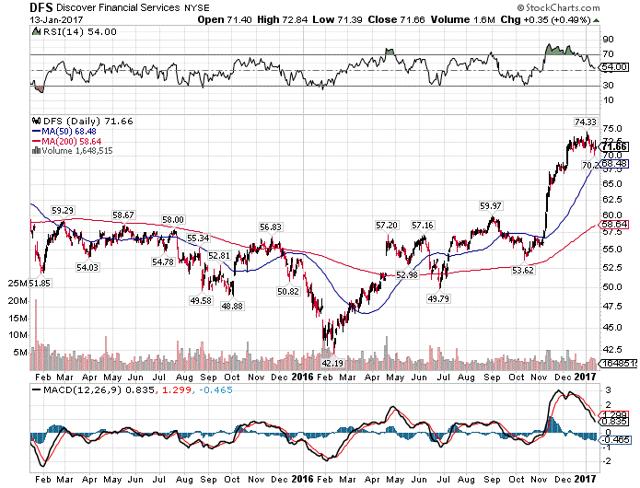 Discover's bull case is pretty straightforward; it needs loan growth, deposit growth and expense controls to keep the good times rolling. The Q3 report had all of these things, and I'll be looking to ensure they all continue to see at least flat results Q/Q as that would be more than good enough to keep the stock moving higher.
But how does it get there? First, revenue needs to continue to grow, and analysts have DFS at +6% for Q4. That's a lot, but it is also achievable considering what DFS has done for the rest of 2016. Personal loans and credit card loans have both been rising in the mid-single digits, and unless DFS strayed from its strategy of aggressive loan growth, they will have again. Obviously, the card business is the most important as the personal loan portfolio is still just a fraction of the total loan book. But it is an important piece of the long-term growth puzzle and with rates on the move higher, the very high yields of the personal loan book look attractive. I expect the card business will have grown its loans in the mid-single digits, and I'd obviously like to see interchange revenue higher from increased spending, but I'll admit that has been a bit disappointing in the recent past. The card business rules for DFS, and I will be keenly watching its total level of revenue as well as the ways the revenue was derived.
DFS has also been doing a terrific job of gobbling up deposits, and they have been growing much more quickly than loans. That's terrific news because DFS can use all the deposits it can get at this point because they are much cheaper than some of its current funding. DFS's online savings accounts seem to be working well to attract deposits, and I certainly wouldn't be surprised by a double-digit gain Y/Y in total deposits. This is of particular interest because DFS could boost its margins significantly over time if it continues to fund more and more of its loan growth with deposits. This is an interesting angle that virtually no other bank has, and over time, it could certainly improve DFS's NIM irrespective of its actual portfolio yield. This is a long, slow process, but it is a meaningful tailwind nonetheless, and I want to see continued improvement in its deposit gathering efforts.
Next, expenses are always in focus for financials these days, and DFS has done a nice job of growing without breaking the proverbial bank. Expenses were up 1% in Q3 Y/Y and that will do as DFS doesn't necessarily need lower expenses, it just needs to not have them grow as quickly as revenue. That hasn't been a problem, and Q4 needs to look the same or better. Remember that with a much higher stock price comes higher expectations, and if DFS suddenly begins to spend more money, investors would have to reevaluate the valuation. I don't think that will have happened in Q4, but I'm looking for a 2% or less increase in expenses; anything above that level will be too much and a disappointment.
Finally, another big reason I've liked DFS for so long is its enormous buyback. It isn't unusual for the company to retire 2.5% of the float per quarter and that is what it did in Q3. I don't think expecting that for Q4 is reasonable because the stock price began to fly higher in early November, so the sheer dollars it would take to replicate that effort would be much higher. However, I'd still like to see 2%, and I think that is achievable. DFS has tremendous fundamentals but I like it as much as I do because it also has the kicker of a prodigious buyback, and I'd really like to see that continue.
At 11.7 times 2017 earnings, DFS is now one of the cheapest financials in the market. That has been the case for a while, but even after the rally, it is still so. The other interesting thing is that analysts are looking for just 6.6% EPS growth in 2017. I say that's interesting because DFS has so many levers it can pull to grow earnings. It is growing loans at a mid-single-digit rate, its expenses are roughly flat, so operating leverage is playing its part, the buyback is huge and it is reducing its funding costs with a higher mix of deposits. All of those things combined mean that double-digit EPS growth is certainly a possibility in 2017, and I'd be surprised if the buyback alone wasn't responsible for more than 6.6% in growth. Thus, with DFS still very cheap and estimates at what I would consider to be levels that are far too low, it is still a screaming buy heading into earnings.
Disclosure: I am/we are long DFS.
I wrote this article myself, and it expresses my own opinions. I am not receiving compensation for it (other than from Seeking Alpha). I have no business relationship with any company whose stock is mentioned in this article.