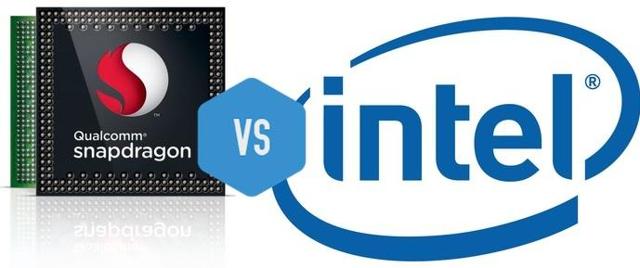 Over the decades, Intel (NASDAQ:INTC) has transitioned from one of Silicon Valley's legendary hyper-growth stocks to a true dividend growth blue chip. However, investing is never done in a vacuum and if there are better choices for long-term income investors, then I feel the need to share them with you.
Qualcomm (NASDAQ:QCOM) is just such a company, which on every level that counts to long-term investing success, proves itself superior to Intel. Let's take a closer look at why, just why Qualcomm is by far the better buy today.
Intel: Proven Dividend Growth Blue Chip With An Exciting Future
Intel is the world's largest chip maker, with an 80% market share in the global microprocessor market, thanks to its dominant position in the PC industry.
Of course, with PCs now in secular decline. That's thanks to the rise of mobile computing, the company needs to find other growth areas if it's going to maintain existing sales, profits, and cash flow, much less grow them in the future.
Fortunately, the growth of: 5G mobile networks, cloud computing, AI, VR, driver less cars, and the internet of things, or IOT, represents plenty of new growth markets.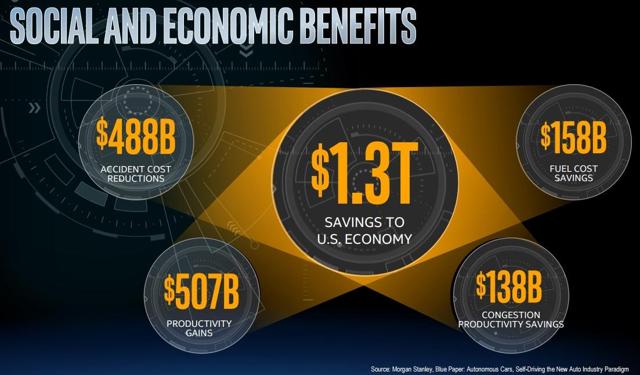 Source: Intel investor presentation.
In fact, the exact scope of the potential markets in these interweaving future tech sectors is nearly impossible to predict. However, given that driverless cars alone could help save the US economy as much as $1.3 trillion annually, it's safe to say that future riches are certainly there for the taking.
Then there's AI, which in just the next four years, is expected to see a 12-fold growth. Which explains why Intel is focusing aggressively on this future tech industry. In fact, it recently acquired three companies specializing in AI tech: Nervana, Saffron, and Movidius.
Nervana, which cost Intel $350 million, specializes in deep learning that Intel wants to incorporate into its Xenon and Xenon Phi processors.
Meanwhile, Movidius makes advanced computer vision chips for the drone and VR industry, but that can potentially also be applied to helping AI in systems in which optics will be essential, such as driverless cars.
Saffron, which specializes in pattern recognition cognitive computing and data analytics, is similarly expected to provide Intel with highly valuable expertise as it tries to win market share in the brave new world of tomorrow.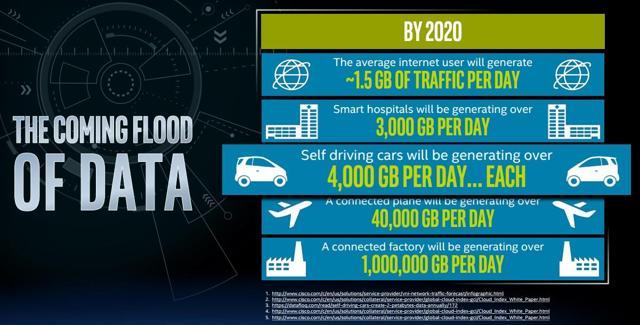 In fact, about the only thing we can say about the future is that it's coming faster than we thought, AND it will require an unimaginable amount of data processing.
Which means that global data centers are going to be a major growth industry in the coming century, and Intel is working hard to make sure its chips are the ones powering those cloud servers, as well as the 5G modems that are going to be needed to connect the IoT.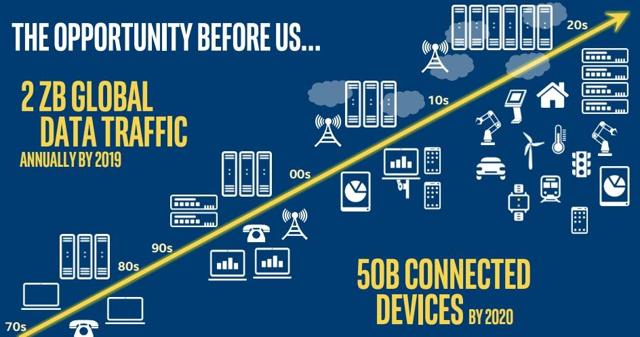 Qualcomm: Challenger That's Hungry To Conquer The Future Of Tech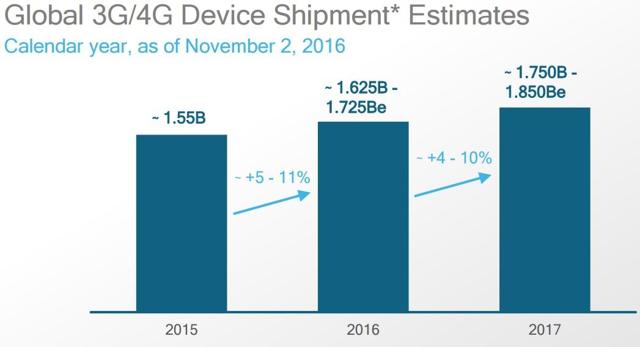 Source: Qualcomm Q4 earnings presentation.
Qualcomm's claim to fame is its legendary IP, with patents for that give it a presence in nearly every 3G and 4G mobile device. And given the absolutely massive number of smartphones being sold every year, this has turned Qualcomm into a very impressive free cash flow generator indeed.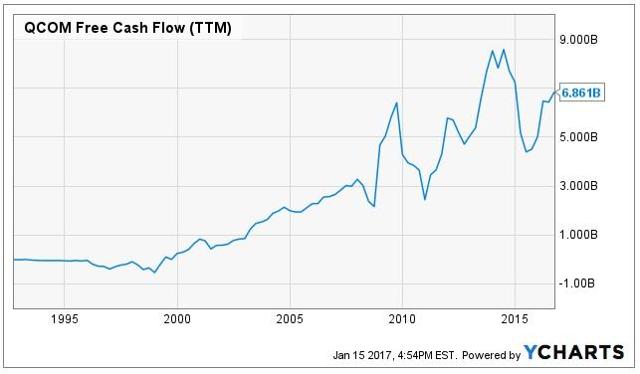 More importantly for dividend growth investors, is the fact that Qualcomm has proven itself a very shareholder-friendly company, with 13 straight years of dividend growth, and tens of billions of share buybacks as well, (which helps keep the payout ratio low).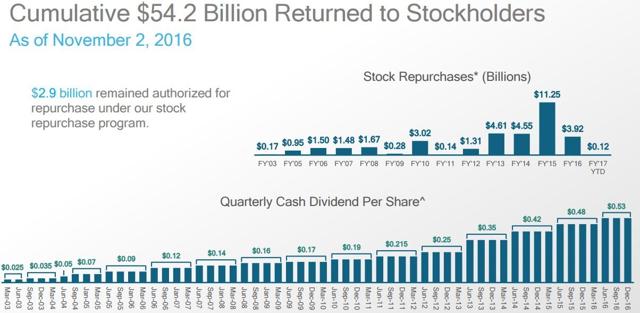 Of course, the pace of change in the semiconductor industry is ferocious and that means that Qualcomm can't just rest on its laurels. Fortunately, like Intel, management has its eyes on the future tech prize. Specifically this means pushing into 5G, IoT, the automotive segment, data centers, and healthcare solutions.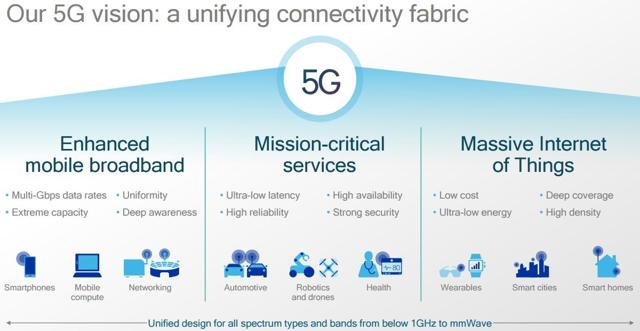 Source: Qualcomm investor presentation.
In fact, management thinks that these new market opportunities could massively boost its addressable market potential over just the next four years.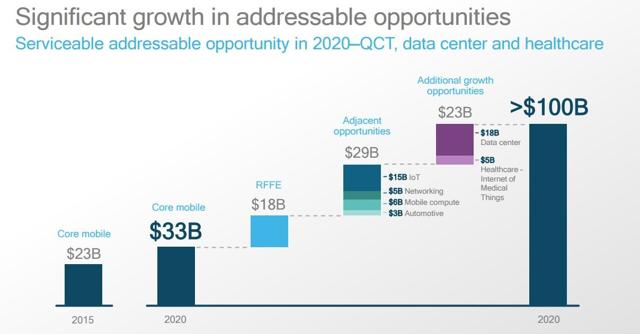 Part of the company's strategy to execute on its growth plan is through game-changing acquisitions such as the $47 billion takeover of NXP Semiconductors (NASDAQ:NXPI), which specializes in car-based chips.
In fact, thanks to the NXP acquisition by 2020, Qualcomm's addressable market will be even larger than its previous plans, a whopping $138 billion per year; a 500% increase compared to its core mobile market in 2015.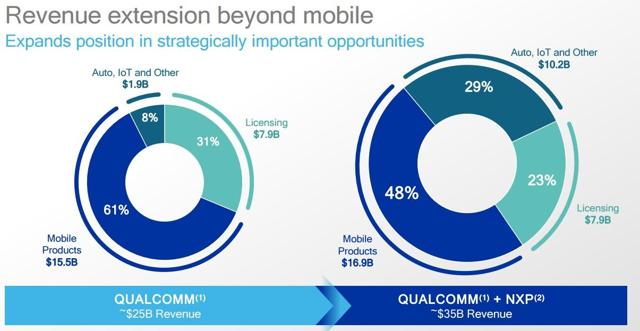 Source: Qualcomm NXP acquisition presentation.
Better yet, once the deal closes, (by the end of 2017), the new larger Qualcomm will be far more diversified in its cash flow, as well as generating far more cash flow than before.
Sources: Morningstar, Management Guidance
| | |
| --- | --- |
| Company | Annual Free Cash Flow |
| Qualcomm | $6.861 billion |
| NXP Semiconductors | $1.448 billion |
| Qualcomm + NXP | $8.309 billion |
| Qualcomm + NXP (post cost savings plan) | $10.709 billion |
Note that even before synergistic cost savings from the NXP acquisition, an all-cash deal that doesn't dilute any existing shareholder, will boost FCF by 21%. Better yet, management thinks it can trim a total of $2.4 billion in annual costs from the two combined companies over the next two years.
That means that when all is said and done, the NXP acquisition will ultimately boost FCF by 56%, and that's not even counting the additional growth that NXP is almost certain to have in the coming years.
Profitability: Qualcomm Is The Clear Winner
Source: Morningstar
| | | | | | | |
| --- | --- | --- | --- | --- | --- | --- |
| Company | Operating Margins | Net Margins | FCF Margin | Return On Assets | Return On Equity | Return On Invested Capital |
| Intel | 21.8% | 17.9% | 18.2% | 9.8% | 17.3% | 12.8% |
| Qualcomm | 27.6% | 24.2% | 29.1% | 11.1% | 18.1% | 12.7% |
| Industry Average | 19.5% | 14.6% | NA | 7.9% | 13.9% | NA |
As you can see, while Intel has better than industry average margins, and returns on shareholder capital, Qualcomm's profitability is vastly superior, especially when it comes to the all-important FCF margin.
That's due to Qualcomm's higher margin, IP royalty business, which represents pretty much pure profit, and helps boost overall profitability.
Now it should be noted that another reason for this superior profitability profile is the fact that Qualcomm outsources its chip manufacturing. That means a less capital intensive business model. In fact, the large capital needs of this industry is a large reason for Intel's wide moat, (which helps to maintain strong pricing power), is the fact that it has a highly vertically-integrated manufacturing system, which creates impressive economies of scale.


Source: Gurufocus
In other words, while Intel's margins may not be as high as Qualcomm's, the fact that it costs billions to build new foundries means that Intel's margins are more secure (due to fewer potential rivals). That by itself helps to explain how the company has managed to continue generating consistently above average dividend growth for so long.
Balance Sheet: Qualcomm Has The Slight Edge
Source: Morningstar
| | | | | | |
| --- | --- | --- | --- | --- | --- |
| Company | Debt/EBITDA | EBITDA/Interest | Debt/Capital | Current Ratio | S&P Credit Rating |
| Intel | 1.28 | 30.68 | 26% | 1.80 | A+ |
| Qualcomm | 1.37 | 28.81 | 22% | 3.14 | A+ |
| Industry Average | 1.48 | NA | 29% | 2.47 | NA |
A strong balance sheet is essential to long-term dividend growth investing, because too much debt can limit a company's financial flexibility in terms of balancing continued growth investment with rewarding investors with strong capital returns.
As you can see, both Intel and Qualcomm have very strong balance sheets, with below average leverage ratios, (Debt/EBITDA), very high interest coverage ratios, (EBITDA/Interest), and very low debt capital structures. In addition, the high current ratios of both companies mean that neither is having any trouble servicing its existing debts, or liabilities.
This explains why both Intel and Qualcomm have very strong credit ratings that allow them to borrow cheaply, thus helping to lower their costs of capital, and boost profitability.
However, while both balance sheets are rock solid, note that Qualcomm's debt levels are slightly lower than Intel's, with a lower debt/capital, and far stronger current ratio.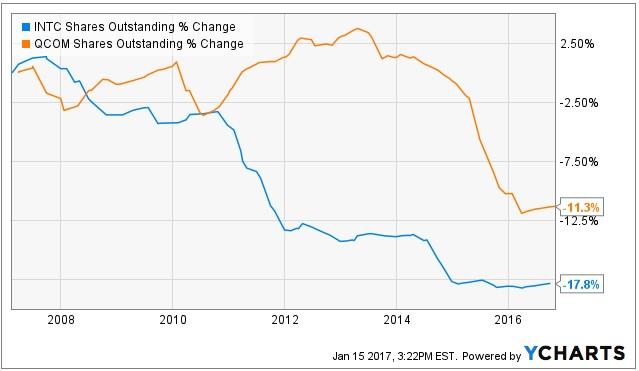 This is important because both Intel and Qualcomm have been aggressive in buying back shares in recent years. Buybacks, as long as they aren't mostly to offset stock-based compensation dilution, can be an integral component to long-term dividend growth. That's because a falling share count means that FCF/share growth is accelerated, and the payout ratio is lowered. That allows faster dividend growth for longer, which ultimately boosts long-term total returns.
In the past 12 months, Intel and Qualcomm's capital return payout ratio, (buybacks+dividends/FCF) has been 74% and 101%, respectively. Those are high levels that mean that going forward, should the industry experience a downturn, both may need to resort to borrowing in order to continue their respective management's capital return plans.
With Qualcomm's lower debt levels, it has more cushion to take on debt levels in the future, whether it be for additional buybacks, (when shares are cheap as now), acquisitions, or strong dividend hikes.
Dividend Profile: Qualcomm Wins On All Counts
Source: Gurufocus, Fastgraphs, Morningstar, FactSet Research, Multpl.com, Moneychimp.com
| | | | | |
| --- | --- | --- | --- | --- |
| Company | Yield | TTM FCF Payout Ratio | Projected 10-Year Dividend Growth | Projected 10-Year Total Return |
| Intel | 2.8% | 45.8% | 8.0% | 10.8% |
| Qualcomm | 3.2% | 43.6% | 9.4% | 12.6% |
| S&P 500 | 2.0% | 39.5% | 6.1% | 9.1% |
At the end of the day, what I care about as a long-term dividend growth investor is that a company has a payout that is generous, highly secure, and likely to grow strongly for decades.
From a yield perspective, both Intel and Qualcomm offer superior income generation to the broader market, though Qualcomm has a slightly higher payout.
In terms of dividend security, the strong balance sheet of both companies as well as low FCF payout ratios mean that both dividends are rock solid and dependable.
Similarly, the low payout ratios mean that both Intel and Qualcomm are likely to keep growing the dividends for years to come. However, thanks to its superior growth runway, (more growth catalysts), and faster projected growth rate, Qualcomm is likely to be able to achieve slightly better dividend growth in the coming decade.
Since market studies show us that, at least for dividend growth stocks, the long-term total return generally tracks yield + dividend growth, this means that Qualcomm is likely to prove a better overall investment. That's both from an income, and capital gain perspective.
Valuation: Qualcomm The Better Buy Today
Gurufocus
| | | | | |
| --- | --- | --- | --- | --- |
| Company | PE | 13-Year Median P/E | Yield | Historical Median Yield |
| Intel | 17.4 | 14.5 | 2.8% | 2.9% |
| Qualcomm | 17.6 | 19.9 | 3.2% | 1.7% |
While neither Intel nor Qualcomm is trading anywhere near the market's current frothy trailing P/E of 26.2, an absolute and relative comparison of both company's valuations shows that in the short term Qualcomm has a far more appealing valuation.
After all, not just is Qualcomm a faster-growing company that trades at the same P/E as Intel, but compared to its historical P/E, Qualcomm is less overvalued.
Meanwhile, when it comes to the most important valuation metric, yield, Qualcomm not just has a higher one, but is also trading at a significant discount to its historic norm.
And when we use a forward-looking, longer-term valuation method, such as a discounted cash flow or DCF analysis, we similarly see that Qualcomm is by far the more undervalued company.
Sources: Morningstar, Fastgraphs, Gurufocus
| | | | | | |
| --- | --- | --- | --- | --- | --- |
| Company | TTM FCF/Share | 10-Year Projected Growth | Fair Value Estimate | Growth Baked Into Current Price | Margin Of Safety |
| Intel | $2.16 | 9.1% | $46.74 | 4.7% | 21% |
| Qualcomm | $4.58 | 11.0% | $110.09 | 2.1% | 39% |
Now keep in mind that this is a 20-year DCF model, and given the impossibility of predicting the growth rate of any company that far out, it's far from a perfect valuation method.
That being said, knowing what growth rate is currently priced into the share price of each company can give us a good idea of how likely each company is to meet or beat its expected growth targets going forward.
From that perspective, Qualcomm is once again the winner, thanks to the market pricing in pretty much zero growth over the next decade. That means a far lower bar to clear which should allow for superior capital appreciation in the next 10 years.
Risks To Consider:
The risks to Intel and Qualcomm are both industry-wide, as well as individual. For example, the semiconductor industry is monstrously competitive, with massive capital requirements and R&D needs just to keep existing market share, much less grow it.
In addition, as technology advances. it becomes increasingly commoditized, meaning that new rivals can pop up, that results in increasing pricing competition. Specifically, more and more smartphone makers are turning to in-house SOCs, including Apple (NASDAQ:AAPL), Huawei, and Samsung (OTC:SSNLF).
And while true that fast-growing tech trends such as AI, driverless cars, VR, cloud computing, and IoT have the potential to vastly expand the market for chips, there is no guarantee that either company will be able to capture enough market share to make up for falling chip prices going forward.
Which brings us to specific company risks. For Qualcomm, the biggest risk is that additional governments worldwide follow South Korea's decision, that its IP royalties should not be based on a % of a phone's total cost, but merely the internal components. This could result in substantial declines in Qualcomm's highest margin business.
Then there's the integration risk of the NXP acquisition. Specifically, up until now, Qualcomm has outsourced the actual manufacture of its chips to Taiwan Semiconductor and Samsung. However, NXP makes its own chips, and thus has a more capital intensive, i.e. lower profitability, business model.
So while true that NXP represents a potentially good way to break into the automotive sector, just how accretive the acquisition will prove to be will take a few years to become clear and will be dependent on management meeting its cost-cutting targets.
As for Intel, there are several major headwinds to be aware of. The largest of course is the secular decline in PC sales, which has been going on for years, and is likely to be permanent.
In the past, Intel has attempted to pivot and get into mobile chips, an idea it poured billions into, and recently gave up on. This shows that, while Intel may be the world's largest chip maker, and thus has the biggest war chest to devote to R&D, there is no guarantee that its newly-stated goals of breaking into these future tech markets will be successful.
And we can't forget that while Intel's dominance in high-performance processors, such as those in PCs, has thus far helped it to do well in the cloud data server market, competitors like ARM Holdings (NASDAQ:ARMH) are gunning to take market share with their own offerings, with a greater focus on efficiency.
Bottom Line: Intel Is A Solid Core Holding, BUT Qualcomm Is The Superior Choice For New Money
Don't get me wrong, I'm not saying Intel isn't a solid long-term core holding. In fact, I own it in my own diversified dividend portfolio.
However, at the same time given its longer growth runway, higher profitability, stronger balance sheet, superior dividend profile, and much better valuation, Qualcomm is clearly the better dividend growth stock to buy at this time.
Are you ready to supercharge your investing success in 2017 and beyond? Seeking Alpha And Investor In The Family Radio are proud to present the 2017 DYI investor summit, featuring Seeking Alpha's top 25 writers for the eye opening, (including yours truly). This promises to be a massively profitable opportunity to learn from the mistakes, successes, and insights from some of the world's best investing minds.
Click Here To Get Free Access To This Amazing, Can't Miss Opportunity.
Disclosure: I am/we are long INTC, QCOM.
I wrote this article myself, and it expresses my own opinions. I am not receiving compensation for it (other than from Seeking Alpha). I have no business relationship with any company whose stock is mentioned in this article.