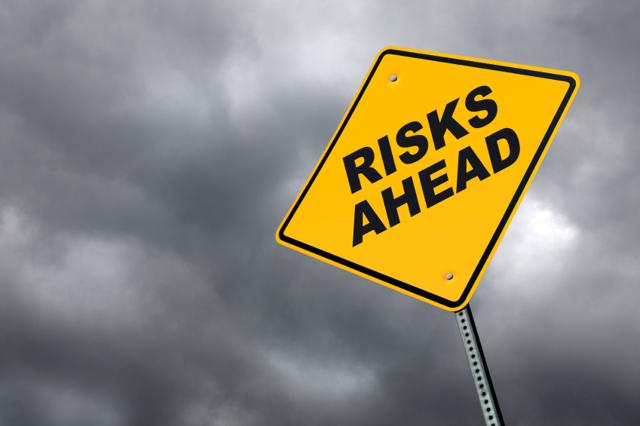 Pfizer (NYSE: PFE), one of the world's largest diversified pharmaceuticals, trades at a significant discount compared to peers based on P/E and other multiples. With a forward P/E of about 11.94 compared to Merck & Co.'s (NYSE: MRK) 15.4 and Sanofi's (NYSE: SNY) 13.8, it certainly appears that an increase from the current share price may not be out of the question.
However, investors should be cautious as they invest in the company, since its risk factor could be a reasonable explanation for why the shares trade at current levels. This article will highlight two of Pfizer's biggest risks going forward, which are grouped into product and pipeline risks.
Pipeline risks
Pfizer's main growth potential has been reliant on its ability to develop several new blockbuster drugs from the R&D division, and it has set an ambitious target of launching one cancer therapy per year from 2017 to 2022.
Currently, the company's pipeline includes at least 20 late-stage clinical programs, which include Avelumab, an experimental cancer drug which is the focus of eight clinical studies as well as five biosimilars, all of which come with significant risks for the company.
Avelumab is a PD-L1 (Programmed death-ligand 1) class immuno-oncology product, and there are only three PD-1/PD-L1 class drugs in the market. The market for this class of drugs is expected to grow substantially over the next half decade to approximately $35 billion in peak sales, which explains Pfizer's interest in owning a PD-1 drug.
Avelumab, which is being developed for the treatment of Metastatic merkel cell carcinoma (MCC), already holds breakthrough therapy and fast-track designations for this indication in the U.S. MCC is a rare and aggressive form of skin cancer which is estimated to affect about 2,500 people annually in the U.S and, if approved, would be the first treatment for MCC patients. The company also is investigating Avelumab for the first-line and second-line treatment of non-small cell lung cancer (NSCLC), ovarian cancer, gastric cancer and renal cancer.
Ultimately, Avelumab is expected to be Pfizer's growth driver for the next one to five years, so any problem that arises during its development has the potential to weaken the company's prospects going forward.
Pfizer biosimilars in development, including biosimilars to Herceptin, Rituxan and Avastin, which had combined sales of more than $20 billion in 2015, could also expose the company to some risk. This is mainly due to the fact that in the recent past, a number of companies have been able to prevent biosimilars from being marketed in the United States, which would be a significant blow to Pfizer if it found itself in the same position.
In addition to this, its vaccine portfolio has been facing quite a bit of pressure. Prenvar/Prenvar 13, which is recommended for the prevention of pneumococcal disease, has been experiencing a revenue decline considering that almost 40 percent of the adult population over the age of 65 years has already received the one-time vaccination, which means Pfizer's new vaccine products can't afford any setbacks.
The company currently has two vaccines, Staphylococcus aureus and Clostridium difficile, in phase 2 clinical development, whose upcoming data will need to be closely monitored by investors.
Product risks
Although Pfizer's overall sales increased by 13 percent during the first nine months of 2016, the company is facing significant product threats. First and foremost, one major threat comes in the form of patent expirations which will affect Celebrex, Viagra and Lyrica in the near term. Viagra and Lyrica patents are set to expire in 2017 and end of 2018, respectively, and though sales of Viagra have already started trending downwards, it is any weakness in Lyrica that should get investors particularly worried.
Lyrica netted $3.1 billion in sales for the first nine months of last year and accounted for almost 15 percent of Pfizer's Innovative Health segment revenue, which makes up more than half of the company's top line. Substantial sales declines have already been witnessed across a number of Pfizer's products that have lost patent exclusivity, and the loss of Lyrica's will have a severe impact on the company.
Apart from the impending patent expirations, investors should be concerned about competitive threats facing Ibrance, Pfizer's fastest-growing drug in 2016. Ibrance, which is a CDK inhibitor for breast cancer, will be facing competition from Novartis' (NYSE: NVS) Ribociclib, which is still under development.
Last year, Novartis announced positive results from a late-stage study of Ribociclib in combination with hormone therapy Femara for the treatment of advanced breast cancer. This came in the wake of the company terminating the study earlier than expected after interim results showed that the drug had already met its primary end point.
Sales from Pfizer's kidney cancer drug Sutent also face a similar threat from Exelixis' (NASDAQ: EXEL) Cabometyx, which is still under development. In a head-to-head comparison during clinical trials, Cabometyx beat Sutent in terms of efficacy, while the safety results were about evenly matched. If Exelixis gains regulatory approval for Cabometyx to become the first-line treatment for kidney cancer this year, Sutent could potentially be rendered obsolete.
On the other hand, Pfizer's Enbrel, an autoimmune disease drug approved for a number of indications, such as rheumatoid arthritis and plaque psoriasis, and the company's third-largest drug in sales, appears to be one of the most adversely affected by competition.
After the introduction of Biogen's (NASDAQ: BIIB) biosimilar Benepali, which won regulatory approval in Europe, the drug posted a 9.2 percent drop in sales for the first three quarters of last year compared to the same period in 2015. To make matters worse, analysts expect Enbrel to continue losing market share, as they project its sales to come in at $3 billion and $2.5 billion in 2016 and 2017, respectively.
Investors' takeaway
Despite the fact that Pfizer is a pharmaceutical giant, two things remain clear. As long as the competition continues snatching market share from the company's top products, the shares will continue trading at a discount. Finally, regardless of its size, the company won't be able to afford more than a few setbacks in its pipeline if it wants to ensure growth going forward.
Disclosure: I/we have no positions in any stocks mentioned, and no plans to initiate any positions within the next 72 hours.
I wrote this article myself, and it expresses my own opinions. I am not receiving compensation for it (other than from Seeking Alpha). I have no business relationship with any company whose stock is mentioned in this article.