In my previous article about Activision (NASDAQ:ATVI), I emphasized the opportunity esports brings to the gaming industry as a whole and to Activision in particular. While I have already discussed opportunities and valuation, I want to talk a bit more about another subject that I did not really discuss in my previous article: mobile gaming.
This segment in the gaming industry does not get enough attention in my opinion. This is most likely because of the huge advertising campaigns the AAA games for consoles and PCs regularly get. People might not be aware of it, but mobile gaming already generates about 37% of total revenue in the global gaming market at a total of $36.9 bln. This number is expected to grow to $52.5 bln in 2019.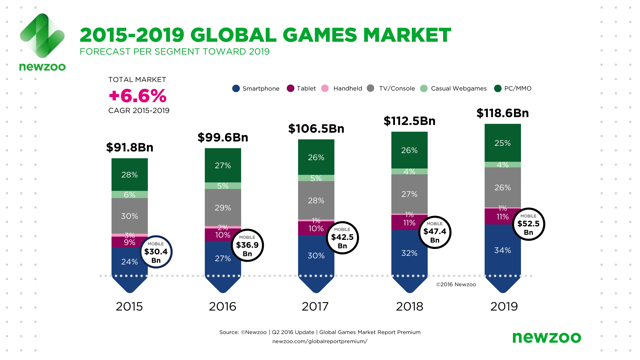 Thus, there are enough growth opportunities for companies that take the right steps.
King Digital Entertainment Acquisition
In November 2015, the company announced the acquisition of King Digital Entertainment, a leading interactive mobile entertainment company. This acquisition was completed in February 2016. Activision decided to acquire King Digital Entertainment in order to become a market leader in interactive entertainment on mobile, online and social platforms as well in PC and console platforms.
King Digital Entertainment currently has four established free-to-play franchises where players can purchase virtual items and currency. These four franchises are: Candy Crush, Farm Heroes, Pet Rescue and Bubble Witch. A lot of you have probably heard a few of these names before since they are very popular among (mobile) gamers. Besides owning franchises that are playable on mobile phones and tablets, Activision also is focusing on using apps on phones and tablets to interact with its games on the PC/consoles.
For example, last September, Activision released the World of Warcraft: Legion Companion App. With this app, players can engage with certain in-game activities and continue to game while not sitting behind their PCs. This is the first time Activision has done something like that, and so far, it seems to be a success. The company reported millions of players that have used the app and on average they log in four to five times a day.
Performance
In the last reported quarter, Activision reported that King Digital Entertainment saw total MAUs at 394 mln for the quarter. Although this is slightly down from the same period in 2015, it is still an enormous amount. And while the number declined slightly, the overall mobile gross bookings, time spent by user and average revenue per paying user all increased. Management also is working hard to improve the MAUs as well as the other metrics. It aims to achieve this by creating more content through live ops and features in the live games as well as creating new games/franchises. King Digital Entertainment already has a pipeline of new franchise titles that it will use to attract (new) players. One of these games is currently in the final stages of polish and will soon be released. And of course and as mentioned earlier, the company also starts to focus on releasing companion apps for games which could eventually also be a boost to the number of users.
Advertisement
Besides earning money by charging players of these mobile games money for in-game items, there is a much better way to profit off these mobile games. This better way is advertising. The good thing about relying on income from advertising in this segment as well rather than just relying on players purchasing in-game items is that you have a new way to profit off non-paying users as well while keeping income from in-game purchases. With MAUs of 394 mln, it is obvious that there is a wide enough base to make this very successful in the future.
There are multiple companies that show how successful the ad market is. Just think about Facebook (NASDAQ:FB), Alphabet (NASDAQ:GOOG) (NASDAQ:GOOGL) or the smaller The Rubicon Project (NYSE:RUBI), although they obviously have a very different business model than Activision. But the point is that there are plenty of opportunities to make a new advertising segment successful.
Riccardo Zacconi from King Digital Entertainment talked about these opportunities on Activision's most recent earnings call:
"Let me give you an update on the ad business. So we have been testing various ad units over the past several months, and we have tested these ad units in two Candy Crush games. And our plan is to increase inventory by adding additional cohorts of players through the end of the year with these ad units.

As I said in the past, we believe that advertising is an attractive opportunity to monetize non-paying players, and we see that because of the size of the network, and also because the players are so engaged on our network, that the interest from high-quality brand advertisers is very strong. So we want to take this opportunity, and there's a lot to do to take this opportunity. And the teams are working hard as we speak; on one side, on building the inventory; and on the other side, we are building the team and the infrastructure required to take this opportunity.

So, regarding the second part of your question, we believe that advertising will begin to contribute to bottom line, as Dennis was saying before, in 2017 and that we will be able to scale it in 2018."
So it is clear that management sees this opportunity as well and is working hard to make the new business profitable, but it might take a little while before we can actually see the results. For now, it seems difficult to currently be able to see how much income advertising will bring to Activision in the future. Therefore I recommend to keep an eye out for more information about this subject in the next earnings call.
Conclusion
This new ad-generated income might not be the reason to invest in Activision, but it is most certainly another aspect to like about the company. I previously discussed the fact that Activision's management saw and invested in the opportunity that esports brings. This is just another way that management invests in future (earnings) growth. And it is definitely good to see a company's management take so many right steps.
Again, people who are interested in more information about Activision can read my previous article here.
Disclosure: I/we have no positions in any stocks mentioned, but may initiate a long position in ATVI over the next 72 hours.
I wrote this article myself, and it expresses my own opinions. I am not receiving compensation for it (other than from Seeking Alpha). I have no business relationship with any company whose stock is mentioned in this article.