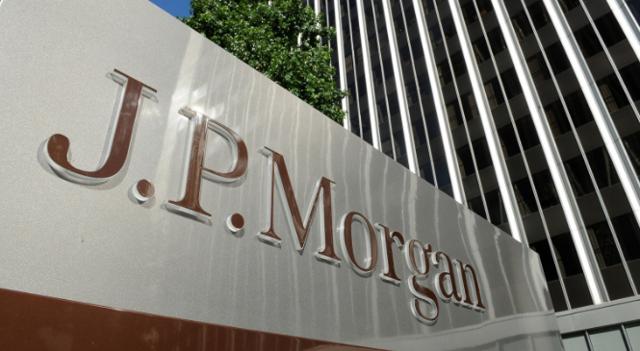 JPMorgan (NYSE:JPM) has remained the gold standard in banking for many years after it deftly navigated the crisis and became stronger as a result. It has had its share of hiccups along the way, but I still believe Jamie Dimon is one of the best CEOs anywhere, not just in banking. The stock is hitting new highs after another really terrific earnings report, and given all of the momentum it is taking into 2017, that's certainly no surprise. And with shares at 13.3 times 2017 earnings, JPM is still being priced the same way as Wells Fargo (NYSE:WFC) despite very obvious advantages it enjoys. For that reason, the blowout Q4 is yet more proof if you want to own a bank, you can do much worse than JPM.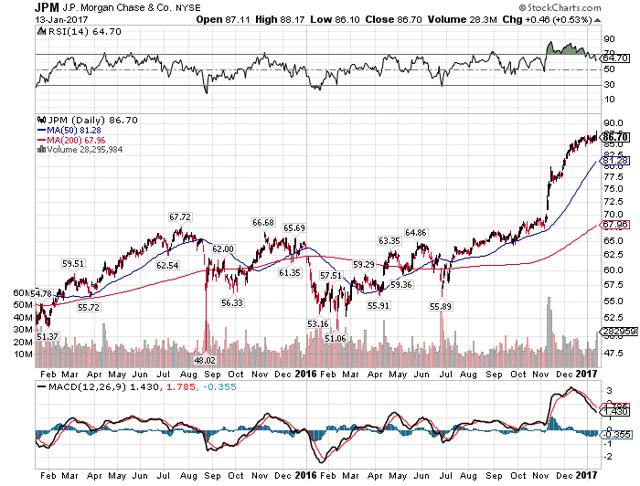 Total revenue was up 2%, slightly below my expectations, but good enough nonetheless. The gains were from loan growth but offset by spread compression, something we've seen from other banks early on in this reporting season. In addition, fee revenue was flat, another thing we've seen from other banks. JPM seems to be following what others have done, and that's completely fine because it is already in a position of strength; huge gains aren't realistic.
However, despite flat fee revenue, the NII situation remains positive and absolutely critical to the bull case. I mentioned loan growth and spread compression as factors that helped move total revenue and they are important, so we'll spend a bit of time on each. The CCB segment produced 14% growth in average core loans in Q4 as JPM is continuing to go after market share. Beginning at the start of calendar 2016, JPM really opened up its lending and has grown aggressively since that time. This has been a big reason why I've continued to be bullish on JPM; management has made a concerted effort to use its vast mountain of deposits in order to grow the business. And given that the company has one of the lowest loan-to-deposit ratios in all of banking, it has a huge runway for growth if it so chooses. JPM has typically been one of the more conservative lenders and that has served it well, but it seems management sees an opportunity and is striking in a big way. I expect sizable loan growth to continue for many quarters to come, and this is the biggest single way JPM can grow earnings going forward. Q4's loan growth number exceeded my expectations and that's certainly a good thing.
Unfortunately, spread compression reared its ugly head and slightly decreased gains in net revenue for the quarter. JPM's NIM isn't particularly good due in large part to its very low LTD ratio, and while that is improving, Q4 wasn't setup to be a strong margin expansion quarter for anyone. The rate hike in December was way too late to help, but going forward, we need to see some NIM expansion. JPM has a long way to go if it continues to push forward with its loan growth and that - along with higher rates - could produce some pretty spectacular NIM growth. Q1 will give us a better read on the impact of rate hikes, but for now, I certainly wasn't surprised by a slightly lower NIM for Q4 or management's bullish guidance on NII going into Q1. This is a 2017 story and is certainly something you'll need to keep an eye on if you're long.
On the expense side, JPM produced a 3% lower number due to lower legal expenses, driving margin improvement in Q4. That's terrific but unlike Bank of America (NYSE:BAC), for instance, JPM's efficiency ratio in the mid-50s is already very strong. There simply isn't a long list of ways JPM can reduce its efficiency ratio - it really comes down to revenue growth - and for that reason, JPM doesn't have the additional lever to pull for earnings growth going forward. That's not a bad thing it is just the difference between a bank that never had a financial crisis and one that nearly went out of business altogether. JPM can continue to work its efficiency ratio down, but apart from things like legal expenses that fluctuate, I don't see a lot of cost savings coming through. It really is all about revenue growth and that will keep a lid on margin expansion in 2017. JPM has other ways, but expenses aren't one of them.
JPM's excellent credit metrics continued to show their strength in Q4 as provisions fell to $864M against $1.3B in last year's Q4. Consumer and Wholesale saw about $400M in reserve releases this quarter against builds last year and helped tremendously with Q4's earnings. JPM tends to over-reserve and that seems to have been the case this time around as well, so when it decides the coast is clear - so to speak - the impact to earnings can be sizable. JPM - and indeed the entire industry - continue to show tremendously strong credit metrics, and as long as that doesn't change, it will be difficult to build a bear case against the banks.
At 13.3 times 2017 earnings, JPM is trading right with its TBTF peers. Wells Fargo trading with the same multiple, but with inferior fundamentals, so in that respect, JPM is cheap. It is slightly at a discount to BAC, but that bank has stronger growth prospects as it continues to mend sins of the past. Still, I think there is some upside potential to JPM's 2017 estimates as sales growth is slated for 4.5% and EPS should come in around 10%. The thing is that the combination of higher NIM and continued strong loan growth could easily eclipse 4.5% if JPM executes. And if there is one thing that JPM is good at, it is executing.
We could very easily see 5% or better total loan growth next year, and while fees will likely be flat or so against 2016, that leaves the door open for a revenue beat if NIM rises. We know NIM will be better in 2017 due to rate hikes that are (apparently) coming, but we don't know the timing of them yet. If one or more happens early in the year, that will fuel earnings growth. If they are later in the year or don't happen at all (!), then JPM may have a hard time with 4.5% sales growth. I think we'll see enough loan growth and NIM expansion for 5% to 7% in revenue growth, but that requires some faith right now; it's too early to tell. I just find 4.5% to be a little conservative and that leaves the door open for a beat.
Given that JPM is trading for roughly the same valuation as WFC and slightly below BAC, I still think that it is a good pick if you want a bank. JPM is the gold standard in banking, and in terms of safety and soundness, you'd be hard-pressed to find a better one. JPM can still grow earnings significantly in 2017, and with Q4's blockbuster results, it has lots of good momentum. I still like it here despite the fact that it is at its highs. Expectations are low enough for 2017 that JPM could have some material upside from here.
Disclosure: I am/we are long JPM.
I wrote this article myself, and it expresses my own opinions. I am not receiving compensation for it (other than from Seeking Alpha). I have no business relationship with any company whose stock is mentioned in this article.