Cisco Systems (NASDAQ:CSCO) is engaged in the designing, manufacturing and selling of Internet Protocol-based networking products, and providing services associated with these products and their uses. Now that it has been paying a growing dividend for six years, it has become a good investment partner for a dividend growth investor, and at its current market price of around $30, it is priced at a good value.
Is CSCO a good investment partner?
I use my usual four-item checklist to evaluate whether CSCO will be a good partner to help me build a portfolio with a dividend stream that grows faster than inflation so I can replace the income from my job when I retire. I get that information from this presentation on the CSCO website.
I don't think I need to argue or demonstrate that network and telecom equipment is a growing market. But it is a rapidly evolving market, so what I need to see from CSCO for the market item in my check list is that it has an innovation plan that has a good chance of keeping and growing its market share.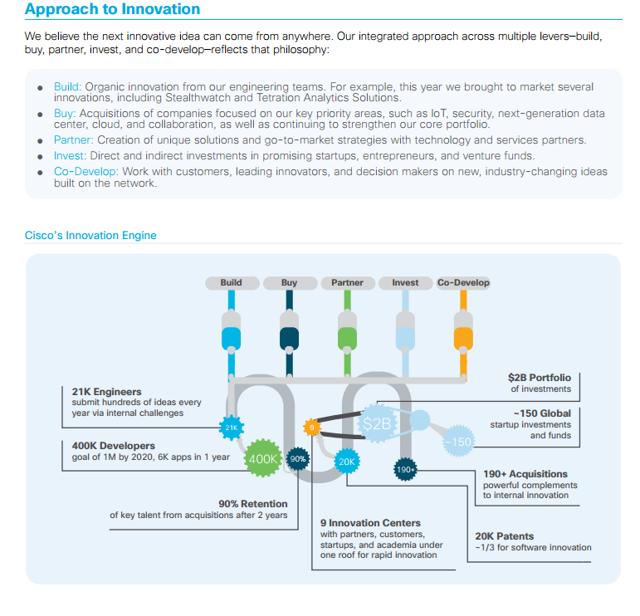 This slide demonstrates that CSCO does have a multi-faceted plan in place to innovate not only its hardware, but also the software too. From its leadership position, the company has the resources to both innovate with in-house efforts and to acquire technology developed by others.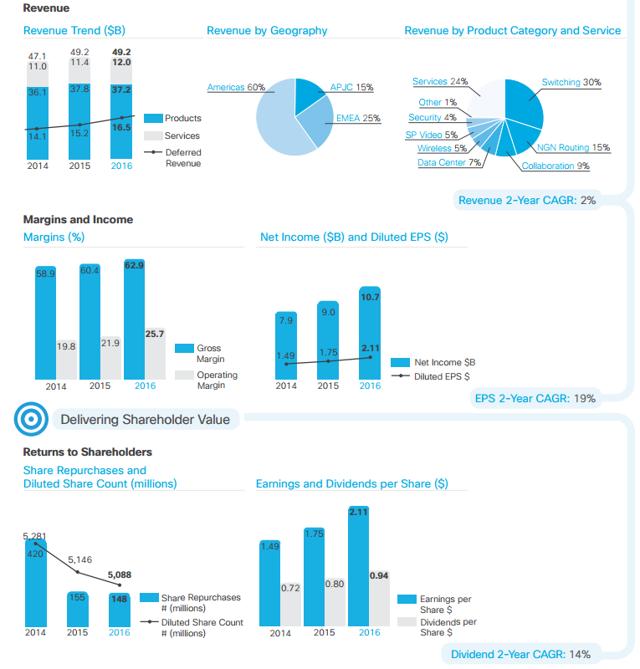 This next slide addresses profitability. I see growing revenues and growing profits. I also like to see that share repurchases are actually reducing the outstanding share count. For a tech type company, I want to see evidence that they are beyond the point where they will sacrifice profits to gain market share and are instead on a path to grow their earnings while making a profit. The information that CSCO is providing on gross and operating margins shows that it is concerned with making a profit on its revenues and is not trying to grow revenues at any cost.
On the debt front, CSCO has a credit rating from Moody's of A1 with a stable outlook. So it has investment-grade credit ratings. With total liabilities that are around half of the value of its total assets, debt isn't a significant factor in its performance. Based on its balance sheet for 2017 Q1, CSCO also has cash on hand that is well in excess of its total short-term debt.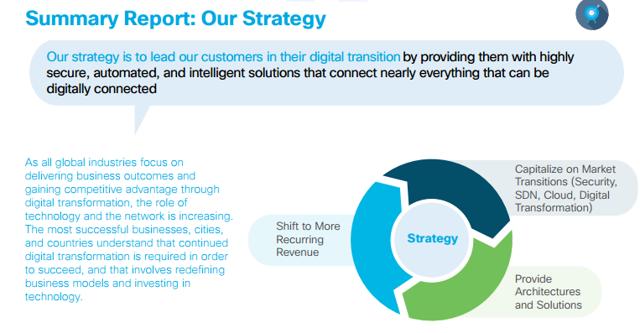 This slide further reinforces the idea that CSCO is looking for profitable growth rather than just growth at any cost.
While the presentation does have some information on the dividend and its growth, it only has information on the last two years. While it's good that CSCO did consider dividend information important to include in its presentation, I need more than two years of history to evaluate. Looking at the CCC List, I can see that CSCO has paid an annually increasing dividend for six years starting in 2011. For a leading technology company that does meet my minimum requirements. But with such a short history, I want to be very conservative in my prediction of future dividend growth.
What's a good price?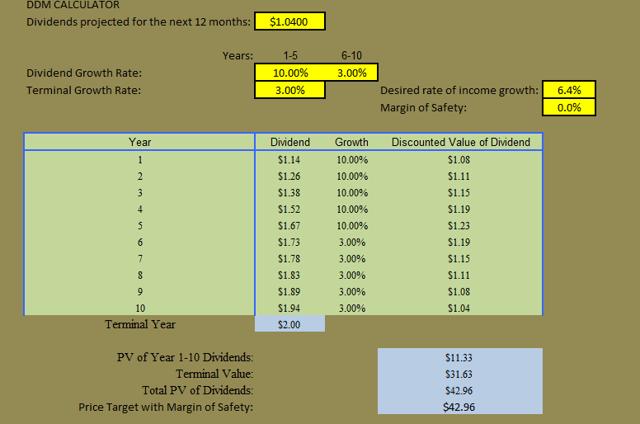 To figure out a good price, I do a DDM calculation using my Excel® based DDM calculator (pictured above, you can see the web-based calculator I based it on here and read a discussion on how the formulas were developed here).
CSCO has grown its dividend pretty aggressively over the last six years, and I don't think it can long continue to do so at quite as fast a pace. With its payout ratio at nearly 50%, I don't think it can grow dividends faster than EPS growth, and I think it might be better to actually grow them a little slower (just to give more room for a bad year). I think that a 10% yearly increase for the next five years is a reasonably conservative prediction. Especially given that I will assume that CSCO can grow them 3% a year forever after that. That yields a PV for the predicted dividends (and not a prediction of where the price might move) of $42.96. With the current dividend, that gives a yield of about 2.4% (below what I like, but at a reasonable level for a tech company). Using a buy target price of $43 to the current market price of about $30, CSCO is selling at a significant discount to my target price. And that helps the yield too.
Can options help?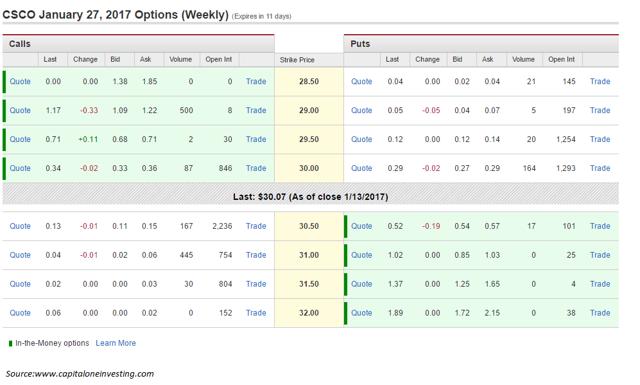 CSCO is one of the stocks that have weekly expiration options available. In this case, the January 27th expiration date contracts make a lot of sense. For 11 days, the $30 strike put contract will pay about $0.38 and the $30.50 put contract will pay about $0.55. One of the features of the weekly expiration contracts is that the strike prices are very close together; in this case, a mere 50 cents. I think the $30.50 strike put makes a lot of sense as you will get the shares at less than the current market price in just 11 days, but get to keep a very nice premium for the short holding period. And with a Delta of -0.70, you have a very good chance of being assigned the shares.
Conclusion
More and more technology companies are paying growing dividends. At the current market price, CSCO has the potential to be a worthy addition to a dividend growth portfolio. Because it has the potential to be disrupted by missing a technological innovation, the company is always going to be riskier than such safe dividend growth stocks as consumer staples, and I think the present discount of more than 20% to the present value of its predicted future dividend payments will more than make up for the additional risk. I don't own any CSCO stock, but it is on my watch list and will be considered when I get more cash in early February.
Note: I hope you all got something out of this article. I do appreciate the time you took reading it. If you are one of those who follow me here, I appreciate it; if you'd like to include yourself amongst those individuals, please hit the "Follow" button next to my name as well as following other contributors whose work you enjoy. As always, please leave any feedback and questions you may have in the comments below.
Disclaimer: This article is intended to provide information to interested parties. As I have no knowledge of individual investor circumstances, goals, and/or portfolio concentration or diversification, readers are expected to complete their own due diligence before purchasing any stocks mentioned or recommended. The price I call fair valued is not a prediction of future price but only the price at which I consider the stock to be of value for its dividends.
Disclosure: I/we have no positions in any stocks mentioned, and no plans to initiate any positions within the next 72 hours.
I wrote this article myself, and it expresses my own opinions. I am not receiving compensation for it (other than from Seeking Alpha). I have no business relationship with any company whose stock is mentioned in this article.