Peabody Energy Corp. (BTUUQ) finally filled its amended disclosure statement (docket 2019) that included financial projections, but as expected, it did not include a valuation exhibit. The projections are based on a forecast for lower Australian coal prices in 2018. The hearing to approve the adequacy of the disclosure statement is to be held on January 26, and the hearing to actually approve the confirmation of the plan is planned for March. Mangrove Partners is still trying to get an official equity committee appointed at a January 19 hearing.
Financial Projections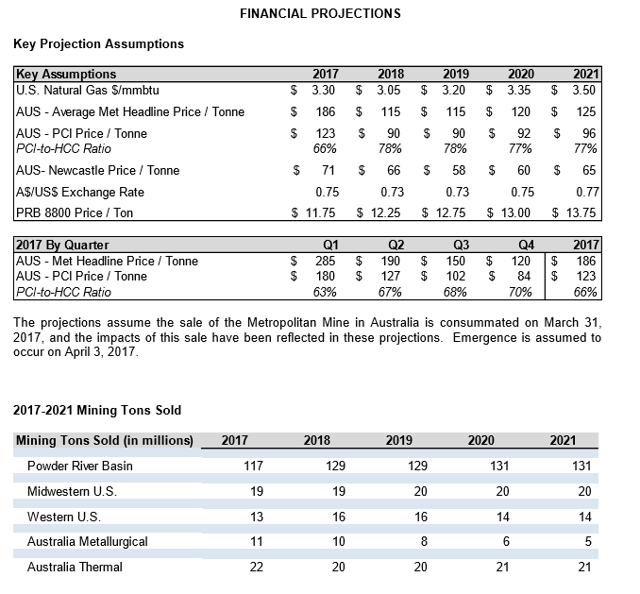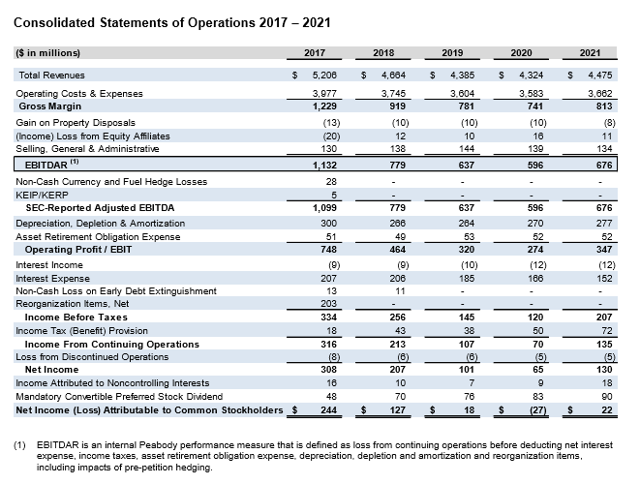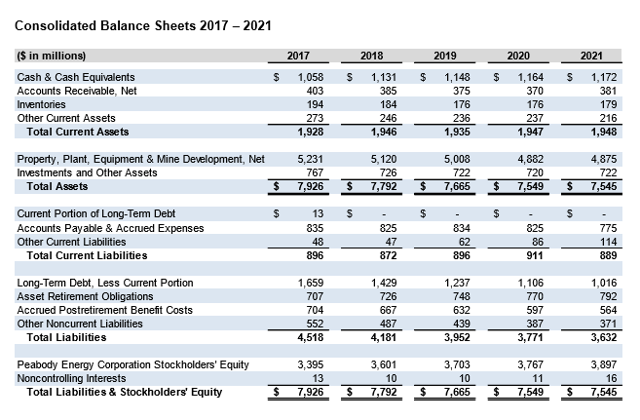 Valuation Analysis
Instead of developing a valuation from various analysis methods using professional financial consultants, the plan is just using an agreed number negotiated between Peabody management and the Co-Proponent Noteholders to be $4.275 billion. The disclosure statement tried to justify the approach for valuation by stating the company "... would face costly and time-consuming litigation. This would require experts, complex financial projections and speculative data that would involve significant costs and time. Resolving the Valuation Dispute avoids this significant burden on the Debtors and their stakeholders and allows for expeditious emergence from these Chapter 11 Cases with a Plan Equity Value supported by almost all of the Debtors' major creditor constituencies." Such chutzpah! The company is spending millions on other fees and it has been in Chapter 11 for over nine months, but it doesn't have the time nor money for a thorough valuation analysis! The plan value of only $4.275 billion is solely for the benefit of current management, which could get up to 10% of the new equity under an incentive plan, and the Co-Proponent Noteholders who are going to get distribution under the plan, but more importantly, are going to make hundreds of millions financing the proposed plan.
By not retaining a professional independent financial firm to determine a plan and equity valuations, Peabody opens the door for shareholders to assert that they (the shareholders) cannot be adequately represented without an official equity. This one of the most important criteria to determine the need for the appointment of an official equity committee. (Management should have at least gone through the motions of using a financial consultant to create an "independent" valuation.)
Using the projected 2017 EBITDAR of $1.132 billion and multiples of 5x and 7xm the plan enterprise value would be $5.66-7.92 billion. Again using the 2017 EBITDAR and the stated enterprise value in the plan of $4.275 billion, the implied multiple would only be 3.78x.
Because of the forecasted drop in Australian coal prices, as per the table, EBITDAR for 2018 is only $779 million. Using the 5x and 7x multiples, the value would be $3.89-5.45 billion. The multiple on $4.275 billion is 5.49x. Not only are the projected EBITDAR low for 2018, but the plan value grossly underestimates Peabody's value.
Privately Placed Preferred Stock Agreement
A focal point of the problem with the reorganization plan is the privately placed preferred stock agreement - PPA - that would raise $750 million. The PPA was created solely to maximize the profits for only the Co-Proponent Noteholders and, to a lesser degree, the Second Party participants. (See docket 1972 for detailed description of allocation.) Analysis of the details of the PPA indicates the appalling self-dealing by the Co-Proponents. In order to become a Second Party participant, you had to be a qualified institution and agree to support the plan. It was not open to individuals. Those who are not participating are effectively getting less recovery than those who are. The Co-Proponents, however, are asserting that this additional recovery is technically not a "distribution" under Chapter 11. The PPA could also explain why the unsecured notes have dropped.
These preferred shares would not pay cash dividends, but are paid-in-kind (PIK) shares, which pay additional preferred stock as dividends instead of cash. They are mandatorily convertible into new common stock at a 30% discount if the price of new equity trades at 130% of the plan equity value for a stated period of time value within 36 months of the effective date. At that time, the PIK dividends would accelerate and the entire 36 months' dividends are payable. The preferred stock, including the amount received as dividends, would mandatorily convert into common stock. This is insane. So effectively, including the dividends, they would get new stock at a 44% discount from plan value, which is already artificially low. If the stock is trading at 130% of plan value, this discount would be effectively be a 57% discount from that market value. The 44% discount on $750 million comes to $330 million. If the new stock were trading at 130%, they would make $330 million + $225 million (0.30 x $750 million), or a total of $555 million profit. This is an obscene figure, and is in addition to the distribution under the reorganization plan that they receive for their claims as 2lien and unsecured noteholders. These preferred shares are a very expensive way to raise $750 million in new capital.
Alternative Plan to Raise $750 Million
I have an alternative plan. Instead of the privately placed preferred stock, convertible bondholders would receive rights to purchase $750 million of new stock without a discount from plan value and without a traditional backstop agreement. The convertible noteholders would have the right to oversubscribe to purchase additional shares. The rights that convertible bondholders do not use would be put into a pool, and the other convertible noteholders will be allocated those rights, pro rata, to purchase shares up to the maximum of $750 million.
I am assuming that holders of the convertible notes most likely have a much higher estimated value for Peabody than is currently being assigned under the reorganization plan and would determine that buying at the plan equity value was effectively buying new stock at a discount to actual potential market value. They would be eager buyers of new stock.
The recovery for the convertible holders would be the amount that the new shares actually trade above the plan's equity value. (Of course, there is the possibility that they could incur a loss if the shares trade below the plan equity value.) If the new Peabody trades at 130% of plan equity value, their collective recovery of their claims would be $225 million, or about 30%, This compares to the bonds' current trading price of $10-13.
Under my proposed plan, there would be a saving of $330 million in dilution compared to the PPA. The reduction in dilution will benefit all 2lien and unsecured noteholders that are not Co-Proponents or second party participants. It would even benefit management, whose shares' value would not be diluted compared to PPA.
Federal Government Files Objection
Because the federal government is an interested party to the financial strength of Peabody to cover future federal mandated mine reclamation expenses, it filed a limited objection (docket 1980) to the reorganization plan on January 12. A major objection is the $100 million breakup fee associated with the rights offer and the PPA. The federal government is also worried that the plan makes no provisions for reclamation liabilities. Its filing stated other significant concerns:
The Plan may be found to contain an impermissible discrimination among similar classes of creditors, if favored unsecured Second Noteholders are found to be recovering more on their allowed claims than other general unsecured creditors. Similarly, the resolution of the Unsecured Creditors' Committee contentions about the scope of collateral of secured creditors, which appear to be being resolved under the Plan without the Committee's consent, may be found to be unfair and unlawful.
Plan Approval
The last update for the approval of the plan was released on January 7. According to that release, 94.9% of the dollar amount of 2lien holders have approved the plan, 80.3% of the dollar amount of unsecured holders have approved, as have 32.3% of the convertible noteholders. All you need is two-thirds of the dollar amount and a majority of the number of holders in a class of claim holders who are impaired and entitled to vote to approve a plan.
Just because one class approves the plan, that does not mean it will automatically be confirmed by the bankruptcy judge. The confirmation of the plan is regulated by Sec. 1129 of the Bankruptcy Code. A requirement needed for confirmation that most likely will be litigated is that "the plan does not discriminate unfairly, and is fair and equitable, with respect to each class of claims or interests that is impaired under, and has not accepted, the plan". I expect some noteholders will assert that their recovery is significantly lower than that of the Co-Proponents and Second Party noteholders.
Some investors are curious as to why 32.3% of the convertible bondholders would approve a plan that gives them no recovery. It seems the holders of higher-priority claims, which are getting recovery, are willing to accept no recovery because the anticipated profit on their other debt holdings is greater than any loss on their convertible debt.
One of the reasons that both the lower priority classes of convertible bonds and equity are not getting any recovery is that there is a provision within the bankruptcy code which states that if "the holder of any claim or interest that is junior to the claims of such class will not receive or retain under the plan on account of such junior claim or interest any property", the plan is fair and equitable to Peabody's unsecured noteholders, even if the unsecured holders rejected the plan. The plan would also be fair and equitable to the convertible bondholders, because even shareholders, a lower-priority class, are getting nothing. This gives the unsecured holders and convertible bondholders less of an opportunity to challenge the plan.
Bowie Resources $20 Million Termination Fees
There was a trial set for January 24 for Peabody to get the $20 million termination fees from Bowie Resource Partners over the latter's failure to complete the purchase of the company's western mining operations. On January 12, bankruptcy judge Barry Schermer vacated the trial. This effectively terminates Peabody's attempt to get the $20 million.
Based upon my review of the summary judgment motions, responses, and replies filed in this adversary proceeding, it is hereby ORDERED that the trial date set in this adversary proceeding is VACATED. It is further ORDERED that compliance with all deadlines set in the Stipulation and Agreed Scheduling Order dated July 22, 2016, is SUSPENDED.
It is interesting to note from various filings regarding this case that Peabody asserted that Bowie knew, or should have known, when they signed the purchase agreement in November 2015 that Peabody could file for bankruptcy at some point in time after the completion of the sale. Peabody claimed Bowie "does not dispute that, prior to signing, Megawatt (a Bowie subsidiary) was aware Peabody may file a post-closing bankruptcy". This clearly shows Peabody's management is admitting that way back in November 2015, or more than 5 months prior to filing for Chapter 11, the company was seriously considering and preparing for bankruptcy.
This issue just shows how inept company management is. It tried to sell an important asset to a group that did not have the capital to close the deal, and now is not even able to recover the termination fee.
Conclusion
Because management decided not to retain an independent financial firm to create a valuation analysis, it opened the door for the judge to justify appointing an official equity committee, even though there is a real concern that equity will not get recovery. It is harder for management to assert that the company's valuation indicates that equity is way under water if there isn't an independent valuation.
I expect all Peabody Energy's securities will have large price variations over the next few weeks. Even with an official equity committee is appointed, I can't recommend a purchase of BTUUQ, because official equity committees do not always mean there will be a recovery for shareholders. I also can't make a recommendation on the company's debt issues, because at this point, there are too many unknown variables that would justify risk/potential reward.
Disclosure: I/we have no positions in any stocks mentioned, and no plans to initiate any positions within the next 72 hours.
I wrote this article myself, and it expresses my own opinions. I am not receiving compensation for it (other than from Seeking Alpha). I have no business relationship with any company whose stock is mentioned in this article.
Editor's Note: This article covers one or more stocks trading at less than $1 per share and/or with less than a $100 million market cap. Please be aware of the risks associated with these stocks.