Last week, the banks kicked off earnings season. Some pundits suspected banking stock shares were ahead of the fundamentals, predicting disappointing results and a selloff.
It didn't work out that way.
Many bank names rallied post-earnings, including giant Wells Fargo & Co. (NYSE:WFC): up 1.5% during an otherwise flattish day for the Street.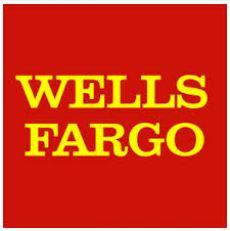 What You Need to Know
Headline Numbers Were Pretty Good
As-reported 4Q $0.96 EPS missed expectations by 4 cents; however, interest rate and currency hedging losses totaled 7 cents. The quarter-to-quarter hedges are "noisy," swinging to cut both ways. It was better to focus on full-year earnings and note the net hedging gains/losses were negligible. See some color on this below.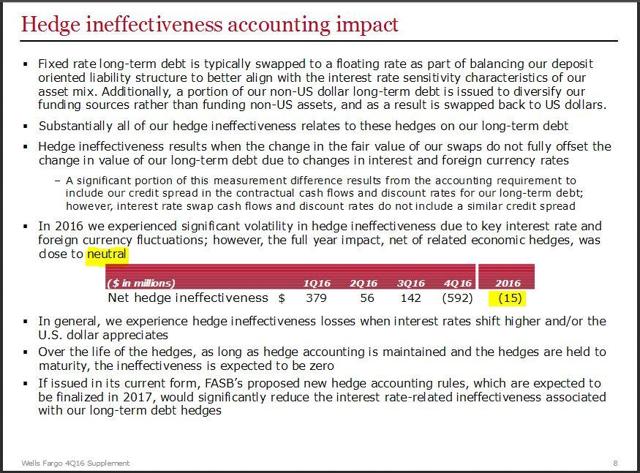 source: Wells Fargo earnings presentation material
2016 FY earnings were $3.99 per share versus $4.12 a year earlier. Not bad at all, given the "cross-sell" scandal and seasons of declining interest rates. More on that later.
Full-year revenue was $88.3 billion, up 3% on the year, certainly a good thing; 4Q v 4Q results were flat, perhaps bordering on remarkable?
Standout Loan and Deposit Figures
Core loans were up 6% on the year; 1% linked-quarter. 2016 deposits were up 7%, and 2% linked-quarter.
So much for customers turning their collective backs on the institution.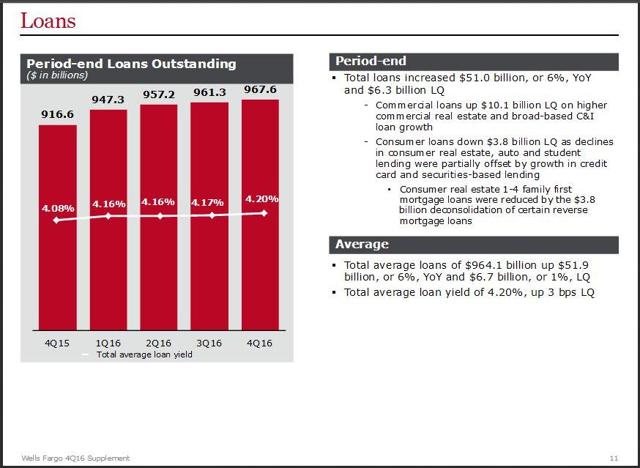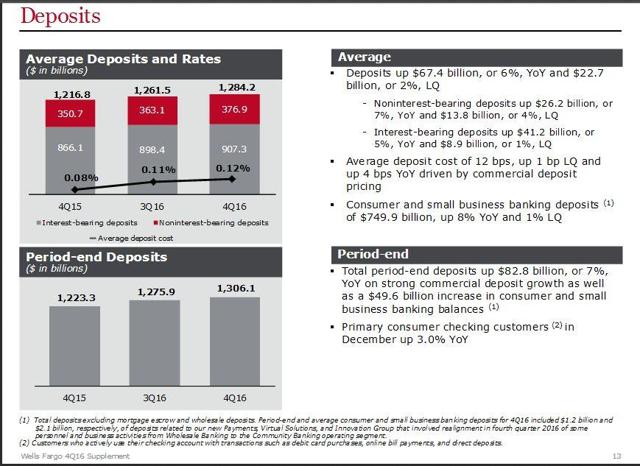 I believe the loan and deposit figures were one reason WFC shares rallied after the report. These results were far better than many anticipated.
Post-Crisis Customer Activity Is Stabilizing
Indeed, customer loyalty and satisfaction survey scores indicated upticks; results even shouting distance versus pre-crisis levels. December 2016 debit and credit card POS accounts, activity, and balances were all up versus December 2015 and November 2016.
Conversely, customer checking account openings and credit card applications continued to ease.
The full report is found here. See slides 5 and 6.
Net Interest Margin / Net Interest Income
4Q Net Interest Margin rose 5 bps after falling for what seemed like forever. Due to Wells' enormous deposit base, just a minor NIM increase has the propensity to generate meaningful delta Net Investment Income.
Has a major bank growth engine been awakened?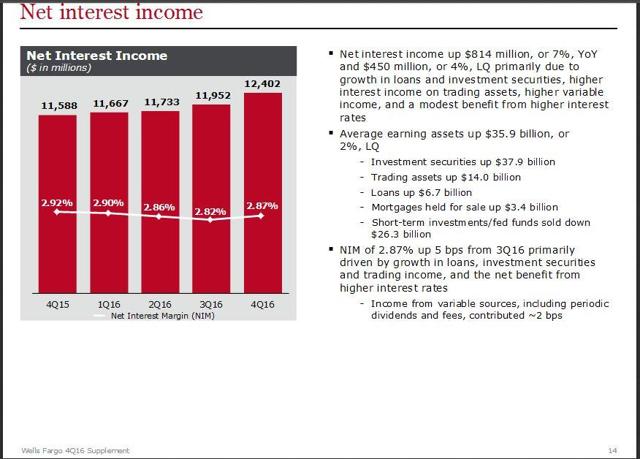 Notice in 2016 how bank management ground out improving NII in the face of lower margins. Just a minor 4Q uptick in NIM resulted in 4% net investment income increase. Tremendous leverage!
Stray Cats and Dogs
Bank capitalization, the 10.7% CET1 ratio (fully phased in) is comparable to a year earlier, and is comfortably above regulatory minimums.
Credit quality was very good: the net charge off percent was 0.37, hovering near all-time lows.
Return-on-assets and return-on-equity figures, banking bread-and-butter, remained strong. Here's the report card, straight up and compared with 2 peers also reporting last Friday:

Data sources: bank earnings reports
In 4Q 2016, Wells Fargo reported an efficiency ratio of 61.2%. Management has a stated 55 - 59% goal. At first blush, one may have associated the miss was due to incremental cross-sell scandal legal and operating expenses. It was not. The aforementioned hedging losses created the shortfall. Hedge losses stripped out, the ER was 58.5%.
For the full-year, the efficiency ratio was 59.3%. Currently, bank management expects the ratio to remain elevated; near the top of the target range.
Pulling It Together
Wells Fargo reported quarterly results that didn't reflect great post-crisis damage. As a matter-of-fact, bank revenue, loans, and deposits all improved smartly. Bank capital, credit quality, and returns remained best-in-class. Quietly, net interest margin ticked up after quarters of declines; leading to a jump in 4Q net interest income. Assuming the Fed enables a trend, a significant bank driver will in shift into gear after being stuck in idle for months.
Looking to 2017
Previously, I've suggested, "A few rate increases will wipe away a lot of Wells Fargo investor tears." I continue to hold this view, and senior management offered nothing in the earnings call remarks to change my mind.
Let's tee this up with a couple of conference call excerpts from CEO John Shrewsberry:
I think we've estimated that the quarterly impact -- a full quarterly impact of a 25 basis point parallel shift, which is different than what we got in December, although arguably we got more than that in the long end, is worth in the order of a $150 million per quarter....
and
….just to put a dollar sign on it, if we don't get any more moves by the Fed in 2017, and I anticipate that we might, but if we didn't given that their pace of TLAC issuance that you mentioned, given the balance sheet positioning today, given what we might expect from loan growth, what we could imagine from redeployment et cetera, we're -- it's pretty easy to sketch out a 4%, 5%, 6% net interest income growth trajectory, full year '17 over full year '16.
Let's play out these comments: in 2016 Wells Fargo recorded $47.75 billion Net Interest Income. A 5% bump yields ~$2.4 billion incremental NII.
However, that presumes no rate hikes in 2017. Let's model, as aligned with bank management, there will be a pair of one-quarter-point increases this year; one around mid-year and one at the beginning of the fourth quarter. We'll also premise these create a parallel shift in the yield curve. This is likely to provide 3 quarters' net interest income benefit.
At $150 million a pop, that's an additional $450 million.
Readers, incremental NII via rate hikes is almost like "free money." It drops straight to the bottom line, with the bank needing to do next-to-nothing except pay taxes on it.
Under this scenario, Wells Fargo generates an incremental $2.85 billion net interest income. After taxes, the net is ~$1.85 billion.
That's an light-touch $0.37 a share bump, or a 9.2% YoY EPS improvement.
So How's That Affect WFC Fair Value?
There's several ways to approximate a banking stock's fair value. Using some quick arithmetic and F.A.S.T. Graphs, we can check a couple of methodologies.
RoTCE
One approach is to estimate a bank's Cost-of-Capital (CoC), compare it with its current Return-on-Tangible Common Equity (RoTCE), then multiply the ratio by the Tangible Book Value (NYSEMKT:TBV).
Here's the inputs:
WFC current CoC via (Capital Asset Pricing Model) CAPM - 6.9%
WFC 2016 as reported RoTCE - 13.85%
WFC current as reported TBV - $29.25
Next, some math:
13.85 / 6.9 = 2.0x
$29.25 x 2.0 = $58.50, say $59 per share.
Price-and-Earnings Analysis
Another approach is a simple P/E ratio analysis. F.A.S.T. Graphs provide users an excellent suite of tools to do this. Please find below a 15-year chart illustrating WFC price-and-earnings. The blue box on the right shows the trimmed average historic P/E through the period is 13.4x.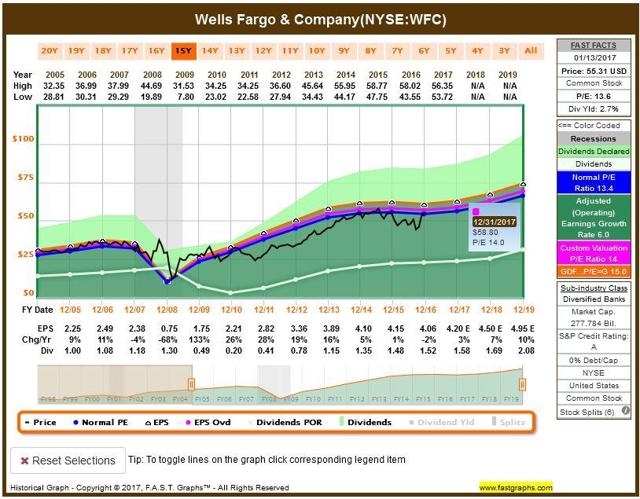 courtesy of fastgraphs.net
I elected to bump this to 14x based upon my expectations Wells Fargo will enjoy accelerating earnings growth; riding the coattails of a series of modest Fed rate hikes. A 14x P/E is represented by the pink line on the chart. Notably, current Street estimates project rising EPS growth, too. See the 2017 and 2018 EPS estimates.
Combining these assumptions, a $59 per share price tag is defensible.
However,
if we combo Wells' management earnings call comments, 2 quarter-point 2017 Fed rate hikes (one at mid-year and the one at the beginning of the fourth quarter), and our earlier net interest income math, WFC could record $4.36 EPS.
Therefore, $4.36 x 14 = $61.04, say$61 per share.
Another chart from the F.A.S.T. Graph suite illustrates this.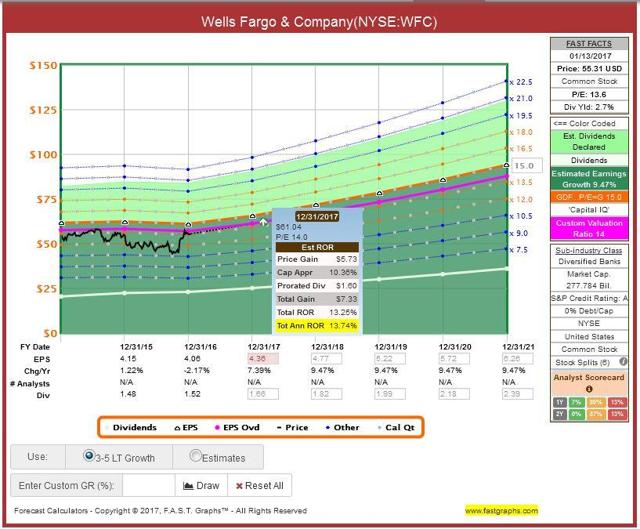 Bottom Line
Last week, WFC stock closed at about $55. Accepting my Fair Value Estimates suggest 7% to 11% capital appreciation upside. Toss in the current 2.75% yield (on an annualized $1.52 dividend; almost certain to go up in March), and we have what shapes up to be a serviceable, low double-digit investment.
Banks 1, Bears 0.
Next Up: Bank of America.
Please do you own careful due diligence before making any investment decision. This article is not a recommendation to buy or sell any stock. Good luck with all your 2017 investments.
Disclosure: I am/we are long WFC.
I wrote this article myself, and it expresses my own opinions. I am not receiving compensation for it (other than from Seeking Alpha). I have no business relationship with any company whose stock is mentioned in this article.