After an extraordinarily long wait, the FCC investigation of IDT Spectrum (NYSE:IDT)/Straight Path Communications (NYSEMKT:STRP) has finally been settled. While STRP and the FCC distributed press releases that reflected separate agendas, the facts of the settlement are indisputable. In addition, STRP's press conference provided additional clarity for investors.
For a detailed history of Straight Path, I invite you to read my previous articles which, can be found below:
Straight Path Communications And The Speculative Road To '5G' Commercialization
Straight Path On Watch Amid Announced Collaboration
Straight Path Communications Settles With The FCC
The goal of this article is to address the following key topics:
Key takeaways from STRP's post-settlement conference call.
How the market should be thinking about mmWave spectrum utilization.
How the market might attempt to value Straight Path's spectrum holdings.
I continue to hold a significantly skewed to calls (bullish) strangle structure on STRP as I believe recent technological and regulatory advancements could be evidence of significant value for mmWave spectrum that is soon to be realized. A significant risk for this company and their investors has shifted considerably and a new risk is that a takeover valuation surprises to the topside.
Conference Call - Key Takeaways:
STRP is the #1 holder of commercially licensed and available mmWave spectrum regulated for 5G mobile use. Straight Path now has 735 EA licenses (39GHz) totaling ~175 billion MHz-PoPs. These holdings cover the entire United States and average 620MHz in the top 30 U.S. markets. Their holdings at 39GHz have gone from 216 billion to ~175b MHz-PoPs. The company also retains their 16 BTA licenses (28GHz) and 117 LMDS B (28GHz) licenses.
Straight Path retained IB representation from Evercore (NYSE: EVR) as they present the best strategic positioning due to their experience with Verizon (VZ)/XO Communications and the emerging 5G landscape.
Development of STRP's proprietary transceiver for fixed 5G access utilizing 39GHz is proceeding at a much faster pace and at a lower cost than was initially anticipated. In addition, the equipment is smaller than that detailed by other leading wireless innovators.
STRP returned only 93 EA (39GHz) licenses as a result of the FCC settlement. The additional 103 RSA (Rectangular Service Area) licenses that were also returned are irrelevant for valuation purposes as the FCC stopped granting these in April of 2000. As such, STRP stopped reporting these as material holdings in their annual reports. The FCC revised its rules in 2000 to provide for Economic Area ("EA") license areas, and auctioned 39 GHz overlay licenses on an EA basis in 2000.
The 93 EA licenses returned to the FCC were from 40 out of 175 EA markets. Straight Path selected specific licenses to maintain deep spectrum coverage in the most valuable areas. In general, specific depth is 6 or 7 licenses and 600 or 700 MHz in top cities. This is only slightly lower than the pre-settlement average of 830 MHz.
The $100m total "fine" contains two elements. First, a $15m fine will be comprised of 4 payments over 9-months. There is also a contingent (suspended) fine of $85m that will be paid only if ALL spectrum is not announced for sale within 1-Year. STRP clarified that they actually have the OPTION to pay the $85m and retain all holdings. If STRP believes that a sale of assets generates the most value for shareholders, STRP will pay 20% of the sale price to the US Treasury.
The conference call would not discuss "ongoing legal matters." The most significant legal question is whether IDT is responsible for all FCC fines due to the 2013 Separation and Distribution Agreement between IDT & STRP. It states that, "IDT is obligated to reimburse the Company for the payment of any liabilities of the Company arising or related to the period prior to the Spin-Off." If the agreement is upheld, Straight Path could potentially owe nothing to the FCC.
The decision on the specific EA licenses to return to the FCC was a negotiation but STRP had discretion and the firm did so strategically to retain the deepest and most valuable portfolio possible.
VZ/XO deal was announced in February 2016, which was prior to major FCC and wireless industry advancements. Most significantly, it was prior to the FCC's adoption of new rules for wireless broadband operations in frequencies about 24GHz (July).
The FCC NEVER stated or implied that the notional amount of the fine had anything to do with a perceived value of STRP's spectrum portfolio.
Current licensees of 28GHz and 39GHz spectrum will NOT be required to demonstrate substantial service at renewal. Instead, licensees will have to fulfill specific performance requirements by June 1, 2024 (As stated in the FCC's Use of Spectrum Bands Above 24 GHz For Mobile Radio Services).
5G: The landscape of mmWave spectrum
Although the world is just beginning to scrape the surface of 5G, the wireless industry is about to quickly change as we know it.
Many critics of mmWave spectrum echo a very similar argument. The claim is that mmWave spectrum is "ubiquitous," "identical," "unlimited," and "free." I would like to take the opportunity to provide evidence to the contrary.
From a regulatory perspective, the FCC's adoption of the "Spectrum Frontiers" Report and Order, which opened up four mmWave spectrum bands for flexible mobile and fixed-use wireless, was an import first step. This past November, the FCC published the final rule detailing the 'use of spectrum bands above 24GHz for mobile radio services.' I have covered the Final Rule at length and I would encourage readers to review the material and its significance.
The technical specifics of mmWave spectrum:
Generally speaking, the term: "attenuation" is defined as the gradual loss of intensity of any kind of flux through a medium. With regards to mmWave applications, attenuation can affect the propagation of waves such as through loss due to oxygen absorption. Lower frequency has better propagation characteristics relative to higher frequency, such as mMWave spectrum. This means that lower frequencies can travel longer distances and penetrate dense real estate. Atmospheric losses are a significant aspect as well. Interestingly, the relationship between frequency (GHz) and attenuation is NOT linear; it is actually noticeably irregular. As a result, you can see (below) why specific bands (28 GHz & 39 GHz in white, and 72 GHz in green) first emerged as candidates for 5G and why Straight Path's spectrum could retain significant value.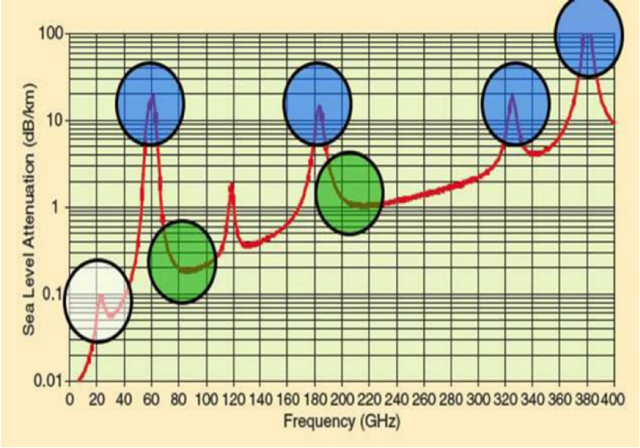 Numerous standards bodies, including ITU and 3GPP, have set 2020 as a deadline for the 5G standard to be defined. However, both Verizon and AT&T (NYSE:T) have accelerated their schedules for delivering 5G services. John Donovan, chief strategy officer and group president, Technology and Operations at AT&T stated, "We're not waiting until the final standards are set to lay the foundation for our evolution to 5G. We're executing now. Data on our mobile network has increased about 250,000% since 2007, and the majority of that traffic is video. 5G's promise of greater speed and overall network performance brings huge opportunities not only for video but in the Internet of Things, 4K video, augmented and virtual reality, smart home and cities, autonomous vehicles and much more."
According to National Instruments, 3 frequency bands (28 GHz, 39 GHz, and 72 GHz) had originally emerged for a number of reasons that include:
They have lower oxygen absorption rates, which will better enable long distance communication.
The bands perform well in multipath environments, which suggests they could actually be utilized regardless of line-of-site.
Considerable technological advancements in adaptive antennas, beam forming and beam tracking etc., could enable a reliable and secure link for mobile applications.
In addition to innovations by the Wireless industry, NYU wireless researchers noted a few surprises this fall when testing rural performance of mmWave spectrum at 73GHz. Dr. Ted Rappaport noted, "I was surprised we exceeded 10 kilometers with a few tens of milliwatts. I expected we'd be able to go a few kilometers in non-line-of-sight but we were able to go beyond ten."
Also according to National Instruments, "the biggest unanswered question is which mmWave frequency band (will be) used for mobile communications?...Handset makers and consumers would benefit from the reduced cost of developing and using only one set of silicon instead of the multiple chips needed in today's phones for global coverage. However, frequency incumbents are costly to relocate… Despite many unknowns, one thing is very clear: mmWave technology is going to be deployed, and it will be deployed quickly. The next generation of wireless communications is on the horizon and the world is watching and waiting to see how exactly it will be implemented."
The FCC has specifically answered the question of mmWave mobile spectrum allocation in their final rule, which included 39GHz spectrum as a valuable and essential component to fixed and mobile 5G deployments.
The current goal in utilizing mmWave spectrum is to utilize channel (or sometimes referred to as carrier) aggregation to drive data speeds exponentially higher. There are numerous methods of achieving aggregation such as through contiguous or even non-contiguous elements of the same spectrum band or across different bands. 5G will likely use mmWave spectrum, in addition to lower frequency spectrum, small-cell build-outs and fiber networks.
While I agree with some critics that additional mmWave spectrum is most likely to be opened up in the coming years, it will likely emerge in bands adjacent to the licensed spectrum recently opened up for mobile use by the FCC. The reason is that this practice will promote contiguous holdings, investment and innovation. Verizon appeared to share this perspective prior to the FCC's Final Rule when Verizon argued for combining the 37 GHz and 39 GHz bands into a single 3 GHz band of contiguous spectrum. The FCC noted that the 37 GHz band consists of 1.6 GHz of contiguous spectrum that could potentially support high data-rate transmissions and it's contiguous to the 39 GHz band, so there could be opportunities to aggregate up to 3 gigahertz of spectrum.
Beyond the technological and regulatory evidence that supports among others, 39GHz for 5G, incumbent presence across other bands is yet another obstacle to opening up additional spectrum. MmWave spectrum is not simply a resource that has been lying dormant for decades. On the contrary, it has been utilized across numerous industries albeit inefficiently. Not only is reassigning existing spectrum expensive, but more so, industries that utilize satellite communications are extremely inefficient users of spectrum. Satellite communication requires multiple times the spectrum than that utilized for other fixed and mobile wireless services.
The Potential Acquisition
Who could be considered a potential acquirer of Straight Path's assets?
The below list (in no particular order) is not exclusive and some names may be more relevant than others. It should also be noted that a takeover could be utilized for offensive or defensive ambitions.
AT&T
Verizon
Comcast Corporation (NASDAQ: CMCSA)
Charter Communications (NASDAQ: CHTR)
T-Mobile (NASDAQ: TMUS)
Sprint (NYSE: S)
Level 3 Communications (NASDAQ: LVLT)
Facebook (NASDAQ: FB)
Amazon (NASDAQ: AMZN)
Alphabet Inc. (NASDAQ: GOOG) (NASDAQ:GOOGL)
Microsoft (NASDAQ: MSFT)
Apple (NASDAQ: AAPL)
Cablevision (NYSE: CVC)
CenturyLink (NYSE: CTL)
Windstream (NASDAQ: WIN)
Netflix (NASDAQ: NFLX)
Crown Castle (NYSE: CCI)
American Tower Corporation (NYSE: AMT)
SBA Communications Corporation (NASDAQ: SBAC)
Boeing (NYSE: BA)
The Verizon/XO deal. Why we should AND should not care at the same time:
First, I think it's important to have a quick crash course in the historical licensing schemes. These are relevant to understand what XO and STRP currently hold. Please note that the FCC has amended the schemes in their Final Rule.
Local Multipoint Distribution Service ("LMDS")
The FCC licenses LMDS spectrum in 493 Basic Trading Areas (BTAs) with a total of 1,300 MHz of spectrum per BTA. Two licenses will be awarded for each BTA: one for 1,150 MHz of spectrum (block A) and one for 150 MHz (block B) for a total of 986 licenses."
Economic Area
39 GHz refers to spectrum allocated within the band 38.6-40 GHz. The 39 GHz auction was composed of 2,450 licenses in 172 Economic Areas (EAs) and 3 EA-like areas, covering the United States, the Northern Mariana Islands, Guam, American Samoa, the United States Virgin Island and Puerto Rico. The channel plan consisted of fourteen 100 megahertz licenses (paired 50 megahertz channel blocks).
Rectangular Service Area
Originally, channels in the 39 GHz service were licensed on a licensee-defined Rectangular Service Area ("RSA") basis, but the Commission later revised its rules to provide for Economic Area ("EA") license areas, and auctioned 39 GHz overlay licenses on an EA basis in 2000."
It should be noted that the FCC's Final Rule has repurposed numerous aspects of this licensing scheme. For the 39GHz band, these include but are not exclusive of:
45. The Commission will license the 39 GHz band using PEAs (Partial Economic Areas), because the Commission finds that use of this license area size will facilitate access to spectrum and the rapid deployment of service in the band. PEAs are smaller than BTAs or EAs, and therefore are more realistically obtainable by smaller bidders, yet are larger than counties which various commenters deem too small."

The Commission's decision to license the 39 GHz band on a PEA basis is distinguishable from the Commission's decision to use counties as the license area in the 28 GHz band, because, as previously discussed, the latter band is currently licensed by BTAs and cannot readily be reformed into either EAs or PEAs."

47. The Commission recognizes that awarding mobile rights to incumbent licensees could be viewed as a windfall to those licensees, although the Commission contemplated granting mobile rights when it first created LMDS. Here, the benefits of expediting service and facilitating the coordination of fixed and mobile service outweigh any potential disadvantages of granting mobile rights to incumbents.

54. The Commission will create seven 200 megahertz bands (formerly 14 blocks of 50 by 50 MHz channels) out of the 39 GHz band (38.6-40 GHz). The Commission finds that this channel size is large enough to take advantage of the data throughput capacity of these bands yet yields a sufficient quantity of channels in the band to provide access to multiple operators simultaneously.
A look at the deal:
Verizon recently acquired XO Communications' fiber business for $1.8b. The purchase enables VZ to lease XO's high cmWave (28GHz) and low mmWave (39GHz) spectrum and the option to buy the spectrum portfolio at the end of 2018.
The reason why this deal provides little clarity in how we should be thinking about high-frequency spectrum value is two-fold. First and most significantly, the deal was announced PRIOR to the FCC's adoption of the "Spectrum Frontiers" Report and Order. As a result, very little was known regarding the regulatory roadmap in addition to any potential technical standardization of 5G deployments. It could thus be argued that XO sold the underlying option on their spectrum holdings at a tremendous discount. Second, it is not clear how investors should be thinking about the $1.8b notional of the deal. One source referenced a UBS research report that apparently stated that the cost of exercising the spectrum option was $200m. However, I have not been able to confirm or deny this notional from any reputable source. Playing devils advocate, it still would remain unknown what percent of the potential $2b total can be attributed to XO's spectrum holdings (mainly at 28GHz).
Even though the deal was announced prior to all major regulatory and technological advancements, we can potentially apply a few basic calculations.
First, what assets does XO hold?
Verizon/XO: 102 Licenses:
180 billion MHz-POPs of millimeter wave spectrum
28GHz
158 billion MHz-POPs: LMDS A frequency
511 MHz of that being LMDS A spectrum
16 billion MHz-POPs: LMDS B frequency band
53 MHz from LMDS B spectrum
39GHz
4 billion MHz-POPs: 39 GHz frequency band
12 MHz from 39 GHz spectrum
Valuation:
Fiber/Spectrum Lease: $1.8B (or potentially $2B?).
Price per MHz/Pop = (Price of spectrum)/ (MHz of license * population covered)
Let's look at a few potential scenarios. I am eliminating the LMDS B licenses as they are not currently included in the FCC's report and order.
XO Spectrum Portfolio: $200m
X= 200m/164b
Price per MHz/Pop= 0.00122
XO Spectrum Portfolio: $1b
X= 1b/164b
Price per MHz/Pop = 0.0061
XO Spectrum Portfolio: $1.5b
X= 1.5b/164b
Price per MHz/Pop = 0.00915
Straight Path Communications:
175 billion MHz-Pops at 39GHz
28GHz
133 LMDS Licenses
16 Licenses in LMDS A1 (Including NYC & San Fran)
117 Licenses in LMDS B
39GHz
175 billion MHz-Pops in 39GHz spectrum
Average of 620 MHz in top 30 U.S. markets and covers entire nation
Even though Straight Path's significant 28 GHz holdings include San Francisco and New York, let's simply apply XO's potential metrics to the 175 billion MHz-PoPs at 39GHz.
Price per MHz/Pop= 0.00122
STRP 39GHz Spectrum Portfolio: $213,500,000
Price per MHz/Pop = 0.0061
STRP 39GHz Spectrum Portfolio: $1,067,500,000
Price per MHz/Pop = 0.00915
STRP 39GHz Spectrum Portfolio: $1,601,250,000
I understand this is a very simple valuation metric. In addition, I am applying data from an underlying deal with incomplete information and one that was made prior to many significant breakthroughs in the still emerging 5G landscape. Regarding XO, there is no way to know of any underlying contingencies or potential added costs that were not made public. Regardless of these shortcomings, it is not difficult to see how a competitive bidding scenario could drive the value of STRP well in excess of $2 billion (or ~$162 pps).
In 2015, US mobile spectrum sold for a median value of $2.71 per MHz/Pop. MmWave spectrum will/might trade at a small fraction of this median value as the supply is higher as is the infrastructure investment. With future FCC auctions of mmWave spectrum unlikely until 2018 and beyond, STRP's portfolio could provide an acquirer with an incredible head start. The question to be answered is: at what price?
While 28GHz and 39GHz are inherently different, one very significant aspect of Straight Path's 39GHz portfolio is that it offers deep, nationwide coverage. For a carrier looking to deploy nationwide 5G services, you need two essential components. First, you need a regulatory structure (completed by the FCC Final Rule) and second, you need nationwide, deep mmWave spectrum (now for sale).
The below chart exemplifies Straight Path's deep 39GHz coverage PRIOR to the FCC settlement: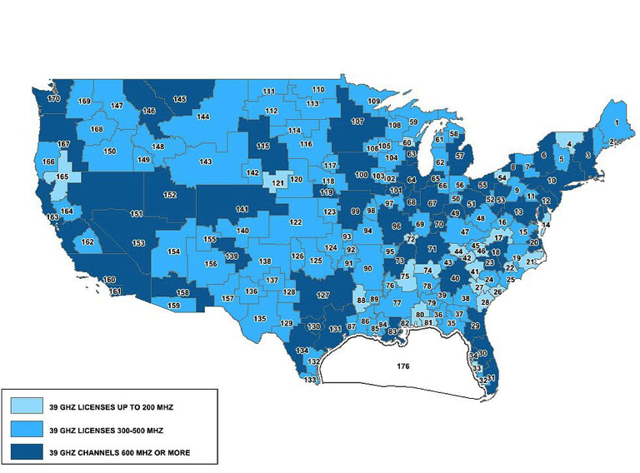 The below chart shows Netlink Wireless (XO) LMDS Spectrum Depth: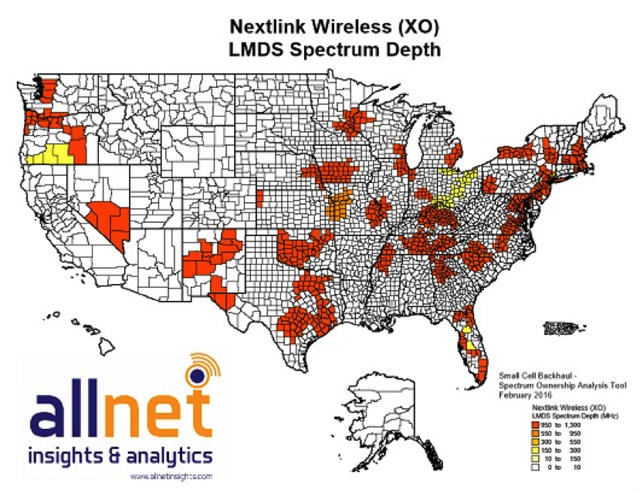 I believe the evidence could suggest that the asymmetric risk for shorts of Straight Path Communications is a valuation that significantly surprises to the topside. While some critics believe that the 12-month window to their potential spectrum sale is a major disadvantage for STRP, I believe it to be a considerable advantage. If IDT is shown to be responsible for the FCC fines, it would be beyond a simple advantage. Every existing wireless communications company, fixed broadband innovator, and new entrant is well aware of the assets that are now potentially up for sale. Straight Path specifically noted that they will strive to maximize shareholder value. Straight Path Communications is not just a potential takeover target. They have essentially put the public on notice for sale to the highest bidder. If the race to 5G is as competitive as recent public commentary suggests, it is plausible that the 12-month bidding window for STRP could be shortened significantly.
Straight Path has detailed the numerous risks to their company in the latest annual report and I would suggest every investor include all SEC filings in their due-diligence.
Disclosure: I am/we are long STRP.
I wrote this article myself, and it expresses my own opinions. I am not receiving compensation for it. I have no business relationship with any company whose stock is mentioned in this article.
Additional disclosure: I am long STRP via CASH and significantly skewed (bullish to calls) strangles.