Since 2012, I've initiated a tradition on this blog. Each year, I make a selection of 20 U.S. dividend growth companies and 10 Canadian ones. The goal is to build two portfolios of strong holdings that will beat the benchmarks. I've always used the same benchmark for the past four years:
Vanguard Dividend Appreciation ETF (NYSEARCA:VIG): VIG seeks to track the investment performance of the Dividend Achievers Select Index.
iShares Dow Jns Cnd Slct Dvdnd Indx Fnd (XDV): XDV seeks to provide long-term capital growth by replicating, to the extent possible, the performance of the Dow Jones Canada Select Dividend Index (the Index) through investments in the constituent issuers of such Index. The Index consists of 30 of the highest yielding, dividend-paying companies in the Dow Jones Canada Total Market Index.
I've selected both benchmarks because they are good and reliable examples of a dividend growth portfolio. If I wasn't selecting my own stocks, I would probably buy these two ETFs to create a dividend portfolio.
Each year; I put myself to the test
Some people may think I put this list of stocks together the way you build your hockey pool for the season. Well, it's a little bit more complicated than that. I take about 2 months of research putting my information together and analyzing companies. Each company has to go through the 7 investing principles of dividend growth investing. These principles have been proven by several academic studies and tested through several years of investing. Then, I work on the selections to make a whole portfolio. It would be easy for me to aim at a specific industry and try to hit a home-run by selecting a sector as a whole. Instead, I'm doing my best to pick among various industries to make sure my selections as a whole could stand up as a portfolio. The idea is to show investors how they can successfully build a portfolio, any time of the year.
By revealing and tracking my performance year after year, I put myself to the test. I think it's important to be transparent and to show my readers how I'm doing. If not, what's the point of reading my stuff right? For all that you know, I might be the worst investor in the world, and you read about my theory… This is why I'm not afraid to share my findings with you and follow-up on my results.
I don't expect to be right all the time. In fact, I'm quite surprised to see how often I've beaten the benchmarks since 2012. But what is important to me is to be transparent about how I select my picks and how they perform throughout the year. It's a risk I'm willing to take. My results are as at December 30th around 2 p.m. (couldn't wait for the market to close!).
U.S. Best 2016 Dividend Stock Picks +12.37%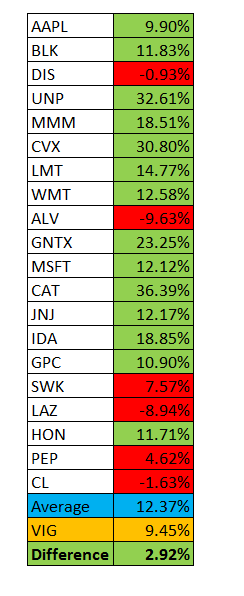 Source: Dividend Stocks Rock
As you can see, my portfolio shows a return of +12.37%, which is 2.92% over the VIG performance and 2.92% over the S&P 500. 14 picks out of 20 beat the benchmark and only three companies show a negative return. We are not talking about one super flying stock improving the overall average, we are definitely talking about a solid portfolio, built to perform.
The key in this selection has probably been a few bold picks that severely unperformed in 2015. Companies such as Union Pacific (NYSE:UNP), Chevron (NYSE:CVX), Wal-Mart (NYSE:WMT), Caterpillar (NYSE:CAT), Genuine Parts (NYSE:GPC) all showed worse than -20% in 2015. I've looked at all of them and found that the market was overreacting for nothing. This is why they were part of my selections for 2016, and they have been doing quite well.
Disclaimer: We own 16 of these companies in our Dividend Stocks Rock portfolios. 9 out of 12 of our portfolios have beaten their benchmark since 2013.
Canadian Best 2016 Dividend Stock Picks +20.98%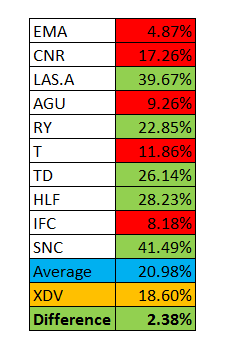 Source: Dividend Stocks Rock
I'm definitely proud of my performance on the Canadian market as I'm beating the XDV by 2.38% and even the S&P TSX by 3.26%. 5 out of 10 picks beat my benchmark and only one pick is showing a negative return. Here again, the great performance of this list is not solely due to a single pick. There are several great companies which performed well throughout 2016.
I must admit that selecting SNC Lavalin (OTCPK:SNCAF) was a bit of a long shot, but I actually bought it for my personal portfolio for the same reason. I was convinced the engineering firm would do everything it could to avoid a trial and receive a 10-year ban penalty, and it seems it will avoid it after all. Companies like Emera (EMA.TO) (OTCPK:EMRAF), Telus (T.TO) (NYSE:TU), Royal Bank (RY.TO) (NYSE:RY) & TD Bank (TD.TO) (NYSE:TD) continued to be solid as a rock. I also did a similar play as I did with UNP with Canadian National Railway (CNR.TO) (NYSE:CNI). I believe the beginning of 2016 was the right time to purchase railroads as they had suffered enough and they can only bounce back.
Disclaimer: We own 8 of these companies in our Dividend Stocks Rock portfolios. 9 out of 12 of our portfolios beat their benchmark since 2013.
Editor's Note: This article discusses one or more securities that do not trade on a major U.S. exchange. Please be aware of the risks associated with these stocks.