January 16th was a great day to be a shareholder of Clayton Williams Energy (NASDAQ:CWEI). Although markets were closed in observance of MLK Jr. Day, news broke that Noble Energy (NYSE:NBL) would be acquiring Clayton in a multi-billion dollar deal. In what follows, I will dig into the data presented by Noble and give my thoughts on the significance of the transaction.
A look at the deal
According to a press release issued by Noble, Clayton will be acquired by the business in a transaction valued at around $2.7 billion in terms of equity, plus Noble's assumption of around $500 million of Clayton's debt. The boards of both firms have already voted in favor of the deal and, if nothing major stops it from being consummated, it's expected that the transaction will be completed sometime in the second quarter of the firms' 2017 fiscal year.
This is all fine and dandy, but what, exactly, is Noble and its shareholder base getting for its efforts and, more importantly, is the deal sensible? For starters, we should probably look at one reason why Noble is drawn to Clayton. As you can see in the image below, both firms have operations in the Southern Delaware Basin but, beyond that, a large chunk of Clayton's operations are adjacent to Noble's.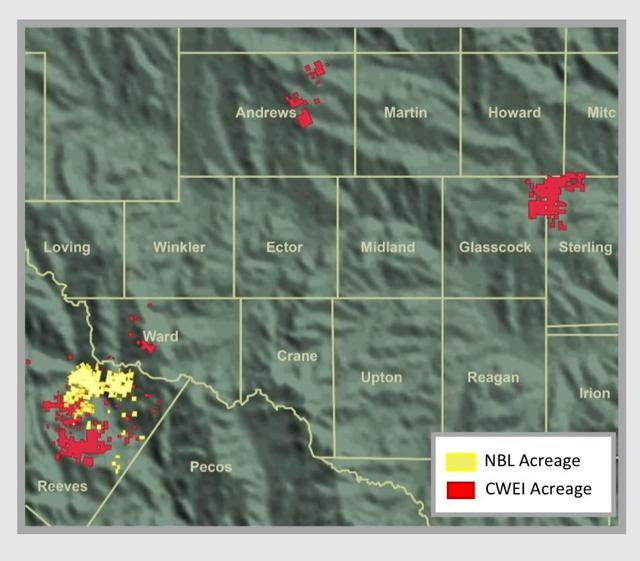 *Taken from Noble
It seems, as the energy market continues to improve, that this has been a new trend for the company. On January 9th, the firm announced the closing of another acquisition, totaling $300 million, with regards to some other assets in the Southern Delaware Basin that were also directly adjacent to some of its existing properties. Had somebody dug in deep into this, it would have become very clear, very quick, that a potential deal regarding Clayton could be in the cards but I was not (and probably most market participants were not) observant enough to put two and two together.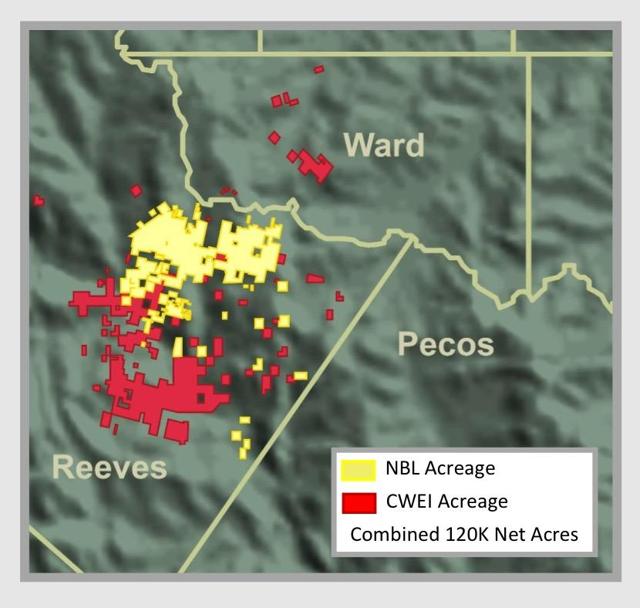 *Taken from Noble
In the image above, you can see a zoomed-in view of its new Clayton properties. According to management, the acquisition values the properties, after adjustments, at around $32,000 per acre and will result in Noble having approximately 120,000 net acres that include around 2 billion boe (barrels of oil equivalent) and around 4,200 potential drilling locations under its asset base. All-in-all, these properties consist of 70% oil which is, in my view, better than having a large chunk of natural gas. If all goes according to plan, the company expects to add two more rigs on top of the one rig currently in operation on Clayton's lands throughout the year (one of them in the second quarter), which will bring Noble's total rig count up to six units by year-end. Noble will also be receiving Clayton's midstream assets as a result of this transaction.
Following the closing of this transaction, Noble will officially be, in terms of net acreage, the second-largest operator in the Southern Delaware Basin. As you can see in the image below, the only company larger as of this time happens to be Concho Resources (NYSE:CXO), and right behind Noble will be Occidental Petroleum (NYSE:OXY) which, although large on a market cap basis, will trail Noble in terms of acreage in this particular region. What's more, because of how close these assets are together, combined with other factors like the elimination of dual positions inside the company, synergies of $75 million are anticipated by Noble.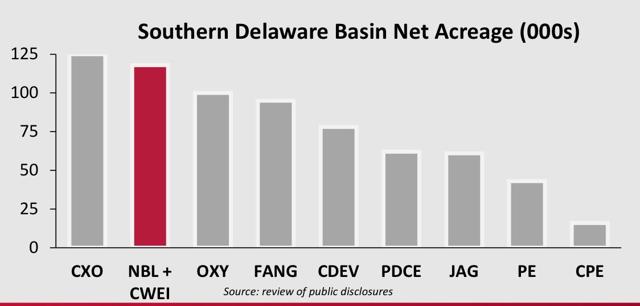 *Taken from Noble
The plan for Noble seems to be to focus as much of its resources into growing Clayton's production as possible. You see, the company now expects to increase its capital spending in the Southern Delaware Basin by $150 million as part of the transaction, bringing total capital spending for 2017 up to between $2.1 billion and $2.5 billion. Of this, $500 million in all will be dedicated to the Delaware Basin. However, spending won't be just a one-time thing. As you can see in the image below, the company expects to continue increasing its capital outlays to these properties and should, as a result, see total production from Clayton's lands rise from around 10 thousand boe per day to between 60 thousand and 70 thousand boe per day by 2020.

*Taken from Noble
What do shareholders of Clayton get?
Overall, it looks as though the deal between Clayton and Noble makes a lot of sense. At least to me it does from the perspective of the latter but what about the former? To answer this, we need only look at the table below, which breaks down how shareholders of Clayton will be rewarded.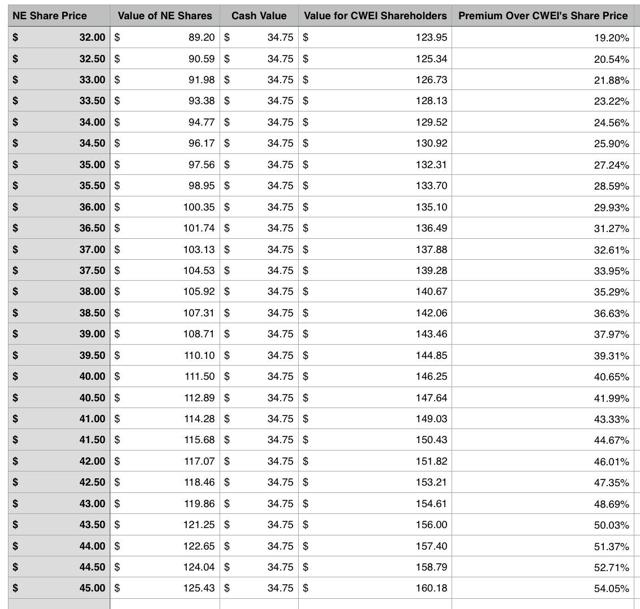 *Created by Author
According to the press release issued regarding the transaction, each shareholder of Clayton will receive 2.7874 shares of Noble stock for each share they own, plus they will receive $34.75 in cash (though shareholders will be able to try for more cash if they elect to but will be prorated if too many subscribe for it). As of the close of the market on January 13th, shares of Noble were going for $37.39 apiece while shares of Clayton were trading for $103.98.
What all of this implies is that, if we do not take into consideration any further share price moves between the two, the equity holders of Clayton will receive value worth $138.97 per share. This represents a premium over Clayton's current share price of nearly 33.7%. Of course, because of the share component of the deal, this is subject to change. If, for instance, Noble's share price were to fall to $32 before the deal is completed, the value to Clayton's investors will drop to $123.95 per share but, even in this circumstance, the deal still offers a 19.2% premium. If, on the other hand, shares of Noble were to soar to $45, investors would receive value of $160.18 per share for a premium of 54.1%.
This creates some risk for Clayton's shareholders but it also provides some upside should things turn out in a positive light. This is due to the fact that, following the transaction, Clayton's current shareholders will own approximately 11% of Noble's outstanding shares. As the firm progresses and as the energy market continues to recover (assuming it does as I believe it will), this could offer meaningful upside over time.
Takeaway
Right now, this kind of deal between Noble and Clayton is refreshing for an oil bull like myself. After so much time of companies barely scraping by, mergers and acquisitions, especially ones involving cash (Noble will be tapping into is $4 billion untapped credit facility to make this deal happen), reaffirm that there is opportunity in this space and that firms (at least some of them) are no longer trying to buckle down but are, instead, placing a heavy emphasis on optimizing what flexibility they have. In regards to this particular transaction, I see not only confidence from Noble's management team but I also see an understanding from Clayton's that combining forces can bring about more value in the long run than keeping operations separate.
Disclosure: I/we have no positions in any stocks mentioned, and no plans to initiate any positions within the next 72 hours.
I wrote this article myself, and it expresses my own opinions. I am not receiving compensation for it (other than from Seeking Alpha). I have no business relationship with any company whose stock is mentioned in this article.