Netflix (NASDAQ:NFLX) is set to report Q4 earnings this Wednesday, 1/18. Shares have rallied significantly this year, with much of that move coming after a strong Q3 ER. While we like the company's long-term growth story and the stock's long-term growth potential, we admit that the valuation here is subject to compression if sub growth disappoints. We don't think that will happen (we think the company will report numbers ahead of expectations), but we do not believe the reward-risk asymmetry into earnings is all that favorable. Our strategy is to remain long into earnings, and buy more on any post-ER dip.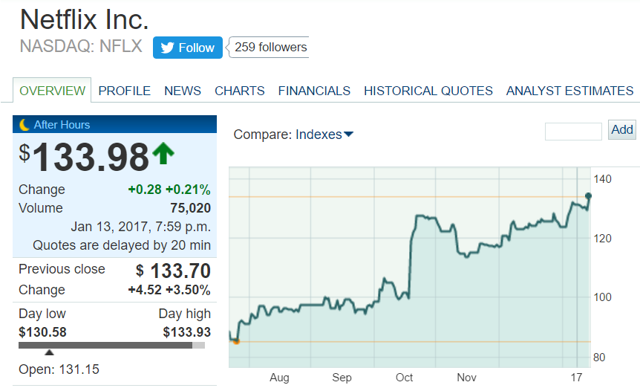 (Source: MarketWatch)
Our observations heading into the quarter are as follows.
Overall, we think the quarter was quite good, and that Netflix will post domestic and international sub growth numbers ahead of expectations. We think the domestic beat was helped largely by the addition of some high-profile 2016 Disney movies in November and December, while the international beat was driven by download functionality build-out and quality international originals. That said, we believe the valuation is subject to compression on any slight sub growth miss, and that the reward-risk profile isn't terribly favorable into earnings. As stated earlier, our strategy is to remain long into earnings, and buy more on any post-ER dip.
Disclosure: I am/we are long NFLX, DIS.
I wrote this article myself, and it expresses my own opinions. I am not receiving compensation for it (other than from Seeking Alpha). I have no business relationship with any company whose stock is mentioned in this article.