Boston Beer's (NYSE:SAM) stock has held up remarkably well after reporting a disastrous third quarter and offering little cheer for the remainder of the year and 2017. Share buybacks, the small-cap Trump rally and perhaps even ETFs may be supporting the stock despite deteriorating fundamentals. Wishful thinking about a takeover may also be at work. In our view these "props" are unlikely to be sustainable long term, and we see 30% further downside for the shares.
The Business of Boston Beer
Boston Beer was founded in 1984 by founder and current Chairman Jim Koch. Using a lager recipe of his great, great grandfather's, Mr. Koch began brewing and peddling Samuel Adams Boston Lager to local bars and retailers. The beer took off with consumers who liked the full flavor that differentiated it from mass consumer beer brands such as Budweiser and Miller. Back then, the craft beer industry was still nascent with just a handful of U.S. brewers making small batches of flavorful beers (e.g. Anchor Steam in San Francisco and Red Hook in Seattle). From 1984 to 2015 craft brewers, as defined by the Brewers Association, grew production volume from just 63,000 barrels in 1984 to 24.5 million barrels in 2015 which represented 12.2% share of U.S. beer industry volume and 21.0% share of dollar volume. Given the impressive marketing chops of its founder, Boston Beer rode this craft beer wave to become the largest craft brewer in the industry producing more than 4 million barrels (which includes hard cider and other tangential products). In the process, the company attracted a loyal, cult-like following on Wall Street which drove its share price to an all-time high of more than $320 just two years ago.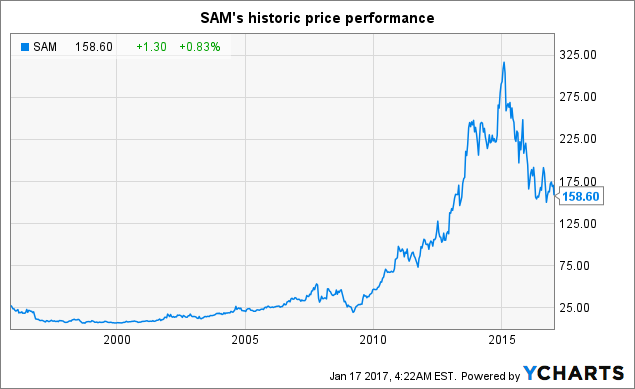 However, the tide appears to have turned both in terms of the company's growth and investor sentiment. Like the large, incumbent major brewers Boston Beer challenged in 1984, the company has now become the challenged incumbent as smaller, craft brewers offering "farm to tap" local beers with unique flavors and differentiated brands have gained favor with consumers who appear tired of large national "craft" brands (an oxymoron if there ever was one) such as Samuel Adams.
Consumers Selecting Local Craft Over Incumbent National Brands
Craft beer drinkers have become more discerning and provincial over the past few years and are favoring local craft beer over heavily marketed national brands such as Samuel Adams Boston Lager, Boston Beer's flagship brand, which is now flagging. Microbreweries as defined by the Brewers Association as those brewers producing 15,000 to 60,000 barrels per annum (compared to 4 million produced by Boston Beer) have been growing much faster than regional and national brands. Over the past five years (2011-2015), microbreweries have grown production at a compound annual rate of 28% versus larger regional brewers (which includes Boston Beer) which have grown at a 19% compound annual clip. Still that 19% growth clip is pretty attractive and explains in part why Boston Beer's shares once traded above $320 per share. The trouble is the growth gap widened in the past year with microbreweries growing 24% in 2015 compare to only 9% for larger craft brands. Of course, Boston Beer grew volume only 4% in 2015, so it is faring worse than other large, regional craft brewers, and in 2016 its volume has actually contracted.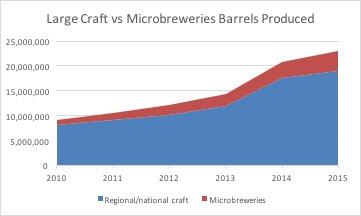 Source: Brewers Association
In 2016, growth in craft beer consumption has slowed from the double-digit pace of the past few years (albeit the category still grew 8% through the first half of 2016) putting more pressure at retail (both in stores and in bars) to manage shelf space and tap handles more carefully to conform to the consumers changing tastes. (Speaking of tap handles, we randomly surveyed 20 Boston bars and found that a whopping 60% did not carry a Sam Adams brand on tap and that is the company's hometown!) Supporting our thesis that consumers are favoring smaller, local craft beers the Brewers Association report indicated the sales slowdown in the first half of 2016 was more pronounced among large craft brewers while microbreweries grew at an impressive estimated 30% annual clip. This is just not a good trend for an incumbent brand such as Samuel Adams. Furthermore, the hard cider category which was led by the rise of Boston Beer's Angry Orchard has become increasingly more competitive causing the category to slow and Angry Orchard's market share to decline. A cider competitor to Angry Orchard we talked with recently indicated hard cider sales excluding Angry Orchard were actually up in 2016, but that, in his markets, Angry Orchard was down 30% such that the overall cider category appears down. While that is just a regional data point, and is a more pronounced decline than analyst reports indicate for Angry Orchard nationally, it indicates the category fragmentation driving share loss that Boston Beer is facing across its core products goes beyond just its beer. Sales volume and depletion trends have been deteriorating through Q3 2016, down 7.7% and down 6% year to date, respectively. Data points available regarding Q4 suggest no change in that trend.
Lower volumes can lead to lower brewery utilization, which can compress gross margins, as fixed costs are absorbed over lower volumes. When Boston Beer started growing in the late 1980s, it contracted its brewing, but it now owns 95% of its brewery production, so its fixed cost structure is much higher than it once was. Discounting of product to move cases and preserve shelf space can also compress gross margins. Thus, we believe gross margins, which have declined 150 basis points in 2016, could remain under pressure in 2017. Perhaps frozen in their tracks by the rapid deceleration in demand for their products, management has throttled back on marketing in 2016 to hit EPS estimates (which they still missed in Q3). The company did implement new packaging this quarter for its core Samuel Adams brand, but that is not likely to turn the tide if our thesis on consumer interest in more local, truly craft brews is correct.
Old Samuel Adams Packaging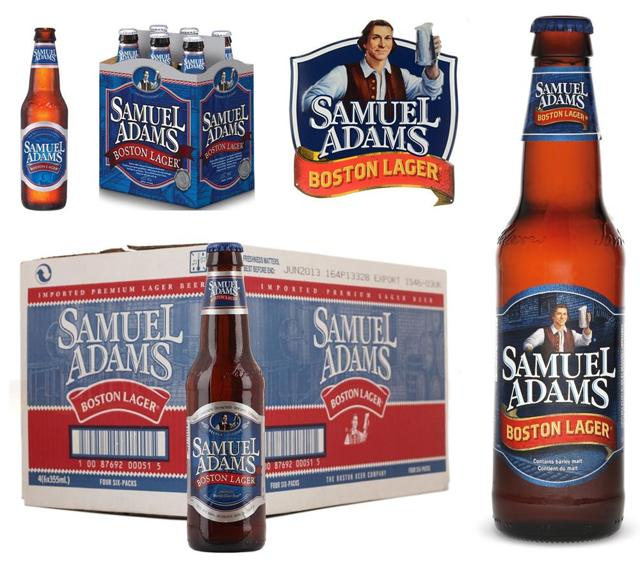 New Samuel Adams Packaging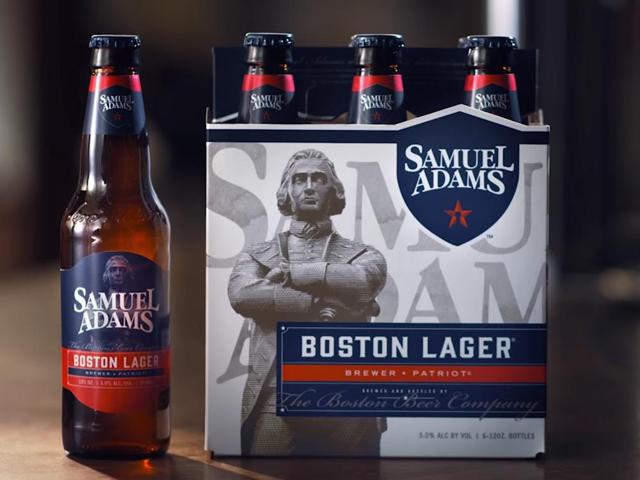 Depletion trends in November (down 8% overall according to a Credit Suisse note with beer down 16%, cider down 11% and Twisted Tea up 18%) would suggest the new packaging had little to no impact on consumer preferences in the shopping aisles. To re-invigorate the Sam Adams brands a step up in advertising is probably required (and preliminary management guidance is for a $10 million to $20 million increase in marketing in 2017 after a decline of $10 million in 2016). This too could compress operating margins and EPS.
Consensus EPS Estimates Still Appear Way Too High
Analyst sentiment on the stock is appropriately subdued (zero buys, 7 holds, 5 underperforms/sells according to Marketwatch.com), but their 2017 consensus estimate for EPS of $6.47 (according to Reuters) still looks way too high, perhaps by $1.00 or more. In the past year, 2017 EPS estimates have been revised down from an average of $8.84 to $6.47. This would explain why the stock is down 50% from an all-time high two years ago of more than $300 per share. When a cult-growth stock becomes a no-growth stock, both its multiple and earnings tend to decline, and we believe that process is not yet complete.
Of note Boston Beer enjoys an extra week in its 2016 fiscal fourth quarter this year, so sales and depletions have a tougher comparison next year (which is a normal 52-week year). Thus even a flat year in barrels sold per week would lead to a down 2% 2017 due to the extra week in 2016. This headwind combined with $10 million to $20 million in additional marketing spending and limited reason for gross margin improvement suggests it would be nearly impossible for EPS to be up from 2016 levels, yet Wall Street consensus suggests otherwise, with 2016 EPS estimates at $6.35 and 2017 at $6.47. Our base case scenario is for flat volume sales (so down 2% due to the 52-week versus 53-week year comparison), a 1% ASP increase, flat gross margins and $15 million in higher marketing spend. This leads us to an EPS estimate of $5.35, more than a buck below consensus… and this assumes a rebound from the declining sales and gross margin trends experienced this year. One could make a strong argument that our base case is in fact optimistic! The table below assumes flat gross margins at 51.2%, a 1% price hike, $15 million in additional marketing spending, a 3% increase in G&A and a 36.3% tax rate to show various EPS given various barrel sales growth rates.
2017E EPS Scenarios Based on Barrel Volume Growth
| Barrel/week volume growth | -8% | -5% | -2% | 0% | 2% | 5% |
| --- | --- | --- | --- | --- | --- | --- |
| 2017E EPS | $3.43 | $4.15 | $4.87 | $5.35 | $5.83 | $6.55 |
| 2017E EPS (no marketing $ increase) | $4.23 | $4.95 | $5.67 | $6.15 | $6.63 | $7.35 |
These scenarios are not very attractive and suggest that Wall Street is expecting a significant turnaround in trend to achieve a $6.47 consensus EPS estimate. That said, it is also possible that Wall Street's view is that management is sandbagging by guiding to a $10 million to $20 million increase in marketing. This increased expense represents $0.50 to $1.00 per share after tax. Given there seems to be no obvious marketing solution to making a national brand a local one through advertising, our table above may be conservative to the tune of $0.80 per share because we are taking management at its word about its intentions to market more heavily in 2017. In a second scenario, we assume no increase in marketing at all in 2017, which leads to $0.80 higher EPS estimates.
The question is can a national "craft" brand be reinvigorated as consumers demand more small batch, local brews? We believe Boston Beer's management is wrestling with that very issue (or maybe they have reached a conclusion and subsequently elected to sell $45 million worth of their shares!). In our view, perhaps the only solution is for the company to begin acquiring smaller, local craft brewers which can benefit from Boston Beer's brewing capacity, proven marketing prowess and established national distribution. This would be somewhat uncharacteristic for Boston Beer, which has generally enjoyed organic growth by riding the 30-year craft beer wave rather than growing through acquisitions but with parallel strategies that other larger brewers, such as Constellation Brands (NYSE:STZ) and AB InBev (NYSE:BUD), have employed. Joining that acquisition rat race, however, where acquisition multiples have been high, may still end up being dilutive to current Boston Beer shareholders.
Management is Bailing and the Board is Bailing Them Out with a Bigger Buyback
Management appears to agree with our dismal outlook having filed notification to sell approximately $45 million worth of stock in the recent and coming months. Amazingly, the board simultaneously approved a $45 million share buyback expansion thereby providing the very demand for Boston Beer's stock to enable insiders to bail out of their positions. Talk about bad optics. So far Form 4 filings indicate multiple management sales in December 2016, including approximately $23 million (144,500 shares) by founder and Chairman Jim Koch.
Should One Worry that Passive Investor BlackRock is One of Boston Beer's Largest Shareholders?
While just a hypothesis of ours, we believe the rise of passive investing (through ETFs and other passive index funds) may be distorting prices of various shares within certain indices. Passive investing does not rely on company fundamentals when investing (but rather market cap weightings within various indices and asset baskets) and therefore may, at times, impact and distort the price discovery mechanism that occurs between buyers and sellers of a company's shares, especially those like Boston Beer that are thinly traded. We thought it interesting that BlackRock is an 11% shareholder of Boston Beer. What does BlackRock do? They run the world's leading stable of ETFs (as well as manage a lot of passive equity mutual funds and some active ones too). We suspect BlackRock's interest in Boston Beer may be a relatively passive one, driven by the stock's presence in the investment firm's many small cap and industry-focused indices and ETFs (such as the Small Cap Index Fund (MUTF:MASKX)). If BlackRock's large stake in Boston Beer is essentially passive and not driven by fundamental research, it is possible that Boston Beer's share price is being driven by systematic factors related to its presence in ETFs and index funds rather than idiosyncratic factors related to its business and industry. If a significant number of SAM shares are held in passive investment vehicles (we cannot confirm that they are, but the significant BlackRock stake begs the question) and if SAM continues to miss earnings estimates as we expect it will, a virtuous post-election small-cap buying up-cycle could turn into a vicious down-cycle for Boston Beer as it warrants a diminishing weighting within small-cap ETFs and indices.
M&A Chatter - Just Wishful Thinking?
There has been speculation in the financial press about Boston Beer being an acquisition target. We believe that speculation is wishful thinking. First, if the company was even having preliminary discussions with potential acquirers would management be selling stock right now? We don't think so. Second, what exactly would an acquirer be buying? A declining, national, nearly fully distributed brand with limited international potential. Recent acquisitions of or investments in craft beer companies have been primarily motivated by two factors. The growth potential of a regional brand which could benefit from additional U.S. distribution and the potential for the brand in international markets. Constellation paid a reported premium price for Ballast Point of 30x 2015 estimated EBITDA and 15-19x 2016 EBITDA because Ballast Point's sales and depletions were growing more than 100% year over year and the brand had untapped potential in international markets. In addition, Ballast Point was realizing a premium price of $357.66/barrel (source: Ballast Point S-1 filing) which compares to Boston Beer's average price per barrel of approximately $240. Kirin's recent 25% investment in Brooklyn Beer (just below the 25% threshold to maintain Brooklyn Beer's status as a craft brewer) appeared to be similarly motivated by the growth potential of the brand which is not fully distributed in the U.S. or overseas. Asahi Group (OTCPK:ASBRF) (2502 Japan Stock Exchange) has been on a buying spree this year and appears to be paying approximately 15x EBITDA for various international brands (SABMiller's (OTCPK:SBMRY) European brands such as Pilsner Urquell, Peroni and Grolsch). If one wanted to fantasize about an Asahi-style multiple of 15x applied to Boston Beer it would imply about a $200 share price. Given this is not imminent and not even speculated, any prudent arbitrageur would back that price estimate down by a merger control premium of 20-25% to compensate for the speculative risk. This would imply the shares, if considered a likely takeout candidate (a big "if" in our view), would trade at around $152 to $162. This approximates the current share price and represents the upside case in our view, as we do not view Boston Beer as either a likely acquisition candidate (given super-voting stock held by Chairman and founder Jim Koch who has declared in the past he was not interested in selling out to "big beer") or an attractive one.
Buying a decelerating brand like Sam Adams which is already distributed throughout most of the United States offers little growth potential or synergy for another brewer. How well will the Samuel Adams brand resonate in international markets? Probably a little less well post-election in markets like Mexico and anywhere else that is at risk from the rising populism and nationalism that President Elect Trump articulates and symbolizes in the United States. We suspect "Buy American" (and Boston Beer's "mascot", Samuel Adams, is about as American as you can get) is not going to "travel" as well outside the U.S. post-election. Thus, the most logical acquirer of Boston Beer, if there is one, would be a private equity firm. The company has some attractive characteristics such as no debt, and it generates a healthy amount of free cash flow which could certainly pique private equity interest. At the current price, however, which implies an enterprise value to EBITDA of 11x our 2016 estimate (and 12x our 2017 estimate) the returns would not be compelling, especially without a clear plan to turn the brands around. Should the stock decline to the $135 level or 10x 2017 EBITDA an LBO could make more sense to us. Again, one should back that price down by a merger control premium, so we would suggest a worthwhile entry point in the $101 to $108 range if one wanted to speculate on a going private LBO. This approximates our $110 price target which we support using conventional valuation metrics below.
Valuation Thoughts
As we have articulated above, we do not believe Boston Beer is an attractive strategic acquisition candidate and believe it may have misplaced acquisition speculation embedded in its lofty share price. Given its cash flow characteristics and minimal debt levels, it could be an attractive target for private equity, but not at its current 11x-12x multiple of EBITDA. If management were bullish on the business (and the massive share sales in December suggest it is not) a creeping go private transaction could be a consideration given the company's penchant for share buybacks. However, based on our analysis using our base case earnings scenario, levering up and buying back more stock could be accretive, but not accretive enough to achieve consensus EPS in 2017 even if SAM were to lever up to 4.0x EBITDA to buy back $700 million of its stock at current prices. (We assume it would pay a 5% interest rate on long-term debt at that leverage level rather than the 3.3% it pays now on essentially insignificant long-term borrowings.) That would represent about 50% of the non-voting Class A shares, so it would be half way to going private (and if Chairman and largest shareholder Jim Koch participated, one would be closer still to going private). In our view, management's best bet is to sell stock now (which it is doing) and wait for a lower price down the road (which we believe it will see) to then consider taking the company private. As we detail above a price in the $135 range could make sense if one had a clear plan to restore the growth of the business despite decelerating industry trends. Investors looking to speculate on such a scenario may want to look for an entry point in the $110 per share range to be compensated for the risk that no transaction happens.
Given we are skeptical of Boston Beer's attractiveness as an acquisition target at its current value, we believe it best to focus on conventional valuation metrics. Use of conventional valuation metrics such as comparable company analysis offers little to get excited about (unless one is short the stock). Because SAM is no longer the high growth brewer that it once was, it makes sense to compare it to other publicly-traded large brewers. As the table below indicates, SAM trades at about a 20% premium to the average publicly-traded brewer on a 2017 P/E basis (using consensus EPS of $6.47 rather than our much lower base case EPS of $5.35).
Comparable Company Valuation Analysis
| Company | Ticker | Price 1/12/2017 | 2017E EPS | P/E |
| --- | --- | --- | --- | --- |
| Asahi Group | 2502.T | ¥3,704 | ¥208.67 | 17.8x |
| Craft Brew Alliance | BREW | $14.30 | $0.47 | 30.4x |
| AB InBev | BUD | $105.85 | $4.82 | 22.0x |
| Carlsberg | CARLb.CO | 604.50 | 33.44 | 18.1x |
| Heineken | HEIN.AS | 70.08 | 3.95 | 17.7x |
| Constellation Brands (1) | STZ | $147.53 | $7.50 | 19.7x |
| Molson Coors | TAP | $95.43 | $5.86 | 16.3x |
| | | | | |
| | Average | | | 20.3x |
| | | | | |
| Boston Beer | SAM | $157.30 | $6.47 | 24.3x |
| SAM In-line Case | SAM | $131.17 | $6.47 | 20.3x |
| SAM Downside Case | SAM | $108.47 | $5.35 | 20.3x |
Source: Reuters
Notes: (1) STZ fiscal year ends February 2018.
Were it to trade in-line with other brewers at just more than 20x 2017 EPS it would fetch a share price of $131 using Street consensus EPS. Using our more bearish base case forecast for 2017 EPS of $5.35 and the group average multiple of 20.3x, a share price of $108 is supported which approximates our target price of $110. Our target price also represents approximately 8x our 2017 EBITDA estimate. These multiples appear appropriate for a slow- to no-growth consumer stock and suggest a 30% downside opportunity in the shares. We are short Boston Beer.
Selected Risks to Our Thesis
As a preface to this risk section, we want to explain our primary motivation for contributing to the discourse on Seeking Alpha. Generally we are "talking our own book" meaning we are long or short the stocks consistent with the views expressed in our articles. (Sometimes we write without having a position in a particular stock, but that is uncommon and disclosed when we do.) Some people view this as self-serving and not impartial. We would agree on both counts, but we would call it "eating our own cooking" which means we have some conviction about what we are saying. We put our money where our mouth is so to speak. We also try to stick to the facts or to opinions based on well-researched facts. That said, we are not motivated to sway investor opinion substantially on a particular stock based on our article (nor are we presumptuous enough to think we can). We are long-term investors and not traders. The real value we derive from publishing articles on Seeking Alpha is the generally intelligent feedback we get in the comments section. Numerous times we have learned things from Seeking Alpha readers that we did not know or consider. When that occurs it gives us new threads of research to pursue and an opportunity to challenge our own views and share holdings. The point being, do not act on this article by blindly accepting our view about the securities discussed. Do your own work and think for yourself, and then by all means make comments if you are inclined to challenge our view or confirm it. We would appreciate that.
So, with that said and in an effort to challenge our own investment thesis on Boston Beer here are a few (but certainly not all) risks to our investment thesis to consider:
Boston Beer has a history of innovation such as when it launched its Angry Orchard hard cider product (which temporarily masked the deceleration in its core beer product line until it too began decelerating). We believe the company is hoping to launch new products this year none of which look particularly needle-moving but we could be wrong in that assessment.
Price insensitive acquirers such as Asahi may be motivated by factors either unknown to us (synergy that is not obvious or concerns about their own local market trends) or by sheer bravado (they might believe they can fix what Boston Beer management cannot). As a result, they could make an offer for Boston Beer at a premium to the current price. We just believe a rational buyer would not.
The sluggish consumer economy could be spurred by various growth initiatives of the new Administration such as infrastructure spending and tax relief. (Boston Beer's EPS would certainly benefit from a reduced corporate tax rate, but its European hops purchases might suffer from a border tax. So some moving parts to consider.) This could lead to a reversal of the slowing craft brew consumer demand trend witnessed in 2016 and lead to re-acceleration in the category which presumably would benefit Boston Beer on the margin.
The company could change its strategy and begin consolidating smaller, fast growing craft brewers and thus grow through acquisition or partnership. As we indicate above we believe this might be an attractive course of action if craft brewer prices settle back from the high-water mark set by the Ballast Point and other frothy acquisitions. (We believe valuations have come down from that frothy level of 2015 already.)
The company has a limited float with just 9 million non-voting Class A shares and has been an aggressive acquirer of its own shares. This buyback demand could keep the stock from reaching its intrinsic value level at least in the short- to medium-term. Despite the small float we have not had trouble finding shares to borrow.
The company generates a meaningful amount of free cash flow and could implement a dividend which could serve to support the stock through a period of declining EPS (at least as long as the Board believed EPS would eventually grow again). A $3.00 annual dividend (about a 50% payout ratio on 2016 EPS and free cash flow) would provide about a 2% dividend yield.
Disclosure: I am/we are short SAM. I wrote this article myself, and it expresses my own opinions. I am not receiving compensation for it (other than from Seeking Alpha). I have no business relationship with any company whose stock is mentioned in this article.