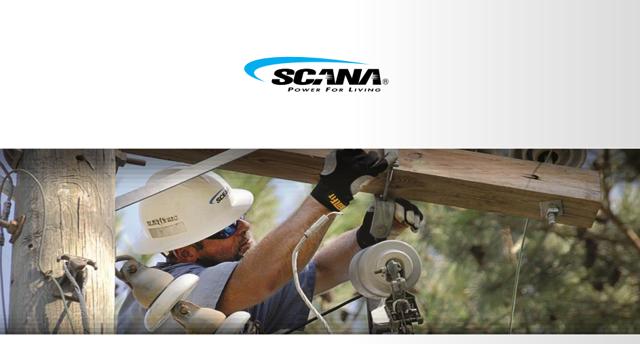 SCANA Corporation (NYSE:SCG) is an energy-based holding company engaged in electric and natural gas utility operations. The company serves approximately 707,000 electric customers in South Carolina and approximately 1.3 million natural gas customers in South Carolina, North Carolina and Georgia. SCE&G, a subsidiary of SCG, and Santee Cooper are building two 1,117-megawatt Westinghouse AP1000 reactors in Fairfield County, S.C. At the current market price just over $72, SCG is a buy even if it isn't at a big discount.
Is SCG a good investment partner?
Before I try to calculate a price to pay for the stock, I want to be sure that a company is a good investment partner. To ensure that a company will help me achieve my main investment goal of having a portfolio that generates an increasing stream of dividend income to replace the income I now get from my job, it needs to be in a growing market (or a market that allows for growing profits), have a reliable source of profits that it can grow, manage its debt well and pay a reliable dividend that grows faster than inflation. Since I also want the company to want me as a partner, I also expect the company to make this information easy for me to find. For SCG, I found it on its website in this presentation. Read the whole presentation, the slides on the construction of the new nuclear facility are impressive, but I have included below those slides that support evaluation of the 4 items on my checklist.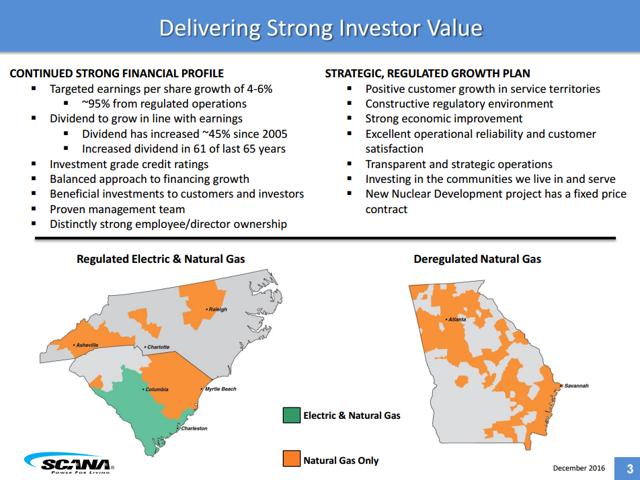 This first slide shows many things, but for the purposes of my checklist, it shows the service area for SCG. North Carolina, South Carolina and Georgia are growing states and have improving economies. The areas around Raleigh and Asheville I know from having visited them are growing fast enough that changes are noticeable every year. I also like that this slide near the beginning of the presentation provides a summary of nearly everything I look at in evaluating a company.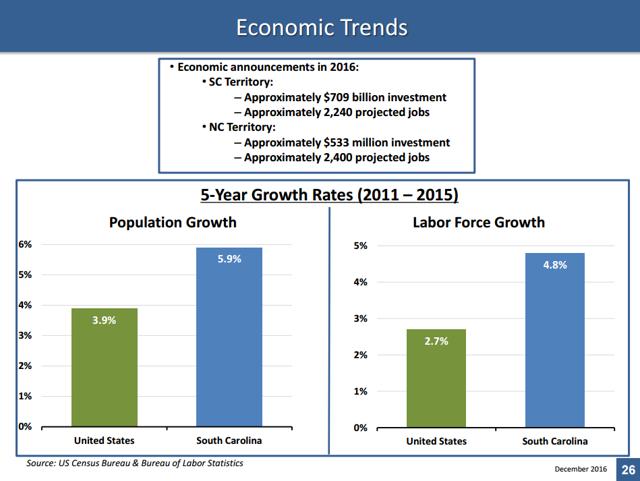 This next slide presents economic and population growth data for South Carolina, where most of SCG's customers live. I want a utility company where more people are coming into its service area, and where the number of jobs is increasing.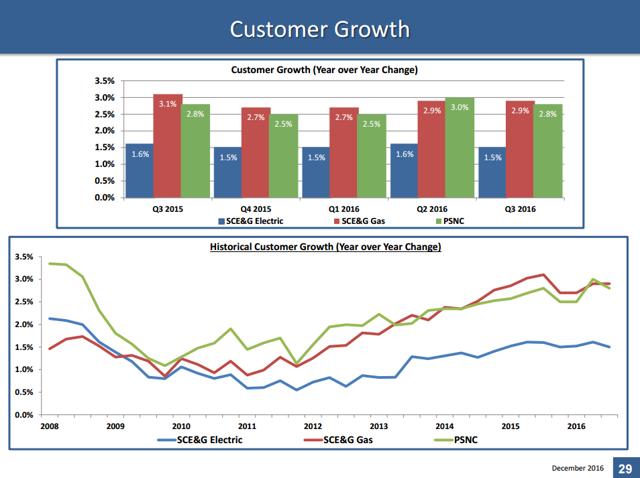 This slide gives a break down by SCG subsidiary of customer growth. Note that even during the Great Recession period, more customers were added by all the subsidiaries.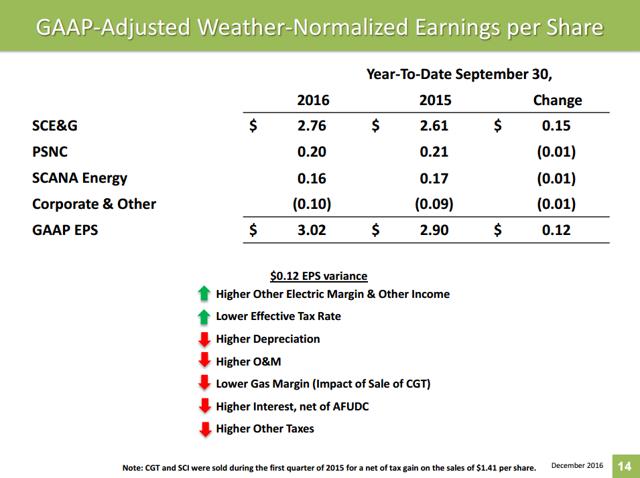 This slide addresses my profits requirement. For the first 9 months of their 2016 fiscal year, SCG is growing their profits by about 4%. That is within their targeted range, although it is at the lower end. Part of that lower growth is attributable to selling off the CGT subsidiary.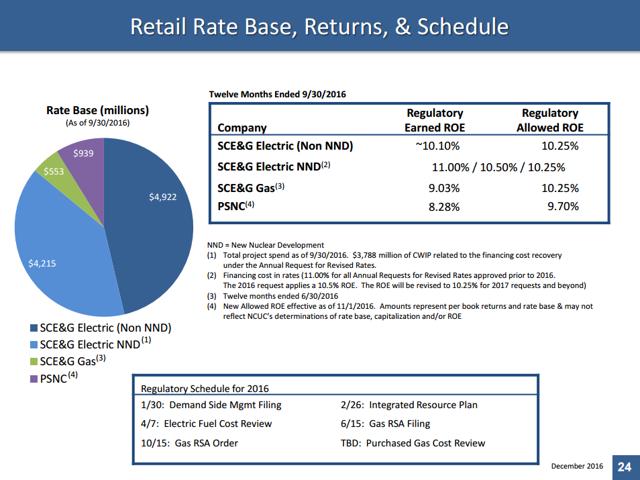 This slide shows the rate base and the returns SCG is getting on its investments in new assets. This looks positive, although there is some room to do a little better under what the regulations allow.
Because they are building a new nuclear station, with two Westinghouse AP1000 reactors, debt and how SCG manages it is even more important for me than usual when looking at utility companies.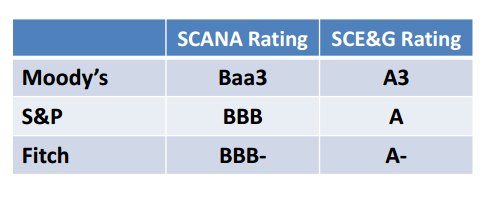 SCG has investment grade credit ratings. While I would like even higher ratings, all the ratings are above the minimum needed for investment grade. I like that SCG pretty much opened their presentation with the fact that they had investment grade credit ratings, and also had specific details on what those ratings were.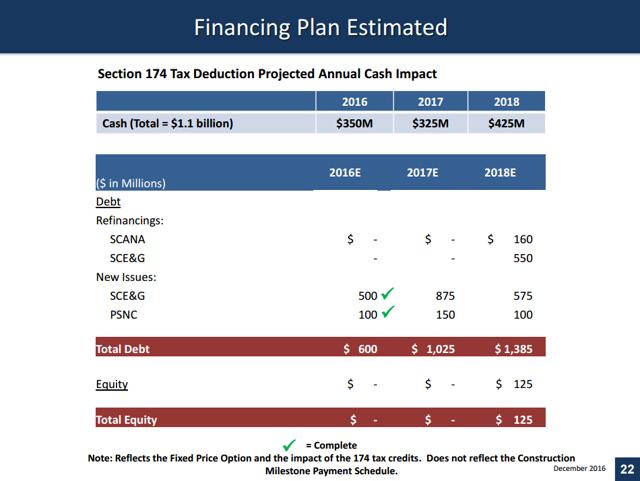 This slide shows what financing activities SCG has planned over the next few years. The final figure for total debt shows why I consider debt management so important. SCG is going to grow its debt by around $1.4 billion and so it needs to get good rates, thus the importance of high credit ratings, and needs to spend that money wisely.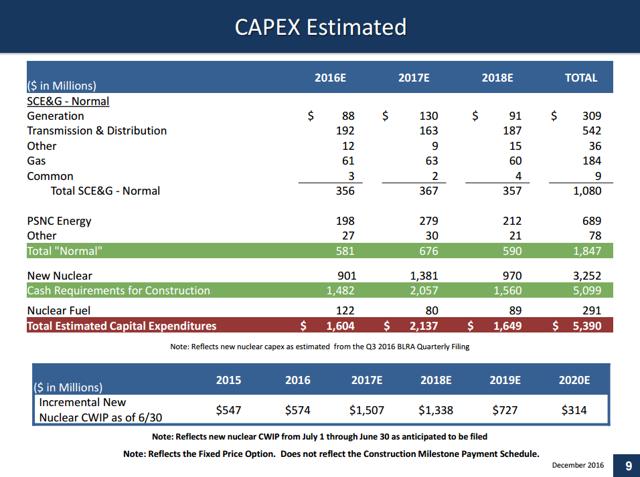 This shows SCG's capital expenditures for the next few years. It has the largest CAPEX requirements in 2017, which matches the largest amount of new debt added in that year.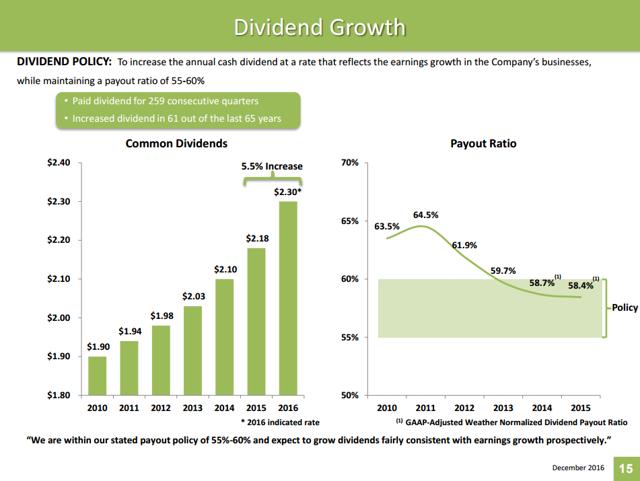 From this slide, I get several important pieces of information. The first is that the company has and articulates a dividend policy that is consistent with the goals of a dividend growth investor. SCG's stated policy is to grow dividends consistent with earnings (which means that almost all the time it will grow the dividend each year as utilities have an easy task of growing earnings) with a target range for the payout ratio. The second piece of information is that its current payout ratio is below the top end of management's target range, and that over the last 5 years, management has managed to reduce the payout ratio while still increasing the dividend. The final piece of information in this slide is the history of dividend growth, even during the Great Recession period.
Looking at the CCC List, I can see that SCG has grown its dividend annually for 16 years, which exceeds my requirements for utilities of at least 5 years and preferably 10 years of dividend growth.
Because SCG is involved in constructing a new nuclear facility and such facilities have had a history of cost over-runs (sometime massive over-runs), I think it's important to look at that construction and how it is being managed.
Since the last new nuclear power plants were built in the US many decades ago, the technology has advanced quite a lot. One of the most important features, is that now the safety controls are all passive. That means that unless everything at the plant is working correctly, the safety features engage and take the plant offline. That differs from most plants previously constructed in the US, which required plant operators to engage safety features and often required power to engage the safety features.
Westinghouse has a whole page devoted to the safety features of its AP1000 reactor.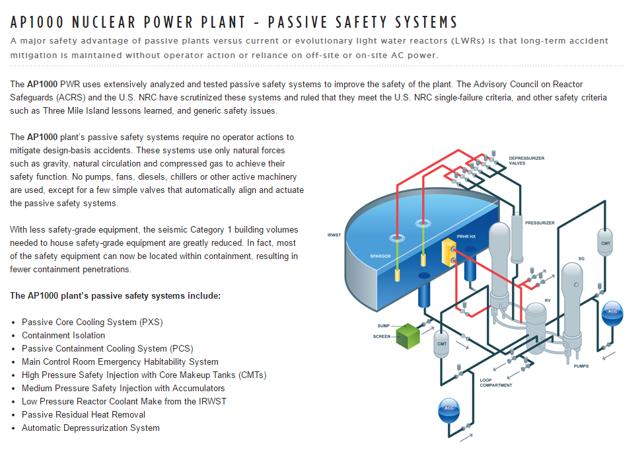 The slide above provides a nice overview of the safety systems, where gravity and high pressure result in safety system engagement unless active measures are taken to keep the plant online.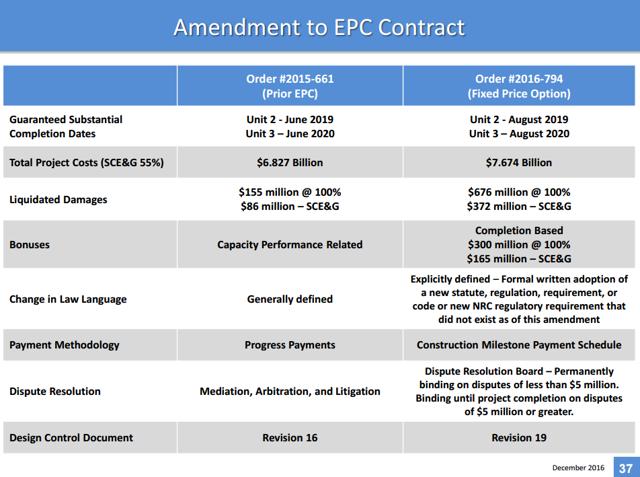 This slide from the presentation shows that while the construction costs have gone up, SCG has taken steps to modify the contract so that any further increases in cost will not be borne by the company (the contract was changed to a fix price contract). Also steps have been taken to better control for delays and to firm up the language of the contract, so all parties have explicit and specific contract terms.
From my checklist and my examination of the nuclear plant development work, I think SCG makes a good investment partner.
What's a good price?
To figure out a good price, I do a DDM calculation using my Excel® based DDM calculator (pictured above, you can see the web-based calculator I based it on here and read a discussion on how the formulas were developed here).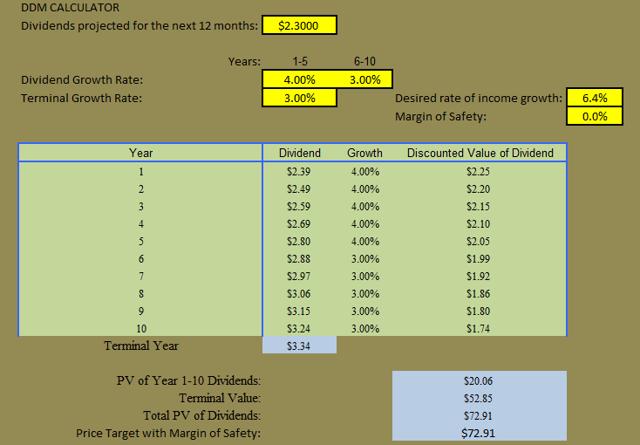 Being fairly conservative when predicating the dividend growth rate for SCG, I chose 4%. That's the bottom of its earnings growth rate projections, less than its latest dividend increase and the CAGR for its dividend growth over the last 3 years. Even so, that gives me a PV of the predicted dividends (which is not a prediction of where the price of the stock will go) of $72.91. So I will have a buy target price of $73, which will also give me a nice yield of about 3.15%. With the market price of SCG stock being just a bit above $72, it's a buy at the current price.
Can options help?
With the markets closed on Monday, which leaves very little time until the January expiration date, the February expiration date looks better.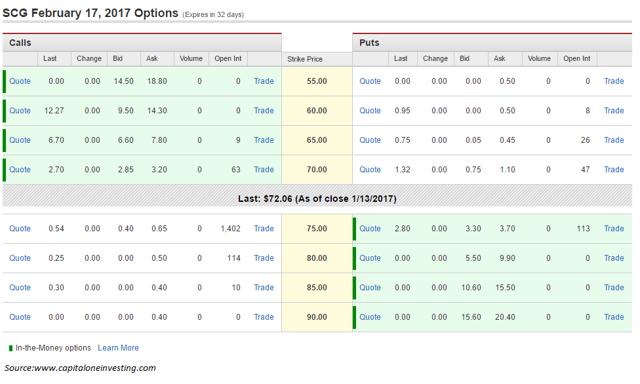 The $70 put offers a price below the current market price and below my target buy price, while also offering a premium that is in excess of the pro-rated dividend payment. With a delta of -0.29, there is a less than 1 in 3 chance of getting the shares with this contract, but it does pay more than the dividend to wait for a better price.
The $75 call offers a premium that is around the same as the quarterly dividend. At about $3 more than the current market price, the 0.25 delta doesn't present much risk of the shares being called away and offers almost a 5% return in 32 days if they are. I don't currently own SCG, but it will be considered when I get some more cash in early February.
Conclusion
SCG is a growing utility paying a steady dividend. At the current market price, SCG is a buy, but it isn't currently trading at a big discount. The new nuclear plant does represent some risk, but so far SCG seems to be managing it quite well.
Note: I hope you all got something out of this article. I do appreciate the time you took reading it. If you are one of those who follow me here, I appreciate it; if you'd like to include yourself amongst those individuals, please hit the "Follow" button next to my name as well as following other contributors whose work you enjoy. As always, please leave any feedback and questions you may have in the comments below.
Disclaimer: This article is intended to provide information to interested parties. As I have no knowledge of individual investor circumstances, goals, and/or portfolio concentration or diversification, readers are expected to complete their own due diligence before purchasing any stocks mentioned or recommended. The price I call fair valued is not a prediction of future price but only the price at which I consider the stock to be of value for its dividends.
Disclosure: I/we have no positions in any stocks mentioned, and no plans to initiate any positions within the next 72 hours.
I wrote this article myself, and it expresses my own opinions. I am not receiving compensation for it (other than from Seeking Alpha). I have no business relationship with any company whose stock is mentioned in this article.