Introduction
Much has been pontificated about Chipotle's (NYSE:CMG) attempted comeback from the deadly food scare that has plagued the company for 14 months.
I have heard the range from they will bounce back right away, to how they will bounce back in the same time that other chains like Taco Bell, KFC in China, Jack in the Box, have in the past. Negative opinions ranged from it's still too expensive and no longer growing to a complete and totally worthless business that will never open another new restaurant.
So how is the comeback going, based on the data? What does the companies most recent quarterly results and outlook tell us about things?
Lets start with Q4 2016 results and then analyze managements recent update at a restaurant conference.
Q4 2016 Results
The headline number for the quarter is either really ugly or sparkling with gold depending on your perspective.
Comparable restaurant sales decreased 21.9% from the prior quarter. This was an improvement though over previous quarter-over-quarter declines which reached as low as 36.4%. Revenue fell 18.1% to $2.9 billion.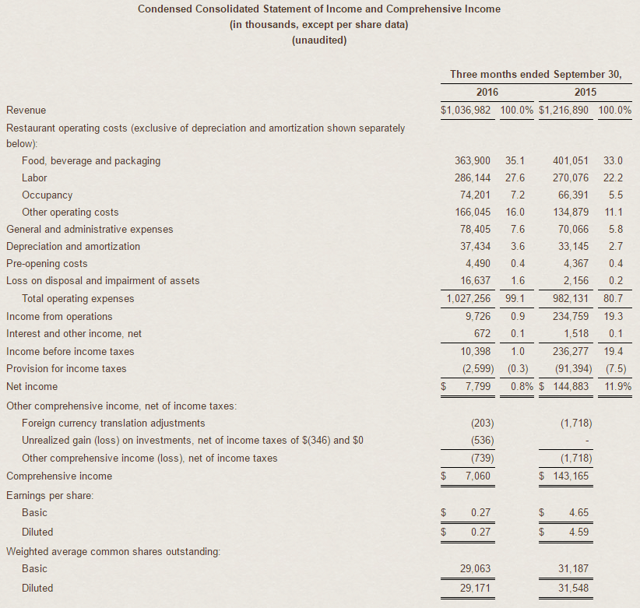 There were a few bright spots however. Few analysts or commentators notice or care that Chipotle continues to open new restaurants at a steady pace. Since the comparable store sales line item excludes these sales for a year or so it can sometimes be easily forgotten when so much of the retail and restaurant sector focus on that one metric.

While these new restaurants won't offset such huge revenue declines, they will provide a tailwind as sales at existing locations continue to crawl back. I think this is an important point considering Chipotle is still expensive valuation wise and even though growth is obscured currently, the potential is still there.
Some people have gotten bullish on Chipotle because they will soon be reporting same store sales numbers against these incredibly week comps and that can make the headline of their press release look attractive.
One last positive is that the company's balance sheet, although not mentioned ever, is as solid as they come. A current ratio near two, no financial long term debt, and mostly real assets versus goodwill and intangibles that make some companies look solid when they are not.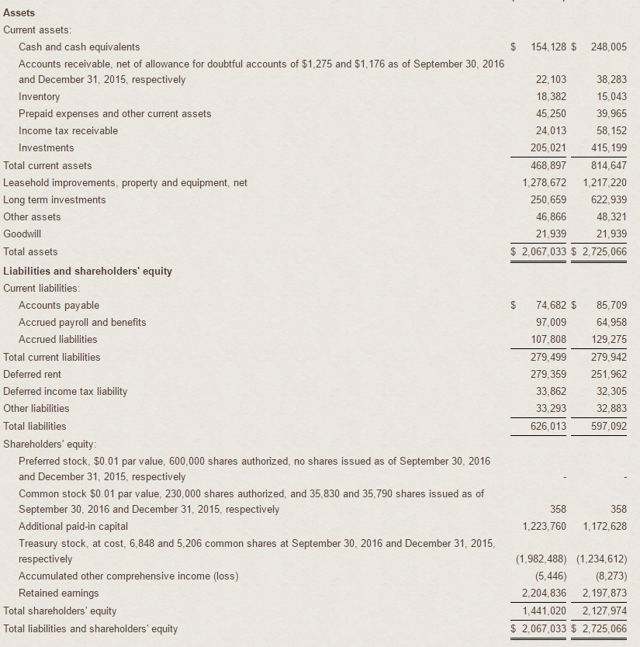 My overall opinion on Chipotle's Q4 is that the recovery is clearly happening, although at a snails pace. The Chipotpia promotion provided a quick boost but should have been continued indefinitely, perhaps with some changes depending the data that was gathered around usage.
Little also is mentioned about the companies meaningless other concepts like Shophouse and the Pizza one. SA contributor Kevin Wenck noted back in October that this will cost the company thousands of units that they were potentially expecting to build out should those concepts have worked. The jury is still out on their new burger concept that they are testing in the middle of nowhere, Ohio.
ICR Conference Presentation
Management notes that the path back to prosperity and there former glory is not complicated. That may be true but it also may be unachievable.
They did mention some simplification of the business model in areas like hiring, training. Some specific improvements include hiring candidates faster and not having to review 17 candidates for each spot.
I think it is time for management to abandon all other concepts and focus the company solely on the bread and butter concept. They should increase promotion despite years of reluctance, beef up innovation beyond more than just adding a desert and margaritas that no one has ever ordered, improve customer service and order times, and begin expanding the concept overseas.
The conference presentation mentioned an increase in advertising that will be more constant throughout the year and also more frequent. This is a good step that will hurt margins but is critical to continue to recover the business and compete in a fierce restaurant space.
The digital ordering still needs works as well. At multiple Chipotle in multiple states I have seen that online orders do not get filled until the customer arrives. They only have them ready ahead of time when the store is not busy, say, at 330pm. The only advantage to this is if there is a long line you get to "skip" the line, although this increases order time for other customers that may be less loyal considering they have no gone to the effort to download the app.
Once the core business starts to improve a few years down the line they could acquire a new concept if they feel growth is slowing if they are not able to get one of their own off the ground. There is a concept near me called Piada that sells Italian style food using a copy of the Chipotle ordering and preparation style.
Valuation
Chipotle is by no means cheap and never has been. The company trades at ~2.5x sales which is a better metric to use than PE as EPS the past 14 months has been severally depressed from around $15 in 2015 to under $1. That makes the PE ratio look insane in the 160s or so whereas what the company actually is worth is not reflected in that ratio.
McDonald's (NYSE:MCD) and Starbucks (NASDAQ:SBUX) all trade at 4x sales. I believe that a premium for the stock is no longer warranted even if it were to recover and start to post single digit declines in same store sales. The growth has slowed dramatically but not stalled, as we showed above, and all their other concepts are likely to fail or have already.
Margins will likely never be as high as they once were due to the increased spending necessary on advertising/marketing, innovation, etc.
Conclusion
Chipotle continues a weak recovery. Same stores sales will likely recover to low single digit declines in 2017. However, nothing excites me about the company. The vision of a fast growing portfolio of quick service brands is gone and it is now a slow moving fast food company.
The valuation seems reasonable although it is difficult to predict 2016 EPS although it will certainly be no where near the $15 high reached in 2015. This murky margin outlook/valuation despite a clear sales recovery has me souring on Chipotle at this time.
Disclosure: I/we have no positions in any stocks mentioned, and no plans to initiate any positions within the next 72 hours.
I wrote this article myself, and it expresses my own opinions. I am not receiving compensation for it (other than from Seeking Alpha). I have no business relationship with any company whose stock is mentioned in this article.