Don't touch Fifth Street Finance (NYSE:FSC) common stock. If I could show you one picture to make you lose all confidence in the company's common stock, it would be from the Capital Market Outlook page on its website. I will get right to the point and pull out the big guns first on why you shouldn't even think about touching this stock. The following chart is from the page I just linked to: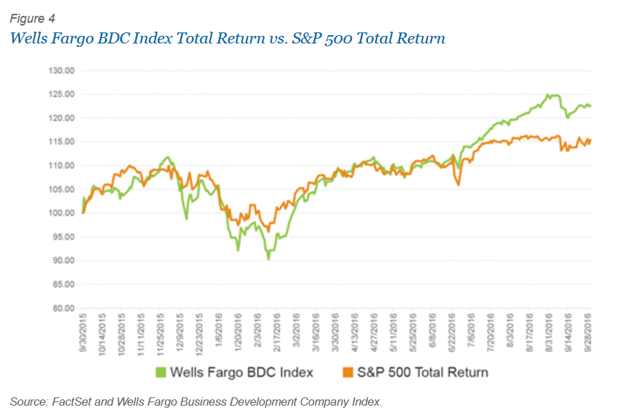 Fifth Street is trying to tell you that BDCs are a great investment. The big problem is, this BDC itself is not a good investment. The chart on the company website shows the Wells Fargo BDC index versus the S&P over the last year, from September 2015 to September 2016. Let's take a look at what FSC would yield, should you have chosen to invest in the common stock: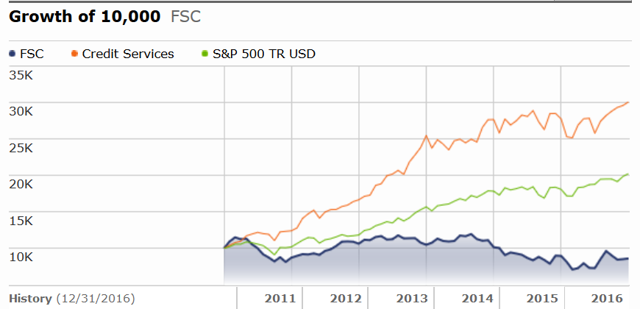 (Source: Morningstar)
That's right, if you had purchased $10,000 of FSC shares prior to an enormous bull run from 2010 to 2017, you would have lost a few thousand dollars. If you had put the same amount into quality BDC companies, you could have tripled your money, even outperforming the S&P. Keep in mind, this is total return - we are including your dividends if you had reinvested them.
The problem with FSC is that it is externally managed. There is no reason for the management team to care about increasing profits, as there is no direct impact on them. If you take a look here, you can see FSC has had the same manager since back in 1998 at the inception of the company. It have been public since 2008, and has not provide any significant stock returns. Another huge problem is that the EPS is negative, and most of the money being returned in dividends is just as checks for return of capital. This is a great illusion to make it seem like the company is giving you money.
Fifth Street is a company you should avoid like the plague. Don't get caught in the dividend trap, as that is all it is.
Disclosure: I/we have no positions in any stocks mentioned, and no plans to initiate any positions within the next 72 hours.
I wrote this article myself, and it expresses my own opinions. I am not receiving compensation for it (other than from Seeking Alpha). I have no business relationship with any company whose stock is mentioned in this article.