I try to pay a great deal of attention to the risk premium when it comes to investing. For those who might not know, the risk premium, broadly defined, is the difference between an investment's yield (often expressed as dividend yield, though not always) and the so-called "risk free" rate. The risk free investment is usually defined as a treasury bill. Leaving aside the debate of whether or not U.S. Government debt is truly "risk free" for the moment, I'll treat this as a reasonable proxy for risk.
The idea is that if an investor can get X% on a risk free investment, they had better be compensated by a dividend yield of more (possibly much more) than X% to take on a more risky investment like a stock. I was thinking about that when I started to review the industrial gas giant Praxair (NYSE:PX). As I delved into the company in greater detail, though, I decided that there's much more to this story than a good and safe dividend yield.
Review of the Financials
Investors like stability and it seems that there's very little more stable than Praxair. For instance, a review of the free cash flow per share reveals a remarkably stable story. It's as if the financial crisis didn't really happen. Additionally, the company seems to be able to respond to the inevitable vagaries in their business relatively dynamically. For instance, although revenue declined 12% from 2014 to 2015, net income only dropped by 8%. Since the source of investor returns is net income, I really like a company that can protect profits in the teeth of declining sales.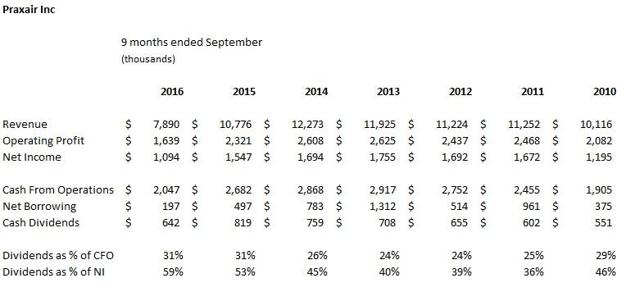 Institutional Ownership
I also like to track what the so-called "smart money" is doing, and that includes both insiders and institutional investors. When I lag the institutional ownership by one quarter, the correlation to price seems quite high. My conclusion: institutional ownership drives these shares. Given that the drop in institutional ownership seems to have "bottomed out", this gives me increased hope for further support in the stock price. In any case, 86% of the shares are currently owned institutionally, so even if my thesis about a short term rise in price doesn't pan out, I can rest in the knowledge that the lion's share of this company is owned by smart money.
Dividend Premium Over Risk Free
At the moment, the shares of Praxair are priced to yield about 2.56%, which is about double the current T-Bill yield. This isn't the entire story, though. The dividend paid here has grown at a compounded annual growth rate (CAGR) of 8.25% since 2010. This obviously doesn't happen with government treasury bills or bonds. Thus, any discussion of the risk premium here should include both the current yield that is much higher than the T-Bill, plus the prospect of dividend growth. Given that dividends are currently a reasonable percentage of net income and cash from operations (59% and 31% respectively), I think the prospect of rising dividends is reasonable.
Some Concern With The Capital Structure
Although I like the company a great deal, nothing's perfect. The company is highly levered at the moment, and this is a concern for me. At the moment long term debt is approximately 163% of shareholders equity. The only consolation I take from their current capital structure is the fact that approximately 60% of their debt is due in 2021 or later (and the vast majority of that debt is between 2024 and 2042. Additionally, other than the 4.5% notes due in 2019 (6% of total debt) and the 4.05% notes due in 2021 (5.4% of total debt), the coupons are less than 3%, most well under 3%.
Technical Snapshot
As per our TrendCharts Daily Price Model, the daily trend for PX turned Bullish on January 11, 2017. The stock has established strong support at the $115.00 level (it has been bouncing off this support level since September 2016). After the bullish breakout that occurred on January 11 we see an upward price target of $122.00 for the stock over the next four to six weeks. On January 17 we will purchase the PX 21APR17 115 Call Options which will provide us with approximately 13x leverage on our LONG trade. Our initial stop-loss exit signal for the trade will be a daily close below $115.00.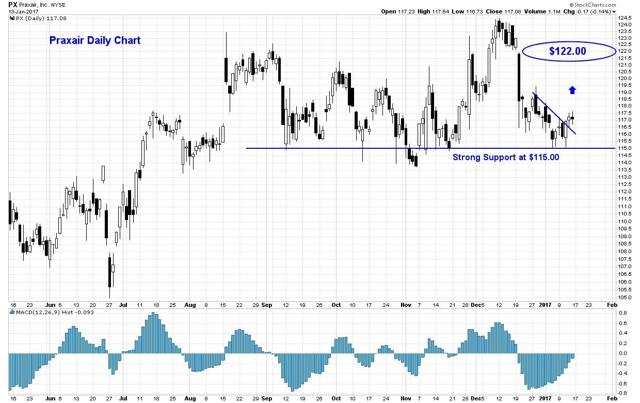 Conclusion
Yes. I am neurotic when it comes to indebtedness. That said, a look under the hood reveals that the majority of this debt is due in four years or more. Additionally, the interest the company must pay on this debt is quite low, so the probability that debt will harm the business is relatively remote. At the same time, there's much to like here. The company is quite predictable, and when the business turns down, management seems able to protect profits. Most importantly, in my view, is the fact that the dividend is sustainable and, I might hope, poised to continue to grow.
Disclosure: I/we have no positions in any stocks mentioned, but may initiate a long position in PX over the next 72 hours.
I wrote this article myself, and it expresses my own opinions. I am not receiving compensation for it (other than from Seeking Alpha). I have no business relationship with any company whose stock is mentioned in this article.