(Note: This article was first published to premium subscribers on 1/9. Daily Pain is a premium daily series only available on HFI Research premium, if you are interested, you can sign up here.)
By: Pain Capital
It's fitting for me to write the daily today as the energy complex takes a pounding after my Friday tweet.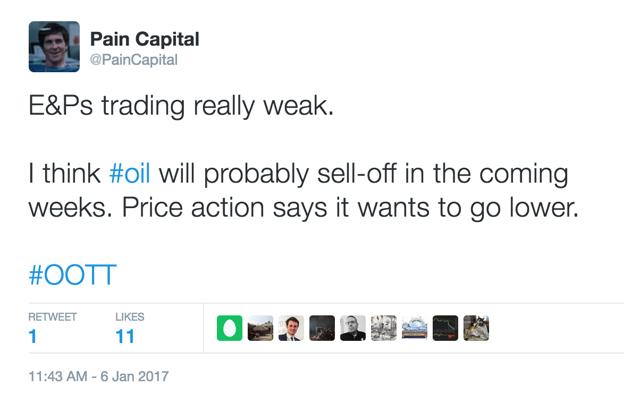 Source: Pain Capital
I've been observing oil (NYSEARCA:USO) and gas (NYSEARCA:UNG) on a daily basis for more than two years now. I have developed a sense of price action gauge of when up trends or down trends will develop and how consensus is positioned. I don't trade or invest on these instincts however as I believe investing should be based on a more rigorous process than one that's based on feelings, but these instincts are no doubt still useful when assessing the overall context in the energy space.
As I see it, the sell-off was going to happen sooner or later. If you watch the price action of many of the growth names versus the cyclical names towards year-end, cyclical names massively outperformed, and by my estimate, they outperformed by about 8-9%. The scary thing about the market to me nowadays is the amount of herding that can occur in such a short period of time, and a concern I have expressed to the HFI team. It's one thing to have a variant perception, but if short-term herding gets out of hand, we should all prepare emotionally for a reversal and the likes.
I see the current rotation out of energy to last a bit longer. There are some technical indicators that also point to a short-term reversal to continue, and I'll list some below.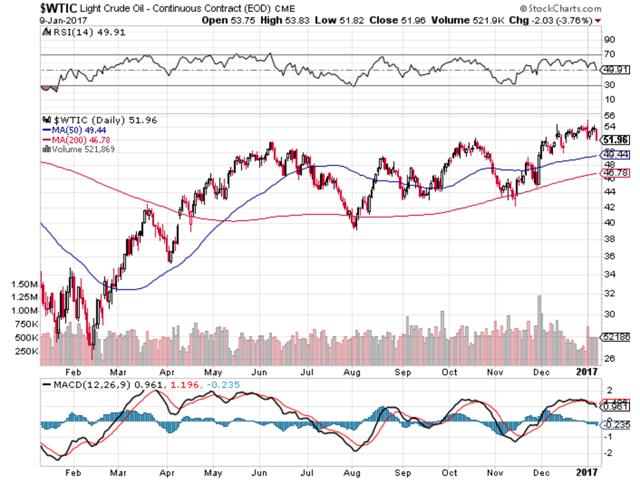 MACD for WTI is trending lower signaling that oil prices have the potential to test the 50-day moving average and possibly the 200-day moving average again. What's interesting about the timing of this is that OPEC is just starting supply cuts. Because of the downward pressure we are seeing in the price right now, OPEC members might be forced to comply with the production cut as they fear further declines in the price. The negative price action feedback loop is actually more bullish for oil as fundamentals could align faster than we all expect. That's something we all should be on the lookout for.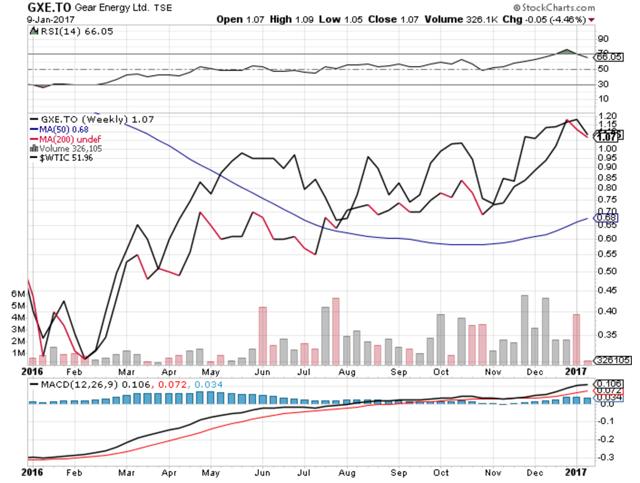 Next, Gear's (OTCPK:GENGF, GXE.TO) price action mimics almost exactly the sell-off we are seeing in WTI. If WTI pulls back further, it could be another great opportunity to add to Gear. However, you should expect more downward pressure if oil sells off.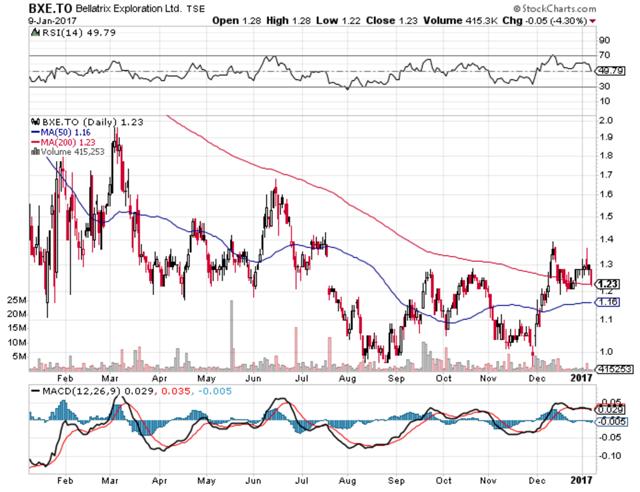 Bellatrix (NYSE:BXE) closed on the 200-day moving average today, but volume is light. The sell-off as a result indicate to me the weakness is not specific to BXE, but more of a broader sell-off we are seeing across the E&P complex. This is also true across the other Canadian names like Advantage (NYSE:AAV-OLD), Painted Pony (PPY.TO, OTCPK:PDPYF), Birchcliff (BIR.TO, OTCPK:BIREF), and Kelt Exploration (KEL.TO, OTC:KELTF). Yangarra (YGR.TO, OTCPK:YGRAF) has stayed very resilient, and the recent price action to me could signal a potential buyout in the making. It's just a hunch, but could someone buy it for C$2.50?
The big part of the weakness we are also seeing with the natgas names has to do with the recent sell-off in natural gas.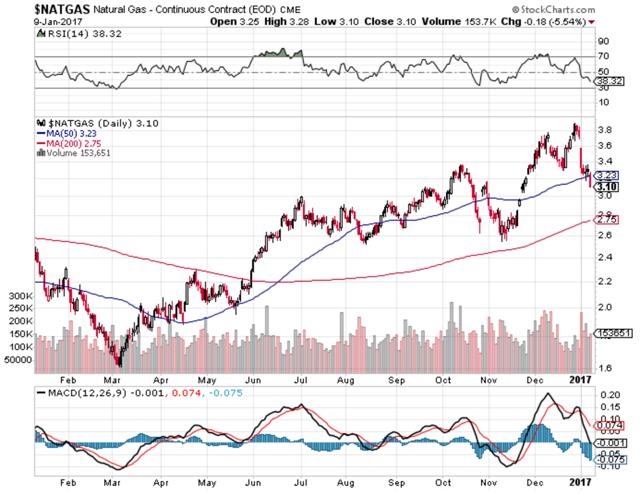 The latest sell-off is looking a bit extended based on RSI and MACD. The way we can tell if the bottom is coming soon is to see the MACD make a bottoming pattern similar to the one we saw in November. There's no need to rush in the long side here. I think we could be a few weeks away from a total bottom. (Yes, I know. HFI Research doesn't give timing opinions, so this is entirely my own personal view.) The uptrend however is still intact, so if it does make a bottom, it could be aiming for $4 next.
The entire energy complex also sold off today despite a much weaker Dollar. The consensus sell-side reports are overwhelmingly bullish USD, and I think that's an issue. I think the consensus will be in for another surprise when the dollar weakens this year.
Hope you thought my observations were interesting. I think the repositioning will continue for several weeks, and I'll be watching MACD closely to see when the bottoming pattern develops. All of the names we own remains in an uptrend, and the latest sell-off is just part of the correction process.
Disclosure: I am/we are long GENGF, BXE, AAV, PDPYF, BIREF, YGRAF, KELTF. I wrote this article myself, and it expresses my own opinions. I am not receiving compensation for it (other than from Seeking Alpha). I have no business relationship with any company whose stock is mentioned in this article.
Additional disclosure: Kelt, Yangarra, Gear, Painted Pony, Bellatrix, and Advantage all trade on the Canadian stock exchange.
Editor's Note: This article covers one or more microcap stocks. Please be aware of the risks associated with these stocks.