Over the past 6 months, I have bought a few telecom and telecom supplier stocks for my personal as well as my SRG (Storm-Resistant Growth) portfolios. Cisco (NASDAQ:CSCO) is a name that I like to buy whenever the stock dips or underperforms relative to the peer group, as it has recently. Ericsson (NASDAQ:ERIC) was my failed attempt at catching a falling knife only weeks ahead of the company's painful earnings pre-announcement. I bought Vodafone (NASDAQ:VOD) shortly after the Brexit vote, betting that the market's knee-jerk reaction had unduly discounted a great stock. Lastly, I gave in to Nokia (NYSE:NOK) and bought shares when I believed the stock's valuation did not properly reflect the fundamentals of and expectations for the business.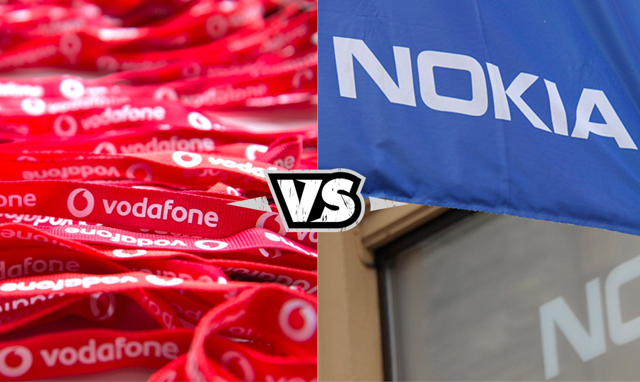 Credit: Fierce Wireless, PC World and ukmma.com
Now, I take a closer look at my portfolios to streamline my telecom-related holdings. While I will continue to own CSCO for the long haul (and I have recently cut ERIC loose), I ask myself: which European telecom stock should I keep, VOD or NOK?

Source: Google Finance
Let's start by looking at the investment theses and a few important metrics on each of the names.
Vodafone: compelling fundamentals at a rich multiple
The British giant had, and still has, in my view, one of the most compelling business models and fundamentals of all telecoms. It is still the largest mobile carrier in the Western hemisphere, with 446 million subscribers across 26 countries - trailing China Mobile, but ahead of Verizon (111 million mobile subscribers) and AT&T (110 million mobile subscribers) by a wide margin.

Source: DM Martins Research, using data from Yahoo Finance, Seeking Alpha and Zacks
Geographic diversification: unlike the U.S. carriers, Vodafone is very geographically diversified outside its home country, which makes the U.K. company less exposed to country-specific macro risks. Not only that, but being the #1 and #2 mobile carriers in growing markets like South Africa and India, respectively, offers Vodafone the opportunity to grow user base and revenues faster than its more domestic-centric peers.
Rich dividends: if you appreciate AT&T's 4.8% or Verizon's 4.4% dividend yield, you might love Vodafone's 5.3%. Although this yield trails that of European peer and "king of dividends" Telefonica (NYSE:TEF), at 7.4%, the U.K. carrier's lower debt levels (43% long-term debt/total capital vs. peer group's average 71.3%) and fairly comfortable dividend coverage from free cash flow of 82% last year (likely to improve going forward) could mean that the high dividend payments are better protected. Vodafone has been paying dividends since 1999 and growing the disbursements at a median pace of 7% over the 16-year period.
Bottoming out: Vodafone has turned a corner in terms of financial performance. Owning shares in a company that is riding a cyclical upswing can be very rewarding. Not only are Vodafone's top- and bottom-lines expected to improve in the future, its cash position is also likely to benefit from the wind down of capital expenditures associated with Project Spring.
BUT high multiples: despite the quality of the business, VOD is exposed to the risk of high valuation. As the table above suggests, the stock trades at a very rich forward P/E of 27.1x, a multiple that is unheard of in the telecom world - compare it to the peer group's average 13.4x. Expected growth, however, may justify the premium. On a one-year PEG basis, VOD trades at only 1.1x vs. the peer's 3.1x. So, if the company can maintain EPS growth at a healthy pace over the next 3-5 years (say, at a CAGR of 15%-20%, see graph below), the current stock price of $26.53 might prove to be very conservative.

Source: DM Martins Research, using data from Nasdaq released in 2016
Nokia: not that old smartphone company anymore
The Finnish telecom equipment and service provider has been undergoing a deep transformation. Those unfamiliar with the company might still think of Nokia as one of the dominant mobile phone manufacturers of the 2000-2010 decade. Today, the handset business is no more than a small brand-licensing venture that generates immaterial revenues from incipient device sales in Southeast Asia. The 2017 version of Nokia, instead, generates about 96% of its revenues from network equipment and services, and about 30% of its op profits from patent licensing.

Source: DM Martins Research, using data from Yahoo Finance, Seeking Alpha and Zacks
Strong balance sheet: as the table above suggests, Nokia has a very solid balance sheet to be able to not only remain afloat during the current downcycle (telecom clients have been very conservative on network equipment spending), but also to finance its transformation. Net cash as a percentage of capitalization is 22.5%, almost as high as the ultimate cash-king, Cisco. That's 2.5x more cash per share than Nokia's more troubled cousin, Ericsson. Long term debt as a percentage of total capital is a mere 17% - in line with Ericsson's metrics, but much better than the peer average 27.7%
Improved cash generation: I was pleased to see that, once outflows associated with restructuring start to taper off, FCF (free cash flow) is expected to turn clearly positive in 2018 vs. slightly positive in 2017. This trend bodes very well for the company, as it can continue to execute on initiatives like cash distribution to shareholders (including dividend growth), debt repayment, and strategic M&A activity - like the 2016 acquisition of personal health technology company Withings. The chart below shows how Nokia's projected €1 billion in dividend payments in 2017 would result in a robust yield of 3.8%, using today's stock price as the base.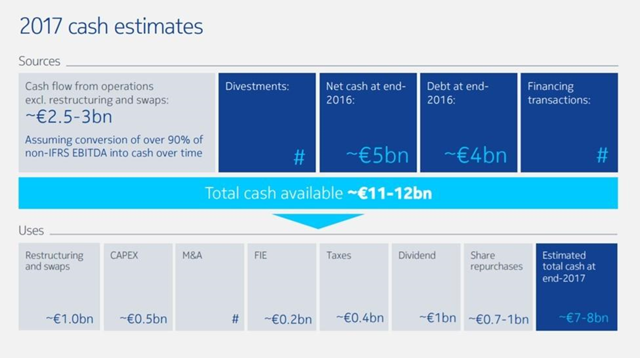 Source: Nokia's Capital Markets Day
Business model diversification: despite the shedding of non-core divisions (mapping business HERE, for example), Nokia is more diversified than many realize. I am not referring to the increased exposure to IP applications that the Alcatel-Lucent acquisition has brought about. Although only 4% of the company's 2016 YTD total revenues have been generated by the company's patents and brand licensing division (Nokia Technologies), this business has produced 34% of the company's non-IFRS operating profits during the same period. Continued softness in the network equipment business (see next bullet), therefore, might impact Nokia to a lesser extent than some of its competitors.
BUT headwinds in network business likely to persist: as I mentioned in a previous article, Nokia's largest business unit is still battling strong, storm-force headwinds that may take longer than just a couple of quarters to subside. As much as some bulls believe that a potential 5G upgrade cycle or that the mobile device licensing business might soon bring the company a new wave of prosperity, I continue to believe that top-line support is unlikely to be seen any time soon (revenues are expected to dip 2% next year). Bottom-line upside, on the other hand, is likely to come primarily from cost-cutting initiatives, as well as from Nokia's patent licensing business.
It's decision time!
I find both stocks, VOD and NOK, very similar in many aspects - from exposure to similar macro trends, to high earnings growth expectations, to balance sheet strength. I believe, however, that my portfolio should allow for only one of these two stocks in order to be properly balanced.
In your opinion, which stock would you keep in your portfolio: VOD or NOK?
Note from the author: I would like to invite you to follow me as I build a risk-diversified portfolio designed and back-tested to generate market-like returns with lower risk. I call it the Storm-Resistant Growth portfolio. The very early results have already exceeded my expectations. Take advantage of the 14-day free trial, and get immediate access to all the premium material that I have published recently.
Disclosure: I am/we are long CSCO, NOK, VOD.
I wrote this article myself, and it expresses my own opinions. I am not receiving compensation for it (other than from Seeking Alpha). I have no business relationship with any company whose stock is mentioned in this article.