Unfortunately, I believe I hit a bit of an OTC overdose over the Christmas holidays and did not manage to publish this bi-weekly in time as my backlog of in-depth research was getting larger and larger after the first month of looking into the OTC land.
I believe that I set up a system that will allow me to be a bit more systematic in the research and I will be able to continue to publish regularly.
Without further ado, here are three stocks that I found in the past three weeks or so and that I believe could lead to more interesting research. These might not result in an investment opportunity but I feel that if one looks at stocks properly in-depth he/she can always learn something new. Some of them are also dark and just caught my interest because of material information that I saw online (or did not in this week's case).
Before I dig in, I feel obliged to say; Caveat Emptor! Always do your own due diligence and do not take the following tickers as a solicitation to buy.
This is a peculiar holding company that operates three businesses. It produces pressure sensitive tapes, flooring and industrial rubber and fashion jewelry (K&M accessories). The company voluntarily delisted itself in 2012 in order to save costs. Until early last year, the stock did not do much and was trading in a stable range as seen below.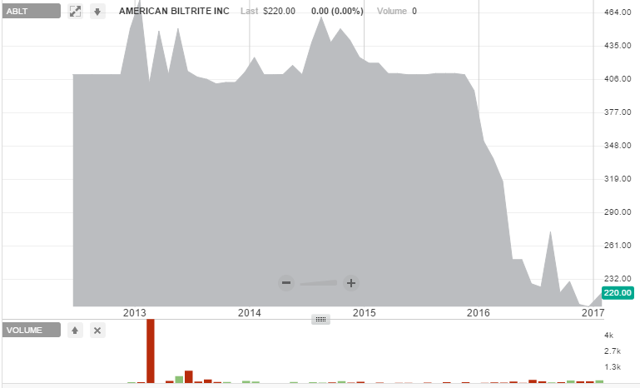 It plummeted though after this most likely because the company entered a loss for 2015 and given the company's working capital, which is short on cash, maybe investors are afraid that if the losses continue the company could have troubles with its finances. The company is also exposed to a significant portion (around $33 million) of legal liabilities connected to asbestos, which could further pose risks.
All that being said though I believe the situation might not be as dire as one could think. The company was profitable in the last quarter after what seemed like increased operational efficiency (expenses were lower) and while the litigation could become costly, the company also holds roughly $20 million of insurance on its balance sheet.
If one nets out this with the liabilities the company is currently trading below NCAV which might not be reasonable given the company's ability to be profitable (of course, sustainability of this is a different topic). The company also won several cases related to asbestos and thus it could be that the liability is not threatening the business's going concern.
Price: $220.00
Volume (30-day average): 12
Reporting: Grey (OTCmarkets.com)
I believe that owning GLPW comes with an interesting adrenaline rush. The reason for this is that this manufacturer of auxiliary equipment for power generation is still undergoing its restatement of financial accounts from 2014 and investors are currently left guessing what the value of the company could be.
The restatement is likely to mainly revolve around revenue and cost recognition and the management has noted that the process is a complex one and therefore they could not even file proper results for 2015 or 2016. They keep postponing the deadline for the release of the restatement. Currently, the company says that they should provide further update in middle of January. They did though showcase that the operations are ongoing and that they are likely able to finance them as well. Although employees seemed to be mainly disgruntled.
One further positive is that Nelson Obus is involved. His track record in small-cap and activist investing is not something to be taken lightly, and therefore, if he sees value in the stock, it is likely that there is something shareholders might benefit from. He also recently became a board member of GLPW.
The share price seemed to bottom in the last year at around $1.70 and appreciated nicely since then as seen below.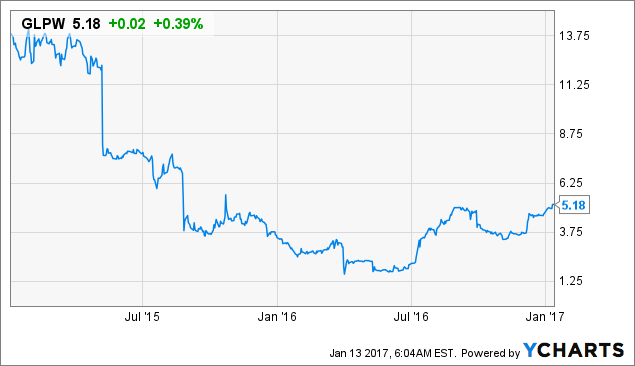 One has to remember that this might not be backed up by fundamental facts. That being said, the stock should be on the radar of investors as once the results do go out, it could present an opportunity.
Nick Bodnar has covered this stock in 2015.
Price: $5.16
Volume (30-Day Average): 59,743
Reporting: SEC - not current
It rarely happens that I come across a company that I can find almost nothing about. Even if the operations are discontinued and the company likely does even exist anymore there is something. A website, an article or a public data aggregator will help to determine what kind of company is behind the ticker.
This though was not the case with CHTM. It does not have a business description on OTCmarkets. It does not seem to have a website (chatham.com is active but that is the website for Chatham Inc. not Corporation). You can find the official company listing on sites like Bloomberg, but these only state nothing more than an address and a phone number. Google search does not yield much more information.
It does yield several lawsuits where an entity called Chatham Corporation was involved but this gives us only limited and possibly outdated information. According to this lawsuit from 2004 (regarding insurance), it is possible that CHTM is some sort of a holding company in various manufacturing niches. One could probably call the office and ask around for more information.
Why do I mention this when I can't find much? Well first of all, this lack of information creates natural opportunity and also if one looks at the share price, you can see that there is something going on.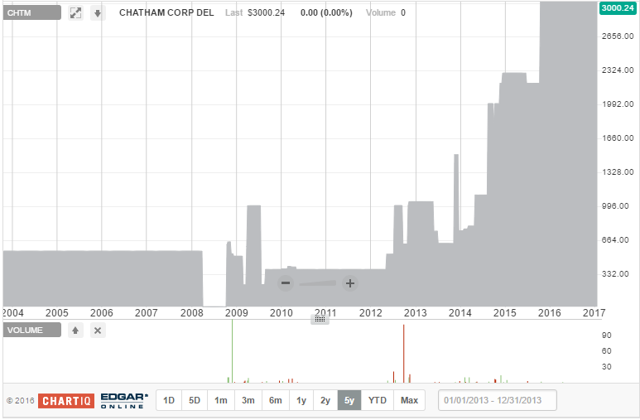 While the liquidity is probably non-existent, it could be interesting to try to get to know more.
Curiously enough, there is another OTC stock that could be potentially connected to Chatham and that is almost as challenging to research. Altair Corporation (OTCPK:ATCD) was likely owned by CHTM in at least 1989 according to this brief news piece. It could be that this continues to be true as several sources show that the companies share the same address.
I believe that again there is no website (altair.com is not connected to ATCD as that domain is owned by Altair Engineering Inc.) and only several lawsuits to gather information from. In the case of ATCD, I was though able to find two executives, likely focus of the business (printing products) and even a possible size of the corporation ($20 to $50 million in sales), but that still does not offer much.
It is rare to see such privacy nowadays and thus it could be interesting to try to dig up more.
Price: $2940.58
Volume (30-Day Average): 0
Reporting: Dark
And lastly here is the bi-weekly curiosity that might not be an investment opportunity, but might be worth hearing about. I decide to keep the spirit of hidden information in this report.
Sometimes management can be a bit secretive and do not like to disclose much, especially in the OTC land, but I think Vulcan is unique in that aspect. They actually require you to sign a non-disclosure agreement when you request their financial statements or want to talk to the company. This immediately shows potential opportunity as there is a natural barrier for investors to get to know about this idea.
This company was covered by Oddball not so long ago (end of 2015). Nate mentioned that it is likely that the company now consists of mainly investment holdings, which could be acquired through VULC at a significant discount. He did not sign the NDA but did do a significant amount of research on what was public about the company. Since the article the stock appreciated somewhat, but it could be that this hidden treasure is still worth much more.
Finally, as per 'usual', I would like to borrow few words from Thomas Braziel;
'Think about it - where are the truly undervalued securities? It is in the overlooked, deep dark reaches of the markets. The boomed out, the busted, the complex, and the convoluted.'
I would add: Are you wondering how to find them? Just research, research, research!
P.S. If anyone should diagnose themselves as a possible member of 'Anonymous OTC-holics' hit me up with a ticker that you do not have the time to look at or want to have a second pair of eyes on!
Disclosure: I/we have no positions in any stocks mentioned, and no plans to initiate any positions within the next 72 hours.
I wrote this article myself, and it expresses my own opinions. I am not receiving compensation for it (other than from Seeking Alpha). I have no business relationship with any company whose stock is mentioned in this article.
Editor's Note: This article discusses one or more securities that do not trade on a major U.S. exchange. Please be aware of the risks associated with these stocks.