CenturyLink Inc. (NYSE:CTL) is trying to offset a decline in its legacy consumer local and long-distance voice business in two ways: By acquiring network infrastructure and software businesses and by increasing its data, video and service businesses. While there's no doubt that paying for new business will increase the top line, investors remain skeptical of management's ability to execute on both its M&A and operating plans.
In October '16, CTL agreed to acquire Level 3 Communications, Inc. (NASDAQ:LVLT) for $33.5 billion by paying $26.50 per LVLT share in cash plus 1.4286 per LVLT share in CTL common stock. This is the largest acquisition in CTL's corporate history. CTL will effectively be purchasing LVLT at about 12.0x that company's LTM $2.8 billion Adjusted EBITDA. However, management expects to reap $975 million of synergies by Q3'18 ($850 million from operating cost synergies and $150 million from capex synergies) - and success in achieving those synergies would lower the pro forma acquisition multiple to 8.9x.
If you incorporate management's run-rate synergies, it leaves net leverage on the combined company back down at 3.7x instead of 4.1x. The LVLT deal is expected to close after an FCC review in April and no later than September. Should CTL walk away, it will be obliged to pay LVLT a $737.5 million termination fee. If LVLT terminates, it will owe CTL $471.5 million.
In November, CTL agreed to sell a data center and collection business for $2.15 billion to a private equity group including affiliates of Longview Asset Management, BC Partners and Medina Capital Advisors. Proceeds will be used to pay for the LVLT acquisition.
If the LVLT transaction and its funding wasn't enough to contend with, CTL also agreed this past week to acquire SEAL Consulting, Inc., an IT company which specializes in applying SAP software solutions for businesses - "We make SAP Simple," according to the SEAL website. No terms were disclosed but the median Enterprise Value/EBITDA multiple for public computer and service software companies with more than $250 million market cap is about 18x.

See graph below of CTL's bond, preferred, and common stock prices. The securities markets have given a mostly negative response so far to CTL's deal-making regardless of the logic, discussed further below, or the promised synergies. Its bonds and common stock prices declined, moved up briefly post announcement of the LVLT transaction in October only to sink far more in November. They stabilized at lower levels through December, improved modestly on the SEAL transaction news in early January and have been retracing back down since:

As you can tell from just looking at its common stock price history, CTL hasn't made much progress over the past year. The same can be said for the past 5 years. From the end of 2011 through the end of 2016, CTL common has seen a price decline of 36%. Throw in the quarterly dividend payments ($0.54 per share with an LTM dividend yield of 8.56%) and the total return for the 5-year period is -9.57%. If you've been a CTL equity holder, it's like losing 2.0% a year on your money while the rest of the S&P 500 gained 14.6%.
CTL management boasts about its success with two previous major acquisitions - Qwest Communications ($22.2 billion price tag, completed April 2011) and Embarq ($12.6 billion, July 2009). LVLT management makes a better claim that it was effective executing on its acquisitions of tw telecom for $7.2 billion in November 2014 and Global Crossing for $2.5 billion in October 2011 - LVLT common over the past 5 years is up 232%, or about 27% per year.
How did CTL equity end up performing so poorly both relative to a target company like LVLT and the broader securities market? See CTL Summary Financial Information table below. It shows recent quarterly and LTM results. One way to drop 2.0% of equity value per year is to slowly lose revenue, EBITDA, margin, and cash flow each quarter. Even if a company like CTL is still generating, say, positive $2 billion of free cash flow annually, equity investors will still focus on whether the value of the business is increasing. In order to generate an Enterprise Value to Adjusted EBITDA multiple higher than 5.1x (as seen in Q3'16):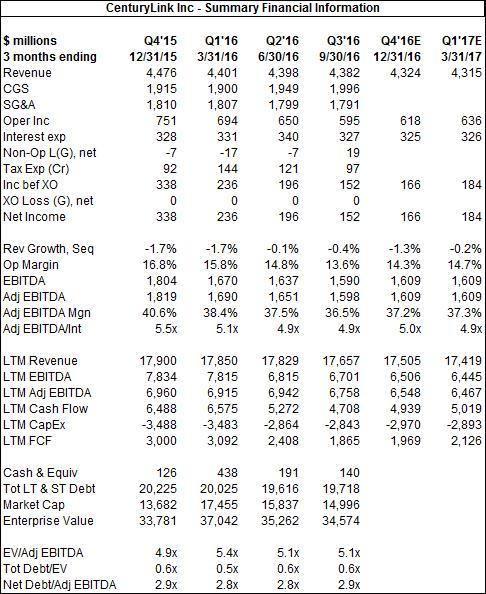 See Comparable Valuation Multiples table below. CTL will need to show organic revenue increases. That's not happened so far and at 5.0x, its equity valuation has sunk to a distressed level, about half the 10.7x average EBITDA multiple valuation for US wireline peers.
In fact, the stock at its recent trade price of $25 per share is trading at a 57% discount to the average blended forward P/E multiple for comparable US telecom companies. Analysts looking at the Company haven't been sympathetic, in part because much of the research work on CTL looks back instead of forward and fails to grasp changes due to occur once the LVLT purchase is completed later this year: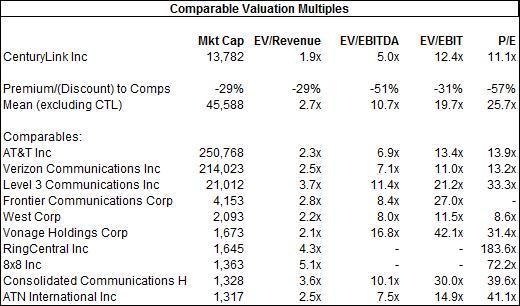 Given the transformative nature of the LVLT deal, it's worth asking whether the pro forma combined company deserves a higher valuation multiple. But that requires a deeper look at how its business prospects shape up. And those changes are significant, operationally and financially. Just to give some orders of magnitude, post completion, pro forma FY'17 revenue will increase 48% (to $25.6 billion) and pro forma FY'17 EBITDA by 46% (to $9.3 billion before synergies, $11 billion with synergies).
From a cash flow perspective. the deal will accelerate the use of nearly $10 billion of LVLT NOLs. However, from an equity perspective, even as it lowers the dividend payout ratio, the deal will be highly dilutive to CTL shareholders. At recent prices for CTL common, 58% of the consideration paid to LVLT shareholders will be in the form of CTL common stock.
The acquiring shareholders will own 51% of the combined company. CTL will still need at least $9.5 billion of debt to close the transaction - which is why the Company is arranging with its lenders to syndicate LVLT acquisition financing of at least $10.2 billion (an $8.2 billion term loan and $2.0 billion revolving credit facility).
How critical are those $975 million in synergies in helping reach the pro forma $11 billion EBITDA figure? Quite critical. Take a look below at the CTL/LVLT Combined Pro Forma 12-month periods - this table excludes those synergies and shows what a merged entity would have looked like using the past four quarters and estimates for Q4'16 and Q1'17. CTL's quarterly top line has been slowly declining while LVLT's is more or less flat. Result: Slightly slower combined revenue declines.
CTL's LTM Adjusted EBITDA margin is 38.3% versus 34.4% at LVLT for the LTM period through Q3'16. But CTL's margin has been declining quarter over quarter while LVLT's has been increasing. Result: A slowly increasing margin at a lower overall level of 37.1% for the combined entity which is then expected to slowly decline between Q4'16 and Q1'17. In other words, without the $850 million of operating cost synergies management hopes to achieve, there's not much improvement taking place: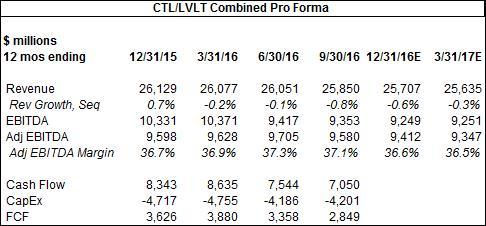 Why is CTL seeing both top line and margin deterioration? See CTL Segment Information table below. CTL's strategic services revenue is the larger segment of its top line than legacy services (46% vs. 43%), and the strategic services revenue has been declining. But that masks the answer to the question. Looked at by distribution channel, business markets revenue dominates consumer revenue (59% vs. 34%). However, the distribution channel breakdown makes it clear that legacy services in one segment are behaving differently than legacy services in the other - and the label legacy services shouldn't be misread as funeral services.
Legacy services for business include the sale of unbundled network elements (or "UNEs"), which allow wholesale customers to use all or part of CTL's network to provide voice and data services to their customers, private line (including special access), switched access and other ancillary services. And, unlike the legacy local and long distance voice services for consumers, CTL's legacy services for business customers have grown over the past year, not declined.
However, the loss of consumer distribution channel legacy service revenue is more painful since operating margins in that segment (55.4% in Q3'16) remain significantly higher than operating margins in the business markets segment (40.8% in Q3'16):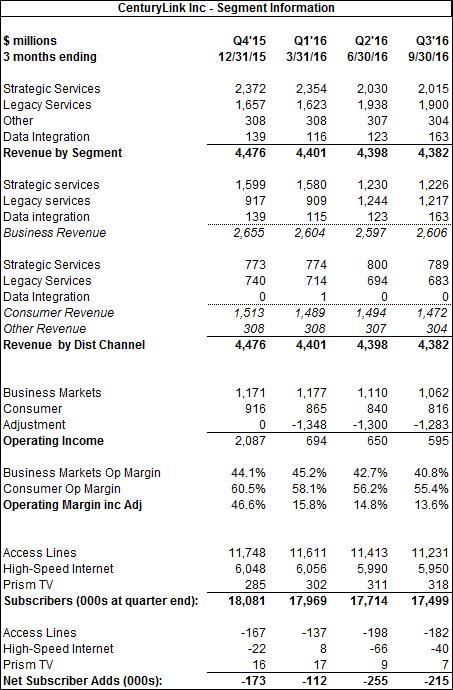 For CTL, the main attraction of merging with LVLT is that it allows the Company to deliver "the fastest, most reliable broadband network" to its customers. That means business customers because the deal skews its results much more toward business revenue generation. Combined business revenue of $19 billion is expected to be 76% of the $26 billion pro forma top line (versus 59% of CTL's LTM revenue). LVLT increases CTL's network by 200,000 route miles of fiber, which includes 64,000 route miles in more than 350 metropolitan areas and 33,000 sub-sea fiber route miles connecting multiple continents.
The number of buildings that will be on-network will increase by almost 75% to about 75,000. That figure includes 10,000 on-net buildings located in EMEA and Latin American countries, which provides geographical diversification. The combined company will be second only to AT&T (NYSE:T) in serving global enterprise customers.
Is the increase in business revenue enough to markedly increase the combined company's valuation? That happens if the valuation multiple can go up on something other than combined size or even the $975 million in synergies. There is some evidence that will happen beyond what's in management's merger presentation. It's not just business revenue that's being combined - it's the number and type of business relationships. For example, CTL's top business clients include companies like Ingram Micro (NYSE:IM), easyJet (OTCQX:ESYJY), and NetSuite (NYSE:N), but none of these accounts for even 1% of revenue (Ingram Micro is 0.7%).
LVLT's business clients are a bit more concentrated: Verizon (NYSE:VZ) is 3.9% of its top line, T accounts for 3.4%, and Alphabet (NASDAQ:GOOG) (NASDAQ:GOOGL) another 2.4%. Translation: The merger could help CTL become more important to large multi-national clients that LVLT handles, and in turn, provide a much bigger list of CTL business relationships that can be used to sell broadband network services.
We can't yet know what impact closing the SEAL Consulting deal will have on the Company but it's likely to add to CTL's business revenue generation percentage. If I am correct that CTL common could be in line for multiple expansion after closing the LVLT transaction because the number and quality of the combined company's business relationships markedly improves the top line, then it behooves investors to take a second look at the CTL common stock given its deep valuation discount versus competitors, particularly the multiples attached to its largest ILEC, CLEC and ISP competitors. Those competitors tend to derive no more than 15-20% of their revenue from business customers.
What about the loans, bonds, or preferred stock of CTL? These face a bit more than a one turn increase in leverage from 2.8x to 4.1x in the near term, not that much considering the near doubling in size of the Company. While that's placed the bond ratings on Watch Negative at both Moody's and S&P, it might not be all bad for the CTL senior notes if they benefit from an improvement in the stock price. Some do.
The fixed income instruments within the CTL capital structure run from negligible to highly correlated with the CTL common stock as you move from loans to shorter maturity bonds to longer maturity bonds and then down in ranking to the preferred. Here's a brief summary:
Over the past 6 months, the end of day price correlation (r-squared) between the CTL common stock and the first lien CTL L+175 basis points Term Loans due '19 is 17%. The fixed equivalent yield on that $440 million loan is only 3.32% at a quoted price of 99.31% of par. The correlation is nearly zero for the most widely traded bond, the CTL 7½ Senior Notes due '24 that are trading at a 105 premium and yield 6.58%. That's still a Z-spread of +450 basis points (decent for anyone managing shorter tenors).
The correlation is significant with the CTL 6 ⅞ Senior Notes due '28 at 46% and the yield is significant too - 8.09% at the last print price of 91.25. Correlation with the 7.65 Senior Notes due '42 - the longest tenor of CTL's bonds - jumps up to 74%. The notes due '42 yield 8.65% at 89.75. The graph below shows the recent Z-spread histories for the CTL 7½ Senior Notes due '24 and the 7.65 Senior Notes due '42.
Bond investors have picked up 174 basis points on average going out of the '24s and into the '42s and you can pick up just a bit more than that at the last print prices. Since the '42s are much more likely to benefit from any improvement in CTL's equity valuation, I'd rather be in the longer tenors:

And the preferred stock? The correlation between the 6½ Preferred (CTBB) is 63%, high but not as high as what we are observing with respect to the CTL 7.65 Senior Notes due '42. Issued by Qwest Corp. in August 2016, the CTBB $25 par preferred stock pays quarterly dividends and at recent pricing around $24.53, provides a current strip yield of 6.67%. Given the higher correlation between the long tenor 7.65 Senior Notes and the CTL common in conjunction with their higher yield and discount pricing, I'd rather be in the bonds than those preferred.
How about the loans and bonds within the LVLT debt complex? These have long since felt the impact of the pending merger transaction. The first lien LVLT L+300 B III Term Loans due '22 are Ba1/BBB- rated and quoted at a 101.44 premium to par, implying a fixed income equivalent yield of 3.93%. LVLT has 16 different bond CUSIPs but just 5 of them trade regularly.
Of these, only one presently trades at a discount to par - the Level 3 Financing Inc. LVLT 5¼ Senior Notes due '24, rated B1/BB-. At 99.83 they yield just a few basis points more than their coupon. Net-net, you will not find much upside in the LVLT bonds as they are already priced higher than their 101 change of control puts in most cases.
Disclosure: I/we have no positions in any stocks mentioned, and no plans to initiate any positions within the next 72 hours.
I wrote this article myself, and it expresses my own opinions. I am not receiving compensation for it (other than from Seeking Alpha). I have no business relationship with any company whose stock is mentioned in this article.