China's oil (NYSEARCA:USO) production is set to fall again in 2017 after a dismal year in 2016. Capex cuts and low oil prices force the Chinese oil majors to focus on profits over volume. China's oil production averaged 4 million b/d in 2016, but is set to average just 3.7 million b/d in 2017.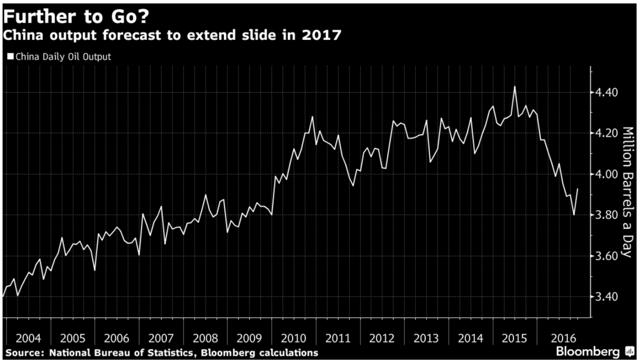 Wood Mackenzie's director of Asia-Pacific upstream, Angus Rodger, estimates that China's oil production will fall slowly to 3.5 million b/d in 2020. That's a drop of 700k b/d from 2015 level. Low oil prices continue to plague the second largest oil consuming nation in the world, and its domestic production decline is another reason why we are seeing record crude imports into China.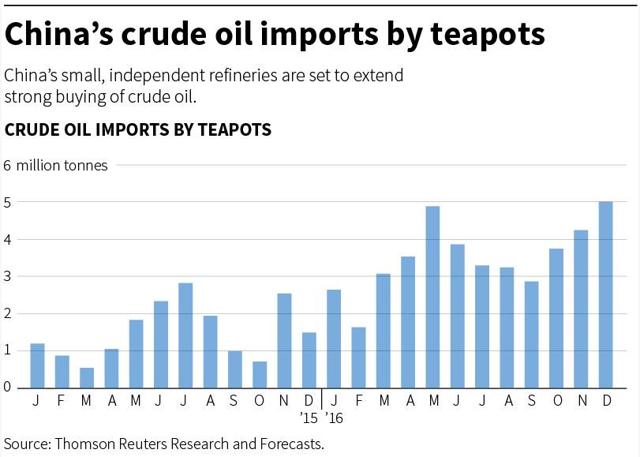 The timing of the production decline shouldn't be a surprise to anyone. Low oil prices cure low oil prices, and high cost producers like China will continue to struggle with the current oil price environment. The timing of the decline also comes on the back of OPEC cutting oil production in an effort to speed up the rebalancing. According to Thomson Reuters estimates for Middle-Eastern crude exports, we have seen a leg lower in exports already.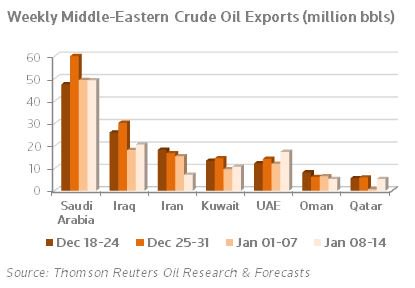 We will soon start seeing the export cuts affect across global onshore storage. Japan's onshore storage has been in decline non-stop for the last 12 weeks, and this is only the beginning. Global storage has been in decline since March last year, and US's storage will see similar counter-seasonal draw conditions over the next several months.
What's evident now is that the countries that can't sustain its oil production at current prices will help accelerate the rebalancing process. Our view is that the market is already in balance without the OPEC supply cut, but the reduction in exports will only accelerate storage draws.
If you are interested in reading our daily oil markets commentary, you can sign up here.
Disclosure: I/we have no positions in any stocks mentioned, and no plans to initiate any positions within the next 72 hours.
I wrote this article myself, and it expresses my own opinions. I am not receiving compensation for it (other than from Seeking Alpha). I have no business relationship with any company whose stock is mentioned in this article.