Lululemon (NASDAQ:LULU) successfully quieted critics like myself who questioned the company's ability to grow sales in Q4, upping its guidance range at the ICR Conference to revenue of $775-785 million (vs. $765-785 million) and boosting its EPS guidance to $0.99-1.01 from $0.96-1.01. The market reacted positively to this news after pricing in an earnings miss, but I believe the fundamental factors that make Lululemon overvalued remain intact. Optimal timing and opportunistic options pricing fundamentally drive short positions. I believe shares are worth $54, but my previous short catalyst, poor Q4 earnings, is no longer valid. Let's take a look at how information learned at ICR will inform a short strategy.
Overall guidance not an increase; 2017 could be weak
I was a bit surprised at the market's positive reception to Lululemon's guidance update. The firm did not raise its guidance; it simply increased the lower ends of its guidance range. We learned virtually nothing about the quarter except that online and in-store sales were both key drivers. It is certainly possible that discounting was less of a concern, but we will not be able to discern this insight until mid-March. The good news is that the earnings guidance revision was not based on anything non-operational like a lower tax rate or share buybacks.
Interestingly, Lululemon boosted the high-end of its comp and earnings guidance range at ICR for fiscal years 2014 and 2015 after slashing guidance for fiscal year 2013.
Knowing that Lululemon is going to post results roughly in-line with consensus given the new range, a slight beat or in-line earnings will probably not cause a great change in the stock price if it remains in the high-$60 / low-$70 range. Any major share price movement will likely be driven by guidance. Because Lululemon has demonstrated a clear preference for sandbagging Q4 guidance to allow for an upward revision at ICR, I think guidance, particularly for early 2017, could be poor. I believe Lululemon may be carrying too much seasonal inventory that will need to be cleared early in Q1'17.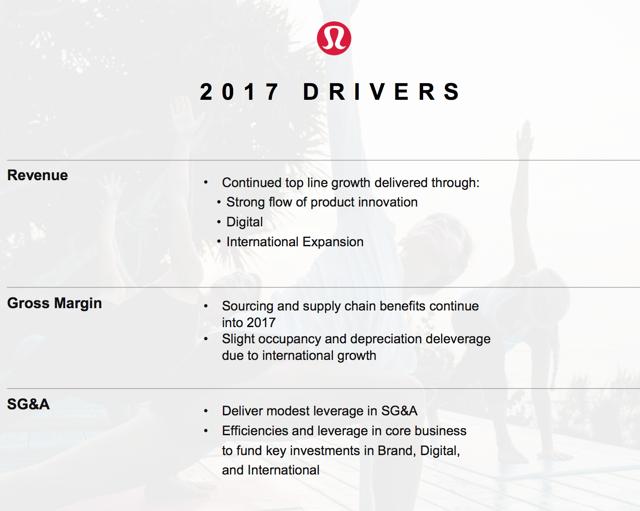 Source: LULU ICR Deck
Lululemon's ICR commentary about 2017 was rather ambiguous. Growth is not predicated on store openings in existing markets, suggesting door opening growth will be constrained. As I've noted previously, I am not a huge believer in international expansion, particularly as Lululemon will not have the same meaningful first mover advantage against Nike (NYSE:NKE), Under Armour (NYSE:UA), and adidas (OTCQX:ADDYY) in foreign markets that it had in the United States, Canada, and ANZ. A bet against Lululemon in 2017 is a bet against international growth -a bet I am wiling to make.
How I will structure my position
My initial position was long the $65 strike March 17, 2017 puts. I quickly made 50%, but the stock moved against me in 2017, so I closed out my position at a loss of roughly 40%. Because of the cost of shorting for a small investor like myself is so high, timing is paramount. I will likely monitor Lululemon daily and enter a small out-of-the money put position in the March 17, 2017 puts if the stock moves above $75. I think the stock is priced absurdly high at that level, creating a good chance for a downward move outside of a massive upside guidance surprise.
Lululemon's March earnings announcement remains the pivotal catalyst, though, as I noted, the key variable is guidance. A poor guide will create a downward share price catalyst. What if guidance is strong? I would use strong guidance to set-up another short opportunity based on a slightly longer duration put option targeting the Q3 earnings announcement as a key date. I may even stratify my position with March puts and November puts.
Regardless, the key factor to remember is that Lululemon simply narrowed its guidance range-it did not increase it. There are no new fundamental facts to disqualify poor international expansion progress; we simply know that the company is unlikely to disappoint with its Q4 earnings.
Disclosure: I am/we are long UA.
I wrote this article myself, and it expresses my own opinions. I am not receiving compensation for it (other than from Seeking Alpha). I have no business relationship with any company whose stock is mentioned in this article.
Additional disclosure: I may enter LULU put positions at any time