Ross Stores (NASDAQ:ROST) has been crushing their peers all year and we'd expect nothing different in Q4. Our estimates are above the Street for earnings but we'd still need a pullback to hit our required return threshold.
Ross Crushing It On Comps
| | | | | | |
| --- | --- | --- | --- | --- | --- |
| | Q315 | Q415 | Q116 | Q216 | Q316 |
| | Oct-15 | Jan-16 | Apr-16 | Jul-16 | Oct-16 |
| | | | | | |
| SSS (%) | 3.00% | 4.00% | 2.00% | 4.00% | 7.00% |
| 2 Year | 7.00% | 10.00% | 7.00% | 8.00% | 10.00% |
Same-store sales last quarter were 7%. The two-year is tracking at 10%. The "two-year stack" is a quick retail tool to tell us what is the underlying trend. Last year's Q3 was 3% and this year's was 7%. 3% plus 7% = 10% 2-year stack.
Taking that 2-year stack trend into Q4 would give us a 6% expectation (10% 2-year stack minus last year's 4%).
A 6% would be a huge comp especially when compared to their department store peers comping nicely negative. Ross is lumped in with department stores even though they are an off-pricer because the customer compares prices between the two formats.
It should be that when department stores do poorly, off-pricers should also do poorly. Why? Because off-pricers are just that, selling off-price. If department stores have weak sales, they mark down goods, which narrows the price gap to off-pricers. That should typically hurt off-pricers. Not Ross. They have been unscathed.
It's possible that in Q4 competitive markdowns could affect them. But we think that if the customer shopped at Ross all year, they'll continue in holiday.
Share gainers in apparel have been off-price and Amazon (NASDAQ:AMZN). They've both been gaining share from department stores because customers know they'll consistently get lower prices. The continued fall off in reported department store sales in Q4 is probably a sign that this trend continued.
Department Store Weakness Benefits Ross: Pack-Away
Pack-away is a key component of Ross Store's inventory. When full-price retailers miss their sales plan, they are stuck with excess inventory. The retailer then tries to send it back to the manufacturer.
Ross Stores then comes along and offers very low prices to take it off their hands. Ross then packs it away (thus the term pack-away) for next year's season.
That is Ross Stores' main inventory strategy. In years like this where many retailers missed their sales plan Ross is going to have more opportunity to find great product for next year. The worse retailers do, the cheaper Ross can get those goods. That makes their product offering look better next year attracting consumers. That also helps their profit margins since they bought at cheap prices.
This fourth quarter should be a huge opportunity that can drive pack-away as department stores missed plan. Ultimately, that drives sales and margins, which will help the stock further out.
No New DCs
In Ross Stores' growth story, they built up multiple distribution centers ("DC"). When a new DC launches, it has fixed expense without the profit of the goods flowing through it. It takes time to reach a leverage point where the goods that flow through it pay for the added fixed DC expense.
They've needed a new DC in their expansion every year or two.
Ross currently does not need a new DC for several years. That should allow them a period of extra profit margin leverage over their fixed infrastructure. By not needing to add a new DC, they will not have the added unleveraged fixed expense that comes with a new DC. That makes their overall profitability potential over the next few years look even better than the last few years, which can drive the valuation.
Chart And Valuation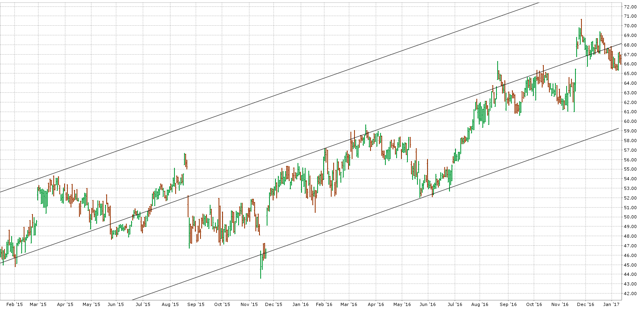 Source: Interactive Brokers
The stock has been in a nice uptrend.
The historic P/E has been in the range of 17-25X.
We think 21-22X is a fair value.
The Street is at $3.19 for this coming year versus our $3.32.
21-22x $3.32 = $70-$73 target 12 months out.
For us to have 20% upside, we'd need a price between $56-$58.
That forces us to wait even though the story is solid.
Conclusion
Ross has been doing amazing especially when compared to their arch rival department stores. Comps were stand-out in Q3 and can likely continue into Q4, which can drive earnings upside. We still would need a pullback to reach our 20% return threshold.
PRO TRADER
Real time, signals, coaching, direction, analysis on the stock market, stocks, gold, oil, bonds, currencies, indexes and more.

Work with a seasoned hedge fund Pro.

Click here for a free trial of Elazar's Pro Trader service on Seeking Alpha.
If you want Elazar's analysis on Seeking Alpha, scroll to the top of the article and hit "Follow." Elazar also writes real-time pieces as news is reported. If you want to be among the first updated check the box for "Real-time alerts on this author" under "Follow."
Disclaimer: Portions of this article may have been issued in advance to premium subscribers. All investments have many risks and can lose principal in the short and long term. This article is for information purposes only. By reading this you agree, understand and accept that you take upon yourself all responsibility for all of your investment decisions and to do your own work and hold Elazar Advisors, LLC and their related parties harmless. Any trading strategy can lose money and any investor should understand the risks.
Disclosure: I/we have no positions in any stocks mentioned, and no plans to initiate any positions within the next 72 hours.
I wrote this article myself, and it expresses my own opinions. I am not receiving compensation for it (other than from Seeking Alpha). I have no business relationship with any company whose stock is mentioned in this article.