The recent bidding in the US Treasuries market prompted a lot of investors to call for the premature end of the new bond bear market. However, the drop in 10-year yields to 2.4% from their recent peak of 2.6% seems most certainly to be a reflection of the new hyper-volatile macro environment for bonds (NYSEARCA:GOVT), rather than a terminating signal of their bear market of the last six months. Some analysts have also argued that the historically high short positioning on US Treasury futures contracts is a harbinger of the resurgence of the multi-decade bull market in bonds. However, this extreme bearish positioning of bond traders looks more like a solid proof of the new hyper-volatile era of bond prices, where more extreme market bets and reactions to these bets will dominate price action, and less like a contrarian indication in favor of a resurgent bond bull market.
This does not mean, however, that some additional drop in yields won't be in the short-term menu of markets, as a way to balance out the extreme short positioning of bond investors. Such a drop, though, will offer another opportunity to investors who haven't trimmed their long duration positions in government bonds or did not have the chance to initiate short positions earlier in this bond bear cycle, to do so. A potential retracement of the 10-year towards the area between 2.2% and 2.1% seems plausible. The bond bear fell temporarily asleep. However, this might prove to be one of the rare opportunities to ride the train towards the medium-term goal of testing the 3% secular resistance area of the 10-year Treasury yield (NYSEARCA:TBT), further down the line. Investors should be careful to not misjudge increased volatility for a reversal in bond trends. This distinction will become more evident if we consider what drove long-term bond yields up to current levels and what lies ahead.
Global Macro Backdrop
US Treasuries, especially in the long end of the curve (NYSEARCA:TLT), are driven by domestic as well as global cyclical macro trends. These trends, which fueled the surge in long-term bond yields since last summer, comprise two elements. The element which came first was a spontaneous acceleration of the global business cycle, and the element which was added later in the mix was expectations about a coordinated fiscal stimulative policy in major debtor nations and China. The confluence of these two forces after the US elections resulted in extending the 10-year yield's rally to as high as 2.6% in late 2016, and in driving bond traders to build the highest short positions in bond futures ever.
Such an extreme positioning of the bears, though, had to correct itself along the way, fueling a pullback of the 10-year yield. This correction, which is still in full force, began after bond markets completed pricing in the intent of policy makers to drag the world into a new fiscal policy era which will release monetary authorities from their excessive burden to save the world economy alone. This initial intent of policy makers, however, needs to be followed by fast, balanced, and efficiently implemented policy action. Also, this policy action must be as synchronized as possible among the nations involved in order to gain traction at a truly global scale. This means that it is not only the US President-elect who is under bond market scrutiny, but also China with its announced half-a trillion dollar infrastructure plan, and the UK with its targeted infrastructure spending to counteract Brexit repercussions.
This is a global policy system with many moving parts and pieces, all of which need to be constantly aligned towards the same direction and goal: to stimulate the global business cycle. Until the time comes that bond markets start witnessing some tangible action on the quality of policy design, long-term Treasury yields will be dictated by the self-enforcing ability of the business cycle.
Almost all major macro releases in advanced economies and China (NYSEARCA:FXI) have confirmed a steadily strengthening global business cycle. Many advanced economies such as the US (NYSEARCA:SPY), UK (NYSEARCA:EWU), Germany(NYSEARCA:EWG), France(NYSEARCA:EWQ), and China among others, have announced economic activity indicators and inflation indices which have repeatedly beaten consensus expectations in the last few months. The latest such macro surprise comes from Singapore (NYSEARCA:EWS). Its non-oil exports managed to surpass consensus expectations in December for a second month in a row. Singapore witnesses a strengthening demand for its goods and services, which is mainly originating from the Asia Pacific, since this is the destination which absorbs around three quarters of its total exports. The high diversity of its exports across Asia Pacific reflects broad based demand and it offers critical support to the reflationary scenario.
Apart from the macro data, financial markets provide their own verification of this unexpected macro resilience with their uninterrupted bullish patterns. Among these markets, the Baltic Dry Index, a gauge of the cost of shipping basic dry commodities across the world, keeps a prominent position in underpinning current global dynamics. The Baltic Dry Index, after following a year-long uptrend, exhibited some mild corrective move to the 900 area from its 1,250+ highs reached in late-2016. Despite this correction, though, the index holds above its upward trendline, which characterizes the freight market since early 2016, and this proves resilience in the real economy.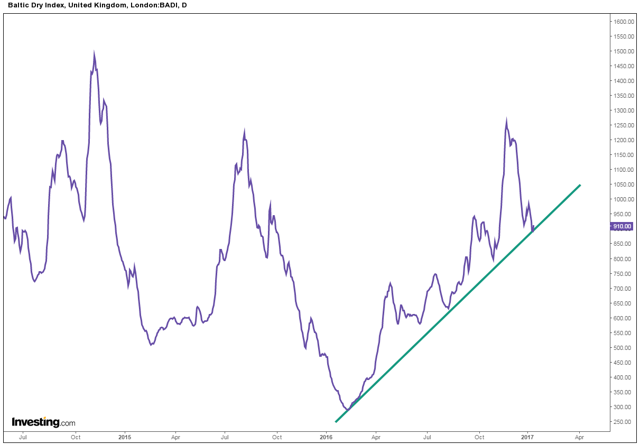 Source: investing.com
Recently, the foreign exchange market joined forces with the shipping and the commodity markets in pinpointing an accelerated business cycle. The Australian dollar (NYSEARCA:FXA), a typically pro-growth currency, is rebounding strongly from its support around 71.5 cents and is headed towards 78 cents, the upper bound of its yearly trading zone. This development brings the Aussie market closer to the bullish signals that preceded in the copper (NYSEARCA:JJC) and iron-ore markets. An even more important milestone will be the potential breakout of this long-lasting sideways fluctuation zone of the Aussie dollar above the 78 cents threshold. Should that occur, the next upward leg in US as well as global bond yields will be ready to commence. Given all these underlying macro forces which generally support the bond bear market, where will the 10-year yield land in order to complete its current correction wave? A close look at the technical backdrop will provide the answer.
Technical Assessment
Technical indications point to the area between 2.20% and 2.10% as the most probable level of exhaustion of the bond short covering trade, i.e., the forced unwinding of the massive short positions of traders accumulated during the last few months. This area of the 10-year yield correction is signified by the 38.2% Fibonacci retracement level of the six-month upswing in yields, and by the downward trendline (trendline B) of the last seven years. Any correction in 10-year yields significantly below this area would signify that at least one or both of the global macro forces underpinning fixed income markets have significantly been disrupted, turning the game in favor of the bond bulls.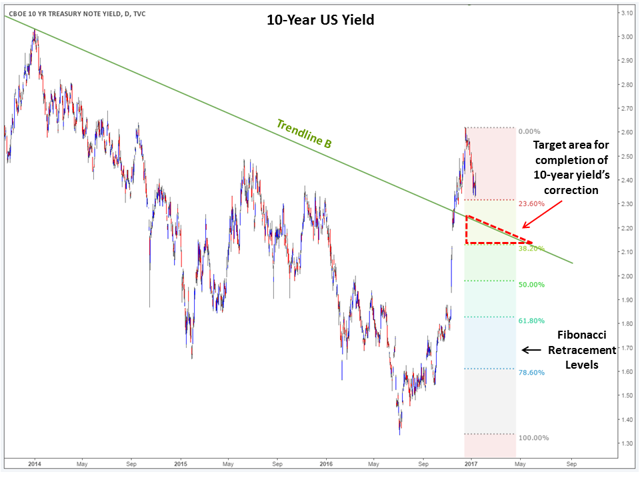 Source: tradingview.com
However, we are still far from witnessing such a bullish shift in government bond market dynamics, and all underlying macro forces still point towards a temporary, rather than permanent, "soft-landing" in long-term yields. This downward swing in long-term yields will be just one of many unusually sizeable and swift yield swings, since all indications suggest that the world has entered into a new era of hyper-volatile interest rate markets. The US Treasury market still faces one of its biggest policy-induced bear threats in decades, but under an increasingly bumpy environment of realization of such threats.
The attempt of the advanced economies' central banks to suppress financial volatility, through the excessive printing of money, has already turned their efforts on their head, dragging one market after the other in an abnormal volatility situation. In such a setup, extreme speculative positioning in markets should be taken with a grain a salt and be interpreted in a counterintuitive way. The stakes are big, the biggest in decades in fact, for the bond bears as well as the bond bulls and this will definitely produce polarization in the markets. However, the state of the underlying macro dynamics will continue to play the dominant role in determining the ultimate direction of long-term bond yields. Bond traders and investors should get prepared for more turbulence but keep a close eye on the real economy. This will have the final say, after all.
Disclosure: I/we have no positions in any stocks mentioned, and no plans to initiate any positions within the next 72 hours.
I wrote this article myself, and it expresses my own opinions. I am not receiving compensation for it (other than from Seeking Alpha). I have no business relationship with any company whose stock is mentioned in this article.
Additional disclosure: The views expressed in this article are solely those of the author, provided for informative purposes only and in no case constitute investment advice.