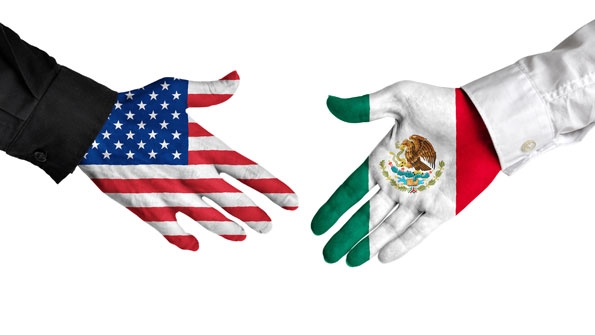 Source: Google Images
Based upon President-elect Donald Trump's trade policy rhetoric, it is anticipated that the new Trump administration will look to change trade agreements and/or policies. This potentially impacts any country in the world that currently has a trade agreement with the U.S. For Kansas City Southern (NYSE:KSU), the primary focus is on the North America Free Trade Agreement (NAFTA).
NAFTA has been a trade agreement between the U.S., Mexico and Canada that has led to strong increases for imported and exported trade between all three countries. This growth in trade has naturally led to an increase in economy, spurred by job growth. For the U.S., this has meant millions of jobs created.
Directly for Kansas City Southern, every item imported and exported across the U.S.-Mexico border has been transported through U.S. jobs. As we know, all jobs are not equal. The debate surrounding the existing trade relationships between the U.S., Mexico and Canada is centered upon jobs related to the manufacturing of goods, mostly durable goods for that matter as the automotive industry has been called out.
The automotive industry is an area where foreign direct investment into Mexico has been expected to increase strongly over the next few years. Both Audi (OTCPK:AUDVF) and BMW (OTCPK:BMWYY) have been the most recent to open and begin construction of new plants in Mexico. So, capacity is growing irrespective of Mr. Trump's perceived win with Ford Motor Company's (NYSE:F) cancellation of its new plant.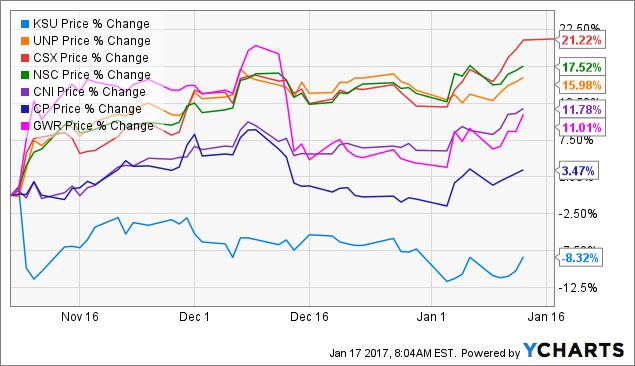 There has been a strong deviation in stock price performance since November 7, 2016 between Kansas City Southern and its rail peers. This has been a direct result from negative perceptions and speculation based upon Mr. Trump's NAFTA policy rhetoric.
After digesting what we know, and thinking about the next steps once Mr. Trump takes office, there are opportunities for owning Kansas City Southern over the long term. Kansas City Southern's management has attempted to provide their perspective on NAFTA and recently, the company's Chief Executive Officer (CEO), Patrick Ottensmeyer has assumed the leadership role for the U.S.-Mexico strategic trade initiatives working group.
If Mr. Trump does begin to implement a major construction project to begin building "the wall" as he has said this year, and Obamacare is rescinded as promised immediately, there will be a little bit of time prior to negotiations on NAFTA.
Mr. Ottensmeyer's role in this working group is in direct unison with the U.S.-Mexico Leadership Initiative (USMLI) CEO Dialogue. The CEO Dialogue is a bilateral private sector forum that seeks to engage on key economic and trade issues that impact the relationship between the U.S. and Mexico.
Kansas City Southern has placed itself in a prominent position within the appropriate forum to engage and have discussions with the Trump administration. It should be assumed that other major corporations including railroads such as Union Pacific (NYSE:UNP), trucking companies like FedEx Corporation (NYSE:FDX), United Parcel Service (NYSE:UPS), J.B. Hunt Transport (NASDAQ:JBHT), XPO Logistics (NYSEMKT:XPO), and Landstar System (NASDAQ:LSTR), brokerage services like C.H. Robinson Worldwide (NASDAQ:CHRW) among many others, will participate in the CEO Dialogue as a forum for discussion on NAFTA.
It is through these discussions and understandings that the Trump administration will gain insights as to how major U.S. businesses operate under NAFTA currently and view potential changes. Additionally, over the near term, the Trump administration will identify the steps to renegotiating NAFTA and/or increasing trade tariffs.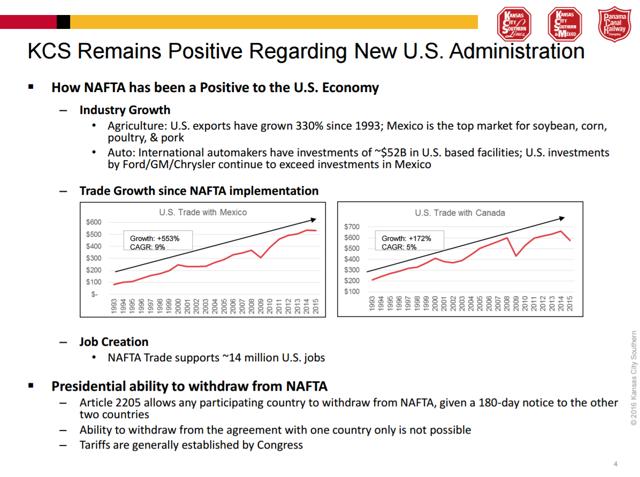 Source: Kansas City Southern, Credit Suisse 4th Annual Industrials Conference, December 1, 2016
Kansas City Southern will be providing their fourth quarter earnings report on January 20, 2016. That is not a joke, it will occur on President-elect Trump's inauguration day. But the company has already begun to provide its feedback regarding Mr. Trump's trade policy rhetoric.
At the company's most recent conference, a slide was presented to attendees providing perspective on NAFTA's positive contribution to the U.S. economy. The highlights focus on the benefits of U.S. exports to Mexico, the substantial growth in U.S. automotive investments in relation to growth in Mexico and the millions of jobs created in the U.S.
More importantly, Kansas City Southern's viewpoint on Mr. Trump's ability to withdraw from NAFTA once inaugurated, is not highly anticipated. The company believes that Article 2205 does allow any three of the participating countries to withdraw from NAFTA, but that this ability to withdraw from the agreement by one country only is not possible. In effect, Mexico and Canada could choose not to withdraw, disallowing the U.S. to solely threaten to remove itself.
Lastly, Kansas City Southern has stated that any talk of tariff or tax increases for imports into the U.S. is an area that has been generally established by Congress. I do not pretend to be an expert on loopholes, or procedures for the renegotiating or establishment of trade tariffs, but Kansas City Southern like most railroads has good people in place to make these assumed determinations.
Could there be a way where Mr. Trump would be able to take executive control over these actions? Maybe in some areas there could be a loophole. If there is, Mr. Trump will undoubtedly find it, since this is one of his priorities. At the congressional level, there could also be the chance that deals are made to get a more aggressive tariff passed. Either way, the tangible risk of uncertainty surrounding NAFTA's future and trade impacts are at large.
But investors should consider Kansas City Southern's disclosures from the December 2016 conference as an indication of the company's stance to move forward. Therefore, it is very important to note that Mr. Ottensmeyer has been asked to lead a U.S.-Mexico strategic trade initiatives working group.
As part of the CEO Dialogue, the working group will focus on advancing the U.S.-Mexico economic relationship by recommending private sector solutions to bilateral trade challenges. The CEO Dialogue has been established as a private sector complement to government-to-government dialogue on trade and economic issues.
The CEO Dialogue collaborates with the High Level Economic Dialogue (HLED) which was established in 2013 by both President Obama and President Pena Nieto to further elevate and strengthen the bilateral commercial and economic trade relationship between the U.S. and Mexico at the cabinet level. Based on these structures in place, is a clear and direct conduit between the interests of major cross-border carriers such as Kansas City Southern and Trump's incoming administration.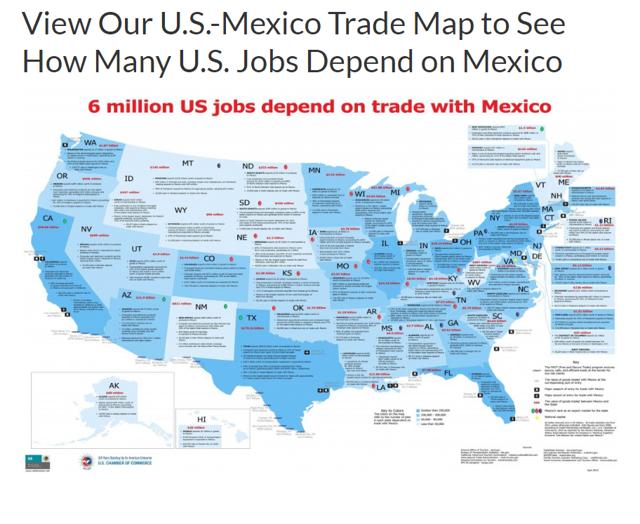 Source: U.S. - Mexico Leadership Initiative, Trade Map
The relationship between NAFTA and U.S. jobs is clearly positive, whether looking at all three countries or only the U.S. and Mexico as depicted above. Many different freight-related jobs have served as important middle-class options for the labor force. These jobs have provided upward career mobility.
This point is going to be a major theme regarding NAFTA in that job growth has been generated by the standing agreement. The other factors to consider will be the capacity to add facilities within the U.S., as well as the Trump administration's position to dictate other nations on where their companies build facilities.
It may be highly feasible for automotive companies to build new plants within the U.S., but other commodities including agricultural products like avocados or mangos, may not have as clear of a U.S.-based facility supply replacement.
Mr. Trump's focus on Toyota Motor Corporation (NYSE:TM) also raises further questions. Toyota has clearly invested billions of dollars into U.S. automotive facilities over the past decades. But will the Trump administration continue to target foreign companies within other nations in Asia and Europe? This seems a bit far of a step. Dictating where foreign companies build new facilities will likely be taken as a negative message by the nations where these corporations reside.
Another point worth noting for Kansas City Southern shareholders is the planned opening of the Mexico refined energy products terminal to increase export of liquid fuels. The joint venture involves Kansas City Southern, Watco Companies, LLC and WTC Industrial and is expected to be completed in the second quarter of 2017 at a cost of $45 million. The project will include the construction of a unit train liquid fuels terminal located in the WTC Industrial Park in San Luis Potosi, served solely by Kansas City Southern.
Mexico has witnessed instability of late regarding fuel prices, stemming from supply issues. This project will provide fuel export opportunities for U.S. refiners to address Mexico's growing demand for fuel products. The project is expected to boost jobs both in the U.S. and Mexico.
If the Trump administration is going to attempt to limit job growth in Mexico for the sake of the U.S. economy, there could be ramifications regarding Mexico's desire to prefer U.S. exports, which may be attainable through other countries. Additionally, certain products like avocados may witness price increases if a trade war did break out.
As is the case with many imported and exported projects, the benefits are mutual for both countries. There very well could be benefits to all countries if NAFTA is renegotiated. This is the desired and best outcome. North America as a region is very rich with natural resources. Strengthening the economic growth of this region would sustain competitiveness globally.
Mr. Ottensmeyer will undoubtedly be prepared to lead the working group to participate in the CEO Dialogue and HLED. President-elect Trump has been keen on meeting with executives and this private-sector forum will be the perfect avenue to educate and strengthen a focus for NAFTA. Risks remain based on uncertainty, but there also exist opportunities that any tangible outcomes will not be as strict as initially thought; or that near-term deals may provide mutual benefits even if changes do occur.
Disclosure: I am/we are long FDX, JBHT, KSU, XPO.
I wrote this article myself, and it expresses my own opinions. I am not receiving compensation for it (other than from Seeking Alpha). I have no business relationship with any company whose stock is mentioned in this article.