Important Note: This article is not an investment recommendation and should not be relied upon when making investment decisions - investors should conduct their own comprehensive research. Please read the disclaimer at the end of this article.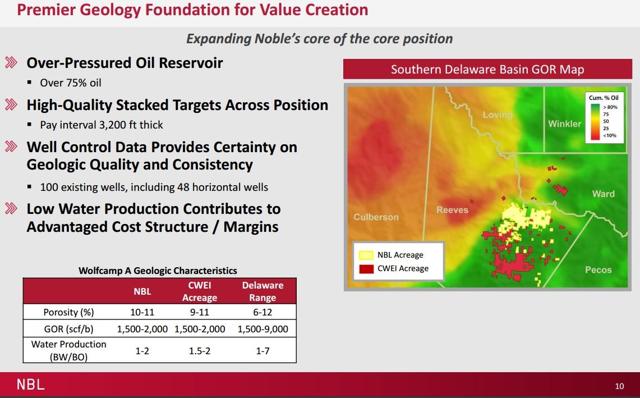 (Source: Noble Energy, January 2017)
The acquisition of Clayton Williams Energy (NASDAQ:CWEI) at $139 per share by Noble Energy (NYSE:NBL) raises the valuation bar for core assets in the Delaware Basin to a new high. I estimate that Noble is paying over $40,000 per core undeveloped acre.
However, a case can be made that the transaction provides Noble with major competitive benefits under lower-for-longer macro scenarios and helps to address some of the company's strategic challenges.
Clayton Williams Energy was a "high-probability acquisition within six months" idea for OIL ANALYTICS subscribers, with the strategic thesis developed in detail in a "deep dive" note in August 2016 (when the stock was trading at ~$62 per share) and a series of follow-up notes updating the thesis and keeping track of the M&A market in the Delaware Basin.
Transaction Metrics
In the transaction, Noble is paying ~$3.2 billion (consisting of 55 million new Noble Energy shares valued at ~$2.06 billion at the previous close, $0.67 billion in cash and $0.5 billion assumed net debt).
It is worth noting that Clayton Williams' $500 million of senior notes outstanding become redeemable at par (plus accrued interest) in April 2017. Furthermore, Clayton Williams' ~$0.38 billion Term Loan, which bears 12.5% cash interest or 15% interest if paid in kind, is redeemable at 101% (plus accrued interest) in the event of a change of control (which is a big relief relative to the make-whole redemption premium without a change of control, which I estimate currently to be ~$0.2 billion.)
In the joint press release, Noble stated that it is acquiring "71,000 highly contiguous net acres in the core of the Southern Delaware Basin in Reeves and Ward counties in Texas (directly adjacent to Noble Energy's existing 47,200 net acres). In addition, there are an additional 100,000 net acres in other areas of the Permian Basin."
The announced acquisition acreage in the Delaware Basin appears somewhat larger than the ~65,000-66,000 net acres shown in Clayton Williams' investor presentations.
To derive key valuation metrics in the transaction, I assume the following M&A value allocations:
existing production (~10,000 Boe/d): ~$300-350 million;
oil, natural gas and water gathering assets: ~$120-$180 million (I use an estimated ~$60 million historical cost and apply a 2x-3x multiple);
third-party acreage dedications for midstream services (12,500 net acres): ~$50-$100 million;
development potential on acreage outside Reeves and Ward counties: ~$50-$200 million;
rig fleet, other miscellaneous assets and working capital: ~$25-$50 million.
Based on these allocations, the implied price being paid for the undeveloped acreage in the Delaware Basin comes out at ~$2.34-$2.68 billion.
If I were to use 71,000 net acres stated in the press release, Noble is paying or $33,000-$38,000 per acre on average.
If I were to use ~65,000 net acres shown in Clayton Williams' presentations, Noble is paying ~$36,000-$41,000 per acre on average.
The acreage position being acquired is large and not evenly delineated. Certain parts of the acreage - particularly the portion towards the southwestern corner - are likely to be viewed as riskier than others. As a result, the effective price being paid for the acreage that is better delineated and viewed as "core of the core" is even higher and sets a new record in a major transaction in the Delaware Basin.
While this per-acre valuation may appear quite high, it represents only a moderate premium to the $30,000 per acre Noble recently paid in a bolt-on acquisition of ~7,200 net acres around its existing acreage block.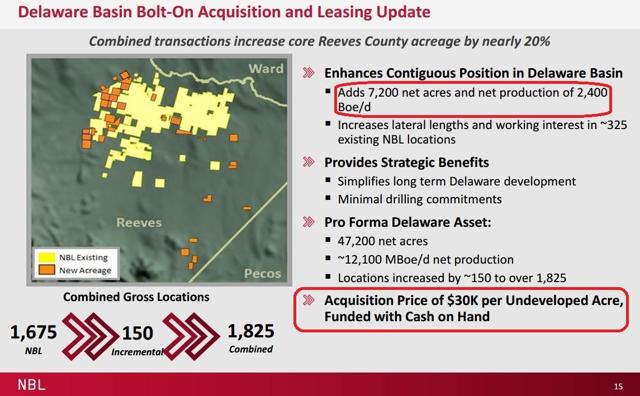 (Source: Noble Energy, November 2016)
Is Noble Paying Too Much?
My view is that the acquisition is a visionary move on Noble's part, albeit price is by no means low. The transaction's logic is illustrated by the following slide from Noble's most recent investor presentation that shows estimated drilling returns for the company's key assets in the portfolio.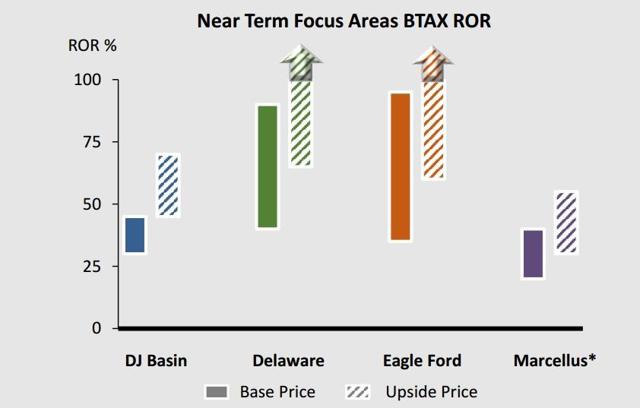 In these estimates, Noble is using the following commodity price assumptions: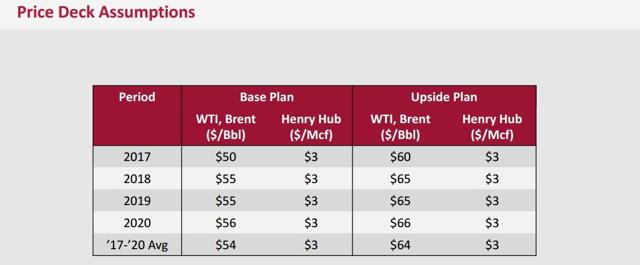 Please also note that the Base Price assumptions used by Noble are quite close to the current strip pricing: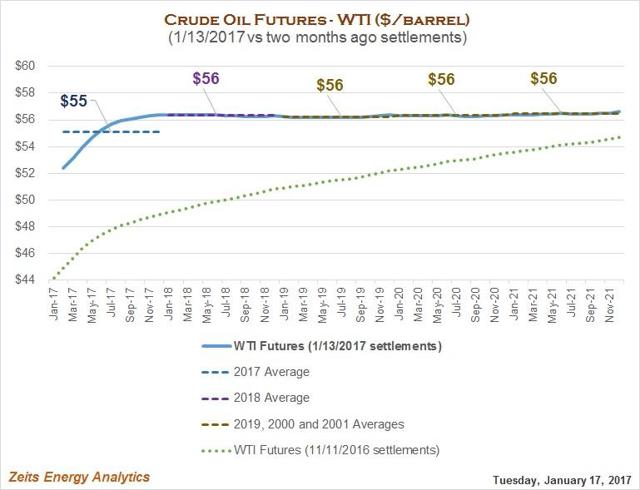 The ROR slide above shows that the Delaware Basin and Eagle Ford assets (both came onboard as a result of the 2015 Rosetta Resources acquisition) are Noble's highest-return assets. At the same time, the company's largest producing assets, the Wattenberg Extension and Marcellus, are lagging far behind in comparison.
Noble is a large company with a $22 billion enterprise value. Prior to the announcement of the Clayton Williams acquisition, the strong returns from the Delaware Basin and Eagle Ford were blended with lower returns in other areas.
The significantly larger Delaware Basin footprint following the CWEI merger will significantly shift investors' perception of the company and its average drilling returns across the portfolio. Moreover, Noble may pursue additional portfolio re-positioning by divesting some of its larger assets, further increasing the weight of the highest-return assets in the portfolio.
Under low-price macro scenarios, such repositioning becomes an existential strategy, as very few unconventional assets can compete for capital in a sub $50 oil / $3 gas environment. If, on the other hand, oil prices improve, the Delaware Basin offers sufficient drilling backlog beyond the primary target interval (which is often the Wolfcamp A).
While the price being paid by Noble is high, it is important to note that the transaction is a stock-for-stock exchange. A case can be made that there is no value loss to Noble shareholders. There is a potential gain, however, as a larger portion of capital will be allocated to the top-performing acreage, at the expense of "Tier 1" acreage, which is being diluted and, possibly, will be gradually divested. As investors' attention will be increasingly focused on the company's top tier assets, the improvement in the perception is likely to be tangible over time.
I view the acquisition as a positive development for the stock and a catalyst for stronger production growth.
Read-Across
The transaction provides a strongly positive read-across to several other operators in the immediate vicinity, including:
PDC Energy (NASDAQ:PDCE) - PDC recently entered the Delaware Basin via a large, transformative acquisition. In retrospect, the $1.5 billion paid by PDC appears quite reasonable, based on the valuation data point posted by Noble.
Centennial Resource Development (NASDAQ:CDEV) - the company lead by Mark Papa has completed two major acquisition offsetting Noble Energy and CWEI acreage; the price paid by Noble validates the market-leading price paid by Silver Run Acquisition last summer.
Diamondback Energy (NASDAQ:FANG) - Diamondback recently acquired assets from a private operator (Luxe Energy) to the east of CWEI's acreage position.
Disclaimer: Opinions expressed herein by the author are not an investment recommendation and are not meant to be relied upon in investment decisions. The author is not acting in an investment, tax, legal or any other advisory capacity. This is not an investment research report. The author's opinions expressed herein address only select aspects of potential investment in securities of the companies mentioned and cannot be a substitute for comprehensive investment analysis. Any analysis presented herein is illustrative in nature, limited in scope, based on an incomplete set of information, and has limitations to its accuracy. The author recommends that potential and existing investors conduct thorough investment research of their own, including a detailed review of the companies' SEC filings, and consult a qualified investment advisor. The information upon which this material is based was obtained from sources believed to be reliable, but has not been independently verified. Therefore, the author cannot guarantee its accuracy. Any opinions or estimates constitute the author's best judgment as of the date of publication, and are subject to change without notice. The author explicitly disclaims any liability that may arise from the use of this material.
Disclosure: I/we have no positions in any stocks mentioned, and no plans to initiate any positions within the next 72 hours.
I wrote this article myself, and it expresses my own opinions. I am not receiving compensation for it (other than from Seeking Alpha). I have no business relationship with any company whose stock is mentioned in this article.