By Parke Shall
FX traders have noticed that the dollar has crashed moving into Monday on the back of the comments that President elect Donald Trump made over the weekend. Marketwatch reported,
Trump made plain his displeasure with China's currency practices. "Instead of saying, 'We're devaluating our currency,' [China says], 'Oh, our currency is dropping.' It's not dropping. They're doing it on purpose."

"Our companies can't compete with them now because our currency is strong and it's killing us," he said.
This sent the dollar falling into Monday morning.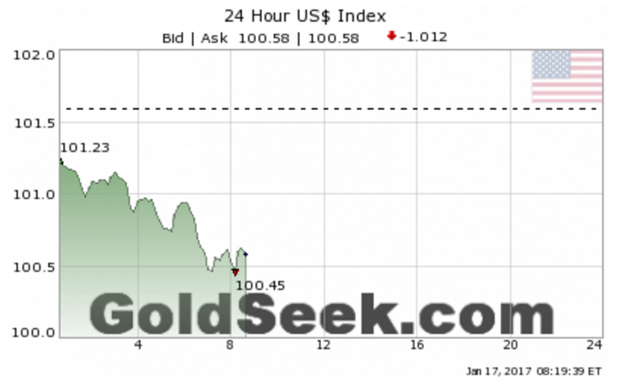 It was just a matter of days ago that we came out and wrote an entire article talking about why we thought it was time to not only short the market, but also to short the dollar.

On the back of comments that President elect Donald Trump made over the weekend, we wanted to review why we believe that both the dollar and the market are likely still two good short opportunities.
Those that read us regularly may remember that it was just days ago on January 5 that we came out and wrote an article entitled "Short the Market - Oh, And the Dollar, Too". We're sticking with that analysis.
In that article, we explained why we thought the market was missing the fact that Trump actually wanted a weaker dollar. As a matter of fact, we recognized it as one of the cornerstones that he campaigned on and we were quite baffled that the overall market had not picked up on it yet. In this article, we wrote,
President elect Trump ran his entire campaign on the notion that the Chinese are manipulating their currency. Though Mr. Trump has not been articulate enough to explain the mechanics of what this means, what he is essentially saying is that a weaker currency encourages exports and encourages other countries to import items as their domestic currency goes further. This is why so many manufacturers in the US import from China. They can get more bang for their buck buying Chinese product and, as a result, manufacturing is no longer done domestically.

The notion that President elect Trump wants the dollar to get much stronger doesn't make sense to us. His whole platform is based on restarting manufacturing in the United States and, ostensibly, not only providing that product domestically but also internationally. If Mr. Trump wants other countries to buy from us and if he wants the Chinese to stop "manipulating their currency" what he is really talking about is a weaker dollar. At the very least, he's talking about a dollar that doesn't get much stronger against other global currencies.
It only makes sense in the type of economy that Trump has come out and said that he wants for the dollar to get weaker. In order to combat Chinese currency manipulation, the dollar has to stay on equal footing or get weaker against the Chinese Yuan. If we are going to have a manufacturing economy and we are going to turn the country into a an exporter, those purchasing from outside the United States need their local currencies to be worth something against the dollar.
In addition to Trump, other factors that will cause the dollar to weaken still exist. Trump is talking about repatriating a significant amount of cash that has been held offshore and nobody really knows what the Federal Reserve's next move is. With the economy that we have, propped up by the Federal Reserve printing money, it should be the default in the United States that consumer prices continue to go up and that the value of the dollar moves lower. We wouldn't be surprised to see the pace of both of these moves get quicker.
In addition to the dollar losing strength, we fully expect equity markets to also correct. As you can see this morning, equity markets have gotten off to a sluggish start on the news of the weakening dollar, and we feel there is going to be much further downside to go. As a reminder, we felt that stocks were fairly and fully valued before this last leg up after the election. Now, with an added burst on the expectation of Trump's corporate tax cuts and deregulation across the board, we can't help but feel that the stock market is a bubble that is simply getting ready to burst.
We believe this is the only the beginning of the dollar weakening and the market correcting and, despite what happens today or in the short-term, we believe that being short both or at least having a hedge on is a thoughtful and prudent investment strategy heading into the new year.
Disclosure: I/we have no positions in any stocks mentioned, and no plans to initiate any positions within the next 72 hours. I wrote this article myself, and it expresses my own opinions. I am not receiving compensation for it (other than from Seeking Alpha). I have no business relationship with any company whose stock is mentioned in this article.