This week we wrote an article on Celgene (NASDAQ:CELG), giving it a short-term price target of $142 and a late-2019 target of $196 (if it is able to achieve its growth goals). As a response to our article, some investors have raised the possibility of Otezla's rapid growth being challenged by Piclidenoson. Given that Otezla has quickly become a blockbuster drug for Celgene, and sales are estimated at $2.35 billion in 2020, we decided it's worth to discuss the implications of this threat.
The threat comes from Can-Fite Biopharma (NYSEMKT:CANF), an Israeli drug developer. Piclidenoson is currently in phase III trials and is being studied both for rheumatoid arthritis and psoriasis.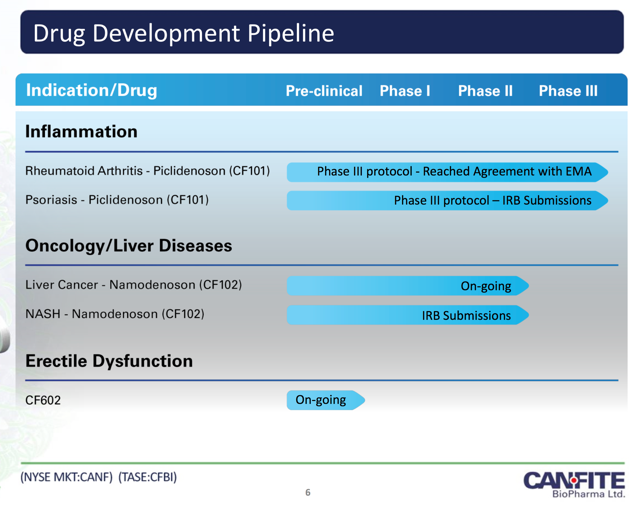 Can-Fite's management is comparing Piclidenoson against Otezla and is conducting a controlled phase 3 trial with 325 patients. This study is conducted by giving patients a placebo, Otezla, and Piclidenson.
The good news first
The good news is that Piclidenoson failed its primary endpoint of PASI 75 at 12 weeks. This means that Piclidenoson has a low onset action vs Otezla. Or in simple English: It takes longer for patients to see a positive reaction or results when taking Piclidenoson than when taking Otezla.
How are the Clinical Trials done
For those unfamiliar with psoriasis clinical trials, the studies are usually divided into 4 categories: PASI 50, PASI 75, PASI 90, and PASI 100. What this means in plain English is a 50%, 75%, 90%, and 100% reduction in the "Psoriasis Area and Severity Index," which is calculated by the area range which is affected (from 0 to 6). A zero represents no psoriasis and 6 represents the entire body. Then you multiply that number by the severity score of each region. Each region can have a maximum score of 12. Hence, with severe psoriasis over the entire body would warrant the highest score of is 72. Depending on the patient's score, doctors will recommend different treatments.
So back to the clinical trials: Any clearance rate below PASI 50, or at least 50% of the PASI score you had previous to the trial, is insignificant (i.e., a patient who starts clinical trial with a 45 PASI score and 16 weeks later he has a 30 PASI score would be considered insignificant). Doctors want to see results above that. The most common is the PASI 75.
The second part of the trial comes from the treatment weeks. The more clearance, and the faster you can get rid of psoriasis, the better. Now let's look at the clinical trials for Can-Fite's Piclidenoson.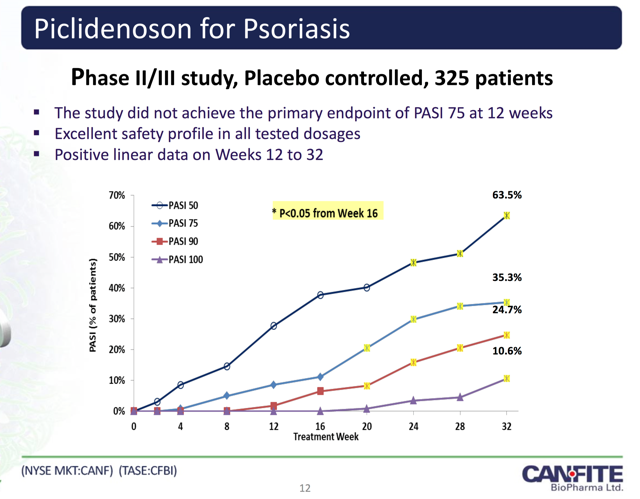 From the light blue graph we can see that at 12 weeks only 10% of patients had a clearance rate higher than 75%. When we compare that to data from Otezla, we can see that Piclidenoson significantly underperforms Otezla in the early weeks.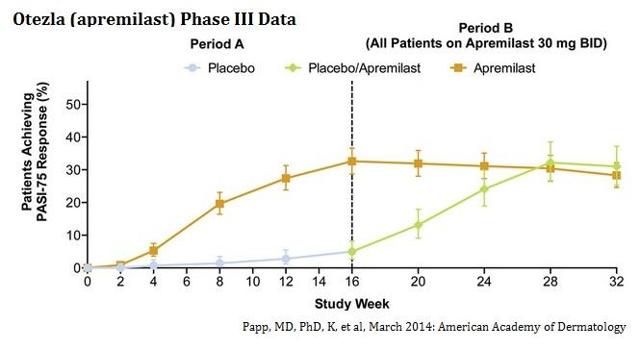 Source: BioNap
We can see from the clinical trials that at 12 weeks Otezla had achieved 75% clearance on 28% of patients vs. Piclidenoson's 10%.
Now the Bad News
The bad news for Celgene is that over longer periods of time Piclidenoson appears to be more effective than Otezla.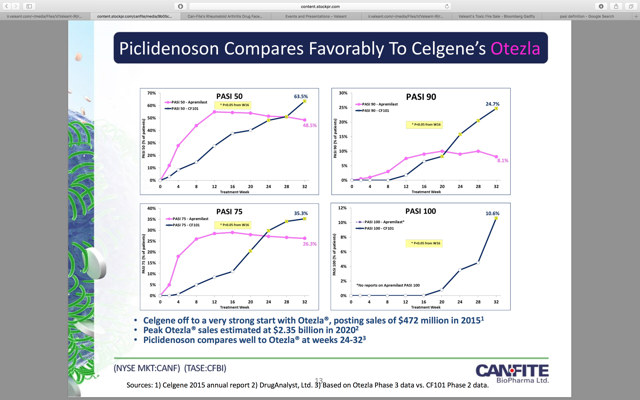 At week 32, Piclidenoson outperforms Otezla in all 3 trials. In 10% of patients it achieved a 100% clearance rate (PASI 100.) That's something we have no data indicative of Otezla achieving. From the graphs, you can see Otezla reaches a plateau at about 12 weeks of treatment.
Celgene should buy Can-Fite
In my personal opinion, sales of Otezla will not be greatly affected by Piclidenoson, thanks in part to the long period of time it takes to see any results. Patients with psoriasis suffer greatly, and the disease sometimes spurs suicidal ideation. Thanks to the efficacy time and the urgency of patients seeing immediate results, I think Otezla will maintain its edge.
Regardless of this, I think it would be wise for Celgene's management to buy Can-Fite Biopharma and not leave anything to chance. With a market cap of only $32M, I would consider it a cheap insurance policy for its leadership. Plus, Can-Fite also has other attractive clinical studies that could be used by Celgene. We have attached the market opportunity for those.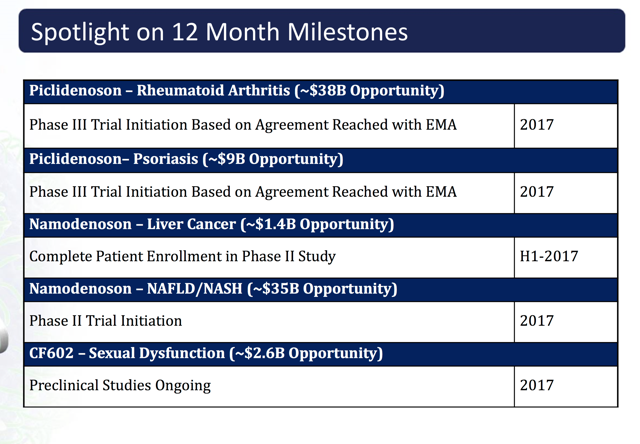 Source: Can-Fite BioPharma
Conclusion
We will continue to monitor Can-Fite and its progress on bringing Piclidenoson to market, and we will post updates to our bullish position on Celgene as appropriate. Though we do not own shares of Can-Fite, we believe they could be an attractive speculative play. We recommend investors do further diligence on their own. Be aware investing in small-caps can result in significant volatility, lack of liquidity, and loss of investment.
Disclosure: I am/we are long VRX, AGN, SGYP, CELG. I wrote this article myself, and it expresses my own opinions. I am not receiving compensation for it (other than from Seeking Alpha). I have no business relationship with any company whose stock is mentioned in this article.